As a frequent visitor to the Bell Centre, I always appreciate how convenient it is to attend events there, whether it's for a Montreal Canadiens hockey game or another exciting event. If you're planning to visit the Bell Centre for the first time or just need a refresher on the various gates and entrances, this guide is for you.
The Bell Centre is located at 1909 Avenue des Canadiens-de-Montréal in Montréal, Québec. There are two main entrances to keep in mind. The main public entrance can be found at 1909, avenue des Canadiens-de-Montréal, Montréal, QC, H3C 5L2, while the entrance for luxury suites is at 1205 Saint-Antoine O, Montréal, QC, H3B 5E8. Don't worry; there are clear signs, and friendly staff members are always ready to help you find your way.
Now that you know the basics, let's delve into more details about navigating your way through the Bell Centre. Throughout this guide, you'll find plenty of helpful information on parking, accessibility, and any other entrance-related inquiries you might have. So, let's get started and have a fantastic experience at the Bell Centre!
Bell Centre: An Overview
I'd like to give you a brief overview of the Bell Centre, a hub of entertainment and sports located in Montréal, Québec. The address for the main public entrance is 1909 Avenue des Canadiens-de-Montréal, Montréal, QC, H3C 5L2, while the entrance for luxury suites can be found at 1205 Saint-Antoine O, Montréal, QC, H3B 5E8.
The Bell Centre is home to the prestigious National Hockey League's (NHL) Montreal Canadiens. It also serves as a venue for various cultural gatherings and events beyond sports. The arena offers a memorable experience to its visitors with its state-of-the-art facilities and vibrant atmosphere.
When I visit the Bell Centre, I am always amazed by the variety of events that take place there, ranging from professional sporting events to concerts and other live performances. This is thanks, in part, to the arena's adaptable infrastructure and seating arrangements.
Getting to the Bell Centre
Public Transit
When I want to get to the Bell Centre, I usually prefer public transit. The Lucien-L'Allier station on Montreal's orange line of the metro is conveniently located just beside the Bell Centre. It's a really quick and easy way to get there. If I'm coming from further out, I can also use the nearby commuter train at the Lucien-L'Allier train station.
Driving and Parking
Once in a while, I decide to drive to the Bell Centre. The main public entrance is located at 1909, avenue des Canadiens-de-Montréal, Montréal, QC, H3C 5L2. If I'm heading to a luxury suite, I'll use the entrance at 1205 Saint-Antoine O, Montréal, QC, H3B 5E8 instead. When it comes to parking, there are various options available in the area, but I always expect to pay a fee for parking near the venue.
Entrance Gates
As someone who frequently goes to events at the Bell Centre, I can tell you that it's essential to know the different entrance gates and locations. In this section, I will share information about the primary entrance and secondary entrances to the Bell Centre.
Main Gate
The main public entrance to the Bell Centre is located at 1909 Avenue des Canadiens-de-Montréal, Montréal, QC, H3C 5L2. This entrance is typically the busiest and most popular as it provides easy access to the venue. If you're attending an event for the first time, it's a safe bet to head to the main gate. The main gate is usually open during event hours, but it's always a good idea to check the event details for specific times.
Secondary Entrances
The Bell Centre also has secondary entrances that may be more convenient depending on where you are coming from or where you have parked. For those who have access to luxury suites, there is a separate entrance located at 1205 Saint-Antoine O, Montréal, QC, H3B 5E8. This entrance allows for a more exclusive and less congested entry to the venue.
Don't worry if you're not in a luxury suite; there are still other secondary entrances available. Keep in mind that secondary entrance locations might vary depending on the event and the Bell Centre's layout. It is best to consult the venue map and event details to find the most appropriate entrance for your situation.
Remember, being familiar with the different entrance gates at the Bell Centre can help ensure a smooth and enjoyable event experience. I hope this information is helpful for your next visit!
Security Measures
As I entered the Bell Centre, I noticed their security measures in place to ensure the safety of all attendees. Electronic searches are conducted at the entrances during sporting, cultural, or other events. These searches are part of Bell Centre security's effort to maintain a safe and secure environment for all customers.
I appreciate that the Bell Centre takes smoking and vaping restrictions seriously, as they are forbidden inside the venue. This helps create a cleaner and more enjoyable atmosphere for everyone, especially for those with smoke sensitivities.
While attending the event, I felt secure, knowing that the Bell Centre staff is committed to my safety and well-being. I could enjoy the event without any concerns, which allowed me to immerse myself fully in the experience.
Visiting the Bell Centre is a pleasure, and their security measures are a crucial part of creating a positive environment for all who attend.
Facility Accessibility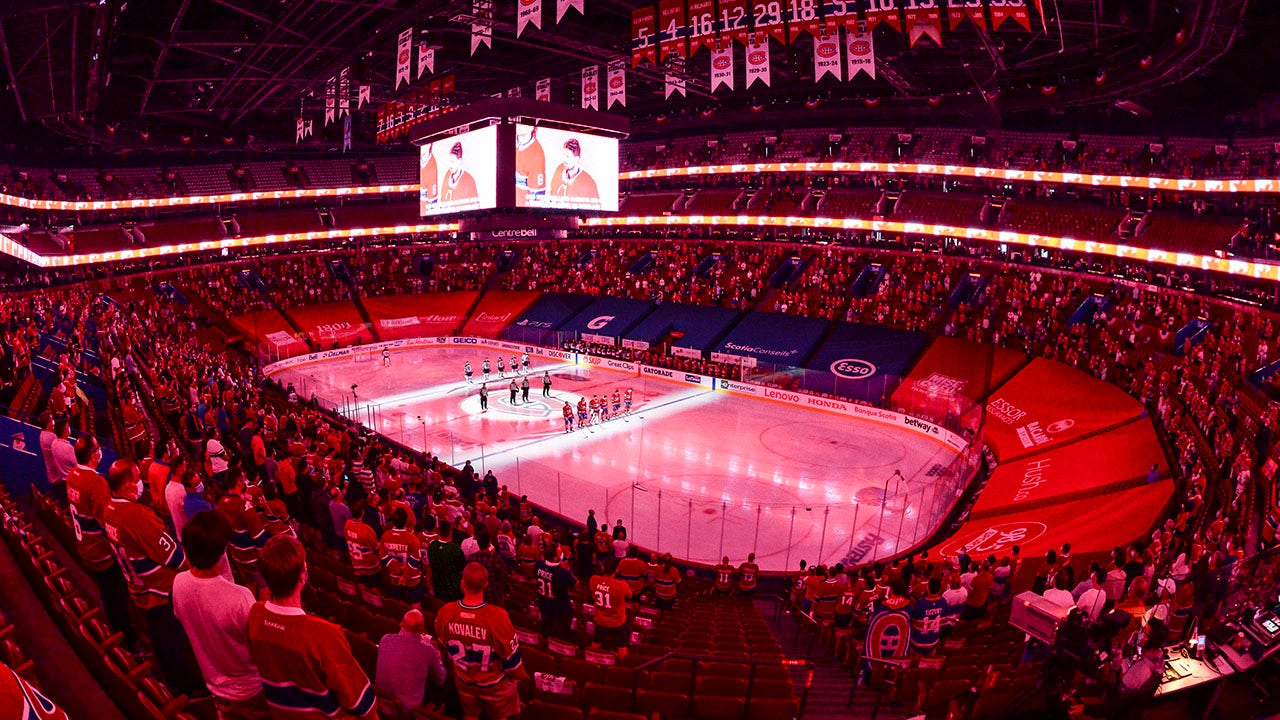 As a visitor to the Bell Centre, I find it essential to highlight the facility's commitment to accessibility. The Bell Centre ensures that at least 60% of its public entrances are accessible to everyone, including individuals with disabilities, in compliance with the United States Access Board requirements. This not only makes it easier for patrons with mobility challenges to enter the venue but also positively impacts the overall experience.
The main public entrance of the Bell Centre is located on 1909, avenue des Canadiens-de-Montréal, while those accessing luxury suites can use the dedicated entrance at 1205 Saint-Antoine O. Both entrances are designed with accessibility in mind and are easy to navigate for all guests.
In addition to entrance accessibility, the Bell Centre features a variety of accommodations to make visiting the venue as comfortable as possible. These include:
Accessible seating: A good number of accessible seating options are available throughout the venue, ensuring an enjoyable event experience for guests with mobility challenges.
Elevators: All levels of the Bell Centre are serviced by elevators, providing easy access to various sections of the venue for all guests.
Restrooms: Accessible restrooms are available throughout the facility to accommodate the needs of patrons with disabilities.
Parking: The parking facility at 1225 Saint is conveniently located and offers accessible parking spaces for guests with disabilities.
I appreciate the Bell Centre's dedication to providing a welcoming and inclusive environment for all guests. By ensuring facility accessibility, the venue continues to be a popular destination for exciting events and unforgettable experiences.
Dining and Shopping Options
As I visited the Bell Centre, I couldn't help but be amazed by the variety of dining and shopping options available. There were both fine and casual dining options to choose from, so whether you're looking for a chic, trendy, and festive pre-event culinary destination or a laid-back meal, you'll find what you're looking for.
One standout dining option I discovered was Escondite, which offers inventive tostadas, ceviches, and tacos in a vibrant and colorful setting. It's perfect for enjoying a memorable meal before or after an event at the Bell Centre.
Aside from dining, there are also plenty of shopping options nearby. With just a short walk around the arena, you'll find unique boutiques and popular shops for all your shopping needs. It's the perfect opportunity to pick up a souvenir or gift to remember your visit to the Bell Centre.
The arena itself has a great selection of merchandise for fans attending sporting events and concerts. From team jerseys and official event merchandise to hats and posters, you'll find everything you need to show off your team pride or commemorate your favorite event.
In conclusion, if you're looking for a fantastic event experience with a wide range of dining and shopping options, the Bell Centre has got you covered.
Tips and Hacks for a Smooth Visit
I always find it helpful to plan my trips to arenas like the Bell Centre in advance, so I've gathered a few tips to help make your visit as smooth as possible.
First, arriving at the Bell Centre is quite simple with multiple options available. Public transportation is my favorite, since the Bonaventure Metro station is just a few steps away from the arena entrance. If you prefer to drive, there's parking available at 1225 Saint-Antoine O, Montréal, QC, H3B 5E8, but keep in mind parking costs and potential congestion during big events.
When it comes to food and drinks, Bell Centre offers a range of options inside the arena, and there are many restaurants nearby if you want to grab a bite before the game. I'd recommend checking out some of the local Montreal restaurants near the arena to get a taste of the city.
Another tip I've found helpful is making use of a digital ticket on my smartphone, instead of a physical ticket. It's easier to manage, and you won't run the risk of losing it or having trouble accessing the arena.
Lastly, plan your outfit and accessories accordingly for security and comfort. Bell Centre has security measures in place, and they may check bags and belongings at the entrance. Remember to follow the guidelines for prohibited items, and if you have any concerns, check out their official website for up-to-date information.
By following these simple tips, I think you'll have an enjoyable and stress-free visit to Montreal's Bell Centre!
Closing Thoughts
Heading to the Bell Centre for a Canadiens game or any other event is an exciting experience. I can't help but appreciate its central location at 1909 Avenue des Canadiens-de-Montréal, Montreal, QC H3B 5E8, which makes it easy to access.
I find entering the venue quite convenient with the main public entrance at 1909 Avenue des Canadiens-de-Montréal and the entrance for luxury suites at 1205 Saint-Antoine O. This simplifies the process so that I can enjoy the event much more.
When I'm inside, I feel like part of Montreal's rich hockey history. After all, the Canadiens have been playing at the Bell Centre since 1996. Although they haven't won a Cup since 1993, the atmosphere continues to be electric and keeps me coming back.
Finally, it's essential to remember that different sections offer unique experiences in this remarkable arena. For instance, section 216 comes with a premium feel, offering free food, snacks, and non-alcoholic beverages, as well as coat check and special access to VIP spaces.
In the end, I always leave the Bell Centre with unforgettable memories and cannot wait for my next visit.