Welcome to our comprehensive guide on the Bell Centre, the home of the Montreal Canadiens!
The Bell Centre is an iconic venue that plays host to a variety of events, but it is best known as the home of Montreal's beloved NHL team.
In this article, we will cover key facts about the Bell Centre, its location, how to get there, parking options, the best restaurants and bars nearby, hotel recommendations, a brief history of the venue, ticket information, and details on tours.
Bell Centre: Key Facts
The Bell Centre, located in the heart of downtown Montreal, is the largest arena in the city.
It opened in 1996 and has a seating capacity of 21,302 spectators for hockey games. The arena has also hosted concerts, figure skating competitions, and other sporting events. It is named after its primary sponsor,
Bell Canada, a major telecommunications company in Canada.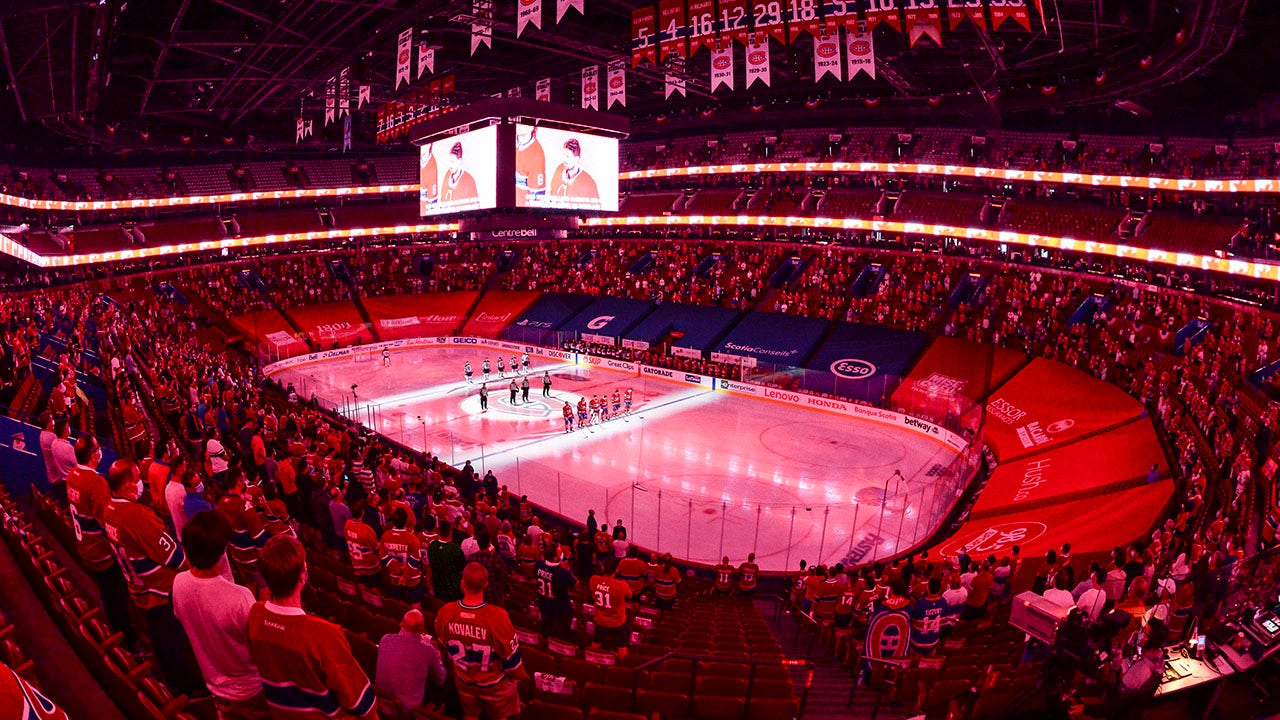 Where is Bell Centre Located?
The Bell Centre is situated in downtown Montreal at the following address:
1909 Avenue des Canadiens-de-Montréal, Montreal, QC H4B 5G0, Canada.
Its central location makes it easily accessible by various means of transportation, and it is surrounded by numerous attractions, hotels, restaurants, and bars.
The Best Way to Get to Bell Centre
The Bell Centre is well-served by public transportation options, and we recommend using these to avoid traffic and parking hassles.
The most convenient way to reach the arena is by using the Montreal Metro.
The closest metro station to the Bell Centre is Lucien-L'Allier on the Orange Line, which is just a short walk away. Alternatively, you can take the Green Line and get off at Bonaventure Station, which is about a 10-minute walk to the arena.
If you prefer traveling by bus, numerous bus routes stop close to the Bell Centre, including the 15, 107, and 150 lines.
If you are coming from outside the city, the Montreal Central Station (Gare Centrale) is a major train station located approximately 10 minutes away by foot.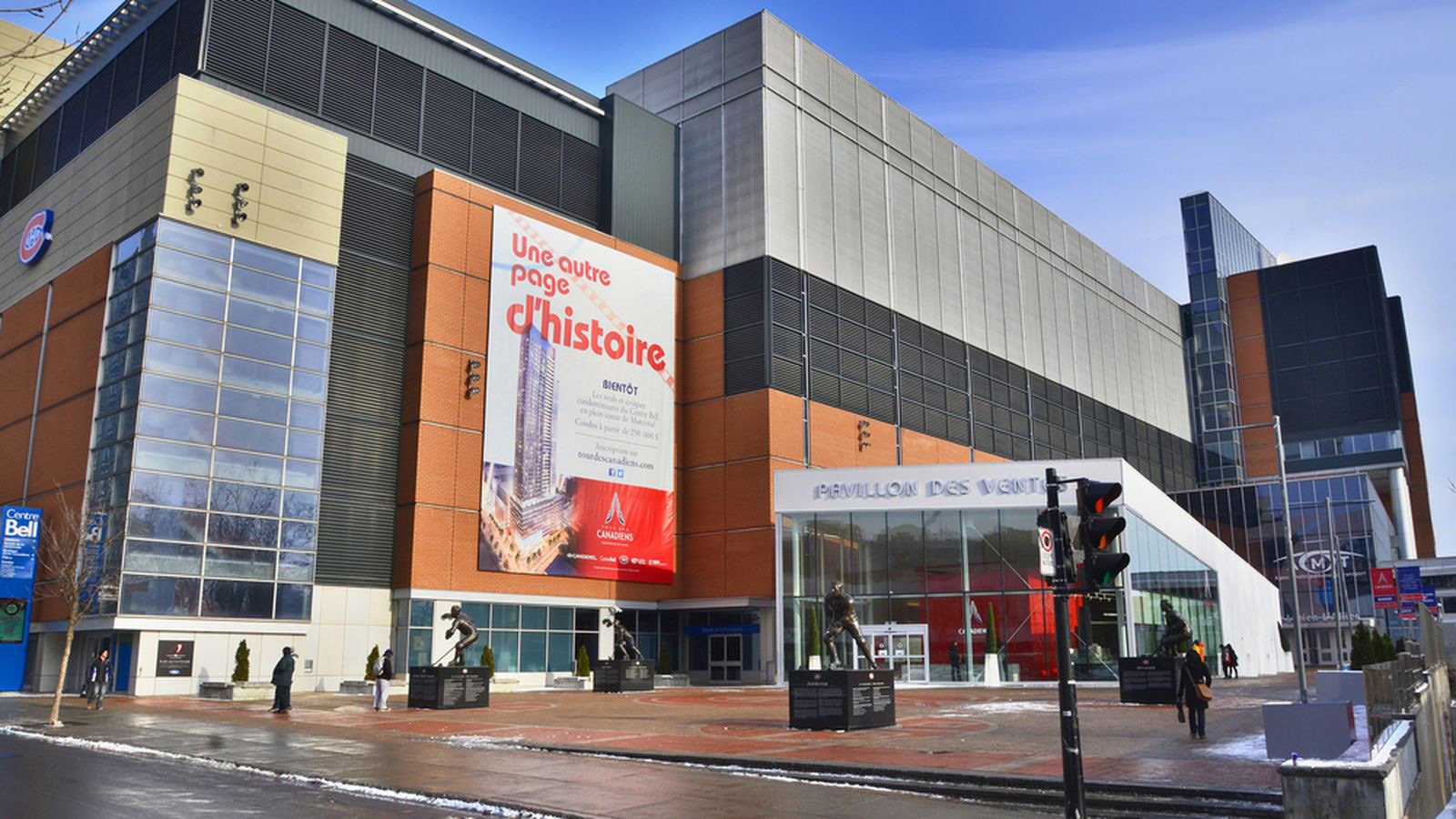 Parking near Bell Centre
While we recommend using public transportation to avoid parking difficulties, there are a few parking options near the Bell Centre.
These include:
Centre Bell Parking Garage: This underground parking facility is located directly beneath the arena and offers over 1,000 parking spaces. The entrance is on Rue de la Montagne.

1200 Rue Saint-Antoine Ouest: This parking lot is a short walk from the Bell Centre and offers both hourly and daily rates.

1255 Rue Peel: Another nearby parking option is this lot, which offers hourly and daily rates as well.
Remember that parking can fill up quickly on game days and during special events, so arrive early to secure a spot.
The Best Restaurants near Bell Centre
There is no shortage of excellent dining options near the Bell Centre. Here are some of our top recommendations:
Mandy's: A popular salad bar offering a variety of fresh and healthy options, perfect for a light pre-game meal.

Bier Markt: This restaurant and bar boasts an impressive selection of beers and a menu filled with delicious European-inspired dishes.

Le Bureau Bar Tapas: For a more relaxed atmosphere, this tapas bar offers a variety of small plates and an extensive wine list.

Kampai Garden: An Asian-inspired eatery, Kampai Garden serves a mix of sushi, noodles, and other flavorful dishes in a trendy setting.

Les 3 Brasseurs: A classic brewpub offering a selection of in-house beers and a menu featuring comfort food favorites like burgers, poutine, and wings.

Vargas Steakhouse & Sushi: For a more upscale dining experience, Vargas offers a unique fusion of steakhouse classics and sushi creations.

Deville Dinerbar: This retro-themed diner offers a fun atmosphere and a menu full of classic American dishes, such as burgers, sandwiches, and milkshakes.

Tiradito: A Peruvian-inspired restaurant, Tiradito serves ceviche, small plates, and cocktails in a stylish setting.

Toqué!: For an unforgettable fine dining experience, this renowned restaurant offers a seasonal tasting menu highlighting local ingredients and creative culinary techniques.

Gyu-Kaku Japanese BBQ: A fun dining experience where you can grill your own meat and vegetables on a tabletop grill, Gyu-Kaku offers a variety of Japanese-inspired dishes and sauces.
The Best Bars near Bell Centre
There are plenty of options for grabbing a drink before or after an event at the Bell Centre.
Here are some popular bars in the area:
1909 Taverne Moderne: Located inside the Bell Centre, this sports bar offers an extensive menu, a wide variety of beers, and giant screens to catch the game.

Hurley's Irish Pub: A cozy, traditional Irish pub with a great selection of beers, whiskies, and live music on weekends.

Le Mal Nécessaire: A trendy tiki bar offering creative cocktails and a unique atmosphere, perfect for a post-game celebration.

Peel Pub: A classic sports bar with a laid-back atmosphere, great for watching games and enjoying a wide selection of beers.

Dominion Square Tavern: A historic bar with a cozy atmosphere, offering a selection of classic cocktails and a small but delicious menu of pub fare.

Philemon Bar: A stylish, upscale bar offering a curated cocktail list and a relaxed atmosphere.

La Voute: For a more extravagant night out, this nightclub is located in a former bank vault and offers an unforgettable experience.
The Best Hotels near Bell Centre
If you're visiting Montreal and need a place to stay near the Bell Centre, there are plenty of options to choose from. Here are our top recommendations:
Le Centre Sheraton Montreal Hotel: A modern, upscale hotel located just a short walk from the Bell Centre, offering comfortable rooms and great amenities.

Hotel Bonaventure Montreal: This unique hotel features a rooftop garden and pool, providing a serene oasis in the heart of the city.

Le Nouvel Hotel: A contemporary hotel with spacious rooms, a spa, and an on-site restaurant, located within walking distance of the Bell Centre.

Hotel Monville: A stylish, boutique hotel offering modern amenities and a convenient location close to the arena.

InterContinental Montreal: A luxury hotel located near the Old Port, offering elegant rooms and a range of high-end amenities.

Holiday Inn & Suites Montreal Centre-Ville Ouest: A reliable, budget-friendly option offering comfortable rooms and a convenient location.
The History of Bell Centre
The Bell Centre, initially known as the Molson Centre, opened its doors on March 16, 1996. It was built to replace the legendary Montreal Forum, which had been the home of the Canadiens since 1924.
The arena was designed by the architectural firm Lemay & Associates and constructed at a cost of approximately $270 million. In 2002, the venue's name changed to the Bell Centre after Bell Canada acquired the naming rights.
Over the years, the Bell Centre has hosted numerous memorable events, including the 2009 NHL All-Star Game, the 2016 World Cup of Hockey pre-tournament games, and the 2020 NHL Entry Draft.
The arena has also been the stage for various figure skating competitions, such as the 2017 World Figure Skating Championships, and countless concerts by world-renowned artists like U2, Céline Dion, and Madonna.
The Bell Centre has undergone several renovations since its opening to ensure it remains a state-of-the-art facility. These upgrades have included the installation of a high-definition scoreboard, improvements to the seating and concourses, and the addition of new dining and entertainment options.
Where to Get Tickets for Bell Centre
Tickets for Montreal Canadiens games and other events at the Bell Centre can be purchased through the official Canadiens website, the Bell Centre box office, or various authorized ticket retailers.
We recommend purchasing tickets well in advance, as popular events tend to sell out quickly.
For the best availability and prices, consider purchasing tickets during the official pre-sale periods, which are typically announced by the team or event organizers.
You can also check out ticket resale websites, such as StubHub or SeatGeek, to find tickets from fans who can no longer attend an event. Be sure to only purchase from reputable sources to avoid potential scams.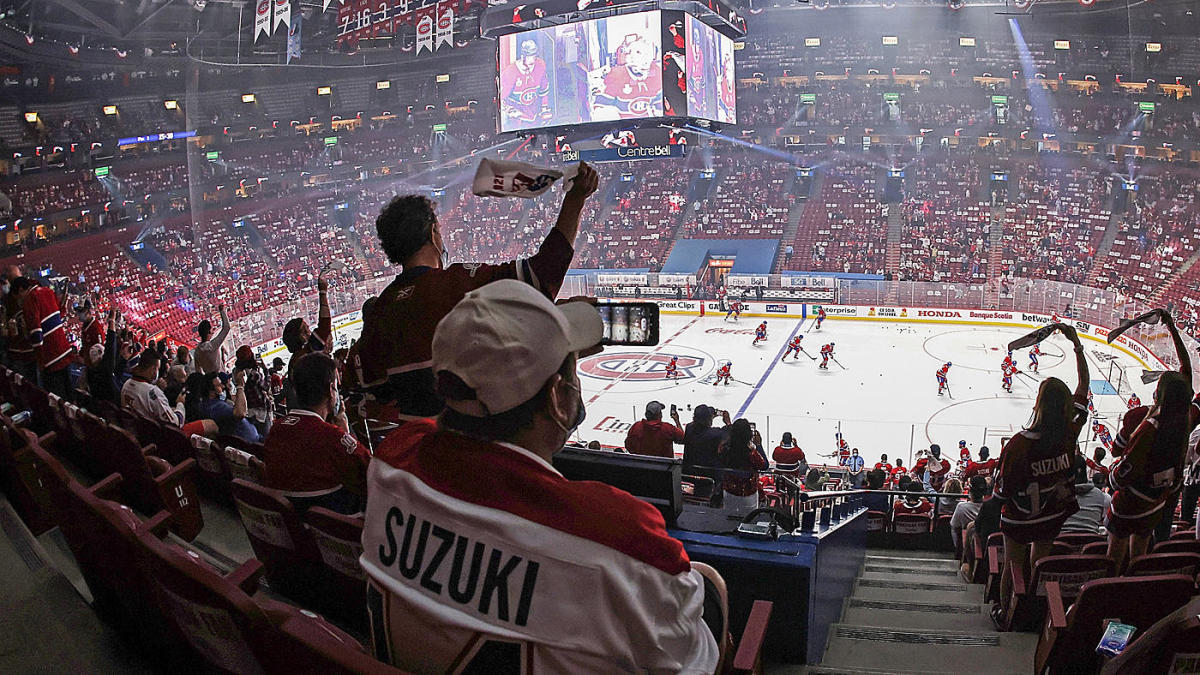 Does Bell Centre Offer Tours?
Yes, the Bell Centre offers guided tours that allow fans to get an up-close and personal look at the home of the Montreal Canadiens. The tours provide a behind-the-scenes look at the arena, including visits to the team's dressing room, the press gallery, and the exclusive private suites.
Tours generally last about 60 minutes and are available in both English and French. They are offered year-round, but availability is subject to the arena's event schedule, so it's a good idea to check the Bell Centre's website or call ahead for the most up-to-date information on tour dates and times.
In conclusion, the Bell Centre is an iconic venue that has become an integral part of Montreal's sports and entertainment scene.
With its central location, a wealth of nearby attractions, and a rich history, the Bell Centre is a must-visit for any sports fan or visitor to the city.
We hope this guide has provided you with all the information you need to make the most of your Bell Centre experience.
Enjoy the game, concert, or event!
James is a big time NBA Golden State follower, who makes sure to catch games when he's in the area. He likes to follow International Soccer, with an interest in small town soccer club, Blackburn Rovers located in the North on the UK.