Whether you want to stop in before an upcoming hockey event or happen to be in the area, there are plenty of great spots to grab a drink in the South Core district of Downtown Toronto.
So read on to learn more about some of the best bars near Scotiabank Arena.
1. Library Bar
The Library Bar is an upscale cocktail bar about five minutes by foot away from Scotiabank Arena. The driving route is a little longer and requires a loop through Old Toronto for the best path to get there.
Open Tuesday through Saturday, this bar serves lunch and dinner along with a selection of cocktails, wines, spirits, and dessert choices. Lunch is by reservation only, so expect to wait until at least mid-afternoon if you want to walk in.
Food at the Library Bar leans toward seafood and chicken dishes, though you may also see a steak on the menu. Cocktails are the real focus, though. The Library Bar divides drinks into several genres, fitting the bar's name, each of which has one or more options to go with it. Like most cocktail bars, they often have limited-time specials.
The beers are straightforward, including Heineken, pilsner, IPA, and golden ale options. The menu for these isn't particularly long, so it's not a great beer bar, but the spirits menu is significantly better and makes up for lost ground.
2. Melrose on Adelaide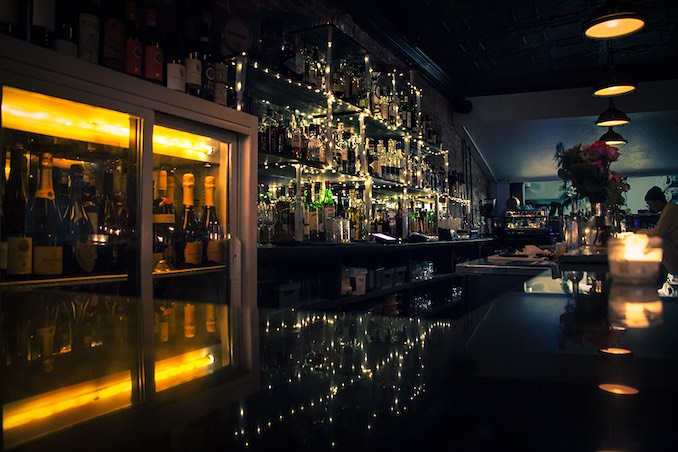 Melrose on Adelaide is a comfortable cocktail bar in the area's Entertainment District. It's about sixteen minutes away by foot from Scotiabank Arena or ten minutes by car, so driving is the better choice if you have a designated driver to get you home.
The real focus of Melrose is the drinks, but they have a short menu emphasizing seafood and other snacks that go well with drinks. Small plates include options like beef tartare, spicy hummus, and oysters, while the larger dishes have options like spicy octopus and tenderloin kebabs. Charcuterie boards are also available.
Drinks here include seasonal, favorite, and classic options for the menu highlights. Like most bars, these tend to change over time, though it's hard to go wrong with their Strawberry Daiquiri. The basic cocktails have similar pricing, so the primary decision between them is flavor instead of price.
Beyond those, Melrose also has a selection of wines, including full bottles of champagne. Most bottles are from France, Italy, or California, but you may see the occasional Spanish or German bottle on the menu. Beers and ciders are available at a much lower price, as is the non-alcoholic Bartender's Freestyle if you'd rather not get drunk.
Melrose on Adelaide is upscale enough that it barely feels like a bar, but it has a great selection if you want lunch before heading to the arena. Consider making a reservation, as it can be hard to get in otherwise.
3. Bar Hop
No, that isn't a suggestion for what to do. Bar Hop is the bar's name, and it's about eighteen minutes by foot from Scotiabank Arena. The driving time is about half that, so this is another bar where it's better to take the car if you can.
Bar Hop is a cozy and inviting location, much more relaxed than an average cocktail bar, and a great place to get lunch or dinner. The food menu includes options like chicken wings, fresh-cut fries, poutine, burgers, and pot pies, plus salads if you're looking for lighter fare.
The drink menus are significantly better. Bar Hop has plenty of beers on tap, including both craft beer and some common favorites. They also have a rotating stock of cans, bottles from local and international producers, cider, and wine. The cocktail menu isn't very long, but they do have a wide selection of hard spirits to pick from.
Beer and cider are the highlights here, with a weekly list that ensures there's always something different to try. Bar Hop promotes one-off and artisanal drinks that may not be possible to find elsewhere, so this is a good place to go if you want something different rather than a common favorite.
Bar Hop is the kind of place where many people drink a lot, so this is one of the bars near Scotiabank Arena to visit after you're done with an event rather than before.
4. The Roof at SOCO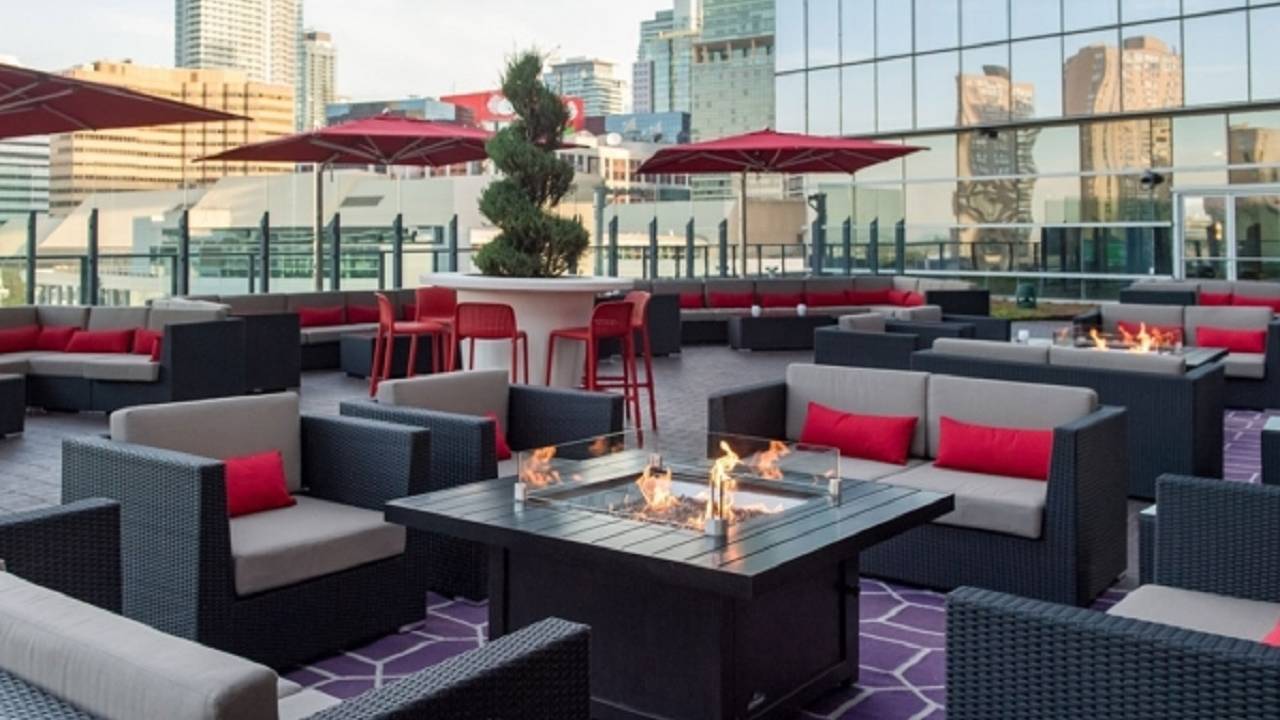 The Roof at SOCO, as the name suggests, is a rooftop bar in downtown Toronto. It's a casual five-minute walk from Scotiabank Arena, straight down the street, or slightly longer if you need to drive there instead.
This location emphasizes dinner, so it's a good choice if you want to get a meal after an event at the arena or before a nighttime show. The menu emphasizes seafood, with options like octopus, shrimps, oysters, and tuna. It also has some ribs, pork dishes, and salad if you prefer those. The menu isn't long, but the mix of cold and warm options is a nice touch for Toronto's climate.
The drink list is similarly short. This bar focuses on having a few higher-quality drinks available rather than making a huge menu like Bar Hop. On any particular day, you can expect to see a few signature cocktails, plus full bottles of both cocktails and wines. If you're looking for something cheaper, they have beer cans like Corona, Coors Light, and Heineken.
The Roof at SOCO is relatively upscale, so expect a finer dining experience if you decide to eat here. The seating is much better than many other bars have, though, with comfortable cushions and plenty of space to stretch out and relax while you're there.
5. King Taps
King Taps is a rather large bar and restaurant with a more extensive menu than many other places in the area. It's about eight minutes from Scotiabank Arena by foot, though cars can usually make the trip faster, with most of the journey going straight up Bay Street.
The food menu is solid, with a collection of starters, salads, pizzas, and handheld choices like burgers and tacos that can fit almost any palate. King Taps likes to get creative, so they have options like chicken and prawn tacos instead of sticking to ground beef. They also have larger and heavier meals, such as steak and grilled salmon, if you want more food.
The drinks menu is likewise solid, featuring a selection of rotating options alongside some common favorites. Beer is a major focus at this bar, and on any given day, you can expect several dozen options from many styles. They also have some cocktails and wine bottles, plus a few non-alcoholic options, just in case.
Unlike some other restaurants, King Taps offers a resealing service for their bottles so you can take them back with you. That said, one thing to be aware of is that King Taps is not gluten-free or vegetarian and cannot easily accommodate such diet requests, so keep that in mind if it's relevant.
6. Bovine Sex Club
If you're looking for something a little off-kilter, it might be worth stopping by the Bovine Sex Club. It's further away from Scotiabank Arena than most other bars on this list, at about half an hour by foot. A car trip will take you about half that and is a much better way to visit.
The Bovine Sex Club is a sort of punk rock stage for live music on most nights, with a tiki bar upstairs that offers a completely different vibe. The drink list is short and not advertised online but typically includes a few tiki-themed cocktails, plus a few wines and beers. The live music is the main reason to visit, though, and the drinks are just an afterthought.
You can expect casual outdoor seating and late hours, so this is also a place worth considering if you're at the arena until late and want to stop somewhere that's still open.
7. Big Trouble
Big Trouble in (little) Chinatown is another decent bar about half an hour by foot away from Scotiabank Arena. That puts it right on the edge of bars we can recommend, so consider driving the distance if you want to enjoy it the most.
The food menu here includes a selection of Asian-inspired options, including Chinese, Japanese, Korean, Thai, and Vietnamese flavors. They also have some unusual options, like cheeseburger dumplings. Most of the food here is significantly cheaper than other restaurants ask, so it's a good choice if you're on a tighter budget.
The drink menu is similarly straightforward, with a collection of beer cans, mixed drinks, cocktails, and sake bottles. There's a clear Asian influence in all of their drinks, so this is a good place to go for trying international flavors instead of more well-known Canadian options.
8. Teller's Bistro and Bar
Teller's Bistro and Bar is a gourmet bar at One King West Hotel, a boutique residence about eight minutes up from Scotiabank Arena. The menu varies significantly depending on the time of day, so make sure to schedule your visit if there's something specific you want.
Regular food options at Teller's include French onion soup, calamari, pizzas, burgers, fries, salads, and steak. Cheesecake, brownies, gelato, and mousse are also easy to come by. The whole restaurant is open from mid-afternoon until 1 AM, so it's another good choice if you're at the arena late and want to get some food after.
The drink menu is relatively long and emphasizes wines, with a selection of white, red, and sparkling options. Teller's also offers some local and international beers, plus a few spirits like rum, tequila, and vodka. The cocktail menu is worth a look, though it only has a few options on any specific night.
If you're staying at One King West Hotel, you can take advantage of the dinner menu for in-room service. A late-night menu for hotel guests is available until 6 AM, which should cover almost any circumstances for your visit.
9. After Seven
After Seven is a delightful speakeasy about twenty minutes from Scotiabank Arena by foot, which is a little far but still within an acceptable range. It's closer to 13 minutes by car, so it's probably better to drive there.
After Seven is a Japanese-style bar where you may have to research their password to enter. They don't do much to advertise, either, and don't even have a website to show off their location.
That said, this is a great place to visit if you're looking for experimental drinks. The staff are frequently coming up with new options, so this is a fantastic place to go if you want something you've never tried before. That's not a requirement, though, as you can still get some common favorites.
Thursdays and Sundays are the best times to visit if you want a relaxed experience. They don't open until just before dinner, so consider coming here after an event at the arena for the best experience. If you expect to visit Friday or Saturday, make a reservation first.
10. Beertown Public House
Beertown Public House is a cheerfully accessible bar about eight minutes by foot from Scotiabank Arena. The car trip requires a longer loop through the area, so it's better to go there on foot.
The food menu emphasizes casual fare like pretzels, potato wedges, parmesan fries, and tiny tuna tacos. If you're looking for a heavier meal, they also have salad bowls, steaks, pad thai, and various types of chicken dishes and burgers.
Drinks are always going to be a highlight at a bar called Beertown, and the list of what's on tap changes regularly. Options can include anything from grape ale to imported drinks and a relatively long list of cocktails. Wine is also available, and Beertown has a high number of non-alcoholic drinks like juice and craft sodas.
Beertown is both affordable and accessible, with plenty of bar-style food close to the arena. Although not as upscale as some other areas, it's easily one of the best bars near Scotiabank Arena, especially if you want to get a full meal with your drinks.
James is a big time NBA Golden State follower, who makes sure to catch games when he's in the area. He likes to follow International Soccer, with an interest in small town soccer club, Blackburn Rovers located in the North on the UK.