As someone who has frequented the Canadian Tire Centre, I can tell you it's a fantastic venue for enjoying a variety of events. Home to Ottawa Senators hockey games and host to numerous concerts, the arena offers a fun and lively atmosphere. In this article, I'll be sharing essential information about the gates and entrances at the Canadian Tire Centre to help you make the most of your experience.
Before attending an event, it's always a smart idea to familiarize yourself with the layout and entry points of the venue. This way, you can plan accordingly, avoid any last-minute confusion, and ensure a smooth arrival. Here, you'll be guided through the main entrances, gate locations, and other key details that will enhance your visit to the Canadian Tire Centre.
As you read on, you'll also gain valuable insight into the venue's policies, accessibility options, and other necessary information. With this guide, I hope to make your Canadian Tire Centre experience as enjoyable and hassle-free as possible. So let's dive in and explore everything you need to know about the gates and entrances!
Location and Access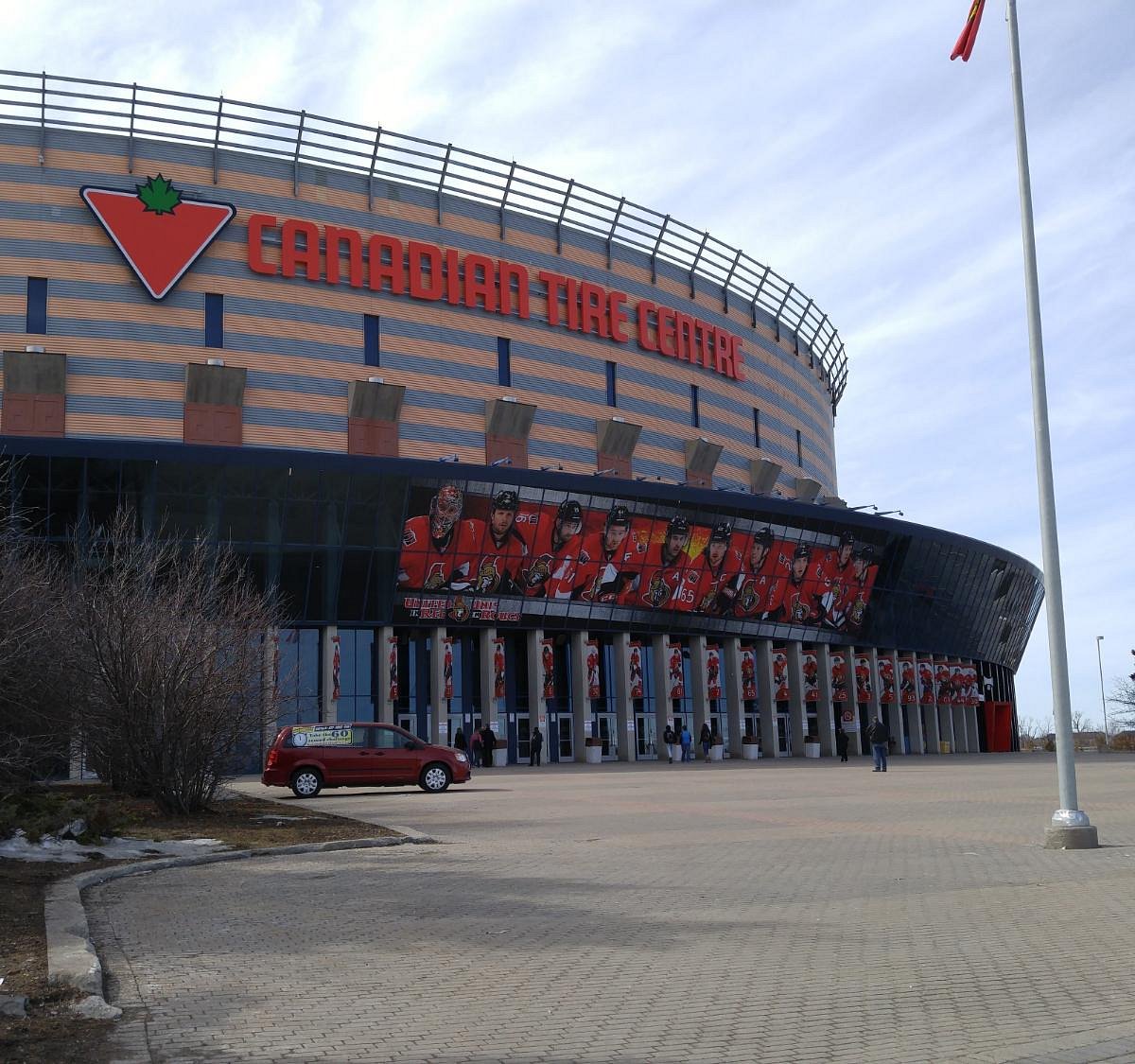 Public Transit to Canadian Tire Centre
I find that taking public transit to the Canadian Tire Centre is a convenient option. OC Transpo, Ottawa's public transportation service, operates special event buses that bring you directly to the arena. Route 400 series buses start running 90 minutes prior to the event and continue until the hour after the event. I always check their website for route updates and schedules.
Driving Directions
When I drive to the Canadian Tire Centre, I take the Highway 417 (known as the Queensway) and exit at the Palladium Drive interchange (Exit 142). From there, I follow the signs to the arena. The venue is located at 1000 Palladium Drive, Ottawa, ON K2V 1A5. There are alternative routes depending on your starting point, so I recommend using a GPS or online map service for precise directions.
Parking Information
Parking at the Canadian Tire Centre is easy for me. There are several lots surrounding the venue with over 6,500 spaces available. The best way to secure a parking spot is to pre-purchase a pass online at ticketmaster.ca. On the day of the event, cash and credit card payments are accepted, but I prefer to have my parking pass in advance to save time and avoid waiting in line.
Gate Information
Gate Locations
Let me share with you the gate locations at the Canadian Tire Centre. There are four main gates at the arena:
Gate 1: This gate serves as the main entrance and is located on the east side of the building.
Gate 2: You can find this gate on the north side, and it serves as the Valet entrance.
Gate 3: This gate is specifically for handicap access and is situated on the south side.
Gate 5: Located between Gate 1 and Gate 3 on the south side, you can find this gate next to Bert's bar.
Opening Times
Keep in mind that gate opening times may vary depending on the specific event taking place at the Canadian Tire Centre.
Security and Entry Procedure
As someone who has been to the Canadian Tire Centre, I can tell you that their primary concern is the safety and enjoyment of all guests. In this section, I will talk about the security measures and the list of prohibited items.
Security Measures
The Canadian Tire Centre has implemented strict security measures to ensure a safe environment for everyone. Upon arrival, I noticed that there were a few things to keep in mind:
Arrival Time: To avoid any delays or frustrations, I made sure to arrive at least 30 minutes before the event's start time, as late arrivals might have to wait until an appropriate break period arrives before being allowed entry.
Bag Policy: The Canadian Tire Centre has a bag policy in place, and it's always a good idea to check their website for the latest guidelines. This will help in keeping your belongings secure and avoiding any confusion.
Prohibited Items
To maintain a secure environment, the Canadian Tire Centre has a list of prohibited items that you should be aware of before attending any event. Some of the prohibited items are:
Weapons of any kind
Illegal substances
Fireworks or any explosives
External food and beverages
Laser pointers
Large signs or banners
Any item that is deemed dangerous or inappropriate by the venue staff
By adhering to these guidelines, I found that my experience at the Canadian Tire Centre was much more enjoyable and hassle-free. So make sure to follow the security measures and avoid carrying any prohibited items to have a great time at the venue!
Facilities and Accessibility
Accessibility Features
As a visitor to the Canadian Tire Centre, I found their accessibility features to be top-notch. They have made a dedicated effort towards ensuring that every guest enjoys a comfortable and enjoyable experience. Some of the accessible features I noticed include:
Accessible seating throughout the arena
Elevators and ramps for easy navigation
Accessible restrooms on every level
Assisted listening devices available upon request
Additionally, they offer wheelchair escorts to assist guests with mobility impairments from the entrance to their seats. This service is available on a first-come, first-served basis.
Amenities and Services
The Canadian Tire Centre offers a wide array of amenities and services to make your event experience as enjoyable as possible. Here's what I discovered during my visit:
Dining Options: With multiple concession stands and restaurants, there's no shortage of food choices. Options range from classic arena fare to unique culinary experiences.
The Sens Store: Located at the Canadian Tire Centre, it's the perfect place to pick up some Ottawa Senators merch or a souvenir from your favorite event.
ATMs: For convenience, there are several ATMs available throughout the arena.
Guest Services: Friendly staff are always available at guest services desks, located on each level of the arena, to address any questions or concerns during the event.
Overall, I found the Canadian Tire Centre to be one of the friendliest and most accommodating venues I've visited. They truly go above and beyond to ensure that all guests have an enjoyable experience.
Food and Drink Options
As I visited the Canadian Tire Centre, I found that there were plenty of food and drink options available for everyone. I will share my experience with the in-seat service and the various food stalls and bars at the venue.
In-seat Service
At the Canadian Tire Centre, I was pleased to find that they offer in-seat service for guests. This means that I didn't have to miss any moment of the event, as the friendly staff brought food and drinks directly to my seat. By taking advantage of this service, I could simply relax and enjoy the event without having to leave my seat.
Food Stalls and Bars
During my visit, I noticed there were numerous food stalls and bars located throughout the venue. Some of the options that I came across include:
Sens Express: A spot where I found a variety of classic arena food such as hot dogs, popcorn, pretzels, and nachos. They also offered beverages like soda, water, and beer.
Burger Shack: Located in sections 206 and 224, this place served delicious burgers, hot dogs, fries, and onion rings.
ByTown Grill: I saw this food stall in section 119, offering tasty burgers, fries, and soda.
Overall, my experience at the Canadian Tire Centre was delightful. I enjoyed the in-seat service and the various food and drink options available throughout the venue. With all those diverse choices, the Canadian Tire Centre certainly catered to every taste and preference.
Tips for a Great Experience
When I visited the Canadian Tire Centre, I found that planning ahead made my experience even better. Here are a few tips that can help enhance your visit too.
Firstly, make sure to purchase tickets in advance through authorized platforms such as Ticketmaster or the Canadian Tire Centre's official website. This way, you'll avoid any potential ticket scams. If you require accessible seating, you can call Ticketmaster at 1-855-682-6736.
Getting to the venue is a breeze with a variety of parking and transportation options. Valet and accessible parking are available, but make sure to arrive early to secure a spot. Alternatively, consider using public transportation or shuttles to reach the venue.
Once you're inside the Canadian Tire Centre, make sure to familiarize yourself with the layout and amenities. There will be plenty of concessions on site, offering a variety of food and beverages—don't hesitate to enjoy the local specialties!
During my visit, I appreciated the comfortable seating and great views available from almost everywhere in the arena. Looking at a review from Amy Travels, I found that her experience in Section 105, Row P was particularly enjoyable, with comfy seats and a great view of a hockey game. Make sure to research and compare seat options when booking your tickets to find the perfect spot.
Lastly, take advantage of all the activities and attractions that the Canadian Tire Centre has to offer. From sporting events to concerts, there is always something happening. So, sit back, relax, and enjoy your visit as I did!
Conclusion
As a frequent visitor to the Canadian Tire Centre, I can confidently say that navigating the gates and entrances is a smooth and hassle-free process. The arena is designed to accommodate a wide range of events, including sporting events, concerts, family shows, and trade shows, which ensures that the venue always offers a welcoming and enjoyable experience.
When attending an event at the Canadian Tire Centre, I always appreciate the clear signage and friendly staff members who are available to assist with any questions or directions. The doors typically open an hour before the start of Ottawa Senators games, giving attendees ample time to find their seats and explore the venue's amenities.
In my experience, the arena's premium seating and suite options add another level of enjoyment and comfort to any event. With a variety of options available, there's a perfect choice for entertaining clients, spending time with family and friends, or socializing with other fans.
Parking at the Canadian Tire Centre is also conveniently located, making it easy to arrive and depart from the venue without any stress. The centre's location at 1000 Palladium Dr., Kanata, Ontario, K2V 1A5 makes it accessible from various parts of the city, further adding to its appeal.
If you're planning an outing or event at the Canadian Tire Centre, rest assured that you're in for a friendly and enjoyable experience. From the helpful staff to the well-designed layout, this venue has everything you need for a great time!