If you're planning a visit to Rogers Arena, it's essential to familiarize yourself with the various gates and entrances to ensure a smooth and enjoyable experience. Located in the heart of Toronto, Rogers Arena is home to the Vancouver Canucks and hosts numerous events, concerts, and shows throughout the year. In this article, we'll provide you with a comprehensive guide on everything you need to know about Rogers Arena's gates and entrances.
As a visitor, one of the key elements to consider before arriving at the arena is transportation and parking. Luckily, Rogers Arena is located near multiple public transit options, making it easy for attendees to access the venue. By knowing which gate you need to enter, you can save time and avoid unnecessary detours.
In addition to accessibility, it's crucial to be aware of any restrictions and guidelines in place at each entrance. This information will help ensure a hassle-free entry experience and allow you to focus on the thrilling event ahead. So grab your tickets, and let's explore the gates and entrances of Rogers Arena together.
Overview of Rogers Arena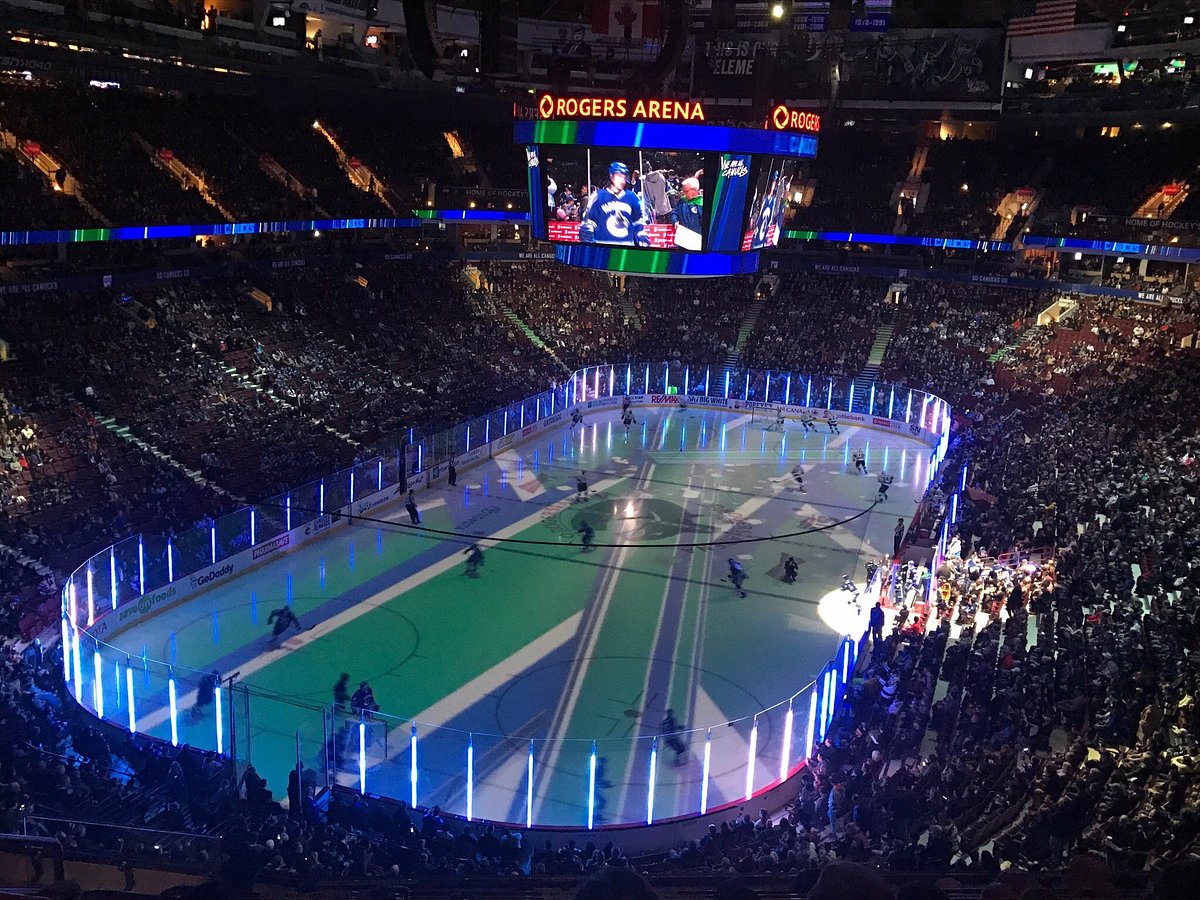 Rogers Arena is a spectacular venue located in Vancouver, British Columbia, and serves as the home arena for the Vancouver Canucks. I remember it being the main arena for the 2010 Winter Olympics, which was a major event in the city. Besides hosting hockey games, Rogers Arena also hosts numerous concerts and live events throughout the year.
When I visit Rogers Arena, I always appreciate that there are plenty of food and drink vendors on all levels. These vendors cater to various tastes and preferences, making it easy for attendees to enjoy their event experience. In addition to the diverse food options, the arena offers services such as assisted listening devices, baby changing stations, and booster seats to make the experience accessible and enjoyable for all guests.
Rogers Arena is easy to get to, given its convenient location in downtown Vancouver. The underground parkade (Lot 987) can be accessed via Griffiths Way with a height clearance of 6'6″ or 2m. Parking availability does vary depending on the event, but it's generally easy to find a spot relatively close to the arena.
I hope this section gives you a good understanding of Rogers Arena and everything it has to offer. Enjoy your time at this iconic venue!
Getting to Rogers Arena
Public Transportation
I found that the most convenient way to get to Rogers Arena is by using public transportation. The SkyTrain's Expo Line has a station called Stadium-Chinatown that is directly adjacent to Rogers Arena on Expo Boulevard. When I exit the train at Stadium-Chinatown, I take the Stadium Entrance/Exit, which is located right across from Gate 10 at Rogers Arena. For specific bus routes and customized public transportation directions, I like to visit Translink.ca.
Parking Facilities
Driving to Rogers Arena is also an option, but be prepared to spend some extra money on parking. The cost is usually around $15-20 at nearby parking lots, and if you choose the gameday parking at the arena, it's about $30. In my experience, finding street parking can be quite a hassle. So, I usually prefer public transportation, as it's easier and less expensive. But if you prefer driving, make sure to arrive early to find a parking spot.
Gate Information
General Gate Information
As a frequent visitor to Rogers Arena, I have experienced and learned a lot about the different gates and entrances. Usually, there are multiple gates open for events, making it easier for fans to enter the building. Remember to check your ticket for any specific gate information and directions. Additionally, friendly ushers are usually stationed at each entrance to guide and assist you with your ticket scanning and security process.
Special Access Gates
From my experience, Rogers Arena also provides special access gates for guests with special needs or disabilities. These gates are designed for ease of access and to accommodate any mobility aids. It is important to reach out to the arena staff in advance or speak with an usher upon arrival, so you can be directed to the appropriate gate and entrance for your specific needs.
In conclusion, being well-informed about the gate and entrance details while planning your visit to Rogers Arena can ensure a smooth and enjoyable experience. Do not hesitate to contact the arena for any additional questions you might have, and remember, ushers are always there to help out.
Guide to Arena Entrances
Main Entrance Details
At Rogers Arena, I typically find the main entrance to be straightforward and easy to locate. Ushers are usually available to help guide me through the ticket scanning and security process, ensuring a hassle-free experience. To make my trip to the arena even smoother, I often rely on public transportation, such as SkyTrain's Expo Line, which conveniently has a Stadium-Chinatown station right next to the arena on Expo Boulevard.
VIP Entrance Details
As a special treat to myself, I sometimes opt for the VIP experience at Rogers Arena. When I do, I head for the VIP entrance, which offers a more exclusive and luxurious entry experience. I'm always greeted warmly by staff and enjoy a smoother passage through security and ticket scanning, allowing me to get to my seat quickly and efficiently.
Accessible Entrance Details
Rogers Arena is mindful of all their guests' needs, including accessibility. Whenever I have a friend or family member who requires wheelchair access or other accommodations, I make sure to locate the accessible entrance, which is designed to create a seamless and enjoyable entry experience for those with mobility challenges. This entrance ensures everyone can enjoy the excitement and energy at Rogers Arena events.
Security Measures
As a frequent visitor to Rogers Arena, I always prioritize my safety and the safety of others. That's why it's important for all visitors to be aware of the security measures in place at the arena.
Firstly, when arriving at the arena, expect to go through a security screening process. This typically involves walking through a metal detector and having any bags or belongings searched. I usually make sure to arrive early, as the security lines can sometimes take a while during high-profile events.
Another helpful tip I'd like to share is to become familiar with the list of prohibited items before your visit. It's best to leave items like large bags, outside food and drink, and anything else that might not be allowed behind in order to speed up the security process. This not only makes the experience smoother for you but also for others around you.
During events, the arena is monitored by a team of security staff that works hard to ensure the safety and well-being of all attendees. They patrol the venue and can assist you if you encounter any issues during your visit. Don't hesitate to approach them if you need help or have concerns over something you've noticed.
Finally, keep an eye out for posted signs and notices around the venue. These will often provide important information related to potential safety hazards or any specific security measures that may be in place for a particular event.
By being aware of the arena's security measures and cooperating with staff, we can all help make each visit to Rogers Arena an enjoyable and safe experience for everyone.
Best Practices for Easy Entry
As a frequent visitor to Rogers Arena, I'd like to share some tips for an effortless entry experience.
First and foremost, it's wise to arrive early. Rogers Arena's underground parkade (Lot 987) opens to ticketholders 15 minutes before the arena doors. So, make sure to time your arrival accordingly. You can access the parkade via Griffiths Way, which can be reached from either Expo Boulevard or Pacific Boulevard.
Gates at Rogers Centre, where Toronto Blue Jays games are held, open 90 minutes before the scheduled game time on weekdays and two hours on weekends. This gives you enough time to access the stadium and enjoy some pre-game activities.
Remember to have your tickets ready, either as a physical copy or on your mobile device, for quick entry. Keep in mind that some entrances might be designated for specific ticket types, so double-check where you need to go beforehand.
It's also a good idea to familiarize yourself with the prohibited items list and stadium rules, as this will prevent any delays entering the arena caused by needing to return items to your vehicle or discard them.
Lastly, take note of the different entry gates and their locations. The Rogers Centre Gate Guide is a great resource for this. By knowing which gate is closest to your seating area, you can save time navigating the venue and head straight to the action.
I hope my suggestions help make your ingress to Rogers Arena smooth and enjoyable!
Venue Amenities
As I walked through Rogers Arena, I noticed various amenities that catered to the diverse needs and preferences of the fans. Regardless of where you're seated, you'll find spots to grab a bite, quench your thirst, or simply chill out before, during, or after the event.
One of the most popular spots is The SportsBar Live! located on the upper concourse (300 level). Here, fans can enjoy the game with a beer in hand in a bar environment, complete with plenty of screens to catch the action. I found it to be a great place to socialize and cheer on the home team.
For those who prefer a more sophisticated setting, there's a wine bar on the 100 level that offers a relaxing atmosphere where you can taste a variety of wines. I appreciated how it provided a different vibe from the usual sports bar experience.
Rogers Arena also has a range of food options to satisfy your cravings, whether you're in the mood for classic stadium fare like hot dogs and nachos, or something a bit more gourmet. My personal favorite was the sushi, which added a unique touch to the typical arena food selection.
If you need to pick up some souvenirs or official merchandise, there are several shops and kiosks scattered throughout the venue. I found them well-stocked with team gear, memorabilia, and more, making it easy to show off my team pride.
In case of any emergency or minor injury, Rogers Arena has a First Aid station staffed with trained professionals. I was glad to know that they were prepared to handle any situation that might arise, offering me peace of mind while enjoying the event.
With so many amenities available for visitors, I found my experience at Rogers Arena to be comfortable and enjoyable. It truly offers something for everyone, ensuring a memorable visit for fans of all ages and tastes.
Conclusion
As someone who has visited Rogers Arena, I can confidently say that the arena is well-equipped with various amenities and accessible entrances. The gate and entrance system is designed to provide a smooth experience for visitors, whether it's for a Canucks game or a concert.
One thing I appreciate about Rogers Arena is the availability of accessible parking spots in the underground garage. Whenever I attend an event, I know that Fan Services is just a phone call away at 604-899-7440 to assist with acquiring a disabled parking pass or any other parking needs.
When it comes to public transportation, Rogers Arena makes it easy for visitors to arrive by train. Exiting at Stadium-Chinatown using the Stadium Entrance/Exit leads you directly to Gate 10, ensuring a convenient transit experience. Additionally, you can always visit Translink.ca for bus and customized transportation directions.
Inside the arena, you'll find various food and beverage options like The SportsBar Live! on the upper concourse and a wine bar on the 100 level. What's more, friendly ushers are present at every entrance to guide you through the ticket scanning and security processes.
In all my visits to Rogers Arena, I've found the gate and entrance experience to be hassle-free, enjoyable, and well-organized. I hope this guide helps you plan your next visit to Rogers Arena and ensures you have a fantastic experience!