Nestled in the bustling downtown core of Vancouver, British Columbia, Rogers Arena stands as a premier destination for sports, music, and entertainment enthusiasts.
Home to the NHL's Vancouver Canucks and host to a variety of world-class events, this multi-purpose venue has become an integral part of the city's vibrant cultural landscape.
With its state-of-the-art facilities, diverse range of dining options, and prime location near numerous attractions, Rogers Arena offers visitors an unforgettable experience.
Whether you're a die-hard hockey fan, a concert-goer, or simply exploring the city, our comprehensive guide to Rogers Arena will provide you with all the essential information to make the most of your visit.
Rogers Arena: Key Facts
Rogers Arena is a multi-purpose venue located in the heart of Vancouver, British Columbia. It serves as the home ice for the National Hockey League's Vancouver Canucks. With a seating capacity of 18,910 for hockey games and up to 19,700 for concerts and other events, Rogers Arena is a popular destination for sports, entertainment, and cultural events in the city.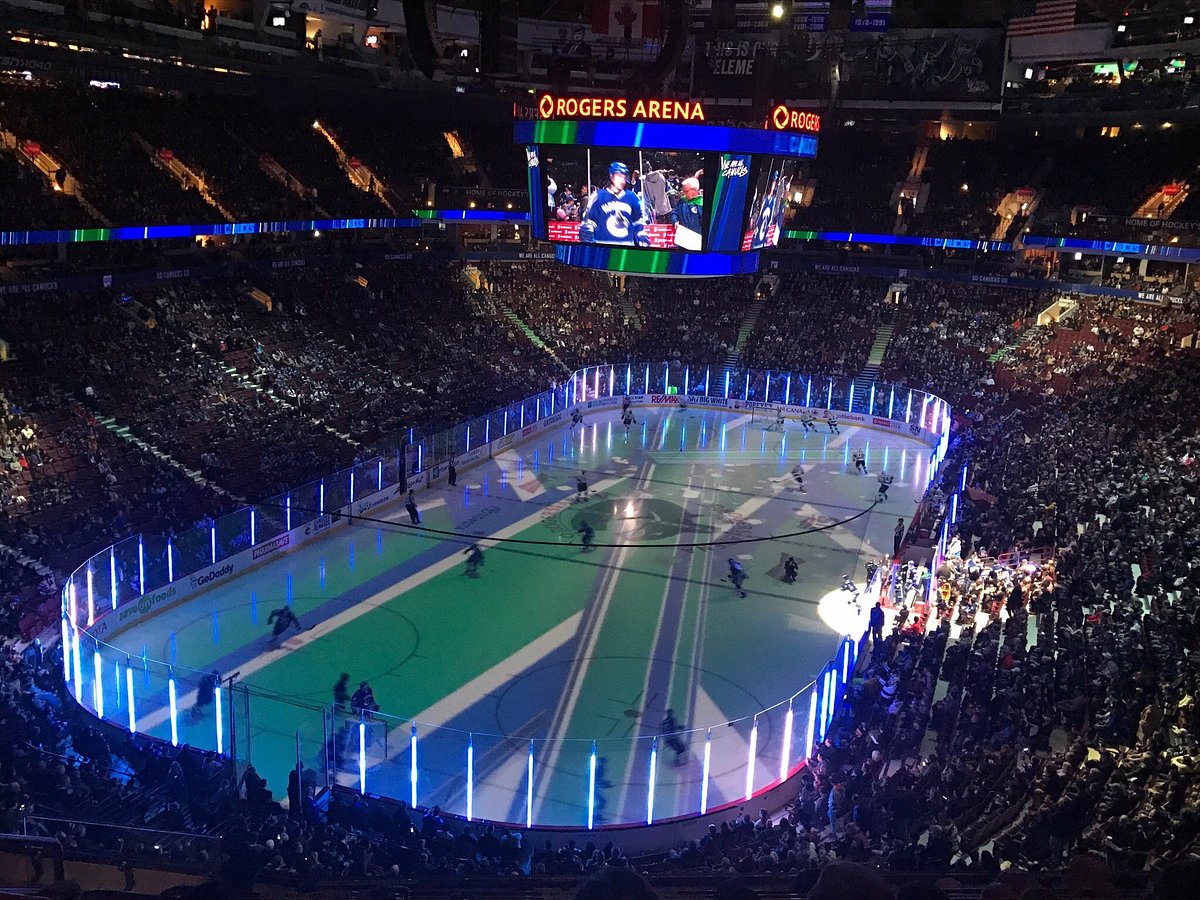 Where is Rogers Arena Located?
Rogers Arena is situated at 800 Griffiths Way, Vancouver, British Columbia, Canada.
The arena is conveniently located in downtown Vancouver, making it easily accessible by various modes of transportation. It is within walking distance of several popular tourist attractions, including BC Place, the home stadium of the Vancouver Whitecaps and BC Lions, as well as the picturesque False Creek waterfront.
The Best Way to Get to Rogers Arena
There are several ways to get to Rogers Arena, depending on your preference and starting point:
Public Transportation: Vancouver's SkyTrain system is a fast and efficient way to reach Rogers Arena. The Stadium-Chinatown Station on the Expo Line is just a short walk from the venue. Alternatively, the nearby Yaletown-Roundhouse Station on the Canada Line is about a 15-minute walk away.

Bus: Several bus routes stop near Rogers Arena, including the 3, 8, 17, and 20. For more information on bus routes and schedules, visit TransLink's website.

Bike: Vancouver is known for its extensive network of bike lanes and cycling-friendly infrastructure. If you prefer to cycle, there are several bike racks available outside Rogers Arena for secure bike parking.

Car: If you're driving, there are several parking lots near Rogers Arena. However, parking can be limited and expensive during events, so it's advisable to arrive early or consider using public transportation.
Parking near Rogers Arena
Although parking is available near Rogers Arena, it can be limited and pricey, especially during events. The venue has its own underground parking lot with more than 750 parking spaces, accessible from Griffiths Way.
Additional parking options can be found nearby, such as the Impark Lot at 912 Richards Street and the EasyPark Lot at 180 Keefer Street.
To avoid parking hassles, consider using public transportation, carpooling, or a rideshare service like Uber or Lyft.
The Best Restaurants near Rogers Arena
Vancouver is known for its diverse and vibrant food scene, and there are numerous dining options within walking distance of Rogers Arena.
Some popular choices include:
The Pint Public House: A lively sports bar offering a wide selection of beers, pub fare, and a game day atmosphere.

Chambar: A Belgian-inspired restaurant offering a diverse menu with a focus on sustainable, locally sourced ingredients.

Miku: A waterfront sushi restaurant known for its aburi-style sushi and stunning views of the harbor.

The Flying Pig: A casual eatery featuring a menu of comfort food, made-from-scratch dishes, and a warm, welcoming atmosphere.

Cactus Club Cafe: A popular chain offering an eclectic menu of globally inspired dishes, along with cocktails and a vibrant atmosphere.

The Best Bars near Rogers Arena
If you're looking for a drink or a place to enjoy the pre- or post-game atmosphere, there are several bars and pubs near Rogers Arena:
The Pint Public House: As mentioned earlier, this sports bar is a popular choice for game day gatherings, offering a wide selection of beers, cocktails , and pub fare.

Library Square Public House: A popular spot among locals, this pub offers a wide selection of craft beers and an extensive menu of pub favorites. It also features a large outdoor patio, making it a great spot for warmer days.

The Roxy: A lively nightclub and live music venue, The Roxy is known for its late-night parties and fun atmosphere. It's a great place to dance the night away after a game or concert.

The Yale Saloon: If you're in the mood for some country vibes, The Yale Saloon is a unique option. This lively bar offers live music, line dancing, and a menu of southern-inspired dishes.

Devil's Elbow Ale & Smoke House: For craft beer enthusiasts, this brewpub offers a rotating selection of local and international beers, along with a menu of smoked meats and other tasty dishes.
The Best Hotels near Rogers Arena
There are several hotels within walking distance of Rogers Arena, making it easy for out-of-town visitors to attend events at the venue. Some options include:
JW Marriott Parq Vancouver: A luxury hotel featuring a spa, fitness center, and several on-site dining options, the JW Marriott is just a short walk from Rogers Arena.

Sandman Hotel Vancouver City Centre: Located directly across from Rogers Arena, this mid-range hotel offers comfortable accommodations and convenient access to the venue.

Georgian Court Hotel: A boutique hotel offering elegant rooms and personalized service, the Georgian Court Hotel is located just a few blocks from Rogers Arena.

Hampton Inn & Suites by Hilton: Offering a more budget-friendly option, this hotel provides comfortable accommodations and is just a short walk from the venue.

The Westin Grand: Featuring an outdoor heated pool and fitness center, this upscale hotel is located within easy walking distance of Rogers Arena.
The History of Rogers Arena
Rogers Arena, originally known as General Motors Place, opened its doors in September 1995. The venue was built as a replacement for the aging Pacific Coliseum and quickly became the home of the Vancouver Canucks.
In 2010, the arena was temporarily renamed Canada Hockey Place for the Winter Olympics and Paralympics, hosting the ice hockey events.
In 2010, Rogers Communications acquired the naming rights to the venue, and it has been known as Rogers Arena ever since.
Over the years, the arena has hosted numerous high-profile events, including the NHL Entry Draft, the World Junior Ice Hockey Championships, and various concerts featuring top international artists.
Where to Get Tickets for Rogers Arena
Tickets for events at Rogers Arena can be purchased through the official Ticketmaster website or at the venue's box office.
For Vancouver Canucks games, tickets can also be found on the team's official website and through various ticket resale platforms such as StubHub or SeatGeek.
It is recommended to purchase tickets in advance, as popular events can sell out quickly. For the best seating options, be sure to check availability as soon as the event is announced.
Does Rogers Arena Offer Tours?
Yes, Rogers Arena offers guided behind-the-scenes tours for fans and visitors interested in learning more about the venue and its history.
The tour provides a unique opportunity to see the arena from a different perspective, including access to areas typically reserved for players and staff.
Tours are available on select days and must be booked in advance through the Rogers Arena website.
Accessibility at Rogers Arena
Rogers Arena is committed to providing a comfortable and accessible experience for all guests.
The venue offers a range of services and facilities for guests with disabilities, including:
Accessible Seating: Rogers Arena has accessible seating areas located throughout the venue. These seating options are available for guests with mobility disabilities and their companions. When purchasing tickets, be sure to request accessible seating if needed.

Assisted Listening Devices: For guests with hearing impairments, assisted listening devices are available at the Guest Services Centre located on the Plaza Level concourse.

Elevators: Elevators are located throughout the venue to provide access to all levels for guests with mobility disabilities.

Accessible Restrooms: Accessible restrooms are available on all levels of Rogers Arena.

Service Animals: Service animals are welcome at Rogers Arena, provided they are leashed and under the control of their handler at all times.
For additional information on accessibility services or to request accommodations, contact Rogers Arena Guest Services.
Rogers Arena Security Measures and Policies
Rogers Arena is committed to providing a safe and enjoyable environment for all guests.
To ensure everyone's safety, the venue has implemented the following security measures and policies:
Bag Checks: All guests entering Rogers Arena are subject to bag checks. Bags larger than 14" x 14" x 6" are not permitted inside the venue. Guests are encouraged to bring only essential items to expedite the security process.

Metal Detectors: Guests are required to pass through metal detectors before entering the arena. Please be prepared to remove any items that may trigger the detectors, such as keys or mobile phones.

Prohibited Items: Some items are not allowed inside Rogers Arena, including weapons, outside food and beverages, drugs or alcohol, and items that may obstruct the view of other guests, such as large signs or flags.

Code of Conduct: Rogers Arena expects all guests to behave in a respectful and courteous manner. Disruptive behavior, harassment, or disorderly conduct may result in ejection from the venue.
For a complete list of security measures and policies, visit the Rogers Arena website.
Fun Facts about Rogers Arena
Rogers Arena has hosted several major international events, including the 2006 World Junior Ice Hockey Championships and the ice hockey competitions during the 2010 Winter Olympics.

The arena's inaugural event was a concert by Canadian rock band Bryan Adams on September 19, 1995.

Rogers Arena features the largest center-hung scoreboard in the NHL, measuring 28 feet high by 49.5 feet wide.

The Vancouver Canucks' mascot, Fin the Whale, can often be seen entertaining fans at Rogers Arena during games.

Several Hollywood films and television shows have used Rogers Arena as a filming location, including the popular TV series "Arrow" and the movie "Blades of Glory."
Rogers Arena is an iconic venue in Vancouver, providing sports fans, concert-goers, and event attendees with a world-class experience.
With its rich history, exciting atmosphere, and convenient downtown location, Rogers Arena is a must-visit destination for anyone traveling to Vancouver.
James is a big time NBA Golden State follower, who makes sure to catch games when he's in the area. He likes to follow International Soccer, with an interest in small town soccer club, Blackburn Rovers located in the North on the UK.