As a regular visitor to Rogers Place, I know that figuring out the best gate and entrance can be a bit overwhelming at first. That's why I'm putting together my personal guide to help you navigate your way with ease. In this article, I'll be sharing everything you need to know about the gates and entrances at Rogers Place, so you can spend less time wandering around and more time enjoying the events.
Getting to Rogers Place is simple, with multiple pedestrian access points, transit options, and parking facilities available. Once you've arrived, there are several entrances to choose from depending on the event you're attending. My favorite is the 104 Ave entrance, which leads you up the main staircase towards the south entrance at Ford Hall.
Inside Rogers Place, you'll find that the arena is fully accessible, with elevator access to all seating levels. The Rogers Place Ticketing & Customer Services team has always been helpful for me, and they are available at 780-414-LIVE (5483) to answer any questions and assist with your visit. Whether you're attending a concert or a hockey game, I hope this gate and entrance guide will help make your experience at Rogers Place unforgettable!
History of Rogers Place
Rogers Place has become a significant landmark in downtown Edmonton since its completion in 2016. It was built as part of a larger downtown revitalization project and has since played a vital role in transforming the area.
As the home arena for the Edmonton Oilers NHL team and the Edmonton Oil Kings WHL team, Rogers Place has hosted countless exciting ice hockey games. Additionally, the venue has welcomed various concerts, special events, and cultural gatherings, contributing to the vibrant atmosphere of downtown Edmonton.
The construction of Rogers Place was a key element in the Edmonton Arena District development project, which aimed to create a bustling urban plaza filled with entertainment, dining, and shopping options. Its completion marked the beginning of a new era for the city's downtown area, breathing new life into the once underutilized space.
Aside from its impact on the community, Rogers Place is known for its state-of-the-art design and amenities. The modern, fully accessible facility features elevator access to all seating levels, ensuring that every guest can comfortably enjoy events and games hosted at the arena.
In summary, Rogers Place has emerged as an iconic part of downtown Edmonton, playing a critical role in revitalizing the area and providing a top-notch venue for various events and gatherings. Its rich history and ongoing contributions to the city serve as a testament to the arena's enduring success.
Getting to Rogers Place
Public Transportation
Taking public transportation is a great way to get to Rogers Place. The main entrance into the arena is located through the Pedestrian Portal at 103 Ave and 103 St. This portal leads guests directly into the Ford Hall entrance, where you can then take the escalators, stairs, or elevators up into Ford Hall.
If you're coming by LRT, the entrance to Rogers Place is on the north side of the venue, which is accessible via a staircase from the LRT station. Once inside, you can either enter through the north gates or follow the public corridor around to the south entrance and enter through Ford Hall.
Parking and Drop-off Points
For those driving to Rogers Place, there are multiple parking options available. Here are some parking options to consider:
Reef Parking: Rogers Place has partnered with Reef Events to offer event-goers reserved parking. This can be a convenient option for those who want to secure their parking spot in advance.
Nearby parking lots and garages: There are numerous parking lots and garages located within walking distance of the arena. Just be sure to check their hours and availability before arriving.
If you're arriving by taxi or rideshare, there are designated drop-off and pick-up zones for your convenience. Be sure to familiarize yourself with these areas before heading to the venue, so you know where to meet your ride home.
Main Entrances and Gates
Main Entrance
As a regular attendee of events at Rogers Place, I always make sure to enter through the main entrance. This entrance is located on 104 Ave, and it is highly visible, with signs directing you to it. The main entrance is accessible and welcomes all guests with a modern and clean design.
Gate 1
Personally, I find Gate 1 to be a great alternative to the main entrance, especially on game nights. Sometimes referred to as the LRT entrance, this gate is accessible through the public transit station located on the north side of Rogers Place. It's a convenient option if you're arriving by train or any other means of public transportation.
Gate 2
Last but not least is Gate 2. This pathway is a pedestrian portal situated at the intersection of 103 Ave and 103 St. It may not be as well-known as the other entrances, but it is open and available for accessing Rogers Place. It is particularly useful for those walking to events from the downtown area.
Remember, choosing the right entrance can make your experience at Rogers Place smoother and more enjoyable. Don't hesitate to reach out to the friendly staff for assistance if you need help finding your way!
Accessibility Information
As a visitor to Rogers Place, I have found that they prioritize accessibility, making it easier for everyone to attend events. Let me share some key information about ADA accessible entrances and wheelchair services.
ADA Accessible Entrances
There are various entrances to Rogers Place that cater to ADA accessibility requirements. The main entrance on 104 Ave and the LRT entrance on the north side of the venue are both wheelchair-friendly. If you're entering from the LRT entrance, I suggest looking for tickets in sections 113-118/221-226, as these are closest to the entrances and escalators. Additionally, there are guest elevators in all four corners of the building to provide easy access to different levels.
For those who prefer a pedestrian route, I recommend using the pedestrian portal at 103 Ave and 103 St. This portal leads up to Ford Hall, where you can enter the arena through the south gates.
Wheelchair Services
Rogers Place is well-equipped to assist guests who need wheelchair services. Although I haven't personally needed this service, I've noticed that they offer complimentary wheelchair escorts for guests with mobility challenges. These escorts can help you navigate the arena with ease, and you can request this service from guest services located throughout the venue.
When attending an event at Rogers Place, having this information about accessibility will help ensure you have a comfortable and enjoyable experience.
Security and Entrance Policy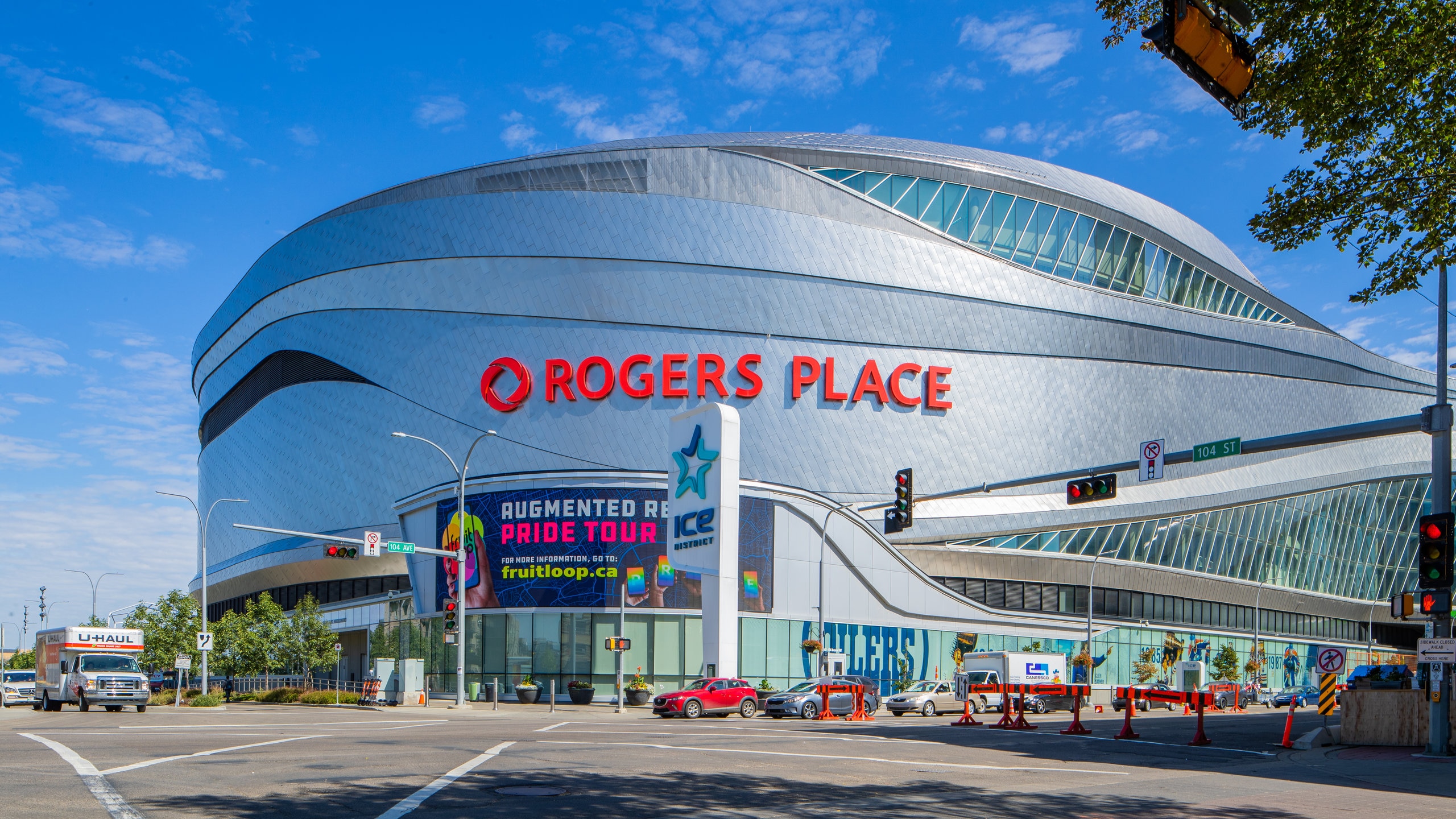 As a frequent visitor to Rogers Place, I've gathered some important information on their security and entrance policies to make your experience as smooth as possible.
Bag Policy
When I go to Rogers Place, I make sure to follow their No Bag Policy, which has been implemented for everyone's safety and convenience. According to the policy, all bags are prohibited, with the exception of smaller bags and purses that are 12″ x 12″ x 6″ or smaller. So, do not bring backpacks, suitcases, or beach bags!
Prohibited Items
Rogers Place aims to ensure the safety and enjoyment of all guests, which is why they have a list of prohibited items. When I attend events, I make sure not to bring any of the following:
Outside food or beverages
Glass containers
Alcohol
Illegal drugs
Weapons
Professional cameras or video recording equipment
Laser pointers
Large banners or signs
Noise-making devices
By adhering to Rogers Place's policies regarding bags and prohibited items, we can all have a great time while keeping the environment safe and enjoyable for everyone.
Special Features and Amenities
Concessions
At Rogers Place, I've found that there's a wide variety of food and beverage options available. From classic arena bites like hot dogs and popcorn to more unique offerings, there's something for everyone. Some of my personal favorites include the poutine and the local beer selections. The staff at the concession stands are always friendly and helpful, which adds to the overall positive experience.
Merchandise Stores
When it comes to shopping for fan gear, I've noticed that Rogers Place has several merchandise stores spread throughout the arena. These stores offer a great selection of merchandise for both the Edmonton Oilers and the Edmonton Oil Kings, as well as items for major events and concerts held at the venue. In my experience, the stores are well-stocked and carry a range of sizes, making it easy to find the perfect souvenir or gift while attending an event there.
Conclusion
As a frequent visitor of Rogers Place, I can confidently say that the arena has made accessibility and convenience for guests a top priority. With multiple entrances available, accessing the venue is quite simple. Remember that the main entrance is located through the pedestrian portal at 103 Ave and 103 St, which leads to the Ford Hall entrance.
At Rogers Place, there are various levels of seating accessible by elevators, making the venue accessible to everyone. Don't forget to contact their Ticketing & Customer Services team at 780-414-LIVE (5483) in advance if you require assistance or need information about purchasing accessible seating options.
Lastly, remember that Rogers Place is well-connected to public transit and provides detailed information on pedestrian access and parking options on their website. This makes getting to and from the venue stress-free and enjoyable.
In summary, attending an event at Rogers Place is an enjoyable experience thanks to the venue's dedication to guest convenience and accessibility. I hope the information provided in this article will help you navigate Rogers Place with ease and make the most of your visit.