Scotiabank Arena, a premier entertainment venue in Toronto, offers a wide range of food and beverage options to suit every taste.
The arena features various dining choices, including quick-serve food stands, upscale culinary experiences, and premium club options, ensuring every visitor can find something to enjoy during their visit.
The Culinary Program at Scotiabank Arena is overseen by F&B Culinary Director and Executive Chef Chris Zielinski. With an extensive background in foodservice at large venues, Zielinski is responsible for managing all quick-serve and premium foodservice operations at the arena, as well as the culinary programs at BMO Field and Coca-Cola Coliseum.
From traditional snack options and signature sandwiches to creative and gourmet dishes, Scotiabank Arena's food selection rivals the entertainment lineup itself.
Some noteworthy options available at Scotiabank Arena include Michelin-starred chef creations, Korean corn dogs, and even a taco stand with offerings designed by renowned chef Elia Herrera.
Additionally, unique and innovative combinations such as Grilled Cheeseburgers showcase the talent and creativity present in the culinary offerings at the arena.
Visitors have countless options to choose from, making every event a memorable and delicious experience.
Scotiabank Arena Overview
The Scotiabank Arena, located in Toronto, Ontario, is a popular venue for hosting a variety of events such as sports games and concerts. As visitors attend these events, the arena ensures they have a fantastic experience by offering a range of food and beverage options.
Inside the concourse, guests can enjoy various food concessions, each providing unique and delicious options. Some popular choices include Aloette, Cherry St. BBQ, ChungChun Rice Dog, and Coors Light. These eateries cater to different tastes, ensuring there is something for everyone.
Not only are there diverse food choices, but visitors also have an abundance of beverage options. Although drink prices might be considered expensive, the convenience and environment make it worthwhile for guests to indulge during their visit to the Scotiabank Arena.
New concession stands are always being added to enhance the overall experience, ensuring that both Raptors and Leafs fans have a great experience when visiting. Some notable food options are the Korean beef bowl from Grains and Greens, big shrimp sushi burrito from EDO, and the charcuterie board from the Cheese Boutique.
Food Options
Concessions
Scotiabank Arena offers a wide range of concession options for visitors to enjoy during games and events. Some popular concession choices include Aloette, Cherry St. BBQ, ChungChun Rice Dog, and Coors. These stands provide a variety of quick and delicious options, catering to diverse tastes and preferences.
Restaurants
For those looking for a sit-down dining experience, Scotiabank Arena also houses several restaurants. Patrons can indulge in unique dishes at new food stands like Grains and Greens' Korean beef bowl, EDO's big shrimp sushi burrito, and The Cheese Boutique's gourmet offerings. These restaurants offer a more extensive menu and a relaxed atmosphere for guests to enjoy before, during, or after event proceedings.
Snacks and Treats
In addition to the main course options, Scotiabank Arena features a variety of snacks and treats to satisfy all cravings. Some fan favorites include Hogtown Gourmet Hot Dogs that serve up bacon hot dogs, Coney Island chili dogs, and Dorito dogs. Lighter options are also available, such as healthy salads and bowls from various food stands like Grains and Greens and EDO Sushi. With something for everyone, Scotiabank Arena ensures a satisfying culinary experience for all attendees.
Dietary Restrictions
Scotiabank Arena aims to cater to the diverse dietary needs and preferences of its visitors. In this section, we will explore the available gluten-free, vegetarian, and vegan options at the arena.
Gluten-Free Options
While specific gluten-free options might not be heavily advertised, fans with unique dietary requirements are allowed to bring their own food and beverages into the facility, as mentioned on the Scotiabank Arena FAQ. This ensures that individuals with gluten sensitivities or allergies can still enjoy a meal during their visit.
Vegetarian and Vegan Options
Scotiabank Arena offers a variety of food stands and choices that cater to both vegetarian and vegan visitors. Although there might not be a complete list of specific vegetarian and vegan options, it is important to note that the arena is constantly updating its food offerings to cater to a broader audience.
When visiting Scotiabank Arena, feel free to ask the staff at the food stands about vegetarian and vegan options, as they will be able to guide you to suitable choices available that day.
In conclusion, Scotiabank Arena is working towards offering diverse food options to cater to different dietary needs and preferences. Remember to inquire about specific dietary options at food stands and exercise your right to bring in specialized food items if needed.
Drinks and Beverages
While enjoying an event at Scotiabank Arena, fans have a variety of drink options to choose from. This section focuses on both alcoholic and non-alcoholic beverages available at the arena.
Alcoholic Beverages
Scotiabank Arena offers a wide selection of beer, wine, and spirits at various concession stands and bars throughout the venue. Fans can find standard domestic and imported beers, as well as local craft beers to enjoy during events. Wine options usually include red, white, and sparkling selections, while spirits may vary based on event or location within the arena.
Non-Alcoholic Beverages
For those seeking non-alcoholic options, Scotiabank Arena provides a variety of soft drinks, juices, and bottled water to keep fans hydrated and refreshed during events. Some of the popular options include:
Soft drinks (such as Coca-Cola, Diet Coke, and Sprite)
Water (bottled and fountain)
Fruit juices (orange, apple, and cranberry)
Energy and sports drinks (Gatorade and other brands)
Remember that Pinnacle Caterers is the exclusive provider of food and beverages at Scotiabank Arena, so guests are not allowed to bring personal food or non-alcoholic beverages into the venue.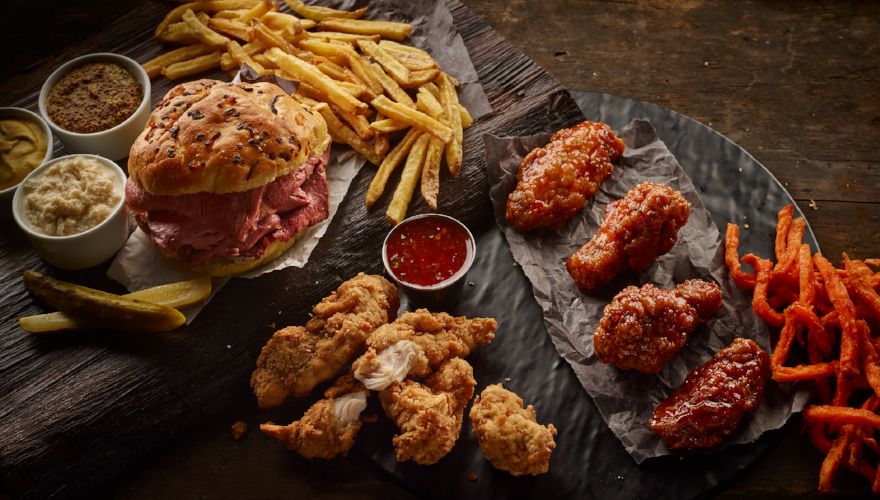 Payment Methods
When attending events at Scotiabank Arena, it's essential to know the available payment methods for the various food concessions. The venue offers multiple payment options, making it a hassle-free experience for visitors to grab a bite while they enjoy their favorite game or show.
In the past, there were concerns about whether the venue accepted credit cards for concessions or stuck to cash-only transactions. However, it's crucial to note that Scotiabank Arena is not cash-only and does accept credit cards for food and other purchases. You can confidently use your credit card to grab a tasty treat or beverage at the various food concessions available throughout the arena, such as Aloette, Cherry St. BBQ, ChungChun Rice Dog, and Coors.
Moreover, many venues, including Scotiabank Arena, have been transitioning to cashless payment options for a more seamless and efficient payment process. Whether you're buying a delicious hot dog at Hogtown Gourmet Hot Dogs or trying out the wholesome Korean beef bowl at Grains and Greens, a cashless transaction is likely to be accepted.
In summary, the payment methods at Scotiabank Arena food concessions have evolved and now include credit card and cashless options, ensuring a smooth and convenient experience for patrons.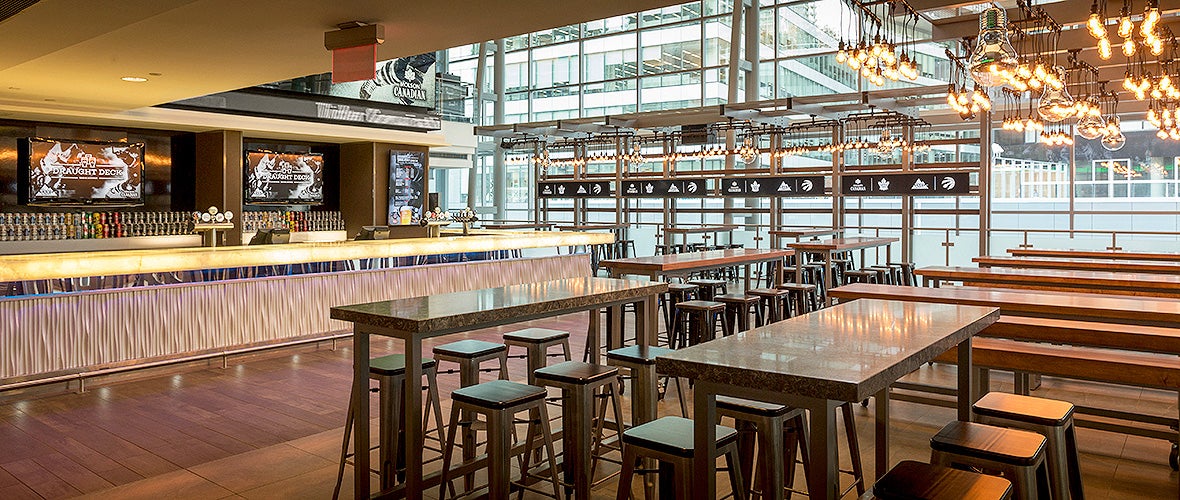 Suggestions for Food Lovers
If you're attending an event at Scotiabank Arena and looking for delicious food options, there are a variety of new food stands to choose from. For a twist on a classic snack, try the South Korean rice dogs at Section 307. Cheese enthusiasts can indulge in treats from the Cheese Boutique.
For a more substantial meal, consider trying one of Grains and Greens' Korean beef bowls or EDO's big shrimp sushi burrito, both of which were highly ranked by Toronto Life.
Here are a few more food options available at Scotiabank Arena:
With a wide range of food options for every taste, food lovers can savor the diverse flavors and dishes available at the arena. Make sure to explore these suggestions and discover your personal favorites during your next visit to Scotiabank Arena.
James is a big time NBA Golden State follower, who makes sure to catch games when he's in the area. He likes to follow International Soccer, with an interest in small town soccer club, Blackburn Rovers located in the North on the UK.