Welcome to our comprehensive guide to the Scotiabank Saddledome, the iconic home of the Calgary Flames!
Whether you're a die-hard hockey fan or a visitor looking to experience the energy and excitement of an NHL game, this guide has all the information you need to plan your perfect visit.
From key facts and getting there to nearby dining, accommodations, and entertainment options, we've got you covered. Delve into the rich history of the Saddledome and learn about the various ways to secure tickets for your favorite events.
So, gear up and get ready for an unforgettable experience at one of Canada's most iconic sports venues, the Scotiabank Saddledome!
Scotiabank Saddledome: Key Facts
The Scotiabank Saddledome is a multi-purpose indoor arena in Calgary, Alberta, Canada.
It is the home of the National Hockey League's (NHL) Calgary Flames, as well as the Western Hockey League's Calgary Hitmen and the National Lacrosse League's Calgary Roughnecks.
Here are some key facts about the arena:
Location: 555 Saddledome Rise SE, Calgary, Alberta, Canada
Opened: October 15, 1983
Capacity: 19,289 for hockey games, 20,000+ for concerts and other events
Architect: Graham McCourt Architects
Owner: City of Calgary
Operator: Calgary Flames Limited Partnership
Where is Scotiabank Saddledome Located?
The Scotiabank Saddledome is located in the heart of downtown Calgary, in the vibrant Victoria Park neighborhood.
The arena is situated within the Stampede Park and is easily accessible from various parts of the city, surrounded by numerous attractions, restaurants, and entertainment options.
The Best Way to Get to Scotiabank Saddledome
There are several convenient ways to get to the Scotiabank Saddledome, depending on your preferences and location:
Public Transit: Calgary Transit's CTrain light rail system has a station called Victoria Park/Stampede, which is just a short walk from the arena. The Red Line and the Blue Line both stop at this station, providing easy access from various parts of the city. You can also take one of the many buses that serve the area.
Walking: If you're staying in downtown Calgary, the Saddledome is within walking distance from many popular locations. It's a pleasant walk, especially during the warmer months, as you'll pass by several parks and landmarks along the way.
Biking: Calgary has a well-developed network of bike lanes and paths. You can easily bike to the Saddledome using the city's designated bike routes. Bike racks are available at the arena, making it easy to secure your bike during the event.
Driving: If you prefer to drive, the Saddledome is accessible via major roadways like Macleod Trail, 9th Avenue SE, and 17th Avenue SE. Keep in mind that traffic can be heavy on game days, so give yourself plenty of time to get to the arena.
Parking near Scotiabank Saddledome
There are several parking options near the Saddledome, both on-site and off-site. Some of the popular parking lots include:
Lot A: This is the primary parking lot for the Saddledome, located just north of the arena. It offers a limited number of spaces and can fill up quickly on game days.
Lot B: Situated to the east of the arena, Lot B is another on-site parking option. It is a bit farther away but still within easy walking distance.
Off-site parking: There are numerous off-site parking lots and garages within walking distance of the Saddledome. Some popular options include the Calgary Parking Authority's Convention Centre Parkade, City Centre Parkade, and the Impark lots along 10th Avenue SE.
Always remember to arrive early on game days and special events, as parking spaces can fill up quickly.
The Best Restaurants near Scotiabank Saddledome
Calgary offers a diverse culinary scene with plenty of options to suit different tastes and budgets. Some of the best restaurants near the Saddledome include:
Charbar: Located in the historic Simmons Building, Charbar is a popular spot for Argentine-inspired cuisine, with an emphasis on locally-sourced ingredients and wood-fired cooking.
Ten Foot Henry: A trendy eatery that offers a vegetable-focused menu with a mix of small plates and larger dishes to share. The lively atmosphere makes it a great place for a pre-game meal or a post-game celebration.
The Beltliner: This modern diner offers classic comfort food with a twist. Their all-day breakfast menu, extensive sandwich selection, and house-made desserts make it a popular choice among locals and visitors alike.
Native Tongues Taqueria: This Mexican-inspired restaurant is known for its delicious tacos, tortas, and other street food-style dishes. The casual atmosphere and communal seating make it a great spot to grab a bite before heading to the game.
Village Ice Cream: If you're in the mood for something sweet, Village Ice Cream offers handcrafted, small-batch ice cream in a variety of unique flavors. It's the perfect treat to enjoy on your way to or from the Saddledome.
The Best Bars near Scotiabank Saddledome
There's no shortage of great bars and pubs near the Saddledome to enjoy a drink before or after the game. Here are some of the best options:
Cowboys Dance Hall: This lively venue offers a true Western experience, complete with a large dance floor, live music, and a mechanical bull. It's a great place to kick off your evening or continue the party after the game.
Craft Beer Market: With over 100 beers on tap, Craft Beer Market is a haven for beer enthusiasts. The spacious, industrial-chic setting makes it a great place to gather with friends and enjoy a wide selection of local and international brews.
Last Best Brewing & Distilling: A local favorite, Last Best is both a brewery and a distillery, offering a variety of craft beers and spirits. The cozy, rustic atmosphere makes it an ideal spot to unwind with a drink in hand.
The Palomino Smokehouse: Combining a lively bar scene with mouthwatering BBQ, The Palomino Smokehouse is a popular spot for pre-game drinks and dinner. With live music and an extensive whiskey selection, it's a great place to kick back and enjoy the evening.
Broken City: This eclectic bar and live music venue is known for its diverse entertainment lineup, ranging from comedy nights to punk rock shows. Grab a drink and take in some local talent before or after the Flames game.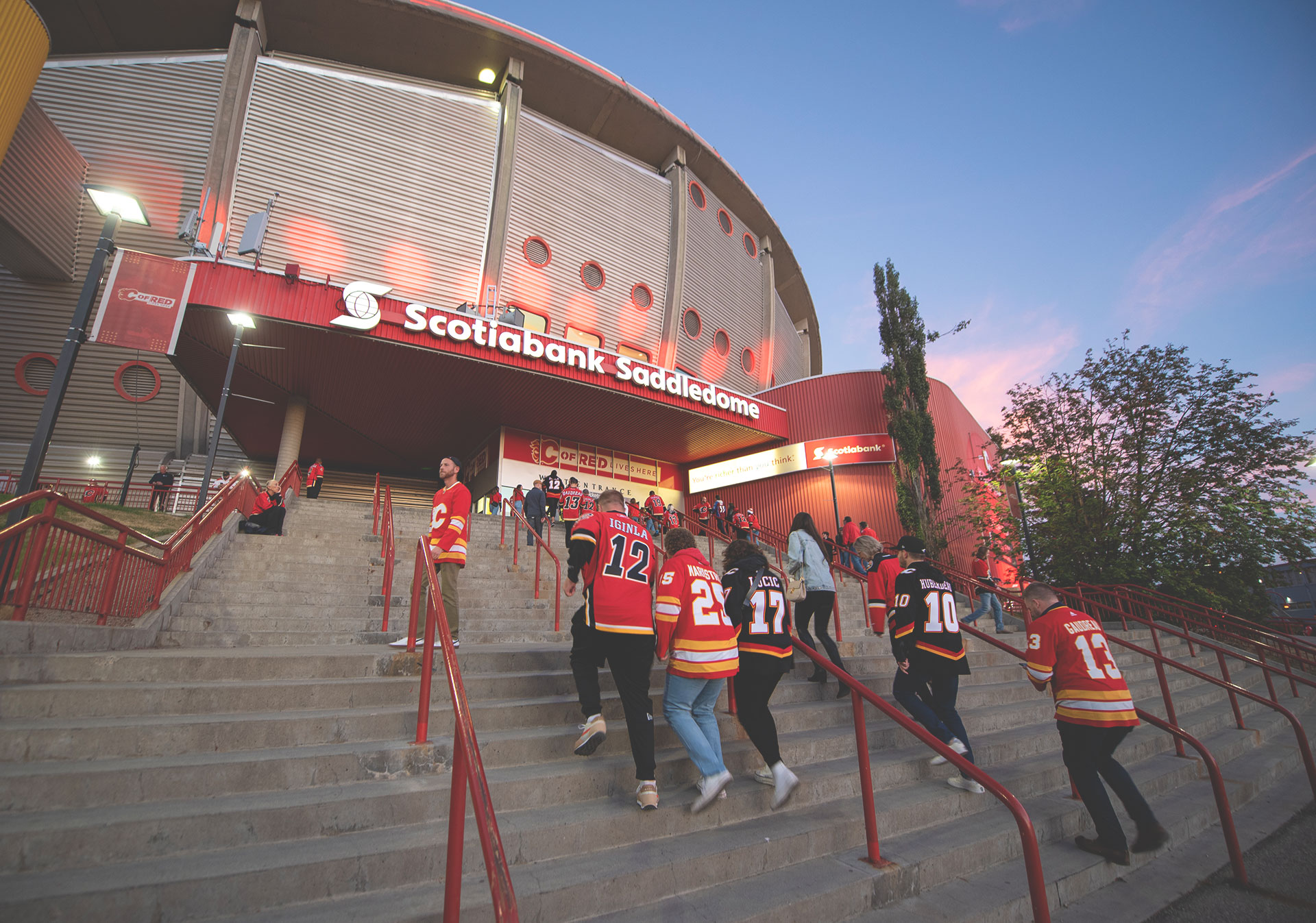 The Best Hotels near Scotiabank Saddledome
If you're visiting from out of town or just looking for a place to stay near the arena, there are several great hotel options to choose from:
Calgary Marriott Downtown Hotel: This upscale hotel offers well-appointed rooms, an indoor pool, and a fitness center, all within walking distance of the Saddledome. The on-site restaurant, One18 Empire, serves up delicious Canadian cuisine and craft cocktails.
Hotel Arts: A boutique hotel with a contemporary vibe, Hotel Arts features stylish rooms, an outdoor pool, and a couple of popular on-site dining options, including the award-winning Yellow Door Bistro.
The Westin Calgary: Located in the heart of downtown, The Westin offers comfortable rooms, a heated indoor pool, and a fitness center. The hotel's location makes it easy to explore the city and access the Saddledome.
Hilton Garden Inn Calgary Downtown: This modern hotel offers comfortable accommodations and convenient amenities like an on-site restaurant, a fitness center, and an indoor pool. The Saddledome is just a short walk away.
Residence Inn by Marriott Calgary Downtown/Beltline District: Ideal for longer stays, this extended-stay hotel offers spacious suites with fully-equipped kitchens. The property also features a fitness center, an indoor pool, and a rooftop terrace.
The History of Scotiabank Saddledome
The Scotiabank Saddledome was built in 1983 to replace the aging Stampede Corral as the home of the Calgary Flames.
The arena's distinctive saddle-shaped roof, designed by Graham McCourt Architects, has become an iconic part of the Calgary skyline.
The Saddledome has played host to numerous memorable events over the years, including the 1988 Winter Olympics, the 2009 World Junior Ice Hockey Championships, and the 2012 World Women's Curling Championship.
In addition to hockey games and sporting events, the venue has also hosted countless concerts, featuring world-renowned artists like U2, Madonna, and The Rolling Stones.
In 2013, the Saddledome suffered significant damage due to a major flood that affected much of Calgary.
The arena underwent extensive repairs and renovations, reopening in time for the start of the 2013-2014 NHL season.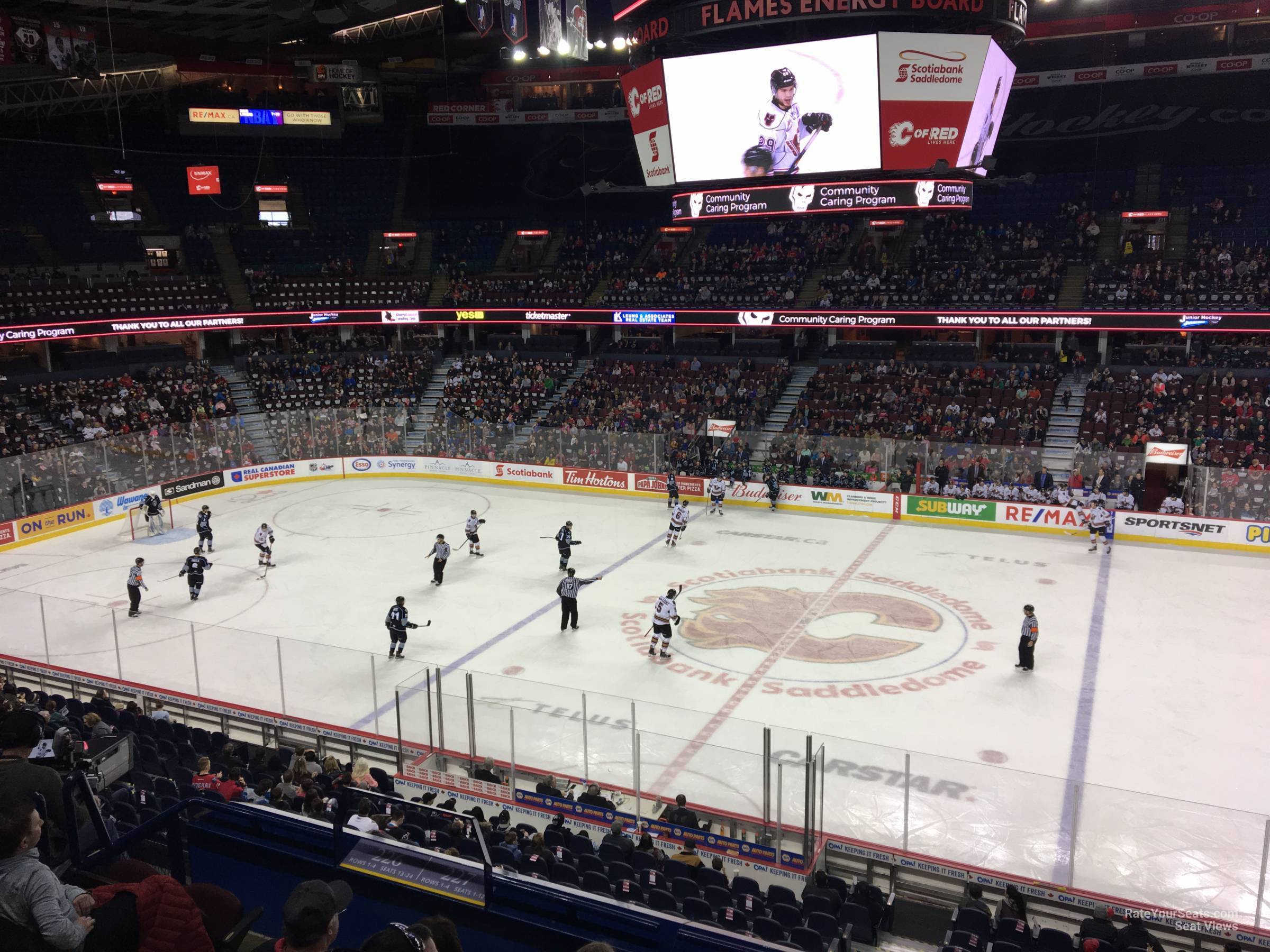 Where to Get Tickets for Scotiabank Saddledome
Tickets for Calgary Flames games and other events at the Scotiabank Saddledome can be purchased through several channels:
Online: The most convenient option for purchasing tickets is through Ticketmaster, the official ticketing partner of the Saddledome. You can visit their website or use their mobile app to find and buy tickets for upcoming events.
In-person: The Saddledome's box office, located at the arena's main entrance, sells tickets for all events. Box office hours may vary depending on the event schedule, so it's best to check their website for the most up-to-date information.
Secondary market: If you're unable to find tickets through the primary channels, you can explore secondary market websites like StubHub or SeatGeek. These platforms allow fans to buy and sell tickets, often at prices that reflect current demand. Be sure to use reputable websites to avoid potential scams and counterfeit tickets.
Season tickets and ticket packages: If you're a die-hard Flames fan or plan to attend multiple events at the Saddledome, consider purchasing season tickets or a ticket package. These options often provide the best value and access to additional benefits like priority seating and playoff ticket pre-sales.
Does Scotiabank Saddledome Offer Tours?
Yes, the Scotiabank Saddledome offers guided tours for fans and visitors who want to get an in-depth look at the arena and its facilities. The tours provide a unique behind-the-scenes experience, taking you through areas like the press box, the dressing rooms, and the Zamboni garage.
Tours are typically available on non-event days and can be booked in advance through the Saddledome's website. Group tours and educational tours for schools and organizations can also be arranged upon request.
In conclusion, the Scotiabank Saddledome is a must-visit destination for hockey fans and visitors to Calgary.
With its unique architecture, rich history, and convenient location, the arena offers an unforgettable experience for those attending a Flames game or other events.
From transportation and parking to dining and accommodations, this guide has provided all the information you need to make the most of your visit to the iconic Saddledome.
James is a big time NBA Golden State follower, who makes sure to catch games when he's in the area. He likes to follow International Soccer, with an interest in small town soccer club, Blackburn Rovers located in the North on the UK.