Ottawa, the capital city of Canada, offers residents and visitors alike an array of entertainment options, including several top-notch stadiums and arenas. As a bustling city with a rich history, Ottawa boasts venues that accommodate sporting events, concerts, and other live entertainment to cater to a diverse range of interests.
Some of the prominent venues in the city include TD Place Stadium, TD Place Arena, and RCGT Park.
TD Place Stadium, situated in the beautiful Lansdowne Park, serves as an outdoor stadium for various events, including football and soccer matches.
In contrast, TD Place Arena, located in the same vicinity, offers an indoor setting primarily for sports such as curling, figure skating, ice hockey and lacrosse. Meanwhile, RCGT Park delivers a more intimate atmosphere for baseball games and offers affordable prices for game tickets, making it an excellent destination for family outings.
These stadiums and arenas are not only accessible and convenient, but they also provide a range of options to fit the various needs and preferences of attendees. From sports aficionados to music lovers, Ottawa's venues have something for everyone to enjoy.
Popular Stadiums and Arenas in Ottawa
Ottawa is home to several popular stadiums and arenas that host various sports events and concerts, providing a lively atmosphere for both locals and visitors. This section highlights three well-known venues: TD Place Stadium, Canadian Tire Centre, and Jim Durrell Recreation Centre.
TD Place Stadium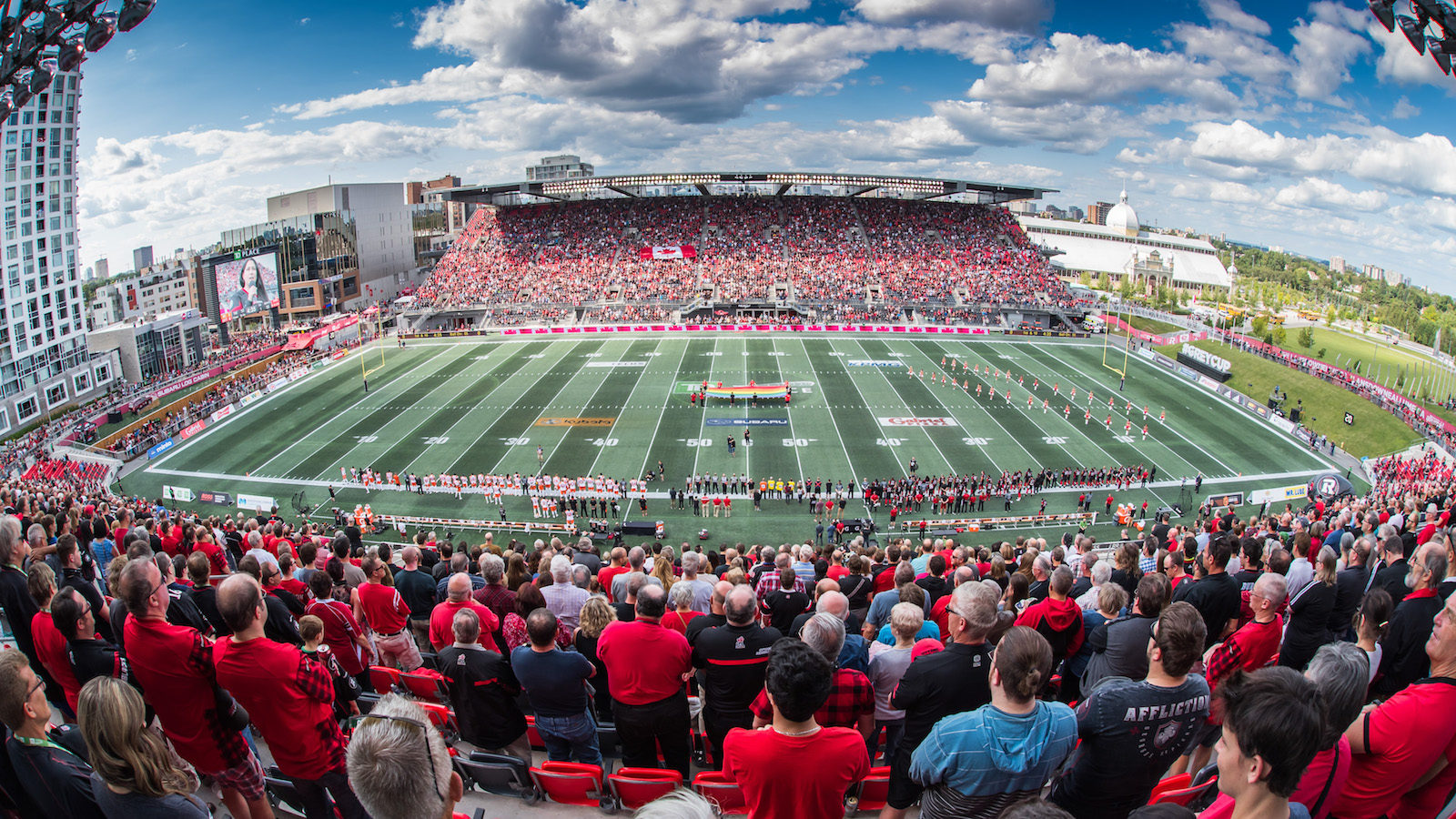 TD Place Stadium, originally Lansdowne Park, is an outdoor stadium located in Ottawa's Glebe neighborhood. With a seating capacity of around 24,000, it serves as the home ground for the Ottawa Redblacks of the Canadian Football League (CFL) and Atlético Ottawa of the Canadian Premier League (CPL). The stadium has hosted numerous sporting events, concerts, and trade shows throughout its history.
Located at: Lansdowne Park, Ottawa
Capacity: ~24,000
Home Teams: Ottawa Redblacks (CFL), Atlético Ottawa (CPL)
Canadian Tire Centre
The Canadian Tire Centre is an indoor arena in the Kanata neighborhood of Ottawa. With a seating capacity of roughly 17,000 for hockey games and 20,000 for concerts, it's primarily known as the home of the NHL's Ottawa Senators. In addition to hockey games, the venue hosts a variety of events, including concerts, exhibitions, and family shows.
Located at: Kanata, Ottawa
Capacity: 17,000 – 20,000
Home Team: Ottawa Senators (NHL)
Jim Durrell Recreation Centre
The Jim Durrell Recreation Centre is a popular multi-purpose facility in Ottawa, offering various sports, fitness, and recreational opportunities. The center features a twin-pad arena, which is frequently used for ice hockey, figure skating, and public skating sessions. With seating for about 2,000 spectators, community and minor-league hockey games make up a significant portion of the events held here.
Located at: Walkley Road, Ottawa
Capacity: ~2,000
Activities: Ice hockey, figure skating, public skating
The History of Stadiums and Arenas in Ottawa
Early Sports Venues
In the early days of sports in Ottawa, venues like the Aberdeen Pavilion and Deys Arena on Laurier Avenue played significant roles. The Aberdeen Pavilion, built in 1904, was a popular destination for sporting events. Deys Arena, which operated from 1907 to 1923, hosted various games, including hockey and skating events.
The Growth of Sporting Infrastructure
As the city grew and sports became increasingly popular, Ottawa saw the development of more expansive and modern sporting infrastructure. One such example is the Ottawa Civic Centre, which opened in 1968. Originally constructed with two football grandstands surrounding a Canadian football field, the complex also included a 10,000-seat arena beneath the north grandstand.
TD Place Arena, situated within Lansdowne Park, holds historical significance as the site of the first IIHF Women's World Ice Hockey Championships in 1990, where Canada defeated the United States to win the gold medal. In 1992, the Ottawa Senators, a new National Hockey League franchise, called the arena home for three and a half seasons.
Another prominent venue is TD Place Stadium, completed in 1908. With a storied history, it has hosted FIFA tournaments, Summer Olympic Games, and seven Grey Cup championships.
Ottawa also welcomed the Canadian Tire Centre in 1996, which currently serves as the home arena for the Ottawa Senators. This venue replaced the Ottawa Civic Centre for the NHL team and continues to be an essential part of the city's sports infrastructure.
In summary, the history of stadiums and arenas in Ottawa is rooted in early venues like the Aberdeen Pavilion and Deys Arena. However, as the city grew, larger and more modern facilities like the Ottawa Civic Centre, TD Place Arena, TD Place Stadium, and the Canadian Tire Centre emerged. These state-of-the-art venues continue to host major sporting events and attract fans from far and wide.
The Impact on the Local Economy and Community
Job Creation
The construction of stadiums and arenas in Ottawa can lead to increased job opportunities for the local community. During the construction phase, there's a demand for various skilled and unskilled workers, which can provide short-term employment opportunities. In the long run, stadiums and arenas can create jobs in the sports, entertainment, and hospitality sectors. People are hired for various roles such as event management, ticketing, security personnel, concessions, and maintenance.
Contribution to Tourism Industry
Stadiums and arenas can be significant attractions for tourists who visit Ottawa. Top-level sports events, concerts, and other entertainment events held at these venues can draw visitors from near and far, boosting local businesses like hotels, restaurants, and shops. An increase in tourists can contribute to a healthier local economy, as visitors not only spend on event tickets but also spend on accommodations, food, transport, and souvenirs.
In addition, the presence of high-quality sports and entertainment facilities in a city can enhance its reputation as a travel destination and enrich the overall tourism experience, encouraging even more visitors in the long run.
Future Developments and Modernizations
Sustainable Initiatives
The city of Ottawa is looking towards sustainable initiatives for its stadiums and arenas. One such project is Lansdowne 2.0, which involves rebuilding the Civic Centre arena as a venue that can hold mid-sized events. The Ottawa Sports and Entertainment Group (OSEG) has proposed a new arena and concert venue in the end zone at Lansdowne's TD Place stadium. This new arena is set to seat 5,500 people and maintain its position as the home of the Ottawa 67's and Ottawa BlackJacks.
In addition to increasing capacity, sustainable efforts will be prioritized, such as implementing energy-efficient systems and utilizing eco-friendly materials during construction. These measures will not only reduce the venues' environmental impact but also contribute to Ottawa's goal of becoming a more sustainable city.
Technology Upgrades
Technology upgrades are essential for keeping stadiums and arenas efficient and modern. A notable example is the proposed modernization of the north side stands at Lansdowne's TD Place stadium. Once rebuilt, these stands will boast 11,200 seats, featuring state-of-the-art amenities for both spectators and athletes.
Enhancements like high-speed Wi-Fi connections, interactive digital signage, and advanced ticketing solutions will improve the overall fan experience. Moreover, enhanced security measures, such as upgraded surveillance systems and emergency response plans, will ensure the safety of all visitors.
In conclusion, the future developments and modernizations of stadiums and arenas in Ottawa will prioritize sustainable initiatives and technology upgrades. These enhancements aim to provide a better experience for fans, athletes, and event organizers while minimizing the environmental impact of the venues.
James is a big time NBA Golden State follower, who makes sure to catch games when he's in the area. He likes to follow International Soccer, with an interest in small town soccer club, Blackburn Rovers located in the North on the UK.