The Toronto Maple Leafs are a storied franchise in the National Hockey League, with a rich history and passionate fan base. As one of the NHL's founding teams, the Maple Leafs have a long-standing tradition of competitive play and memorable moments.
Over the years, they have captured 13 Stanley Cup championships, making them one of the most successful teams in the league. Fans of the Maple Leafs eagerly anticipate their team's performance each season and with good reason.
In recent years, the Maple Leafs have assembled an impressive roster led by standouts such as Auston Matthews, John Tavares, and Mitch Marner. With their core players in place and a dedicated coaching staff, the team is poised to make an impact in the playoffs.
Their last appearance in the second round of the playoffs came in 2023, when they eliminated the Tampa Bay Lightning in a thrilling six-game series, their first time advancing to that stage in 19 years. It's clear that the Toronto Maple Leafs have their sights set on higher achievements, as they continue to build momentum and make strides in the competitive world of professional ice hockey.
Whether you're a die-hard Maple Leafs fan or a casual observer of the NHL, there's always more to learn about this fascinating team. From their rich history to their modern-day accomplishments, the Toronto Maple Leafs offer plenty of intrigue and excitement for anyone interested in the world of ice hockey.
As the team marches forward, the legacy of the Maple Leafs only grows stronger, making them a must-watch force in the sport.
A Brief History of the Toronto Maple Leafs
The Early Years
The Toronto Maple Leafs were established in 1917 as the Toronto Arenas, joining the NHL during its inaugural season.
The team's name changed once again to the Toronto St. Patricks in 1919, before finally settling on the Toronto Maple Leafs in 1927.
The team's early years were marked by disputes between the franchise owners and disagreements with other National Hockey Association (NHA) owners, particularly Sam Lichtenhein of the Montreal Wanderers.
1960s-1980s Success
The Toronto Maple Leafs experienced significant success during the 1960s, winning the Stanley Cup four times (1962, 1963, 1964, and 1967). Key players during this period included Dave Keon, Tim Horton, and George Armstrong.
However, after their 1967 victory, the Leafs faced a long championship drought, with their next triumph occurring decades later. In the 1980s, the team rebuilt under general manager and coach Punch Imlach, drafting future stars like Wendel Clark and Gary Leeman.
Modern Era
In recent years, the Toronto Maple Leafs have made strides to reestablish themselves as a competitive force in the NHL. Featuring a talented core of young players such as Auston Matthews, Mitch Marner, and William Nylander, the team has managed to reach the playoffs with increasing regularity.
Although the Leafs haven't yet reclaimed the Stanley Cup, their current roster and recent performance have provided fans with a renewed sense of optimism for future success.
Key Players and Personnel
Past Legends
The Toronto Maple Leafs have a rich history, filled with extraordinary players who have left their mark on the franchise.
Some of the most revered past legends include:
Dave Keon, a talented center who spent 15 seasons with the Leafs and was part of four Stanley Cup-winning teams.
Darryl Sittler, who wore the captain's "C" for eight years and still holds the team's all-time highest points total.
Tim Horton, widely known for his defensive prowess and physical play, anchored the Leafs' blueline during four championship seasons.
Current Stars
The current Toronto Maple Leafs roster boasts an impressive mix of established stars and budding talents.
The team's core group is composed of:
Auston Matthews, a top-tier goal-scorer who has consistently proven himself as one of the league's most dangerous offensive threats.
Mitch Marner, a playmaking whiz whose vision, creativity, and skill sets him apart as one of the NHL's premier forwards.
John Tavares, the team's captain and all-around force on the ice, brings both exemplary leadership and offensive firepower to the squad.
William Nylander, a gifted winger capable of generating scoring chances and providing crucial support to the team's top lines.
Management
The Toronto Maple Leafs' management team is led by Brendan Shanahan as the President.
Other key members of the management staff include:
Kyle Dubas, acting as General Manager, responsible for assembling the team's roster and managing player contracts.
Wes Clark, holding the title of Director of Player Personnel, working on scouting and evaluating both amateur and professional talent.
Brandon Pridham, serving as Assistant General Manager, primarily focusing on managing the salary cap and contract negotiations.
Coaching Staff
The coaching staff plays a pivotal role in the team's development and on-ice performance.
The Leafs' current coaching staff includes:
Sheldon Keefe, who took over as Head Coach in 2019, directing the team's on-ice strategies and guiding their progress.
Manny Malhotra, working as an Assistant Coach with a focus on player development and face-off tactics.
Dean Chynoweth, another Assistant Coach, specializing in the defensive aspects of the game and penalty killing strategies.
Dr. Hayley Wickenheiser, heading player development, leveraging her vast hockey experience to help refine and improve the skills of the Leafs' roster.
Team Achievements
Stanley Cup Victories
The Toronto Maple Leafs have a storied history in the NHL, winning the Stanley Cup 13 times.
Their victories are spread across different eras of the team's existence, showcasing their success and determination. The team's last Stanley Cup win occurred in the 1966-67 season.
Division and Conference Titles
While the Toronto Maple Leafs have not had as much recent success in terms of championships, they have consistently been a strong and competitive team in the league.
Throughout their history, they have won multiple division and conference titles, including:
5 Adams Division titles (1982-83, 1984-85, 1992-93, 1999-2000, 2012-13)
1 Central Division title (2000-01)
1 East Division title (1969-70)
4 Northeast Division titles (1991-92, 1993-94, 1999-2000, 2001-02)
2 Atlantic Division titles (2013-14, 2022-23)
Overall, the Toronto Maple Leafs have proven themselves as a consistently competitive team in the NHL, boasting a rich history of achievements on the ice, including numerous division and conference titles.
Home Arena: Scotiabank Arena
Seating Capacity
Scotiabank Arena, located in downtown Toronto, is the home of the Toronto Maple Leafs.
The arena boasts a seating capacity of 18,800 for hockey games, offering fans various seating options to accommodate their preferences and budget.
Amenities
The state-of-the-art facility provides numerous amenities for fans attending games. These amenities include:
A wide range of food and beverage options available from various concession stands throughout the arena
Premium seating options, such as suites and club seats
Multiple merchandise shops, offering official Toronto Maple Leafs gear and memorabilia
Accessibility services for fans with disabilities, including elevators, accessible seating, and assisted-listening devices
Fan Experience
Attending a Toronto Maple Leafs game at Scotiabank Arena is an unforgettable experience for hockey enthusiasts.
The energetic atmosphere created by passionate fans and the team's rich history provides a feeling of excitement and pride.
The arena's modern design and technological advances, such as HD video boards and state-of-the-art sound systems, ensure an enjoyable viewing experience for everyone in attendance.
Rivalries and Traditions
Notable Rivalries
The Toronto Maple Leafs have had several rivalries throughout their history. One of the most well-known and enduring rivalries is with the Montreal Canadiens. This rivalry dates back to the early days of the NHL, with both teams being among the oldest in the league.
The Canadiens and Maple Leafs have had many heated playoff battles, with the most recent one taking place in 2021, when the Canadiens won 4-3 in the first round of the playoffs.
Another notable rivalry within the last decade has been with the Boston Bruins. These two teams have met multiple times in the postseason, fueling an intense rivalry between them.
Team Traditions
The Toronto Maple Leafs have several team traditions that contribute to the unique atmosphere and fan experience during their games.
Some highlights include:
National Anthem: At home games, the Canadian national anthem, "O Canada," is sung before the puck drops. Fans often join in, showing their pride and support for both their team and their country.
Toronto Maple Leafs Logo: The iconic Maple Leafs logo has undergone minor changes throughout the years but has stayed true to its classic design, maintaining its status as a symbol of Canadian pride and heritage.
Honoring Legends: The team has a longstanding tradition of honoring former players and important figures in franchise history. Before every home game, a video montage of moments from the team's past is played, paying tribute to its rich history and those who have been a significant part of it.
End of Game Stick Salute: Following every home victory, the Maple Leafs players gather at center ice and raise their sticks to salute the fans as a show of gratitude and appreciation for their support.
Community Involvement
Charitable Initiatives
The Toronto Maple Leafs are committed to making a positive impact on their community through various charitable initiatives. One such initiative is the partnership with Citizen to recognize a Community MVP for outstanding achievements in the community.
This program highlights individuals who have made significant contributions to the Greater Toronto Area.
Another important charitable effort by the Maple Leafs is their commitment to addressing systematic racism and promoting social justice. The organization strives to create an inclusive culture in hockey, working to ensure that everyone feels valued and safe.
Youth Programs
The Maple Leafs have several youth programs aimed at fostering growth and development in young hockey players.
One prominent example is the Huddle Up program, a partnership between the Maple Leafs and the Toronto Raptors. This program focuses on promoting and encouraging physical activity, teamwork, and positive participation in sports among youth in the community.
Additionally, the team hosts an annual Development Camp for young players to improve their skills and gain valuable experience training alongside professional athletes. This week-long event allows participants to receive coaching and advice from experts in the field, further increasing their knowledge of the game and enhancing their potential for a successful career in hockey.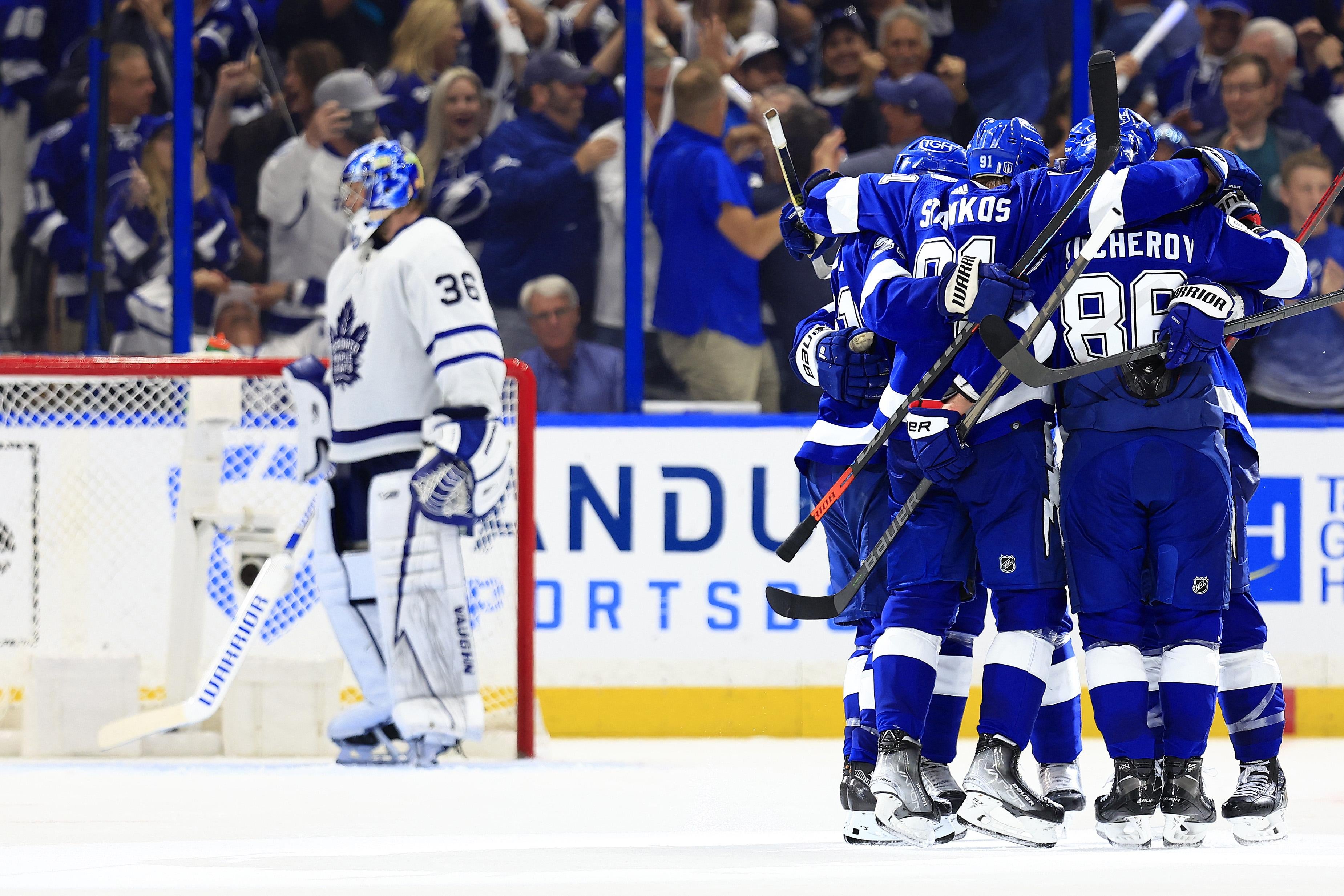 Future Outlook
Prospects and Draft Picks
The Toronto Maple Leafs have a promising future with their current prospects and draft picks. Some notable prospects in their pipeline include Rodion Amirov, who has shown great potential as a two-way forward, Topi Niemelä, a smooth-skating defenseman with good offensive instincts, and Nick Abruzzese, a talented playmaker with strong hockey sense.
These players, along with other exciting prospects, will be crucial in maintaining the Maple Leafs' competitiveness in the years to come.
The Leafs' recent draft strategy involves targeting skilled, high-ceiling players, regardless of their size. This approach has paid dividends, as seen with players such as Mitchell Marner and William Nylander. In the upcoming drafts, the Maple Leafs will need to focus on securing highly skilled players, especially on the defensive end, to bolster their roster.
Cap Management and Contracts
Cap management has been a challenge for the Toronto Maple Leafs, with several high-priced contracts on their books. As of now, their core players, Auston Matthews, John Tavares, Mitch Marner, and William Nylander, take up a significant portion of their cap space. However, some relief is expected after the 2023-24 season when the contracts of defensemen Mark Giordano, Jake Muzzin, and T.J. Brodie will expire.
This will provide Toronto with the flexibility to acquire support players and potential impact stars.
To optimize their cap space, the Leafs will need to focus on cost-effective deals and smart contract extensions. This includes bridging young players like Alex Kerfoot and Pierre Engvall to lower-cost contracts, while simultaneously making bold moves to strengthen their lineup.
The Maple Leafs have several critical decisions ahead of them in the coming years and are approaching an important crossroads. Smart draft choices, prudent cap management, and tactical contract negotiations will be key in securing a bright and successful future for the franchise.
James is a big time NBA Golden State follower, who makes sure to catch games when he's in the area. He likes to follow International Soccer, with an interest in small town soccer club, Blackburn Rovers located in the North on the UK.