The Major League Baseball (MLB) Draft is an annual event that draws widespread attention from baseball enthusiasts and aspiring players alike.
With its complex structure and numerous draft selections, the MLB Draft has become an essential part of the league's player acquisition and development processes.
Over the years, it has grown into a large-scale event, generating excitement as teams strategize to select promising talent from among the sport's up-and-coming stars.
One of the key aspects that many fans are curious about is the number of rounds that make up the MLB Draft.
Spanning over a three-day period, the draft consists of a total of 20 rounds, during which 616 picks were made in 2022.
This multi-round system enables teams to carefully evaluate and select players based on their individual traits and skills, shaping the future trajectory of the league's franchises.
With each passing round, tension rises as teams compete to secure the most promising prospects, making the MLB Draft an event not to be missed by baseball enthusiasts.
An Overview of the MLB Draft
History and Purpose
The MLB Draft, also known as the First-Year Player Draft, is an annual event in which Major League Baseball (MLB) teams select eligible amateur baseball players.
Its main purpose is to provide each team with an opportunity to scout and recruit talented young players in a fair manner.
The draft order is determined primarily by the previous season's win-loss records, with the team having the worst record selecting first.
The MLB Draft has evolved over the years, with the number of rounds fluctuating throughout its history.
As of 2021, there are 20 rounds in the MLB Draft, totaling 614 picks being made.
Eligibility and Entry
To be eligible for the MLB Draft, players must meet certain age and residency requirements.
Typically, players must be at least 17 years of age and must be residents of the United States, Canada, or a U.S. territory.
In addition, high school players are eligible if they have graduated from high school but have not attended college or junior college.
College players become eligible after completing their junior year or turning 21 years of age, whichever comes first.
Each MLB team sends scouts to observe prospects and evaluates their skills and potential fit within their organization.
Players who are interested in entering the draft must register through the MLB Scouting Bureau, which provides profiles and information on eligible players to all 30 teams.
Once registered, players may be contacted by teams to discuss further evaluation and possible selection during the draft.
By following a structured selection process, the MLB Draft ensures that teams have a fair chance at securing top talent while also providing a platform for young players to showcase their skills and pursue their dream of playing professional baseball.
Draft Structure and Rounds
Total Rounds
The MLB Draft consists of 20 rounds, producing a total of 614 to 616 draft selections (depending on the exact year).
The number of rounds has varied over time, but as of 2022, the draft has settled on this structure.
Timing
Believe it or not, the MLB Draft takes place over a three-day period. During this time, draft rounds are spread out as follows:
Day 1: First two rounds, compensatory round(s), and competitive balance rounds
Day 2: Rounds 3 through 10
Day 3: Rounds 11 through 20
This structured approach allows MLB teams to thoroughly evaluate and select potential players for their roster.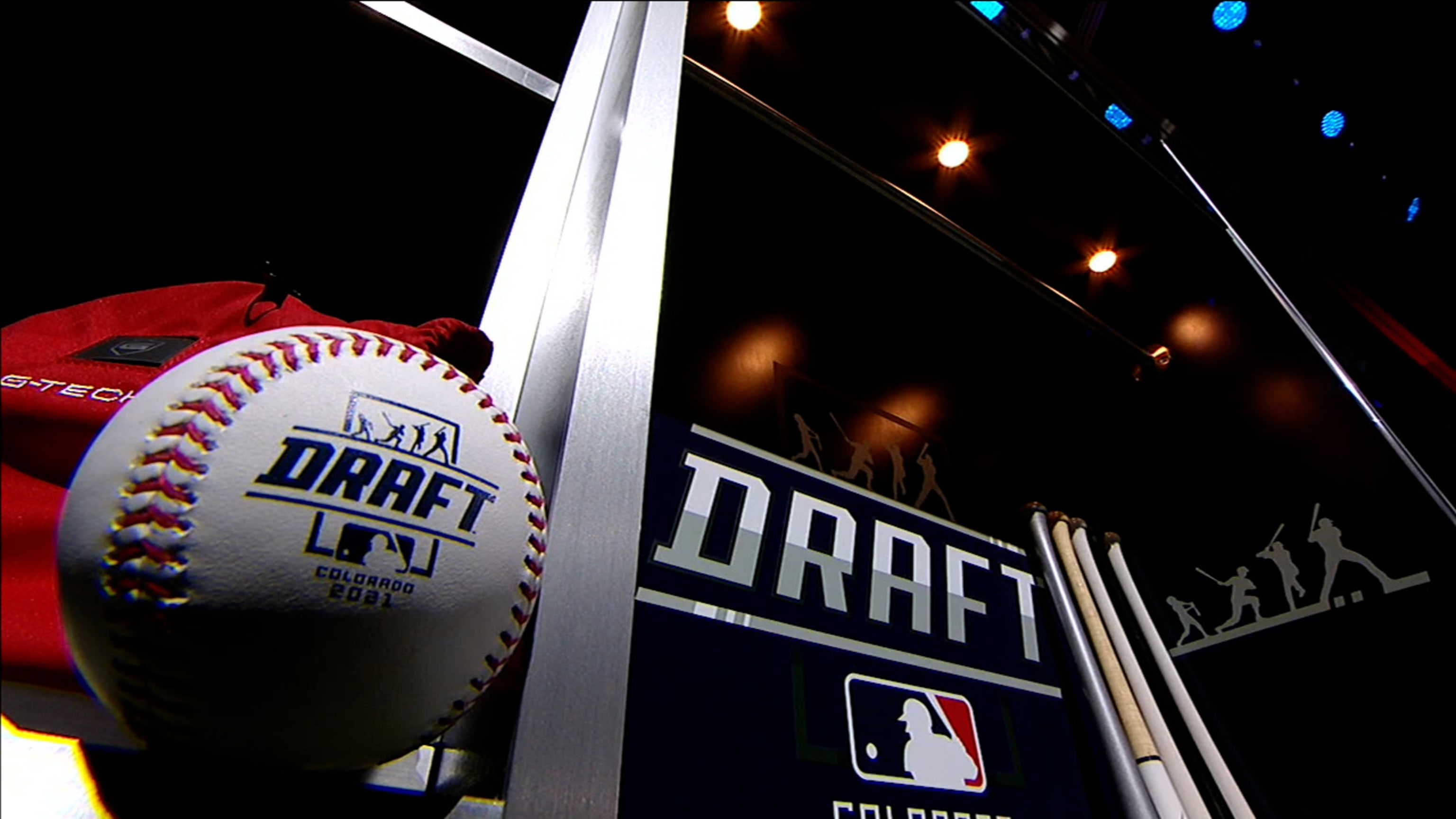 Order
The order in which teams make their draft selections is based on a combination of factors:
Teams with the worst records from the previous season get to choose first, and the order continues in reverse winning percentage order.
After the lottery at the top, playoff teams will then select based on their postseason finish, revenue, and reverse winning percentage order.
This system is designed to promote balance and competitiveness throughout the league, by giving teams with weaker performance an opportunity to rebuild and succeed in subsequent seasons.
Notable Changes Over Time
Reductions in Rounds
The MLB Draft has seen some significant changes over the years, particularly in regards to the number of rounds.
Initially, the draft could last up to 40 rounds, which set it apart from other North American major professional sports leagues due to its sheer size. However, starting from 2021, the draft was reduced to 20 rounds in addition to the compensatory picks3.
First-Year Player Draft
The First-Year Player Draft has also undergone some changes, particularly to its structure.
One of the most significant changes came in the form of the creation of a lottery system for the top six picks.
Beginning in 2023, the first six choices in the MLB Draft will be determined by a lottery instead of following the reverse order of the previous year's standings. This lottery system aims to provide more fairness and balance in distributing top talent to teams throughout the league.
Impact on Players and Teams
How Players Benefit
The MLB Draft, with its 20 rounds and 614 picks, offers a significant opportunity for young baseball players to be noticed and potentially signed by professional clubs.
These drafted players have the chance to develop their skills in the minor leagues with the goal of eventually reaching the major leagues.
This also provides them with access to resources and coaching that may have been unavailable to them otherwise. By being drafted, players can also leverage their position to secure better signing bonuses or contracts.
Strategies and Choices for Teams
Teams have to carefully consider their strategies in the MLB Draft. With 20 rounds to pick from, a team must weigh multiple factors, such as talent, potential future impact, and where a player is in their development.
A team's choice in the early rounds is critical as it heavily influences the available pool of players in the following rounds. Teams must also factor in their budget constraints, as signing bonuses for drafted players can vary significantly.
To maximize their chances of success, many teams will adopt various approaches during the draft, such as:
Focusing on pitching: Teams may prioritize pitchers early in the draft, as they are often considered more valuable and harder to develop.
Selecting high-upside players: Some teams may choose to draft players with raw talent and high potential, even if they're not as polished as other alternatives. This approach can pay off if these players develop into major-league stars.
Targeting performers from top college programs: Yet, other teams may focus on drafting players from well-established college programs known for developing high-quality talent. This strategy often yields prospects who are more experienced and ready to contribute at the professional level.
The MLB Draft is a crucial component of team development, impacting both players and the overall success of the franchise. By understanding the draft's dynamics, teams can make informed choices to build a promising foundation for their future.
James is a big time NBA Golden State follower, who makes sure to catch games when he's in the area. He likes to follow International Soccer, with an interest in small town soccer club, Blackburn Rovers located in the North on the UK.