In the world of baseball, there are numerous statistics and abbreviations that can somehow be overwhelming. One such term is RISP, or "runners in scoring position."
This statistic has been widely used since the 1980s and provides valuable insights into a team's offensive efficiency as well as being considered as a key factor in determining a player's ability to perform under pressure and drive in runs.
RISP refers to the situation where a runner is on the second or third base during an at-bat. A single base hit is often enough to bring these runners home, which ultimately contributes to the team's success. Hence, understanding the practical implications of RISP allows coaches and managers to make informed decisions about their lineup and strategy.
Evaluating the performance of players using RISP can help identify their clutch ability and compare them to their peers. The stat is closely related to other metrics like RBI (runs batted in), slugging percentage, and, to an extent, OBP (on-base percentage). By delving deeper into the concept of RISP, baseball enthusiasts and analysts can gain a better understanding of the game and its intricate dynamics.
What Is RISP in Baseball?
RISP stands for "runners in scoring position" in baseball. This statistic tracks the baseball players on the bases who are in a position to score a run, which is crucial for understanding a team's offensive efficiency. RISP is primarily focused on players who are on second or third base, as they are more likely to score with a single hit.
In general, a player on second base is considered to be in scoring position because a simple base hit by the batter has a high chance of bringing that player home to score a run. Similarly, a player on third base is even more likely to score with just a single hit. Thus, when a team has at least one runner on second or third base, the situation is considered as having runners in scoring position.
It is essential to note that a player on first base is not considered to be in scoring position. This is because scoring from first base typically requires more than just a single hit, such as a combination of hits or other offensive strategies.
One specific statistic related to RISP is batting average with runners in scoring position (BA/RISP or BA/RSP). This statistic is calculated by dividing a player's hits with runners in scoring positions by their at-bats with runners in scoring position. BA/RISP is often used as an indicator of a player's clutch ability, as it measures their success in driving in runs when teammates are in scoring positions.
In summary, RISP is a valuable statistic for evaluating a team's offensive capabilities and understanding their potential for scoring runs during a game. By focusing on players in scoring positions, coaches and analysts can identify opportunities for improvement and make more informed decisions about their game strategy.
Importance of RISP in the Game
Team Strategy
The concept of RISP (Runners in Scoring Position) is crucial in a baseball game as it helps teams devise their offensive and defensive strategies. When there's a runner on at least second base or third base, the game dynamics change. Offensively, teams tend to focus on advancing the runner and scoring runs. They may employ bunts, hit-and-runs, or sacrifice flies to improve their chances of scoring.
Defensively, teams may intentionally walk a batter or adjust their field placements to prevent the runner from scoring. For example, bringing the infield in or using a "shift" to cover the most likely areas where the batter may hit the ball. Understanding RISP allows teams to make informed decisions, increasing their likelihood of success in certain game situations.
Evaluating Player Performance
RISP plays a significant role in evaluating a player's performance. A player's batting average with RISP is an important statistic that measures their ability to perform under pressure and contribute to their team's offensive success. A higher batting average with RISP indicates that the player is more effective in driving in runs, which ultimately helps the team win games.
Moreover, RISP can also help identify areas for improvement, enabling coaches and players to work on specific aspects of their game, such as plate discipline or situational hitting. By focusing on RISP, teams can refine their overall offensive approach and enhance their chances of winning games.
Notable RISP Statistics
Historical Leaders
Some of the most impressive RISP statistics come from baseball's historical greats. Here are a few examples of players who excelled with runners in scoring position:
Lou Gehrig: Known for his remarkable career with the New York Yankees, Gehrig holds the all-time record for the most career grand slams (23).
Ted Williams: Often referred to as the greatest hitter who ever lived, Williams had a remarkable .328 career batting average with RISP.
Hank Aaron: The legendary Hank Aaron had a .313 career batting average with RISP, proving his consistency with clutch hitting.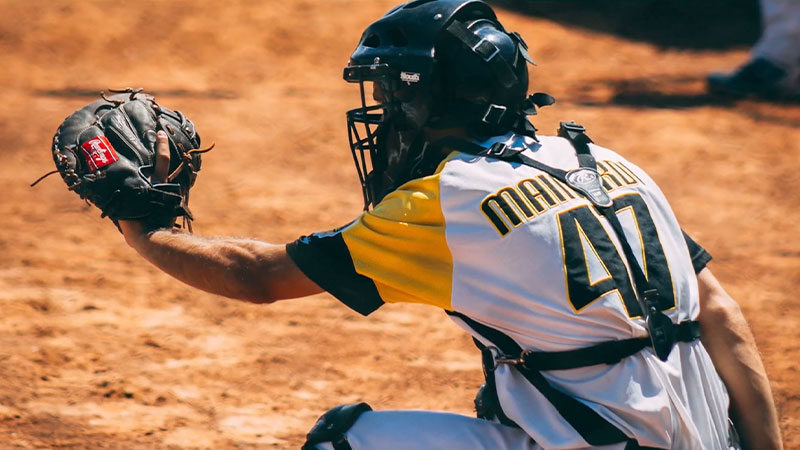 Recent Standouts
In recent years, several players have stood out when it comes to their performances with runners in scoring position. Some examples include:
Miguel Cabrera: The two-time MVP and 11-time All-Star sports a consistent .320 career batting average with RISP.
Joey Votto: A disciplined hitter with a keen eye, Votto has a career .310 batting average with RISP and consistently ranks among the league leaders.
Mike Trout: As arguably the best player of his generation, Trout also delivers with RISP, posting a .298 career batting average in these situations.
These statistics demonstrate the importance of clutch hitting in baseball and how some players have excelled in these situations.
Improving RISP Performance
Player Development
Improving RISP (Runners in Scoring Position) performance in baseball starts with player development. Enhancing a player's skills at the plate and on the base paths can lead to more successful opportunities with runners in scoring position. Some ways to achieve this include:
Focusing on hitting drills that emphasize situational hitting, such as making contact with runners on base and driving the ball to various field locations.
Teaching players how to read pitchers and anticipate pitch types, leading to better timing and ultimately better contact with the ball.
Developing effective base-running strategies and techniques to help runners on base advance more efficiently and safely to scoring position.
These improvements will translate to better on-field performance and results in RISP situations.
Decision-Making on the Field
Another essential aspect of improving RISP performance is decision-making by both players and coaching staff on the field. Some key decision-making factors include:
Knowing when to take risks on the base paths and push for extra bases in order to capitalize on scoring opportunities.
Managing the lineup effectively so that certain players, known for their clutch performance, have more opportunities to hit with runners in scoring position.
Utilizing strategies such as hit-and-run plays, bunts, and aggressive baserunning in specific game situations that increase the probability of scoring runs with runners in scoring position.
Implementing better decision-making will lead to more efficient use of RISP opportunities, therefore increasing a team's overall offensive output.
Conclusion
In summary, RISP stands for "runners in scoring position" in baseball. It is an essential stat for understanding how many baserunners are in a position where a single base hit would likely allow them to score a run. Generally, runners on second and third base qualify as being in scoring position, while runners on first base do not.
RISP is a valuable tool for both individual players and teams in strategizing and improving game performance. When used in conjunction with other baseball metrics and statistics, it offers greater insight into a team's offensive efficiency and potential.
RISP helps identify scoring opportunities
Useful for strategizing & improving game performance
Best when used with other baseball statistics
Remember that it is essential to combine RISP with other key metrics to create a more comprehensive understanding of a team's performance. By doing so, coaches and players can better analyze their approach and make necessary adjustments to optimize their chances for success on the field.
James is a big time NBA Golden State follower, who makes sure to catch games when he's in the area. He likes to follow International Soccer, with an interest in small town soccer club, Blackburn Rovers located in the North on the UK.