Emmitt Smith, a renowned name in the world of American football, had an exceptional career in the National Football League (NFL).
Drafted in the first round of the 1990 NFL draft by the Dallas Cowboys, Smith swiftly established himself as one of the league's premier running backs. His consistent performance and dedication to the game earned him impressive accolades throughout his career.
Spanning a total of 15 seasons in the NFL, Smith played 13 of those seasons with the Dallas Cowboys and his final two with the Arizona Cardinals.
Through his years on the field, he amassed numerous records and achievements, including 11 straight 1,000-yard rushing seasons and an incredible 18,355 rushing yards. Known for his remarkable skills and agility, Smith's legacy continues to inspire football players and fans alike.
Emmitt Smith's NFL Career
Career Overview
Emmitt Smith, a former American football running back, was drafted by the Dallas Cowboys in the first round of the 1990 NFL draft.
Over the course of his career, Smith became one of the league's premier running backs, boasting several accomplishments and accolades throughout his time in the NFL.
Teams
Emmitt Smith's career in the NFL primarily consisted of playing for the Dallas Cowboys from 1990 to 2002.
In 2003, he joined the Arizona Cardinals for two more seasons before officially retiring in 2005.
Career Duration
Smith's NFL career spanned a total of 15 seasons, earning numerous accomplishments during this time.
Despite initial skepticism from college recruiting analysts, his career includes records, awards, and various achievements.
Achievements
Records
Emmitt Smith, a former professional American football running back, played in the NFL for 15 seasons (from 1990 to 2004). During his career, Smith set numerous records, including becoming the NFL's all-time leading rusher with 18,355 yards.
He also holds the record for the most rushing touchdowns in a single season with 25 in 1995, and the most 100-yard rushing games with 78 throughout his career. Additionally, Smith achieved 58 school records while playing at the University of Florida from 1987-89.
Awards
Smith's impressive career includes several prestigious awards, which showcase his exceptional performance on the field.
In 1993, he made history as the only running back to ever win a Super Bowl championship, the NFL Most Valuable Player award, the NFL rushing crown, and the Super Bowl Most Valuable Player award all in the same season. Alongside these honors, Smith was also named NFL Offensive Rookie of the Year in 1990.
Honors
Throughout his career, Emmitt Smith was consistently recognized for his contributions to professional football. He was a part of the Dallas Cowboys' "Triplets," which included quarterback Troy Aikman and wide receiver Michael Irvin. Together, they led the team to three Super Bowl championships in 1993, 1994, and 1996.
Smith was also selected for the Pro Bowl eight times and was named to the All-Pro first team four times. In recognition of his incredible career, he was inducted into the Pro Football Hall of Fame in 2010.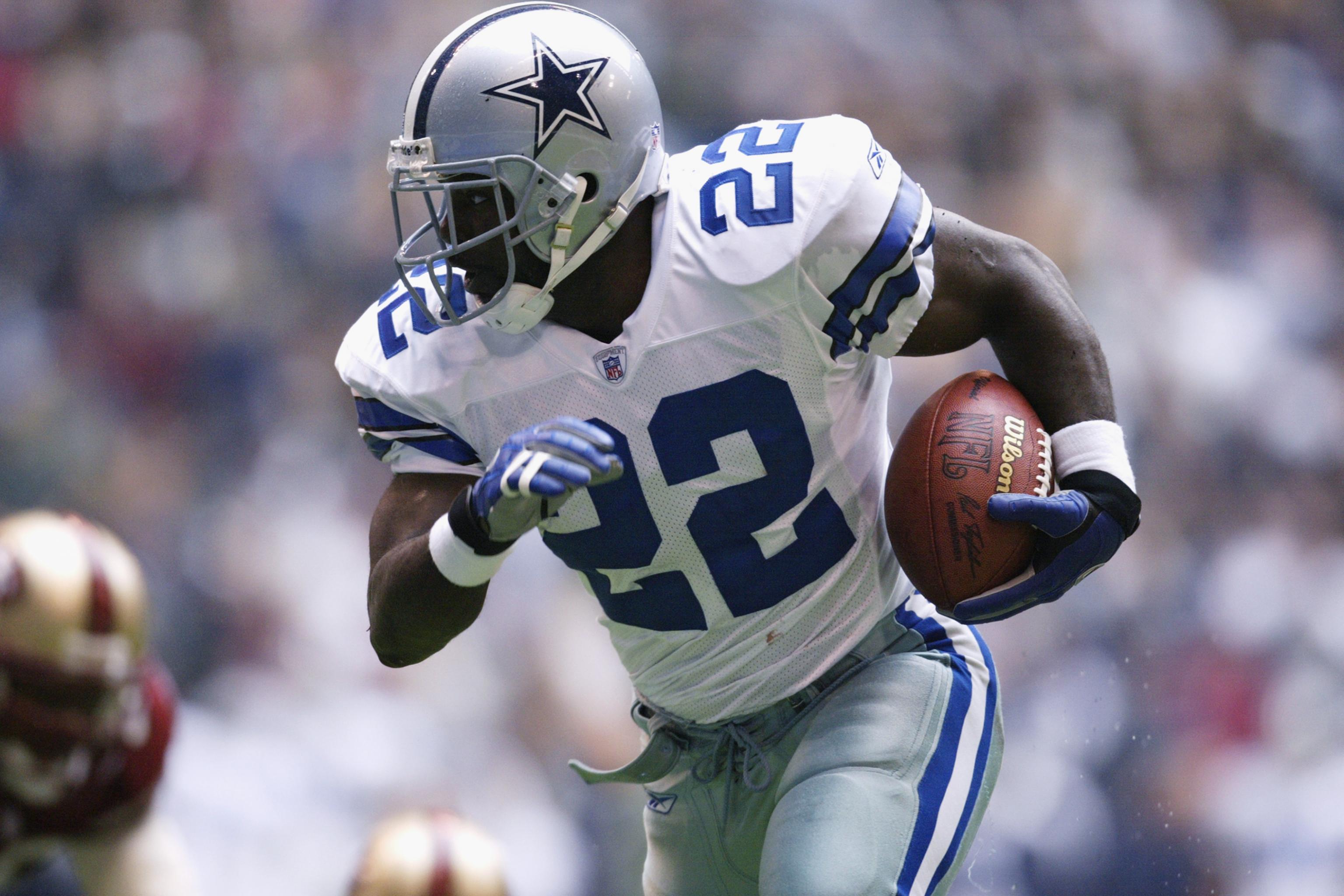 Post-NFL Career
After his successful career in the NFL, Emmitt Smith ventured into various business and philanthropic endeavors. He co-founded Smith-Cypress Partners LP, a real estate and investment firm, with his business partner, Roger Staubach.
This firm was established to help grow his portfolio and support other businesses in need of investment. Additionally, Smith has been serving as the majority shareholder and Chairman of the Board at E Smith Legacy Holdings, focusing on building a diverse portfolio of real estate development and investments.
Emmitt Smith also pursued a career in the entertainment industry. He competed in and won the third season of the popular television show, Dancing with the Stars, in 2006. Since then, he has appeared as a guest or commentator on various sports broadcasts, as well as taking on acting roles in an array of television shows and movies.
In terms of philanthropy, Emmitt Smith is the founder of the Emmitt Smith Charity Invitational, an annual golf tournament that raises funds for the Pat and Emmitt Smith Charities. The event has grown significantly since its inception in 2010, raising millions of dollars for various charitable organizations and helping to improve the lives of children in need.
The former NFL star has also been involved with The Salvation Army, often serving as an ambassador for their programs and initiatives. Smith's commitment to giving back is highlighted by his work with these organizations and the positive impact they have on communities across the country.
James is a big time NBA Golden State follower, who makes sure to catch games when he's in the area. He likes to follow International Soccer, with an interest in small town soccer club, Blackburn Rovers located in the North on the UK.