Estadi Montilivi, a multi-use stadium located in Girona, Catalonia, Spain, has been the proud home of Girona FC since its construction in 1970. With a rich history and capacity for 13,400 spectators, this remarkable stadium remains an integral part of the Girona community and the world of football. Having replaced the smaller, older Vista Alegre stadium, Estadi Montilivi signifies a new era of growth and ambition for Girona FC.
The impressive and modern facilities of Estadi Montilivi were inaugurated on August 14, 1970, with a friendly match between Girona and Barcelona. Since then, the stadium has been the stage for countless memorable matches and even serves as a symbol of the passion and dedication of Girona FC supporters. As one of the key venues in Spanish football, Estadi Montilivi continues to draw fans and players alike, reflecting the promise and potential of Girona FC as a major player in the sport.
Estadi Montilivi: An Overview
Estadi Montilivi, located in Girona, Catalonia, serves as the home ground for Girona FC. The multi-use stadium first opened its doors in 1970 and has since been an essential part of Girona's sporting culture. With a seating capacity of 9,500, the stadium is an excellent venue for football matches and other events.
Construction of the Estadi Montilivi involved several phases of development. In June 2010, the side stand of the stadium was completed, seven months ahead of schedule. However, the entrances were still not finished, which resulted in the stadium remaining closed for public use during the 2009-10 season. The completion of the side stands enabled the stadium to hold the first match on March 2nd, 2011, with an attendance of 9,285 spectators.
The stadium's inauguration on August 14, 1970, was marked by a friendly match between Girona and Barcelona. Over the years, Estadi Montilivi has represented Girona FC in various competitions, including regular Segunda División matches. The stadium is known for its vibrant atmosphere during matches, creating a memorable experience for players and fans alike.
As a multi-purpose sports venue, Estadi Montilivi also hosts numerous other events besides football matches. Apart from sports, the stadium has facilities for historical tours and other recreational activities that cater to a diverse audience.
Girona FC: The Home Team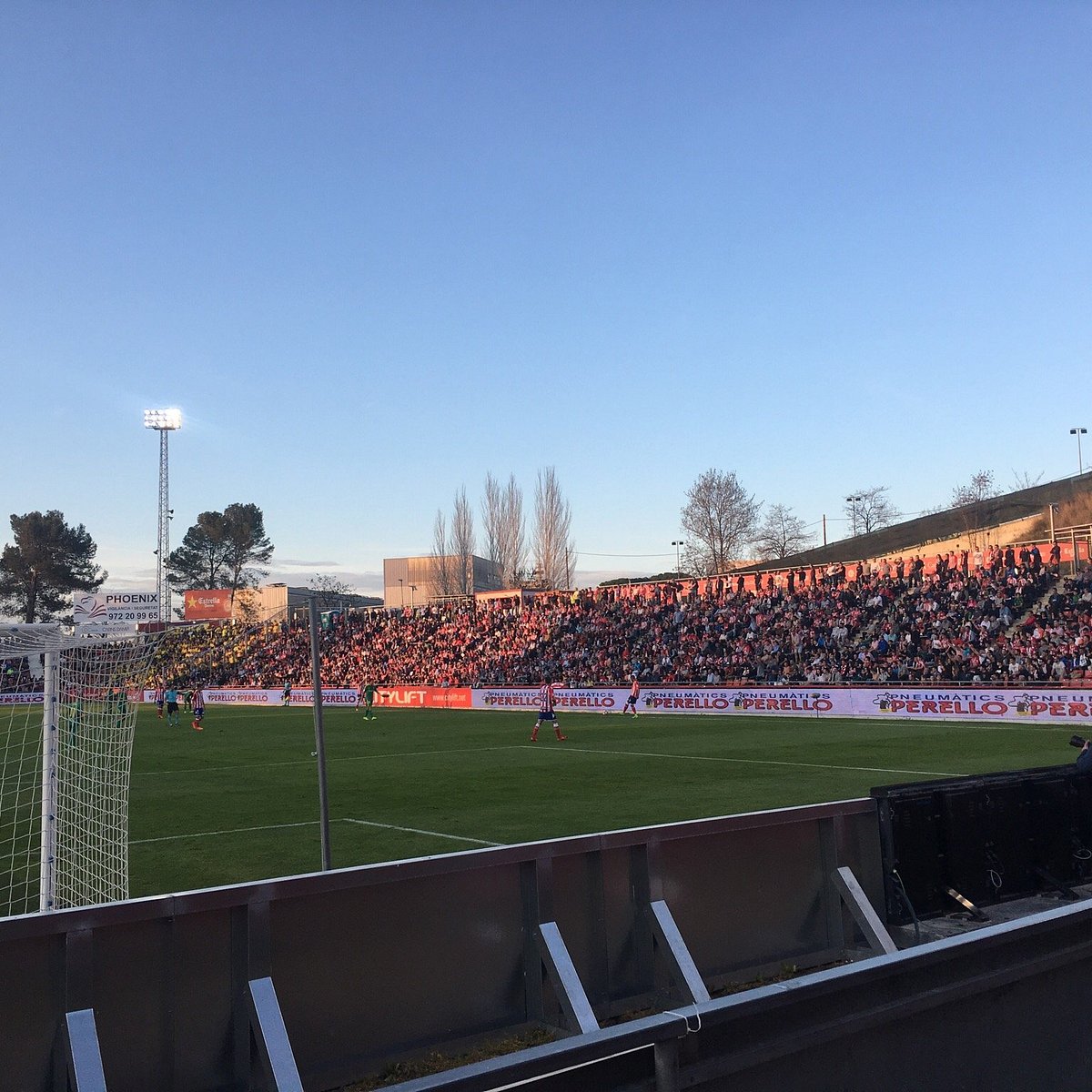 History of Girona FC
Girona FC is a professional football club based in Girona, Spain, and their first team currently competes at Estadi Montilivi. Established in 1930, the club played much of its early history in smaller regional leagues before taking up residence in their new home, Estadi Montilivi, in 1970. The stadium has a capacity of 11,810 spectators and has witnessed various highs and lows for the team over the years.
Girona FC experienced a significant turning point in 2017 when they were promoted to La Liga, Spain's top football division, for the first time in their history. Their spell in La Liga lasted until 2019 when they were relegated back to the Segunda División, where they currently compete.
Prominent Players
Throughout its history, Girona FC has been home to several noteworthy players who have greatly contributed to the team's successes. Some of these players include:
Cristhian Stuani: Stuani, a Uruguayan forward, has been instrumental in Girona's rise since joining the club in 2017. He quickly established himself as one of the league's top goal-scorers and played a key role in Girona's survival in their first La Liga season. Today, Stuani remains a crucial player for the team as they seek promotion back to the top level.
Pere Pons: A local product of Girona's youth academy, Pere Pons has been with the team since the age of seven. He made his first-team debut in 2014, and during Girona's La Liga years, he was a regular fixture in the starting line-up. In 2019, Pons moved to Deportivo Alavés, but his contributions to Girona during their most successful period should not be understated.
Álex Granell: Another local talent, Granell is Girona's current captain and one of the team's longest-serving players. Starting his professional career with Girona in 2012, Granell has been a midfield maestro ever since, orchestrating play on the field and representing his hometown with dignity and passion.
In conclusion, Girona FC boasts a rich history and has developed several noteworthy players over the years. While the club currently competes in the Segunda División, they maintain a strong fanbase and a beautifully situated home in the heart of Catalonia at Estadi Montilivi.
Infrastructure and Facilities
Seating and Capacity
The Estadi Montilivi, home of Girona FC, has a capacity of 9,500 seats. The stadium was built in the 1970s, to accommodate a larger crowd than its predecessor, the Vista Alegre Stadium. It officially opened on August 14, 1970, and since then has been the home ground of Girona FC. The venue offers a comfortable and modern space for spectators.
Amenities and Services
At Estadi Montilivi, fans can enjoy various amenities and services to enhance their experience. There are refreshment stands available throughout the stadium, offering a variety of food and beverage options for attendees. The stadium is also designed with accessibility in mind, making it easier for fans with disabilities to enjoy the matches.
In addition to the spectator facilities, the stadium also boasts excellent infrastructure for training and team activities. The grounds surrounding the stadium include modern training facilities for Girona FC, allowing the team to have a dedicated space for practice and development.
Estadi Montilivi's location in Girona, Catalonia, makes it easily accessible for fans. The city offers a range of public transportation options for those traveling to the games, ensuring that attending a match at Estadi Montilivi is a seamless experience for supporters.
Significant Matches at Estadi Montilivi
Estadi Montilivi, home to Girona FC since 1970, has hosted several significant matches throughout its history. With a capacity of 11,810 spectators, the stadium has witnessed memorable events that have shaped the club's journey in Spanish football.
One noteworthy match took place on March 2, 2011, when Estadi Montilivi hosted its first game with the newly completed side stands. The stadium welcomed 9,285 spectators, showcasing the growing support for Girona FC.
As Girona FC worked their way up the Spanish football league system, their promotion to La Liga in the 2022 Segunda División play-offs marked another significant event in the stadium's history. This achievement was monumental for the club founded on July 23, 1930.
Estadi Montilivi is not just home to Girona FC but has also been used by the Catalonia National Team for important matches. This demonstrates how the venue plays a role in fostering regional pride and passion for the game.
Overall, Estadi Montilivi has proven to be a significant football venue in Catalonia over the years. With its modern facilities and growing capacity, fans can look forward to hosting and witnessing more memorable matches at this cherished arena.
Community and Fan Engagement
Fan Clubs
Girona FC prides itself on its strong connection with the local community and its array of fan clubs. These organizations contribute to the vibrant atmosphere in and around the Estadi Montilivi during matchdays. Many fan clubs arrange various events throughout the season, including pre-match gatherings and social activities for members to bond over their shared love of Girona FC.
Special Events
In addition to the activities organized by fan clubs, Girona FC has hosted a range of special events at Estadi Montilivi, aiming to enhance the overall experience for supporters and the local community. These events include:
Family Days: Girona FC designates specific matchdays as family days, offering special promotions and entertainment options geared towards families, such as kid-friendly activities and reduced ticket prices for children.
Charity Matches: The club participates in charity matches to support important local causes, showcasing not only their on-field skills but also their commitment to giving back to the community.
Community Outreach Programs: Girona FC players and staff frequently engage in community outreach programs, including visits to local hospitals, schools, and other organizations, demonstrating their dedication to fostering strong connections with their fans.
The combination of fan clubs and special events contributes to a welcoming and engaging atmosphere at Estadi Montilivi, laying a solid foundation for the continued growth and success of Girona FC.
Economic and Cultural Impact
Tourism Boost
Estadi Montilivi has had a significant impact on tourism in Girona and Catalonia. As the home ground of Girona FC since 1970, it attracts football fans from both local areas and around the world. Football matches held at the stadium bring in a considerable number of visitors every season, contributing to the local economy through accommodation, dining, and other tourism-related services.
The stadium's capacity of 13,400 makes it a substantial venue for hosting not only football events but also concerts, festivals, and other cultural activities. These events draw in crowds from different regions and countries, further boosting tourism in Girona and increasing economic activities in the area.
Local Culture Enhancement
Estadi Montilivi is not only an important economic contributor but also plays a crucial role in enhancing the local culture in Girona. As the home base of the Girona FC team, residents feel a sense of pride and belonging to their community through their football club. The team and the stadium have been integral parts of Girona's identity since its construction in 1970.
Football matches and other events held at Estadi Montilivi bring the community together, creating opportunities for social interaction, networking, and local businesses to thrive. Girona FC itself is known for its association with Catalan nationalism, further highlighting the cultural connection between the team, the stadium, and the local populace.
In conclusion, Estadi Montilivi serves as a significant catalyst for both the economic and cultural development of Girona and Catalonia, making it an essential landmark in the region.