Anfield, the iconic football stadium located in Anfield, Liverpool, Merseyside, England, has been the proud home of Liverpool Football Club since its formation in 1892. With a current seating capacity of 61,015, it stands as the seventh largest football stadium in the country. The stadium, originally built in 1884, has witnessed significant changes and developments over its long history, transforming it into the modern, top-tier venue it is today.
Throughout the years, Anfield has become synonymous with Liverpool FC and its passionate fan base. The stadium offers state-of-the-art facilities, ensuring a seamless and enjoyable experience on match days for both home and visiting supporters. Its rich history, coupled with the Club's numerous successes on the pitch, has contributed to establishing a powerful sense of identity amongst fans, providing them with a true sense of belonging.
This article will delve into the fascinating history of Anfield, exploring the various aspects and iconic moments that have shaped it into the renowned stadium it is today. From the construction of its famed stands to memorable matches and events, you'll gain a deeper understanding of why this exceptional venue is so dear to the hearts of Liverpool FC supporters.
Historical Heritage
Formation and Early History
Anfield, the famed home of Liverpool Football Club, has a rich history spanning more than a century. Established in 1884, it didn't become Liverpool's spiritual home until the club's formation in 1892. The name "Anfield" originates from a combination of Old and Middle English words, meaning "a field on a slope." The stadium has undergone numerous transformations in its 129-year history, continually adapting to accommodate the ever-growing fan base and modernise its facilities.
Significant Moments
There have been numerous memorable moments in Anfield's illustrious past. A few of these unforgettable events include:
Stadium Expansion: Throughout its existence, Anfield has made significant expansions to support the growing fan base. For example, the construction of the iconic 'Spion Kop' in 1906 and the expansion of the Main Stand in the mid-1990s significantly improved fan experience at the venue.
European Nights at Anfield: The antique stadium is well-known for its dazzling European nights, which have forged an almost mythical status. These evenings have featured nail-biting encounters, such as the 2005 UEFA Champions League semi-final against Chelsea, when a Luis Garcia goal secured Liverpool's path to the final and a famous victory in Istanbul.
The Miracle of Istanbul: While the 2005 UEFA Champions League final occurred outside of Anfield, the night will be eternally intertwined with the stadium and the club's history. The incredible 3-3 comeback against AC Milan followed by a successful penalty shoot-out earned Liverpool their fifth European Cup title.
Anfield's historical heritage is a testament to the success and passion of Liverpool Football Club. Its storied past continues to inspire fans and players and uphold its status among the most iconic football stadiums in the world.
Stadium Features
Stanley Park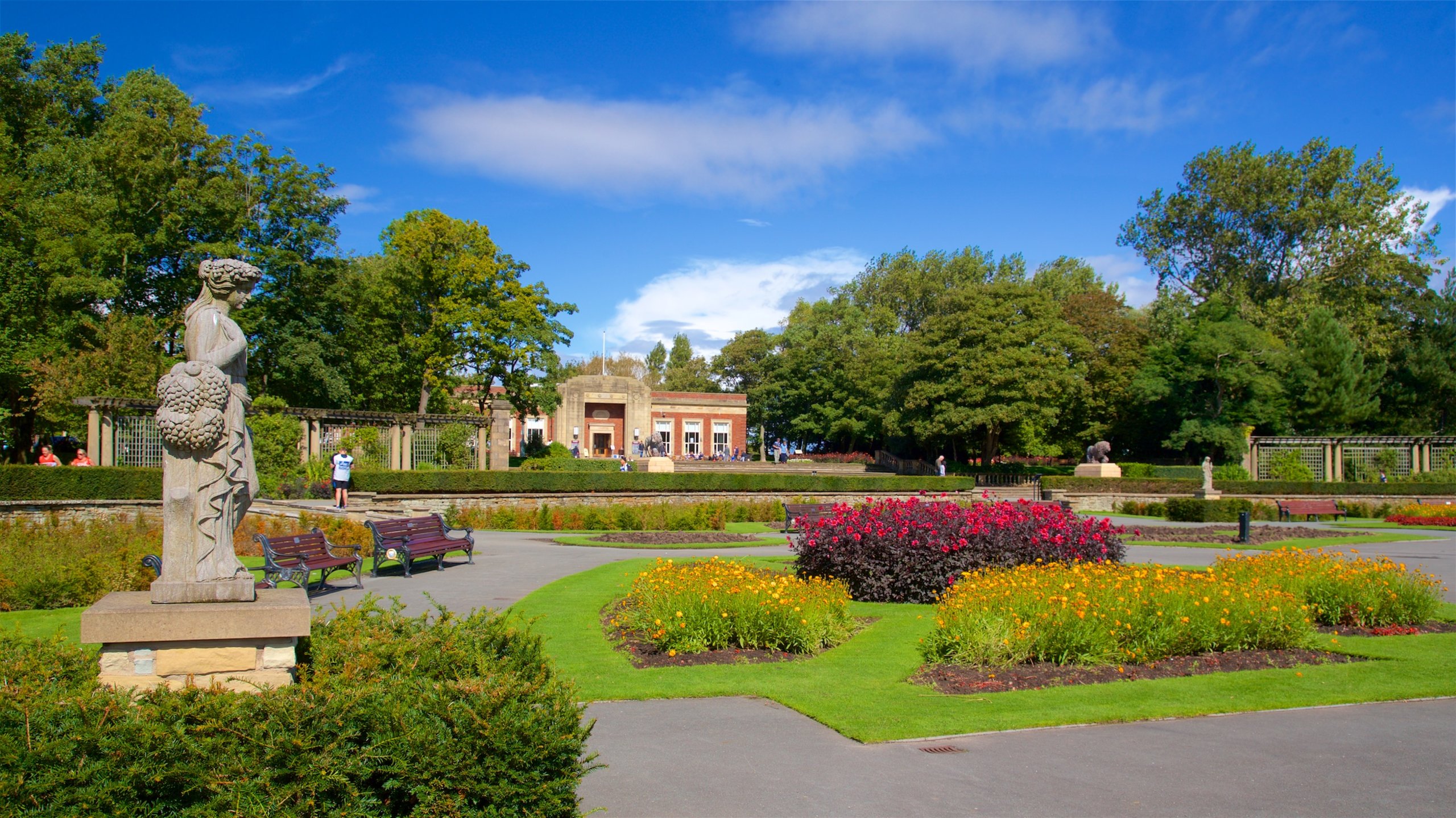 Anfield is located beside the beautiful Stanley Park, a large public park covering 110 acres. It serves as a welcoming green space for fans to relax and enjoy before and after matches at the stadium. The park offers a variety of amenities, including walking paths, playgrounds, and picturesque gardens, providing an inviting atmosphere for visitors.
The Kop
The Kop is Anfield's most iconic and passionate stand. With a capacity of 12,390, it is known for creating an electric atmosphere during matches, with songs and chants that echo throughout the stadium. The Kop is an integral part of Liverpool FC's history, as it has stood since 1906 and remains a symbol of the club's deep-rooted fan culture.
Centenary Stand
The Centenary Stand was built in 1992 to celebrate the club's 100th anniversary. This stand has a seating capacity of 11,762 and includes important club facilities such as the Director's Box and premium seating areas. The Centenary Stand also houses the club's museum, which showcases historical artifacts and memorable moments in Liverpool FC's story.
Main Stand
Opened in 2016 as part of the Anfield Project, the Main Stand is the stadium's largest. With a seating capacity of 20,500, it has significantly increased Anfield's overall capacity. The Main Stand contains various hospitality lounges, offering fans an enhanced matchday experience. Moreover, it offers improved facilities for disabled supporters, ensuring that Anfield is accessible for all fans.
Anfield Road End
The Anfield Road End is another important stand in the stadium, with a seating capacity of 9,074. This stand is primarily used by away supporters, allowing them to cheer on their team alongside Liverpool FC's dedicated supporters. The Anfield Road End also plays a key role in Anfield's famous atmosphere, making the stadium a truly unforgettable location for football fans around the world.
Legendary Matches at Anfield
Anfield, the iconic home of Liverpool FC, has witnessed numerous legendary matches over the years. One unforgettable encounter was the inaugural LFC Foundation legends charity match, which saw a host of famous names from two of Europe's most successful clubs come together. The thrilling game served up a treat for the capacity crowd, with seven goals exchanged before the home side secured a memorable victory1.
Another extraordinary match took place in the European Cup quarter-finals in 1977, when Liverpool faced French side Saint-Étienne. When David Fairclough, popularly known as "Super Sub," scored a dramatic late goal, it ignited one of the most intense and electrifying atmospheres Anfield has ever experienced. This match solidified Anfield's reputation as a fortress in European football.
Fast forward to 2005, and Liverpool FC produced a miraculous comeback against Olympiakos in the UEFA Champions League group stage. Needing three goals in the second half, captain Steven Gerrard scored a stunning last-minute strike to send Liverpool through to the knockout stages. This incredible triumph paved the way for the club's historic fifth European title later that same season.
Over the years, Anfield has also played host to several intense encounters with fierce rivals Manchester United, Everton, and Chelsea. One such classic was the 4-3 victory over Newcastle United in 1996, a match widely regarded as one of the greatest Premier League games of all time. The thrilling encounter saw Liverpool snatch a dramatic late winner, courtesy of an unforgettable Stan Collymore strike.
In summary, Anfield's storied history has produced countless legendary matches that have left an indelible mark on football history. The iconic stadium continues to inspire both players and supporters alike and remains a cherished symbol of Liverpool FC's esteemed legacy.
A Tour of Anfield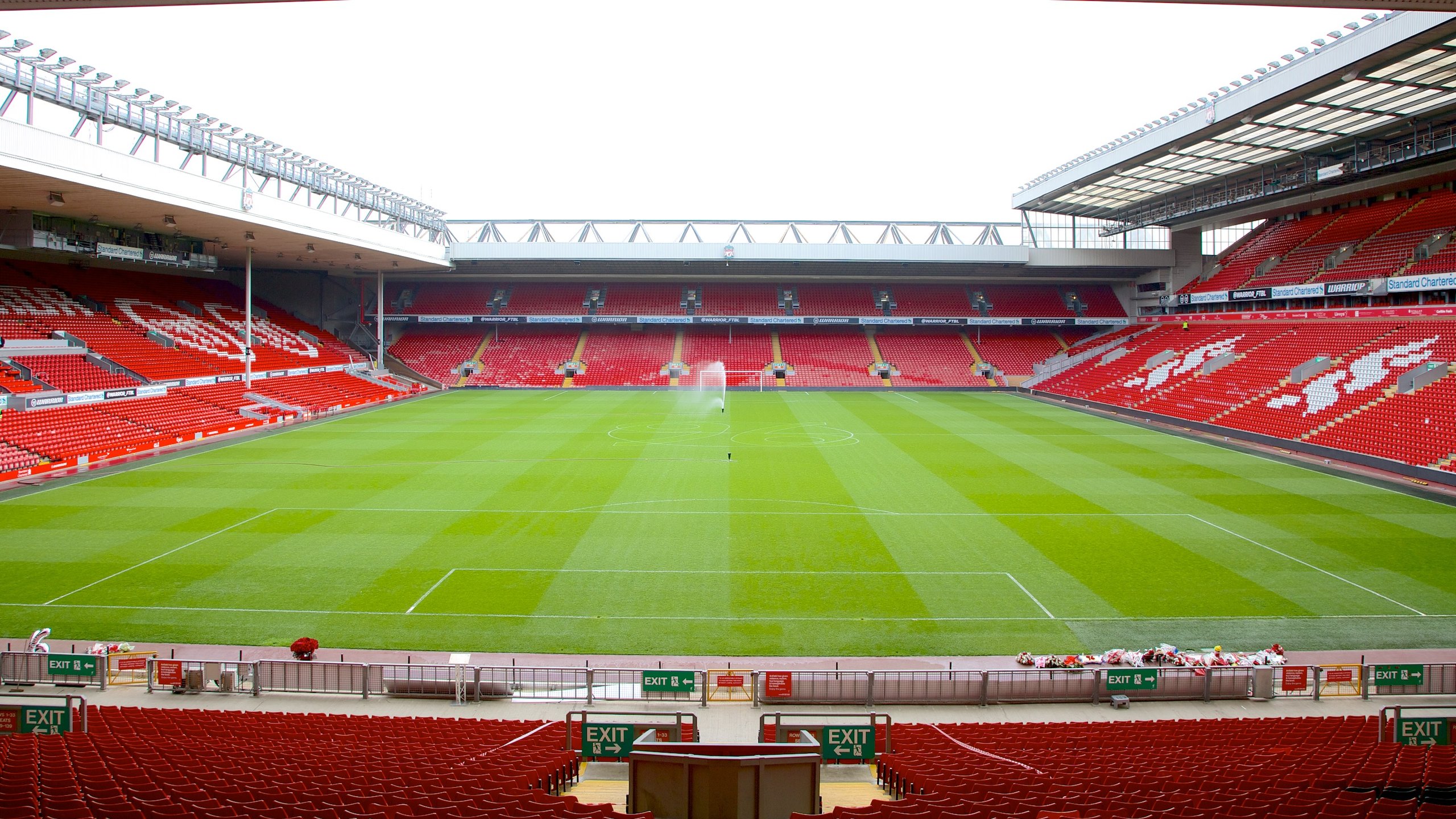 Anfield, the iconic home of Liverpool FC, is a must-visit destination for football fans from all over the world. A tour of this legendary stadium offers visitors an in-depth and unforgettable experience, delving into the rich history and remarkable atmosphere that has become synonymous with Liverpool FC.
Anfield Museum
The Anfield Museum is a key part of the tour, showcasing a comprehensive collection of memorabilia, trophies, and exhibits that celebrate the club's illustrious history. As you stroll through the museum, you'll come across fascinating stories of unforgettable moments, legendary players, and the club's impressive achievements, including their numerous league titles and European triumphs.
Visitors also have the unique opportunity to attend a Legends Q&A session, where they can ask questions and hear personal memories, dressing room tales, and funny anecdotes from their favourite Liverpool legends, such as Phil Neal, John Aldridge, and Phil Thompson.
Views from the Stands
The expanded Main Stand offers breathtaking views from the stands. As you explore this expansive area, you'll be treated to panoramic vistas of the pitch and Liverpool's picturesque skyline. Feel the electric atmosphere that comes alive on match days, as you take in the sight of the famous "This is Anfield" sign and the passionate fans who fill the stadium with their chants and cheers.
During the Anfield tour, visitors are granted exclusive access to areas typically reserved for players and team staff. Experience the thrill of walking through the Player's Tunnel, and step into the Dressing Rooms, where Liverpool's greatest players have prepared for countless matches. Throughout the tour, live guides and audio guides are available to provide interesting insights and anecdotes, making for a truly engaging and memorable visit to the home of Liverpool FC.
Community Impact
Local Economy
The Anfield Road Stand redevelopment project had started in September 2021, initially aimed to be ready for the 2023/24 season. The £80 million construction project has faced delays and complications with the main contractor filing for administration. Nevertheless, once the redevelopment project is complete, it is expected to bolster the local economy and contribute to the area's development.
Charity Work
Liverpool FC has always been committed to supporting the local community. According to their social impact report 2020/21, Liverpool FC's charity work has had an immense impact on the Anfield community:
Independently valued at £23 million during a 12-month period
For every £1 spent, a social return of £15 is created
Over 50,000 people have been supported in those 12 months
Additionally, their charities raised £320,000 to help families struggling to feed themselves, collected 15 tonnes of food, and assisted in preparing and cooking meals for those in need of support. This showcases the strong commitment of Liverpool FC towards the welfare of the Anfield community.
Famous Personalities
Anfield, the home of Liverpool FC, has been graced by numerous famous personalities over the years. These individuals have contributed immensely to the club's success and have left a lasting legacy for generations to come. Here are a few of those key figures.
Bill Shankly: A true icon of Liverpool FC, Bill Shankly was instrumental in transforming the team into a dominant force in English football. Serving as manager from 1959 to 1974, he took the Reds from the Second Division to the First Division while capturing three league titles, two FA Cups, and a UEFA Cup.
Bob Paisley: Following in Shankly's footsteps, Bob Paisley took over as Liverpool's manager in 1974, leading the club to even greater heights. During his tenure, Liverpool gathered several major honours, including six league titles, three European Cups, and three League Cups.
Kenny Dalglish: A legendary player and manager, Kenny Dalglish enjoys a special place in Liverpool's history. Not only was he an outstanding forward, scoring 172 goals for the club, but he also managed two spells, winning numerous trophies, including three league titles and two FA Cups.
Steven Gerrard: A true embodiment of Liverpool's spirit, Steven Gerrard was an exceptional midfielder who spent his entire playing career at Anfield. As the club's talisman, Gerrard led the team in securing numerous triumphs, most notably the unforgettable 2005 Champions League victory.
Ian Rush: Another striking legend, Ian Rush's prolific goal-scoring prowess made him one of the finest forwards in Liverpool's history. He remains the club's all-time leading scorer, with 346 goals to his name.
These famous personalities are just a few examples of the celebrated figures who have shaped Liverpool FC's rich history. Their dedication, skills, and passion for the club continue to serve as an inspiration for players and fans alike.
Concluding Remarks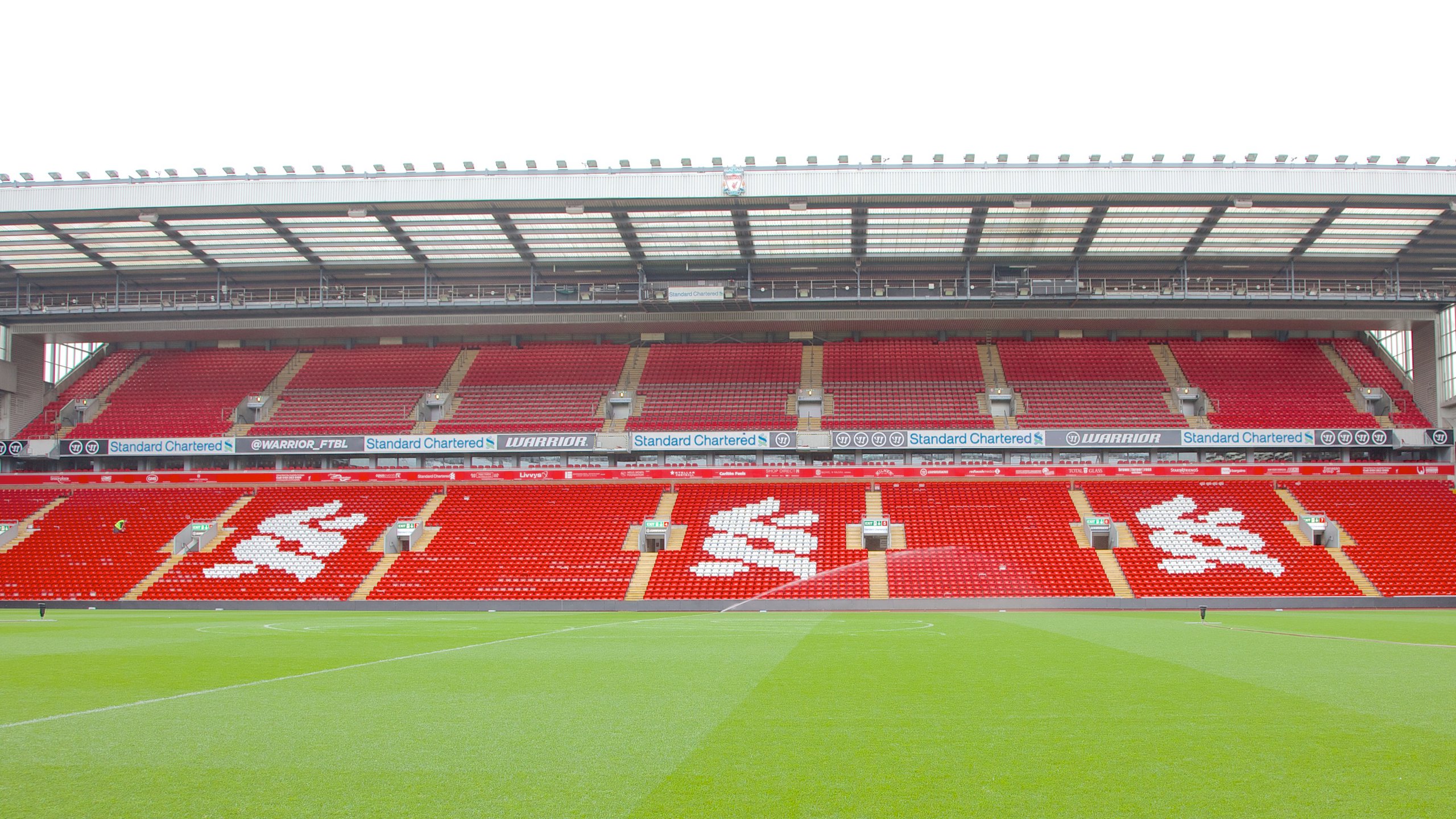 Anfield, the historic home of Liverpool FC, has long been a special place for football fans. The recent Anfield Road Stand redevelopment project has added even more excitement to the match day experience. With its 7,000 seat expansion, the stadium's atmosphere has been enhanced, allowing for more fans to enjoy the heart-pounding moments.
The construction of the new stand had faced some complications and delays, including a final completion target of mid-October 2023. Despite these issues, the club has shown resilience and determination to deliver an exceptional stadium for its supporters. It is clear that this iconic ground plays a central role in Liverpool FC's identity and will continue to be a source of pride for many years to come.
In summary, Anfield is truly a symbol of Liverpool FC's rich heritage and passionate fan base. This stadium has witnessed countless memorable moments throughout its history, and the recent Anfield Road Stand redevelopment ensures that it remains an inspiring home for one of English football's most decorated clubs.