Emirates Stadium, located in Holloway, London, has been the iconic home of Arsenal Football Club since its completion in 2006. Known for its impressive design and modern facilities, the stadium boasts a seated capacity of 60,704, making it the fifth-largest football stadium in England. As a vital part of the Arsenal legacy, the Emirates Stadium not only brings fans together on match days but also offers a range of experiences and attractions for visitors to explore.
The stadium features tours and the Arsenal Museum, providing football enthusiasts with an unforgettable experience. Members-only events, hospitality packages for upcoming fixtures, and a wide array of visitor information make Emirates Stadium a must-see attraction for both fans and tourists in London. In addition to its role in the world of sports, the stadium has recently revealed new artwork installations, further solidifying its status as a cultural landmark in north London.
In terms of accessibility, Emirates Stadium is only a short walk from the Arsenal and Holloway Road tube stations, making it effortlessly reachable for visitors from near and far. It's easy to see why the home of Arsenal is admired not only for its football offerings but also for its continuous adaptation and commitment to engaging with the wider community.
History of Emirates Stadium
Establishment
The Emirates Stadium, located in Holloway, London, has been the home of Arsenal Football Club since its completion in 2006. The stadium was constructed from 2004 to 2006, replacing Highbury Stadium, which had only 38,419 seats and was deemed too small for the needs of modern football. The idea for a new home ground was conceived in 2000 by then-manager Arsène Wenger, and the stadium now boasts a seated capacity of 60,704, making it the fifth-largest football stadium in England.
Emirates Stadium was a major project for Arsenal FC, with the club relocating from their beloved Highbury, which had served as the heartland of North London football for 93 years. Taking advantage of the larger space and modern amenities, the new stadium was designed to offer an exciting and more immersive football experience for fans.
Major Events
The opening of the Emirates Stadium marked a new era for Arsenal FC. The state-of-the-art venue has since hosted several significant football events and matches. Some noteworthy moments at the Emirates Stadium include:
Premier League matches: As the home ground of Arsenal FC, the stadium hosts numerous Premier League games each season, featuring top football clubs from around the country.
UEFA Champions League: Due to its large capacity and modern design, the Emirates Stadium has been a popular venue for hosting UEFA Champions League matches involving Arsenal and other European football giants.
FA Cup and League Cup matches: As a top-tier stadium in England, the Emirates has seen numerous FA Cup and League Cup games, showcasing the best of domestic cup competitions.
International friendlies: Emirates Stadium has also welcomed national teams from around the world for international friendly matches, further solidifying its status as a premier football destination.
Apart from hosting football events, Emirates Stadium has made its mark with other activities like stadium tours, The Arsenal Museum, members-only events, and hospitality for upcoming fixtures. It also provides facilities ensuring accessibility for disabled fans, displaying the stadium's commitment to inclusivity.
Arsenal Football Club
Arsenal Football Club is based in Holloway, London, and is one of the most prestigious clubs in English football. The team has called Emirates Stadium their home since its completion in 2006.
Founding
Arsenal was founded in 1886 as Dial Square by a group of workers at the Royal Arsenal in Woolwich, a district in southeast London. The club has gone through various name changes, ultimately being renamed Arsenal in 1914. In 1913, the Gunners moved to Highbury, their home for 93 years before relocating to Emirates Stadium.
Achievements at Emirates Stadium
Since moving to Emirates Stadium, Arsenal has experienced both domestic and international success. Key achievements include:
FA Cup victories: The club has won the FA Cup three times since moving to Emirates Stadium, in 2014, 2015, and 2017.
Community Shield wins: Arsenal has taken home the Community Shield four times during their tenure at Emirates Stadium in 2014, 2015, 2017 and 2020.
European runs: Arsenal reached the UEFA Champions League knockout stages consistently between 2007 and 2017 and played the UEFA Europa League final in 2019.
Though Arsenal made several deep runs in both domestic and international competitions, a Premier League title has eluded the club since their move to Emirates Stadium. Nonetheless, their footballing history and achievements remain a source of pride for both the club and its supporters.
Stadium Features
Seating Capacity
Emirates Stadium has a seating capacity of approximately 60,000, making it the third-largest football stadium in England. The arena provides a comfortable and enjoyable viewing experience for spectators, with seats offering excellent visibility of the pitch.
Pitch Details
The pitch at Emirates Stadium measures 105 metres in length and 68 metres in width, adhering to the standard dimensions for a professional football field. The surface is maintained to ensure optimal playing conditions for the Arsenal FC team and their opponents, promoting fast and accurate ball movement during matches.
Facilities
Emirates Stadium offers a range of facilities for both players and supporters, including:
Changing Rooms: The stadium houses extensive changing rooms for both home and away teams, complete with state-of-the-art equipment and hydrotherapy pools for injury treatment and recovery.
Stadium Tours and Arsenal Museum: Fans can take a behind-the-scenes tour of the stadium, which includes access to the players' changing rooms, the tunnel, and pitchside areas. Additionally, the Arsenal Museum offers a comprehensive collection of memorabilia and exhibits showcasing the club's rich history.
Hospitality Options: Emirates Stadium provides a variety of hospitality options, including executive boxes, club level seats, and fine dining experiences for guests looking for an upscale matchday experience.
Disabled Access: The stadium is fully accessible for disabled supporters, with dedicated seating areas and assistance available on request.
Club Stores: Arsenal supporters can purchase merchandise and souvenirs from several club stores located near the stadium.
Community Impact
Local Economy
Emirates Stadium, the home of Arsenal, has been a significant contributor to the local economy since its opening in 2006. The stadium hosts a variety of events and activities, drawing a large number of visitors to the area. These visitors, along with the Arsenal supporters, spend money at local businesses, boosting the economy and creating employment opportunities for residents.
To further support the community, Arsenal launched the Gunners For Change initiative in 2023. This initiative helps and inspires Arsenal Academy players to become more involved in the club's community projects and shines a light on the social action taken by Arsenal's senior men's and women's players and supporters.
Environmental Initiatives
Arsenal recognises the importance of operating in an environmentally friendly manner. As such, they have implemented several environmental initiatives at the Emirates Stadium:
Designated recycling area within the underground car park for responsible waste disposal.
Efforts to reduce energy consumption and utilise renewable energy sources.
Encouragement of public transport use for supporters attending matches to reduce carbon footprint.
The club's commitment to environmental initiatives reflects its dedication to the well-being of the community and the planet. Arsenal will continue to strive for sustainable practices and contribute positively to the collective efforts towards a greener future.
Future Plans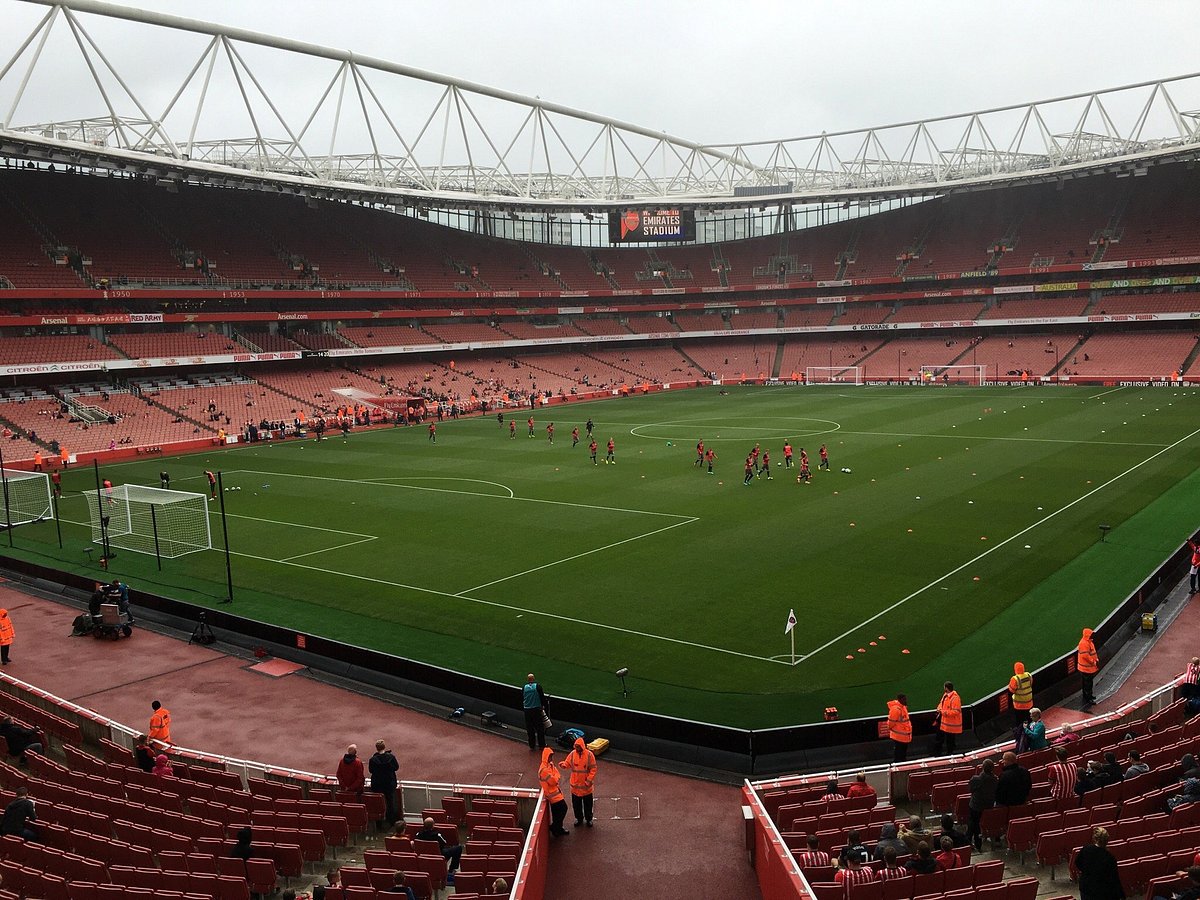 Emirates Stadium, home to Arsenal since 2006, is set to undergo a significant transformation in the coming years. The club has confirmed that work has already begun on revamping the exterior of the stadium, following the removal of existing artwork and crests recently1. The changes come after months of planning and multiple consultations with Arsenal fans to ensure their preferences are considered in the process.
The new design plans include eight different artwork installations that will adorn the outer walls of the stadium, adding a fresh and vibrant look to the iconic structure. Besides the external facelift, the club also has plans to develop and renovate certain areas within the stadium. The primary goal is to bring the seating capacity back in line with the original 2006 numbers. This involves making adjustments to comply with safety requirements and improve facilities for disabled supporters.
Another major renovation project lined up for the Emirates Stadium focuses on the roof. This essential maintenance work is expected to be carried out during the summer and will further enhance the overall condition and appearance of the stadium.
Throughout these renovation and development projects, Arsenal is keen on involving their fanbase. By incorporating their views and working closely with them, the club aims to create a revamped Emirates Stadium that truly reflects the spirit, passion, and history of Arsenal.