Etihad Stadium, currently known as the home of Premier League club Manchester City, boasts a domestic football capacity of 55,000. This impressive arena ranks as the 6th-largest football stadium in England and the ninth-largest in the United Kingdom. With its distinctive design and state-of-the-art facilities, it has become a symbol of pride for Manchester City fans and an iconic landmark within the city.
Located on the Etihad Campus in Manchester, the stadium has undergone significant transformation since its inception. Originally built for the 2002 Commonwealth Games, it was later converted into a football-specific venue to accommodate Manchester City Football Club. The stadium's versatile nature not only allows it to host football matches but also various other events such as concerts, making it a truly multifunctional space.
The facility is constantly improving, with recent developments including a submitted planning application for a £300 million expansion. This increased capacity aims to accommodate a seating of 60,000 spectators, further enhancing the stadium's prominence within the world of football. Visitors to Etihad Stadium can expect an unforgettable atmosphere and memorable experiences, as they immerse themselves in the heart of Manchester City.
Etihad Stadium: History
Founding and Construction
The City of Manchester Stadium, better known as the Etihad Stadium, is the home of Premier League club Manchester City. With a domestic football capacity of 55,000, it ranks as the 6th-largest football stadium in England and the ninth-largest in the United Kingdom. Its construction has a unique historical background. The site where the stadium now stands experienced heavy bombing during World War Two.
Despite the challenges associated with building on such a site, the Etihad Stadium was ultimately constructed as a key venue for the 2002 Commonwealth Games. Following the Games, Manchester City took over the stadium, and it has since become a centrepiece of their identity.
Major Renovations
The stadium has undergone several major renovations since Manchester City took over. One of the most notable additions is the creation of the "Blue Moon" anthem, sung by supporters before every home game. This song has become synonymous with the club's identity and is one of the most recognisable chants in global football.
Manchester City also expanded the stadium's capacity to accommodate its growing fan base. This allowed for the addition of more seating, making the Etihad Stadium the world-class venue that it is today. The club has continued to invest in the stadium to ensure excellent guest experiences during both football matches and other events. Among these efforts is a new, pre-booked parking system to provide more convenience for visitors.
Please let me know if you have any other questions or need more information.
Architectural Features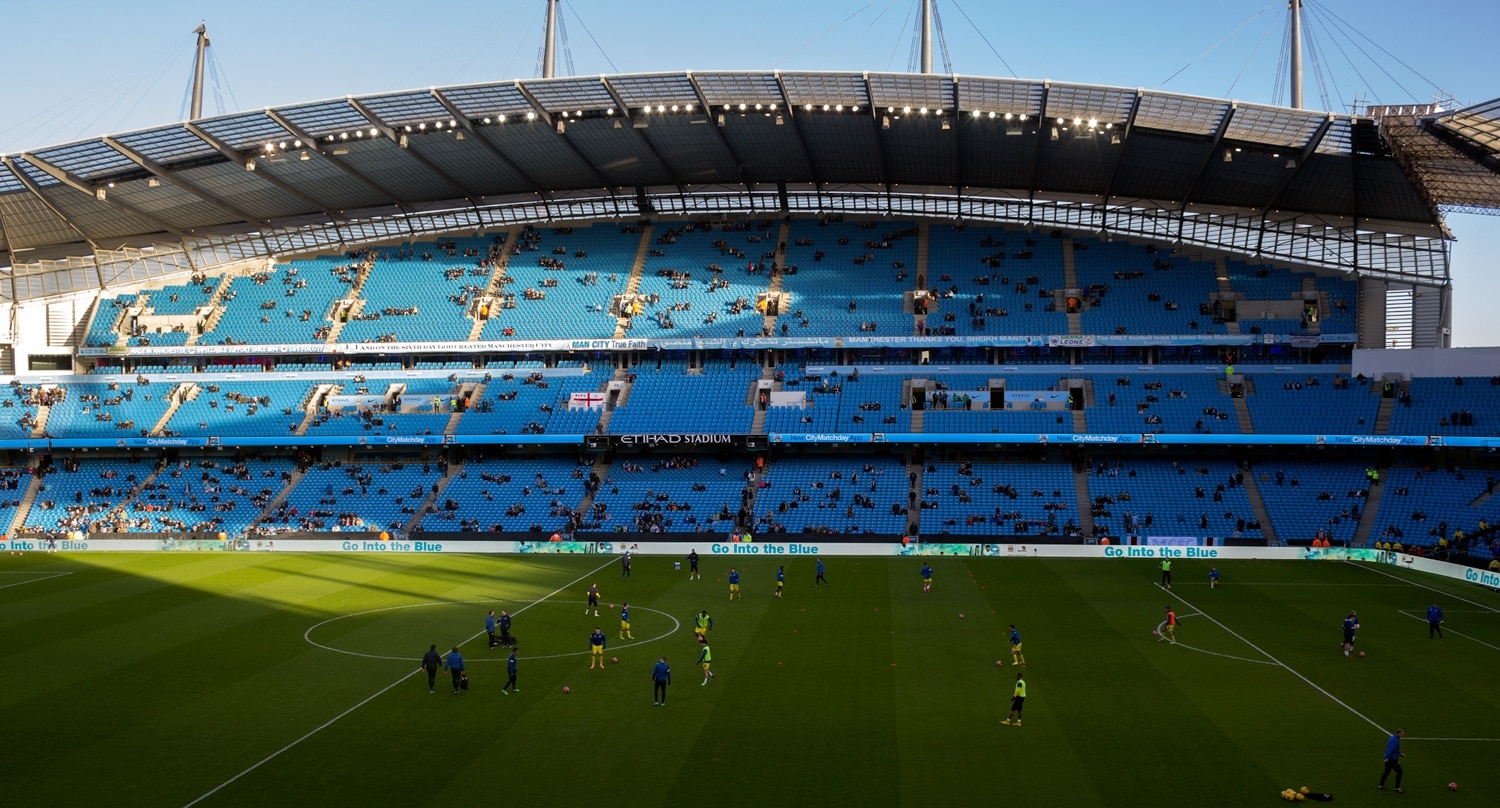 Stadium Design
The City of Manchester Stadium, also known as Etihad Stadium, is a marvellous piece of architecture. Its design is characterised by its elegant, sweeping arcs and long masts that hold the roof in place. The design is not only aesthetically pleasing but also functional, with easy access for fans entering and exiting the stadium.
The stadium was initially built for the 2002 Commonwealth Games, and later converted into a 48,000-seater facility to accommodate Manchester City Football Club. The architects behind the Etihad Stadium made sure to fulfil the requirements for its ongoing use in terms of viability, icon, and its role as a catalyst for the regeneration of Manchester.
Seating Capacity
The Etihad Stadium boasts a seating capacity of nearly 62,000 after it underwent an expansion in recent years, adding 7,700 seats to its North Stand. This increase highlights Manchester City FC's commitment to accommodating its ever-growing fanbase and providing them with a comfortable matchday experience.
Seating capacity breakdown:
Initial capacity (Commonwealth Games): 38,000
Capacity after conversion (2003): 48,000
Current capacity (post-expansion): 61,958
The Etihad Stadium not only impresses with its design and seating capacity, but also through the unique matchday atmosphere created by the "Blue Moon" anthem, recognised and cherished by Manchester City supporters worldwide.
Overall, the Etihad Stadium is a true reflection of Manchester City FC's global presence as well as their dedication to providing their fans with an unforgettable experience, making it a distinctive and iconic home for the club.
Home of Manchester City
Located in Manchester, the Etihad Stadium serves as the home ground for Premier League club Manchester City. With a domestic football capacity of 55,000, it is the 6th-largest football stadium in England and the ninth-largest in the United Kingdom. The stadium has a rich history and has played host to some of the most memorable moments, famous matches, and noted players in the club's history.
Memorable Moments
Over the years, the Etihad Stadium has been the setting for numerous memorable moments, such as:
Manchester City's dramatic title-winning victory against Queens Park Rangers in 2012, where Sergio Agüero scored the decisive goal in injury time.
City's 6-1 demolition of Manchester United, a key match in their title-winning 2011-2012 season.
The emotional farewell for club legend Yaya Touré, playing his final game at the Etihad Stadium in 2018.
Famous Matches
A number of unforgettable matches have taken place at the Etihad Stadium since it became the home of Manchester City, including:
Manchester City vs. QPR (13 May 2012): In this thrilling encounter, City clinched their first Premier League title by scoring two late goals to win 3-2, pipping rivals Manchester United on goal difference.
Manchester City vs. Manchester United (22 September 2013): In a fierce local derby, City cruised to a resounding 4-1 victory, with Sergio Agüero scoring a brace.
Manchester City vs. Tottenham Hotspur (13 January 2017): A captivating match that ended in a 2-2 draw, with the home side battling back after going behind twice.
Noted Players
Throughout its history, the Etihad Stadium has witnessed a plethora of exceptional players gracing the Manchester City squad. Some of the most iconic figures to have worn the City shirt at the Etihad include:
Sergio Agüero: The club's all-time top scorer, Agüero is renowned for his last-minute title-winning goal against QPR in 2012.
David Silva: Often referred to as "El Mago," Silva's playmaking abilities and vision were instrumental in City's numerous trophy successes during his time at the club.
Vincent Kompany: The former captain and central figure in Manchester City's defence, Kompany is remembered for guiding City to multiple Premier League titles and his unforgettable long-range goal against Leicester City in May 2019.
Stadium Facilities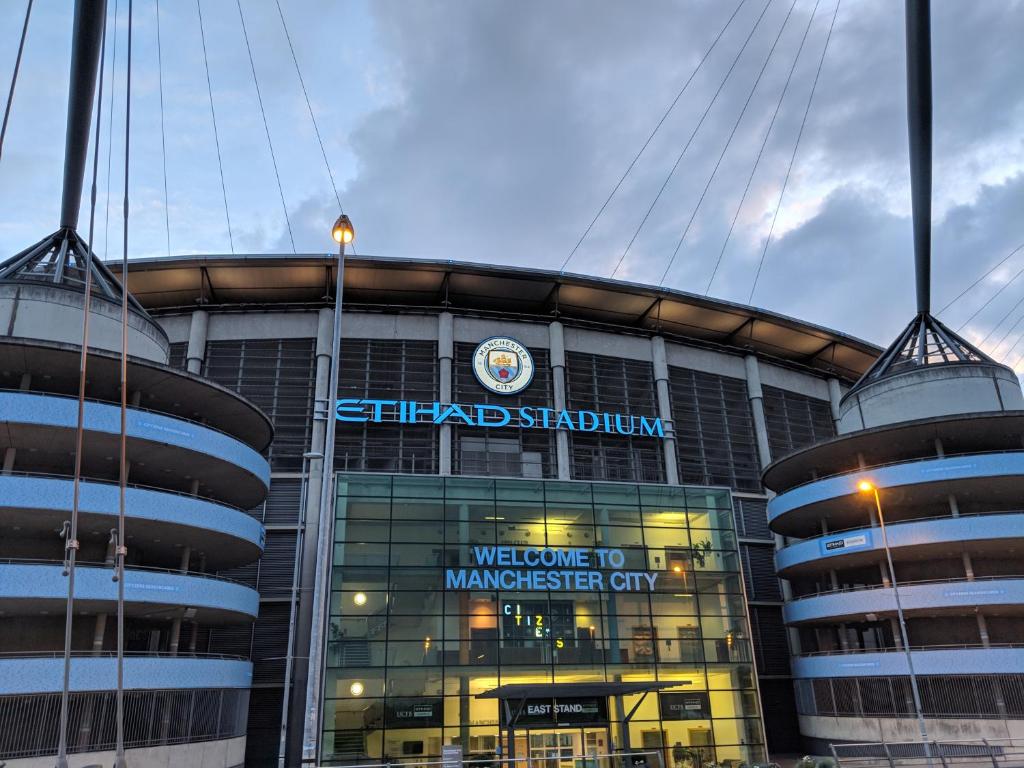 Food and Beverage Options
Etihad Stadium offers a variety of food and beverage options for visitors during match days and events. Concession stands are distributed throughout the stadium, serving classic British favourites such as pies, hot dogs, and fish and chips, as well as international dishes. Vegetarian and vegan options are also available to accommodate dietary preferences. Visitors can choose from a range of drinks, including local and international beers, wines, spirits, and soft beverages.
Club Shop
The official Manchester City Club Shop is located at the Etihad Stadium and provides everything a fan needs to show their support for the team. The shop offers a wide selection of official merchandise, including:
Matchday kits and training wear
Exclusive limited edition products
Souvenirs and collectibles
Manchester City branded clothing and accessories
Fans can also shop online through the club's official website. The store offers international shipping to cater to Manchester City fans worldwide.
Other Amenities
Etihad Stadium provides several amenities to ensure a comfortable and enjoyable experience for guests. These include:
Disabled access: The stadium offers wheelchair access and an induction loop system for the hearing impaired.
Stadium Wi-Fi: Free Wi-Fi is available for all visitors, allowing them to stay connected during their time at the stadium.
First Aid: Qualified stewards and medical staff are on hand to provide assistance during matches and events.
In addition to these amenities, the stadium also offers guided tours, where visitors can explore key areas such as the dressing rooms, tunnel, and press conference rooms. These tours provide an unforgettable experience for football fans, allowing them a behind-the-scenes glimpse into the world of Manchester City Football Club.
Stadium Events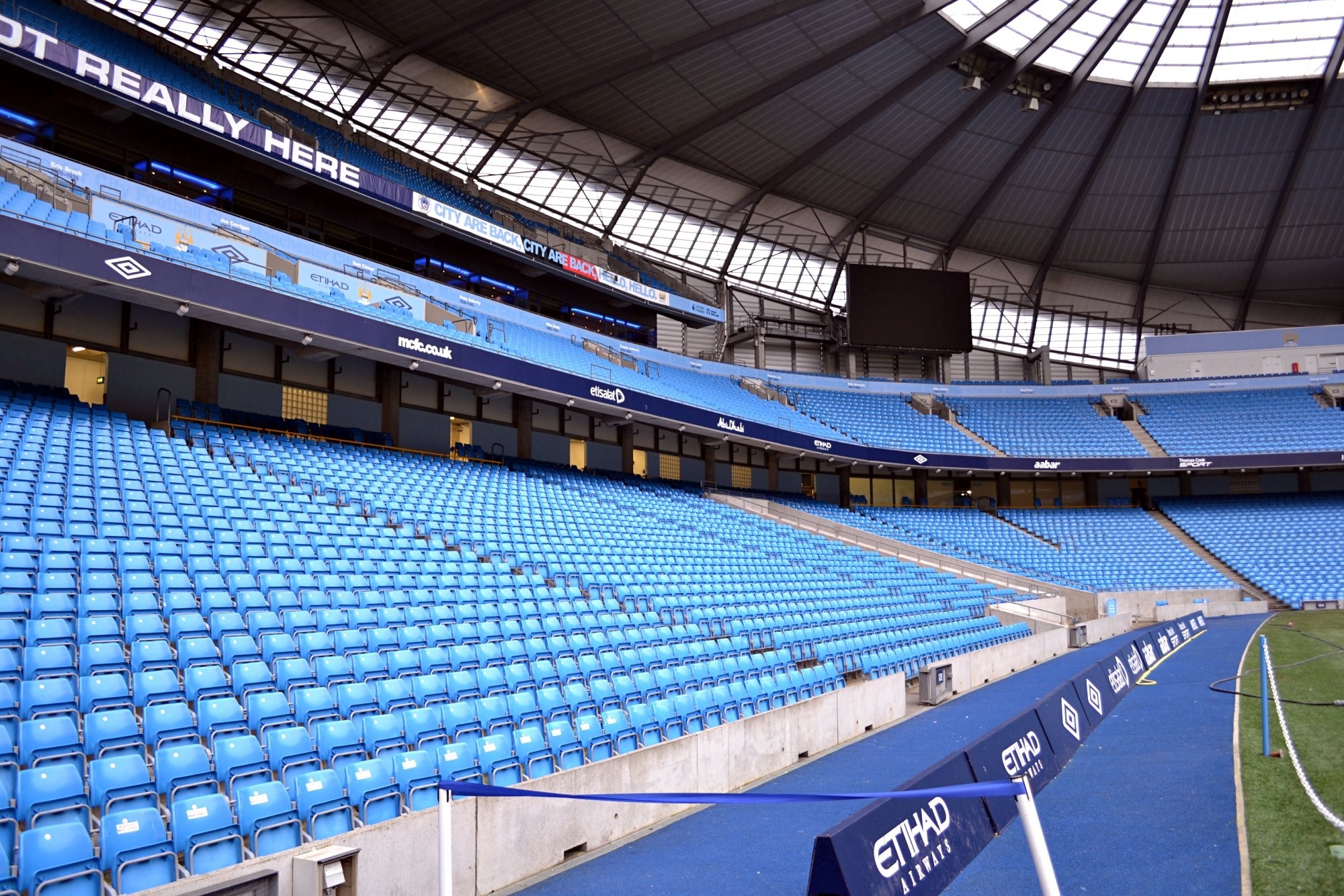 Non-Football Events
The Etihad Stadium is not only the home of Manchester City Football Club but also a sought-after venue for various non-football events. With a capacity of 53,400, it has been the site of numerous high-profile concerts. In the past, the stadium has hosted globally-renowned artists such as Coldplay and The Weeknd.
Manchester City F.C. offers 14 unique event spaces and 66 executive boxes that cater to a diverse range of gatherings and celebrations. From intimate meetings to opulent parties, the Etihad Stadium ensures an unforgettable experience for event attendees.
Community Involvement
The Etihad Stadium plays an active role in the local community, engaging with citizens and promoting social initiatives. Through various programmes and events, Manchester City F.C. provides opportunities for individuals and groups to experience the excitement of the stadium.
One such offering is the immersive Etihad Stadium Tour, which allows fans to explore the stadium, learn about its history, and enjoy an audio-visual perspective of the players' match day experiences. Furthermore, the venue supports local organisations and charity events to ensure Manchester City's enduring bond with the community continues to flourish.
Future Plans
Manchester City has ambitious plans for their beloved Etihad Stadium. They have submitted a planning application for a £300m expansion project to increase the stadium's capacity. Currently accommodating 53,400 spectators, the club aims to expand the capacity to 60,000 by enlarging the North Stand.
Not only will the North Stand be revitalised, but the project also includes the creation of a hotel, sky bar, and a "stadium roof walk experience", adding even more amenities to the already impressive venue. The expansion plan promises to enhance the experience for fans, giving them more reasons to visit and enjoy the matches.
The Etihad Stadium, originally built for the 2002 Commonwealth Games, has been home to Manchester City since 2003. With the excellent performance and loyalty of its fans over the years, the club wants to ensure that the stadium and its facilities remain top-notch. This move to expand will also allow more spectators to attend matches and share the excitement of their favourite team.
The proposed development is expected to attract more tourists and visitors, boosting the local economy and solidifying Manchester City's status in the football world. As these plans come to fruition, the Etihad Stadium will undoubtedly continue to shine as a prime example of modern sports facilities, bringing joy to Manchester City fans and inspiring awe in all who visit.