Selhurst Park, the home of Crystal Palace Football Club, is a popular destination for football fans and sports enthusiasts alike. Located in the heart of South London, the stadium is easily accessible by both public transportation and by car – ensuring that fans can arrive at the ground with minimal hassle and maximum enjoyment. This quick guide will offer valuable tips on how to get to Selhurst Park, so you can focus on supporting your team and soaking up the matchday atmosphere.
For those travelling by train, Selhurst Park is well-served by several stations that have direct connections from central London. Selhurst Station and Thornton Heath Station are both a short 5 to 10-minute walk away from the stadium, with trains running from London Victoria and London Bridge stations. Alternatively, reaching Selhurst Park from London Waterloo or London Kings Cross is also possible, with transfer options available at Clapham Junction and London Bridge respectively.
In addition to the ample public transport options, visitors driving to Selhurst Park will also benefit from the availability of complimentary onsite parking. This convenience, coupled with the comprehensive transport connections and direct trains from central London, ensures that every matchday at Selhurst Park is an experience not to be missed.
Understanding Selhurst Park
Selhurst Park is the home ground of the Crystal Palace Football Club, located in the far south of London, about 8 kilometres from central London. It is a historic stadium that has been the club's base since 1924. Visitors to Selhurst Park can enjoy a lively atmosphere on matchdays, with the stadium capable of hosting just over 26,000 spectators.
Reaching Selhurst Park is relatively straightforward, thanks to the excellent public transport options available in London. The easiest and most convenient method for getting to the venue is by train. If you're travelling from central London, you will find two train stations within close proximity to the stadium. Both Selhurst and Thornton Heath stations are between 5-10 minutes walk away from Selhurst Park. These stations are well-connected, with trains running frequently from London Victoria and London Bridge stations.
Once you have arrived at either Selhurst or Thornton Heath station, you'll find that navigating your way to the stadium is simple, with numerous signposts and local fans able to guide you in the right direction. It's also worth noting that Crystal Palace station is two miles away from the ground, so it's not advisable to travel from there.
Visiting Selhurst Park offers an opportunity to immerse yourself in the excitement of a football match, whilst experiencing a traditional British stadium environment. With several convenient public transport options available, accessing the stadium from central London is both easy and quick. So, go ahead and plan your visit to witness the thrilling atmosphere and cheer on your favourite team at this iconic venue.
Planning Your Journey
In this quick guide, we will cover different ways to get to Selhurst Park, the home of Crystal Palace F.C. This section is divided into three sub-sections: Via Public Transport, By Car, and By Foot.
Via Public Transport
To reach Selhurst Park using public transport, consider taking the train from central London. There are two main options:
From London Victoria: Take a Southern train directly to Selhurst station. This journey takes approximately 40 minutes, including a short walk to reach the stadium.
From London Bridge: Board a Southern train to Norwood Junction station. This journey takes about 30 minutes, followed by a short walk to Selhurst Park.
If you are coming from London Euston station, take the Northern Underground line to London Bridge. From there, follow the instructions mentioned above, with a total journey time of roughly 50 minutes.
By Car
If you prefer driving to Selhurst Park, it's essential to be aware that parking nearby can be limited. Please ensure you check parking regulations and restrictions around the stadium before embarking on your journey. Due to its suburban location, Selhurst Park is relatively easy to reach by car; however, it's advisable to allow extra time for potential traffic.
By Foot
Selhurst Park is conveniently located within walking distance from a few train stations. Both Selhurst and Thornton Heath stations are only a 5 to 10-minute walk away from the ground. These stations are served by trains coming from Victoria and London Bridge stations in central London, allowing for an easy and accessible journey on foot for the final leg.
Pre-Arrival Information
Ticketing Details
Before heading to Selhurst Park, make sure to purchase your tickets in advance through the Crystal Palace F.C. official website or authorised ticket retailers. Remember to check the availability and pricing for the desired match and seating area.
Accessibility
Selhurst Park offers various facilities for disabled supporters, such as wheelchair spaces, easy-access seats, and dedicated services for individuals with visual or hearing impairments. It is advised to contact the club directly to arrange any necessary accommodations and to gather further information on accessibility provisions.
Security Measures
For the safety of all supporters, Selhurst Park enforces several security measures. On arrival, expect bag checks and searches to be conducted by the stadium staff. Keep in mind the following guidelines:
No large bags or luggage are allowed inside the stadium
Prohibited items include: weapons, fireworks, glass bottles, and drugs
Abusive language or behaviour is not tolerated
By being aware of and complying with these security measures, you can help ensure a safe and enjoyable experience for everyone at Selhurst Park.
Amenities at Selhurst Park
Food and Beverage Options
At Selhurst Park, visitors can enjoy a variety of food and beverage options. There are several kiosks and concession stands situated around the stadium, offering traditional matchday favourites such as burgers, hot dogs, and pies. Additionally, there are a range of hot and cold beverages available including soft drinks, tea, and coffee.
Seating Arrangements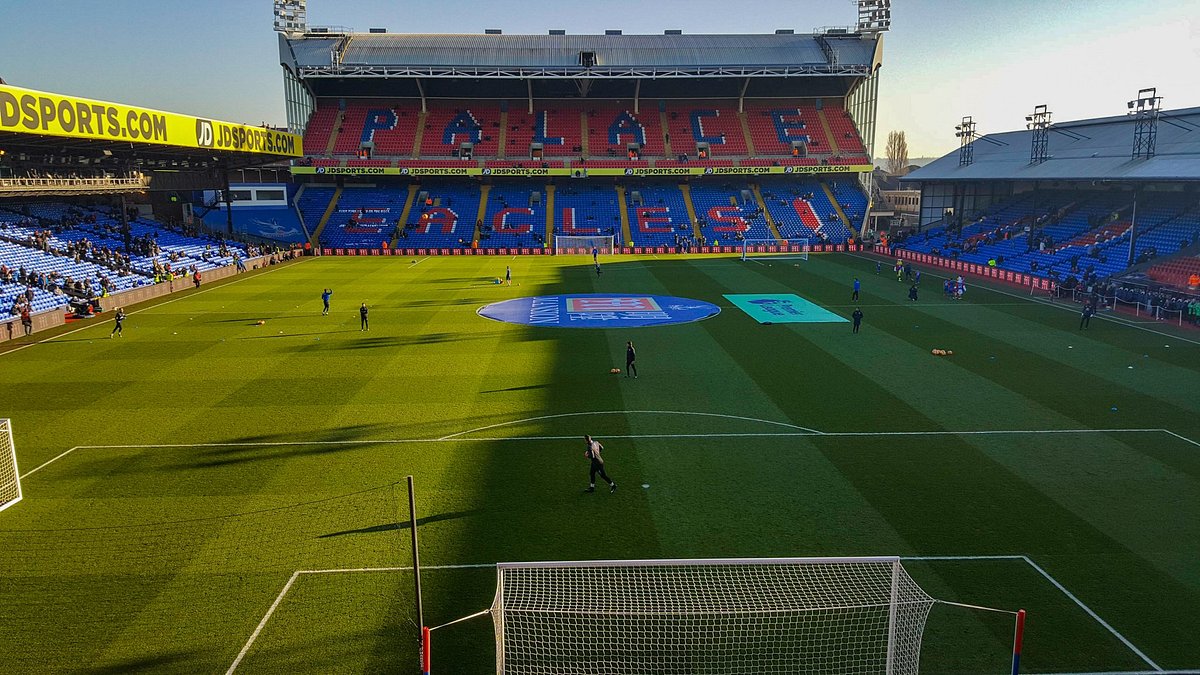 Selhurst Park has a seating capacity of 26,225, with four main stands: the Main Stand, the Holmesdale Road Stand, the Arthur Wait Stand, and the Whitehorse Lane Stand. Each stand offers different seating options, including padded seats in selected areas, and unreserved seating in the family section. To choose the best seat, visitors are advised to consult the seating plan available on the Crystal Palace F.C. website.
Facilities for Disabled Supporters
Selhurst Park is committed to providing an inclusive experience for all fans, including disabled supporters. The stadium offers dedicated areas for wheelchair users, with accessible seats available in all four stands. Additionally, there are a number of accessible amenities including toilets, ramps, and lifts. To book tickets or make special arrangements for disabled access, supporters should contact the club directly.
Post-Visit Tips
Nearby Attractions
After visiting Selhurst Park, you might want to explore some nearby attractions. Just a few kilometres away is the beautiful Crystal Palace Park, perfect for a leisurely stroll or a picnic. This historic park features the iconic Crystal Palace Dinosaurs, a collection of over 30 life-sized sculptures of prehistoric creatures, sure to fascinate visitors of all ages.
Another attraction nearby is the Horniman Museum and Gardens, a family-friendly destination housing a unique collection of natural history, musical instruments, and cultural artefacts. The museum's 16-acre gardens offer a peaceful retreat and splendid views of London.
Local Restaurants and Pubs
When it's time to refuel after a visit to Selhurst Park, there are plenty of restaurants and pubs in the area offering a diverse range of cuisine. For a casual meal, try The Alma Tavern, a traditional British pub with an extensive menu of pub classics. Located just a short walk from Selhurst Park, it is a popular spot for both locals and visitors.
If you're looking for something a bit more exotic, Syriana is a family-run Lebanese restaurant offering delicious Middle Eastern dishes, ideal for sharing with friends and family. The cosy atmosphere and friendly service make it a popular choice among locals.
Whatever your food preference or budget, there are plenty of options in the area to satisfy your taste buds, while you reflect on your enjoyable experience at Selhurst Park.
Conclusion
Selhurst Park, home to Crystal Palace F.C., is conveniently located in the heart of Selhurst, London, making it easily accessible via London's public transport system. To reach the stadium, visitors can opt for one of the following train routes:
Southern trains from London Victoria directly to Selhurst station, with a short walk to the stadium. The total journey time is approximately 40 minutes.
Southern trains from London Bridge directly to Norwood Junction station, followed by a brief walk to Selhurst Park. This journey takes roughly 30 minutes.
To summarise, travelling to Selhurst Park from central London is a straightforward process by train. Both Selhurst and Thornton Heath stations are conveniently located within a 5 to 10-minute walk from the stadium, making it simple for football fans and visitors to reach the venue. Just remember the address: Selhurst Park, Whitehorse Lane, Selhurst, London, SE25 6PU.
With these travel options in mind, visitors can look forward to a fun and enjoyable day at Selhurst Park, experiencing the exciting atmosphere of a Crystal Palace F.C. match.