Manchester, a vibrant city in the United Kingdom, is home to several iconic stadiums, reflecting the city's rich sporting history and culture. With a passion for football as well as other sporting events, Manchester boasts some remarkable arenas that have hosted high-profile matches, concerts, and international events. Two of the city's most notable stadiums are Old Trafford and the City of Manchester Stadium, which provide unforgettable experiences for fans and visitors alike.
Old Trafford, located in Greater Manchester, is the home of Manchester United Football Club. With a seating capacity of 74,310, it ranks as the largest club football stadium in the UK and the eleventh largest in Europe. Old Trafford has not only witnessed numerous exhilarating football matches but has also become a symbol of the sports heritage that Manchester proudly showcases to the world.
Another impressive stadium in Manchester is the City of Manchester Stadium, also known as Etihad Stadium. Initially built for the 2002 Commonwealth Games, the venue has transformed into a multi-purpose arena, hosting football internationals, rugby league matches, boxing title fights, and music concerts. It is the home ground of Manchester City FC, and also served as the site for the 2008 UEFA Cup Final. Nestled within the heart of Manchester, these stadiums are integral to the city's identity as a sports-loving destination and a hub for diverse events.
Stadiums in Manchester: A Brief History
Old Trafford
Old Trafford, also known as the "Theatre of Dreams," has been the home of Manchester United since 1910. Established in 1878 as Newton Heath L.Y.R. F.C., the club went through several stadium changes, starting from North Road Stadium, Bank Street, and Maine Road, before settling in Old Trafford.
In 1908, Manchester United won its first English League title, followed by the FA Cup victory in 1909, all under the management of Ernest Mangnall. Old Trafford's history spans over a century and has seen numerous expansions and renovations. Its current capacity is approximately 74,000 spectators, making it the largest club stadium in the United Kingdom.
Etihad Stadium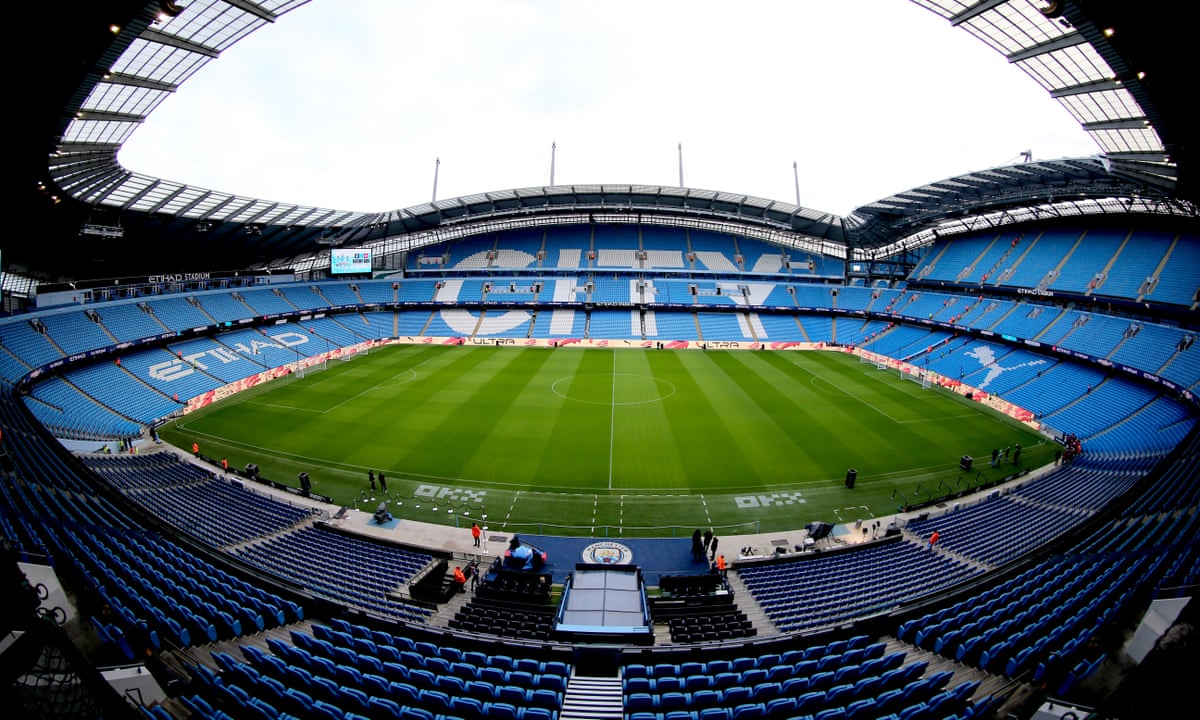 The Etihad Stadium, originally built as the City of Manchester Stadium, is home to Manchester City F.C. Initially constructed with a 41,000 capacity for the 2002 Commonwealth Games, it was completed in October 2001 at a cost of £90 million. Following the games, the stadium was redeveloped into a football-specific facility, with its seating capacity increased to 53,400.
In 2011, Manchester City F.C. secured a sponsorship deal with Etihad Airways, renaming the stadium to its current title. The Etihad Stadium is now the sixth-largest football stadium in England and the tenth-largest in the United Kingdom.
Both Old Trafford and Etihad Stadium have played essential roles in the football history of Manchester and continue to serve as iconic landmarks in the city.
Features and Architectural Styles
Old Trafford
Old Trafford is the famous home of Manchester United F.C. and is known for its iconic, traditional design. Opened in 1910, it has a seating capacity of 74,140, making it the largest club stadium in the United Kingdom. Old Trafford's architectural style is a combination of arched roofs and cantilever stands that distinguish it from other stadiums.
The stadium has been expanded and renovated several times in its long history, with the inclusion of modern features such as luxury suites, state-of-the-art LED screen displays, and improved disability access. Despite its modernizations, Old Trafford manages to retain its historic charm and atmosphere, beloved by fans and appreciated by visitors from around the world.
Etihad Stadium
The Etihad Stadium, also known as the City of Manchester Stadium, is the home of Manchester City F.C. and has a seating capacity of 53,400. It was originally built for the 2002 Commonwealth Games and later converted into a football stadium. The stadium features a unique "bowl" design, with smooth curves and a uniform appearance, giving it a sleek and modern appearance.
The innovative design of the Etihad Stadium was the result of a collaboration between Manchester City Council, Arup Associates, and Arup Engineering. The architectural style of the stadium is characterized by:
Circular steel trusses: These provide support for the roof and create the recognizable undulating form.
Giant cable net roof: A tensioned cable system that covers the entire stadium and allows for maximum sunlight and ventilation.
Transparent ETFE panels: Incorporated into the roofing and façade, these panels provide optimal natural light while also maintaining a sleek, futuristic aesthetic.
The Etihad Stadium is not only a visually striking landmark but also an environmentally sustainable and versatile venue.
Events and Impact on Local Economy
Football Matches
Manchester is home to two major football clubs, Manchester City and Manchester United. Both clubs greatly contribute to the local economy through their respective stadiums, the Etihad Stadium for Manchester City and Old Trafford for Manchester United. Investments by Manchester City and Manchester City Council in new infrastructure and facilities in East Manchester have added temporary and permanent jobs to the local economy, with positive economic impacts expected for at least the next decade.
A variety of job opportunities arise during football matches, such as:
Stadium operations
Hospitality services
Security staff
Ticket sales
Beyond direct employment, the influx of fans visiting Manchester during match days also boosts local businesses like restaurants, pubs, and hotels.
Concerts
Manchester's stadiums also serve as concert venues, hosting major music events featuring international performers. These events draw tens of thousands of music fans to the city, creating a surge in tourism. The Greater Manchester Combined Authority reported in 2019 that Manchester Central generates over £150 million for the local economy, through direct spending both at the venue and on accommodation, food, and transportation.
The economic benefits of concerts also include temporary job opportunities such as:
Stage and sound crew
Security staff
Food and beverage services
Merchandise sales
Other Events
In addition to football matches and concerts, Manchester's stadiums have hosted a variety of other events, such as the 2002 Commonwealth Games. This event is considered to have had a significant socio-economic impact on the city. The organization responsible for the games ensured that the positive effects did not vanish after the event was over, and instead continued to support the local regeneration.
Stadiums in Manchester also serve as venues for conferences, exhibitions, and large-scale community events, all of which contribute to the local economy through direct and indirect spending in the area.
James is a big time NBA Golden State follower, who makes sure to catch games when he's in the area. He likes to follow International Soccer, with an interest in small town soccer club, Blackburn Rovers located in the North on the UK.