Tottenham Hotspur Stadium is the impressive home of Tottenham Hotspur Football Club, which can proudly boast being the largest club stadium in London. This state-of-the-art facility is located in North London and has replaced the team's previous ground, White Hart Lane. With a seating capacity of 62,850, it ranks as the third largest football stadium in England.
Beyond hosting exhilarating football matches, the stadium also serves as a venue for world-class sports and entertainment events year-round. Visitors to the stadium can enjoy the unique experience of the Dare Skywalk, an adrenaline-pumping walk on the stadium's rooftop, or even attend a concert by international stars like Wizkid.
Tottenham Hotspur FC fans and visitors alike can appreciate the modern design and conveniences offered by Tottenham Hotspur Stadium. Its state-of-the-art facilities not only create an exceptional atmosphere for players and spectators but also contribute to making it a true landmark in London's sports scene.
Stadium History
Inauguration
Tottenham Hotspur Stadium was officially opened in April 2019, replacing the club's former ground, White Hart Lane. The state-of-the-art facility was designed to maximise the supporter experience, bringing fans closer to the pitch than any other comparable-sized stadium in the UK, with distances from the front row to the touchline ranging from just 4.9 metres to 7.9 metres.
Major Events
Since its opening, Tottenham Hotspur Stadium has been the venue for various events, both sporting and non-sporting. It was built with a multi-purpose design and features the world's first dividing, retractable football pitch, revealing a synthetic turf field underneath for NFL London Games, concerts, and other events.
One of the first major events at the stadium was the UEFA Champions League quarter-final between Tottenham Hotspur and Manchester City in April 2019. The stadium has also been the host venue for a number of NFL London Games and will undoubtedly continue to see more in the future. As a versatile, modern venue, Tottenham Hotspur Stadium is set to be a key player in the world of sports and entertainment, strengthening the club's presence and impact on the global stage.
Stadium Design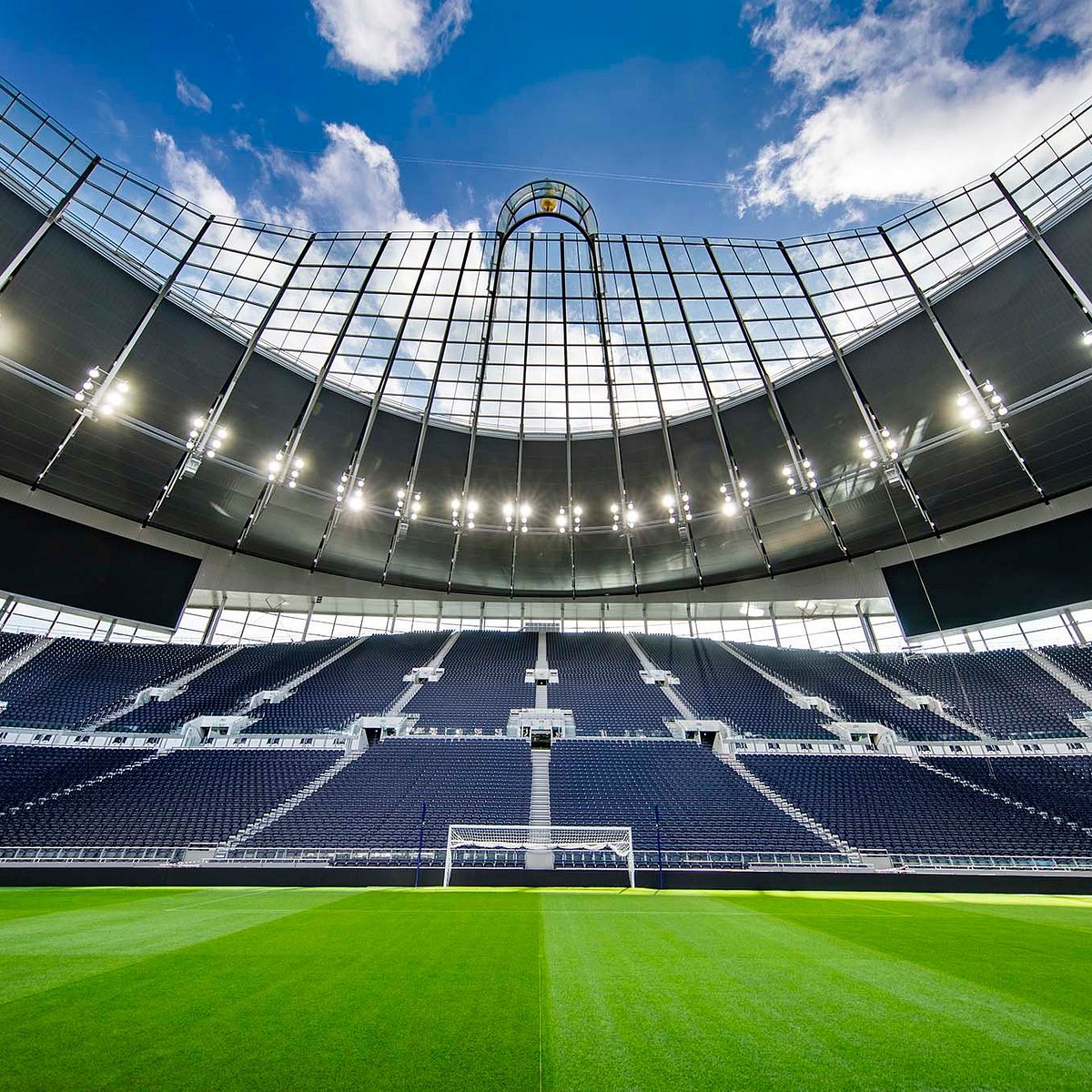 Architecture
The Tottenham Hotspur Stadium, home of Tottenham Hotspur FC, boasts a sleek and modern design. The multi-award-winning stadium, designed by Populous, sets a new benchmark in global stadium architecture. Incorporating a fully retractable pitch, it is the first purpose-built home for the NFL in Europe.
Seating Arrangement
Opened in April 2019, the stadium prioritises the supporter experience by bringing fans closer to the action than any comparable size stadium in the UK. Distances from the front row to the touchline range from just 4.9 metres to 7.9 metres, creating an intimate and thrilling atmosphere for spectators. The stadium features a single-tier stand, known as the South Stand, which holds 17,500 fans and is the largest of its kind in the UK.
Matchday Experience
Tottenham Hotspur's home ground offers one of the finest matchday experiences for football supporters, combining state-of-the-art facilities with an electric atmosphere. Features such as the glass-walled players' tunnel, which allows fans a glimpse of their heroes before they take to the pitch, add a unique touch to the visitor experience. The stadium also caters to modern expectations with excellent hospitality venues and amenities.
Facilities
Food and Beverage
Tottenham Hotspur Stadium offers a wide range of delicious food and beverage options for fans to enjoy during their visit. The stadium is proud to be fully cashless, providing an increased speed of service. Payments can be made using all major contactless debit and credit cards, with a payment limit of £100.
Club Shop
The stadium houses a spacious club shop, designed to cater to the needs of passionate Tottenham Hotspur FC supporters. Located in the Tottenham Experience, the shop offers a variety of official merchandise, from team kits to memorabilia and souvenirs. Fans with disabilities can access the shop using the grab rails provided by the toilet and sink facilities.
Conference Rooms
Tottenham Hotspur Stadium not only serves as an iconic sports venue, but also features modern conference rooms available for corporate events and functions. The stadium has worked in partnership with AccessAble to produce detailed pan-disability guides. This additional resource ensures fans with disabilities are well catered for during their visit, making Tottenham Hotspur Stadium an inclusive and welcoming destination for all supporters.
Sustainability at the Stadium
Tottenham Hotspur Stadium, the home of Tottenham Hotspur FC, showcases a strong commitment to environmental sustainability. As the greenest club in the Premier League, Tottenham Hotspur has implemented a range of eco-friendly measures to minimise its environmental impact.
At the heart of the stadium's sustainability efforts is the use of 100% renewable energy to power its operations. This commitment to clean energy sources not only reduces the club's carbon footprint, but also promotes awareness of the importance of renewable energy in the fight against climate change.
In addition to its renewable energy efforts, the stadium adheres to a zero waste-to-landfill policy. This effectively ensures that no waste from the stadium is sent to landfill sites, and instead, is either recycled or repurposed. A particularly noteworthy initiative in this regard is the reusable beer cup scheme, which greatly reduces the usage of single-use plastics during matchdays and events.
Transportation is another area where sustainability is prioritised. Tottenham Hotspur encourages fans to use public transport when attending matches, which not only eases traffic congestion but also has a positive effect on air quality. By promoting public transportation, the club helps in getting cars off the road, thereby reducing pollution and carbon emissions on match days.
Through their commitment to sustainability, Tottenham Hotspur Stadium has set a high standard for eco-friendly practices within the sports and entertainment industry. Their ongoing initiatives and dedication to environmental responsibility serve as an impressive example of how large-scale venues can operate in harmony with the environment.
Hosting Other Sports
Tottenham Hotspur Stadium, opened in April 2019, serves as the home of Tottenham Hotspur FC. While the stadium primarily functions as a world-class football venue, it has also been designed to host other sporting events. This versatile facility offers excellent amenities and a comfortable experience for both fans and athletes participating in various sports.
One such event held at Tottenham Hotspur Stadium is the NFL London Games. In 2023, the stadium is set to host American football matches on Sunday 8th and 15th October. This addition of NFL games showcases the stadium's ability to cater to diverse sporting events and audiences.
Another unique feature is the world's first in-stadium electric karting facility, F1® DRIVE – London. This innovative experience offers visitors the excitement of Formula 1® Karting within the premises of the stadium. Launching later this year, F1® DRIVE – London is an example of how the Tottenham Hotspur Stadium embraces cutting-edge entertainment and sporting experiences.
The stadium's expert teams are also known to excel in bringing ambitious events to life. With a diverse range of unique and stunning venue spaces, Tottenham Hotspur Stadium offers maximum choice and flexibility to host both corporate and social events. This commitment to providing an exceptional experience for visitors makes it one of the most state-of-the-art arenas in sports today.
Tottenham Hotspur Stadium's dedication to being more than just a football ground shows its commitment to providing diverse, memorable experiences for a wide range of sports enthusiasts. Hosting various sporting events while maintaining a friendly atmosphere cements its status as a beloved and innovative fixture in the world of sports infrastructure.
Accessibility
Tottenham Hotspur Stadium is designed to accommodate all its fans, including those with disabilities. To ensure a comfortable experience for everyone, the stadium features dedicated step-free entrances for home fans (Entrances 1, 5, 13, and 17), and one accessible entrance for away fans (Entrance 11a). Lifts are available at all these entrances, transporting supporters to the viewing areas without any difficulty.
There are 66 accessible toilets located throughout the stadium concourses, hospitality lounges, and the Tottenham Experience flagship shop on the high road. Ambulant accessible toilets can also be found in each of the public toilets throughout the stadium, catering to the needs of all visitors.
In addition to the accessible entrances and toilet facilities, Tottenham Hotspur Stadium also offers a comprehensive Disability Access Scheme to provide even more support for disabled fans. More information about this scheme and how to register can be found in their Accessibility Guide.
Moreover, the stadium tours have been designed to be inclusive and accessible to all, ensuring visitors can enjoy exclusive access to First Team facilities, NFL locker rooms, and media areas. The tour route is step-free and wheelchair accessible, with lifts available for visitors to use in the Tottenham Experience and West Atrium.
Taking into account the extensive accessibility features, Tottenham Hotspur Stadium demonstrates its commitment to providing a welcoming and inclusive environment for every fan who visits.
How to Get There
Tottenham Hotspur Stadium, the home of Tottenham Hotspur Football Club, is easily accessible by public transport. There are several options for getting to the stadium, making it convenient for visitors from various locations.
One of the easiest ways to reach the stadium is by train. The venue is served by four train stations:
White Hart Lane: Approximately a 5-minute walk to the stadium, or roughly 500 steps for those using fitness apps.
Northumberland Park: About a 10-minute walk to the stadium, equating to about 1,000 steps.
Tottenham Hale: Around a 25-minute walk to the stadium, which is approximately 2,500 steps.
Seven Sisters: Another option within walking distance to the stadium.
Public transport, including London Underground, London Overground, and Greater Anglia services, connect these stations to the stadium. Plan your journey in advance to ensure a smooth trip to the venue.
Alternatively, you can use local buses provided by Transport for London (TfL) to get to the stadium. While there are no dedicated shuttle buses, the area is well-served by public buses for those looking to connect from train stations or other parts of the city. Make sure to check timetables and route information in advance to avoid any last-minute surprises.
For visitors who prefer to cycle, there are facilities available at the stadium for parking your bike securely. However, it is crucial to remember that on match days and during stadium events, road closures around the stadium may impact your route. Plan accordingly and consider alternative options if necessary.
Taxis and private hire vehicles are also available for transport to the stadium. Keep in mind that road closures and traffic may affect this option, and public transport may be the more reliable choice, especially on busy event days.
By following these guidelines and planning your trip in advance, visiting Tottenham Hotspur Stadium will be a pleasant and hassle-free experience.