Gila River Arena is one of the best entertainment complexes in Arizona. You'll find it in the Westgate Entertainment District of Glendale, so there are several excellent hotels to choose from when planning your visit.
This multi-purpose arena sees concerts by artists like Madonna, Elton John, Justin Bieber, Billie Eilish, and more. It's also the previous home of the NHL team, the Arizona Coyotes. Whatever reason you have for visiting the city and whatever event you're attending at the arena, finding a hotel nearby can make your trip that much easier.
Whether you want to be within walking distance of the arena or less than a ten-minute car ride, there are plenty of great hotels to choose from. These are the nine best hotels near the Gila River Arena.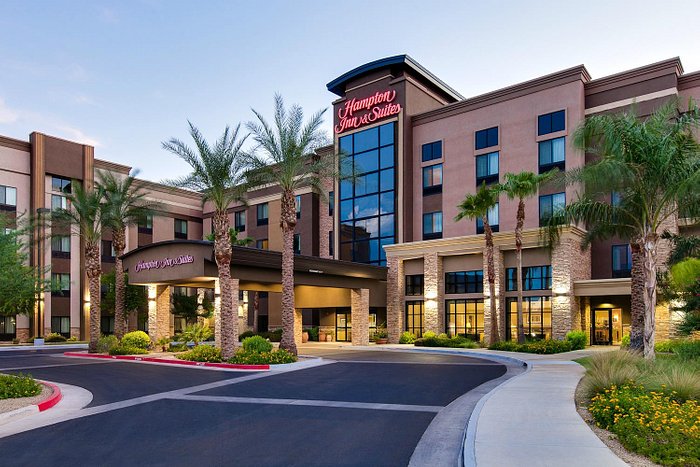 One of the closest and most affordable hotel options near Gila River Arena is the Hampton Inn and Suites Phoenix, Glendale, and Westgate. It's nestled right in the Westgate Entertainment District and puts you only 0.6 miles away from the stadium. This means you can walk there in only eight minutes and drive there in two.
Its proximity to the arena, Tanger Outlets, and restaurants make it one of the best places to stay in Glendale. If you want to explore downtown Phoenix, you're only 15 minutes by car away. Plus, its affordability is another reason to check this hotel out: you can save a few bucks without compromising the location.
You'll enjoy comfortable and standard hotel rooms with all toiletries provided when you stay here. They provide all guests free WiFi, a complimentary hot breakfast every morning, and free parking. They're a pet-friendly hotel and have a no-smoking policy.
Since you won't be spending all your time at Gila River Arena, knowing what other amenities the hotel offers is essential. You can cool down in their outdoor pool, soak in the hot tub, and take advantage of their 24-hour fitness center.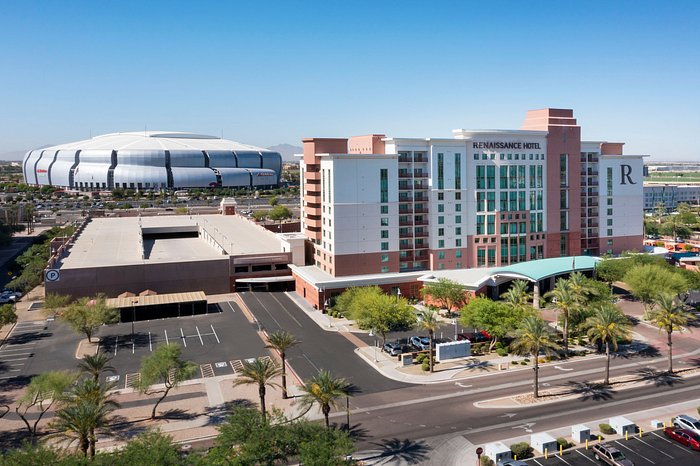 Even closer to Gila River Arena than the Hampton Inn and Suites is the Renaissance Hotel and Spa. It's only a few hundred feet from the arena, and it takes a minute to walk there. There's no need to drive there or get an Uber.
Not only are you close to that arena, but you're also close to State Farm Stadium, shopping areas, and plenty of bars and restaurants. This charming hotel is a great one to stay at when visiting Glendale. It's an affordable option, but it's elegant and has a spa on the property, making it feel like you're staying in a 5-star hotel.
The hotel is elegant and features a rustic or southwestern decor. It's truly a unique hotel despite being part of a larger corporation. You'll have free WiFi, paid valet or self-parking, a fitness center, and more during your stay.
Arizona gets hot in the summer, so the best way to cool off is to lounge by their outdoor pool. Even when the weather isn't good, they have an indoor pool and hot tubs to use. Don't forget to treat yourself to a spat treatment and the on-site restaurant.
Tru by Hilton is only 0.4 miles from the arena and is close to many of the other hotels in the area. If you walk there, you can get there in only eight minutes. It will only take two minutes if you're thinking of driving or taking a rideshare service. You'll have to handle parking, so walking is usually the preferred choice.
No matter what you're in town for, you can have all the energy needed since they provide complimentary coffee 24 hours a day. Before you head to Gila River Arena for whatever game or show you're seeing, you can pop into any of the nearby restaurants or bars for something to eat and a drink if you choose.
Before leaving the hotel for the day, you can fill up on their complimentary breakfast. They have hot and cold options, so everyone can find something they like. You'll love their outdoor pool with chairs to lounge at.
This hotel's amenities you can take advantage of include plenty of board games, a fitness center, free parking, pet-friendly rooms, and free WiFi. All the rooms feel modern and provide you with all the comforts of a standard hotel room.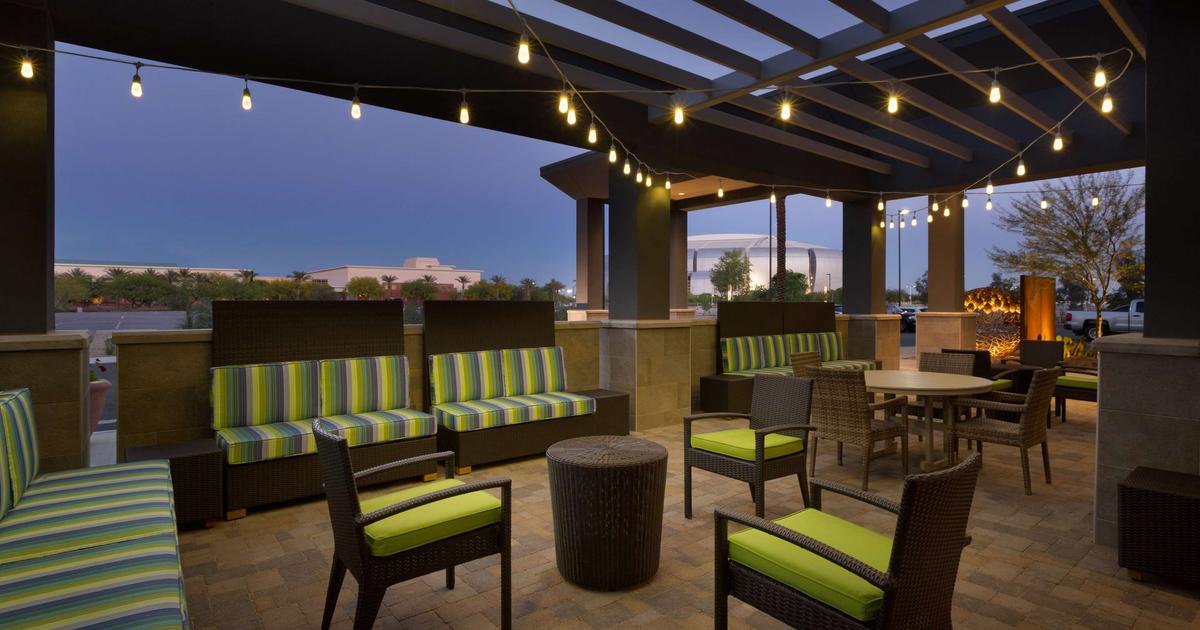 The Home2 Suites by Hilton is right next to the Tru by Hilton hotel. Its location near Gila River Arena, State Farm Stadium, and all the shopping and restaurants make it an excellent hotel for those traveling to the Glendale or Phoenix area. It's especially nice because it's within a ten-minute walk to Gila River Arena.
When you're not attending an event at the arena nearby, you're only a 25-minute drive to Phoenix. Even if you don't want to take the time to visit Phoenix, there are plenty of things for you to do at the hotel and in the surrounding area.
You'll get an in-suite kitchen if you choose a suite rather than a traditional hotel room. Even if you don't want to cook your meals while on vacation, you'll be near many restaurants and can enjoy your complimentary hot breakfast each morning before leaving the hotel for the day's activities.
Home2 Suites by Hilton offers guests free WiFi, non-smoking rooms, digital keys, so you never lose yours, free parking, a fitness center, and a great pool to enjoy in the Arizona heat. They're also a pet-friendly hotel, so the furry friend doesn't need to be stuck at home.
Aloft hotels are some of the most popular hotels in metropolitan areas. The Aloft in Glendale is in the Westgate Entertainment area and features elegant, modern, and comfortable loft-style hotel rooms. This hotel is north of Gila River Arena, behind the AMC movie theater.
You can walk to the arena in only seven minutes, and the drive is four minutes. Either way, you're very close to the central hub of the entertainment district. All the hotel rooms here feature nine-foot ceilings, large windows with great views, and great amenities that you'll appreciate.
Throughout the hotel, you'll be able to use their free WiFi for work or pleasure. You'll love all the vibrant social spaces throughout the hotel's lobby. They're great for relaxing, reading a book, or hanging out with friends. Those who like working out on vacation can use their state-of-the-art fitness center.
You'll love their stylish pool and their bar and lounge. The lounge is perfect when you want a great drink after a long day of exploring or for just hanging out with your fellow travelers. Don't forget to grab breakfast at their self-serve breakfast nook.
Compared to the other hotels on this list, the Towneplace Suites by Marriott is a little bit further away. Even though it's further away, it's still pretty close to Gila River Arena. You'll still be less than a mile from the arena. You can get there on foot in 13 minutes or by car in four. Either way, you're not missing out by being in a hotel further away.
This extended-stay hotel is one of the most frequented hotels in the entertainment district due to its proximity to all the fun activities Glendale offers. Every room here is a suite, so you get more space for the price of a standard hotel room.
Each room features a TV, comfortable beds, plenty of towels, and the toiletries you need for your stay. You'll have a fully functional kitchen with everything you need to prepare meals if you choose to. You don't have to, though. There are plenty of restaurants nearby.
You can enjoy a complimentary breakfast every morning in the lobby or your room. They also have a lively sports bar in the lobby with excellent bar food and plenty of TVs to watch whatever game is going on.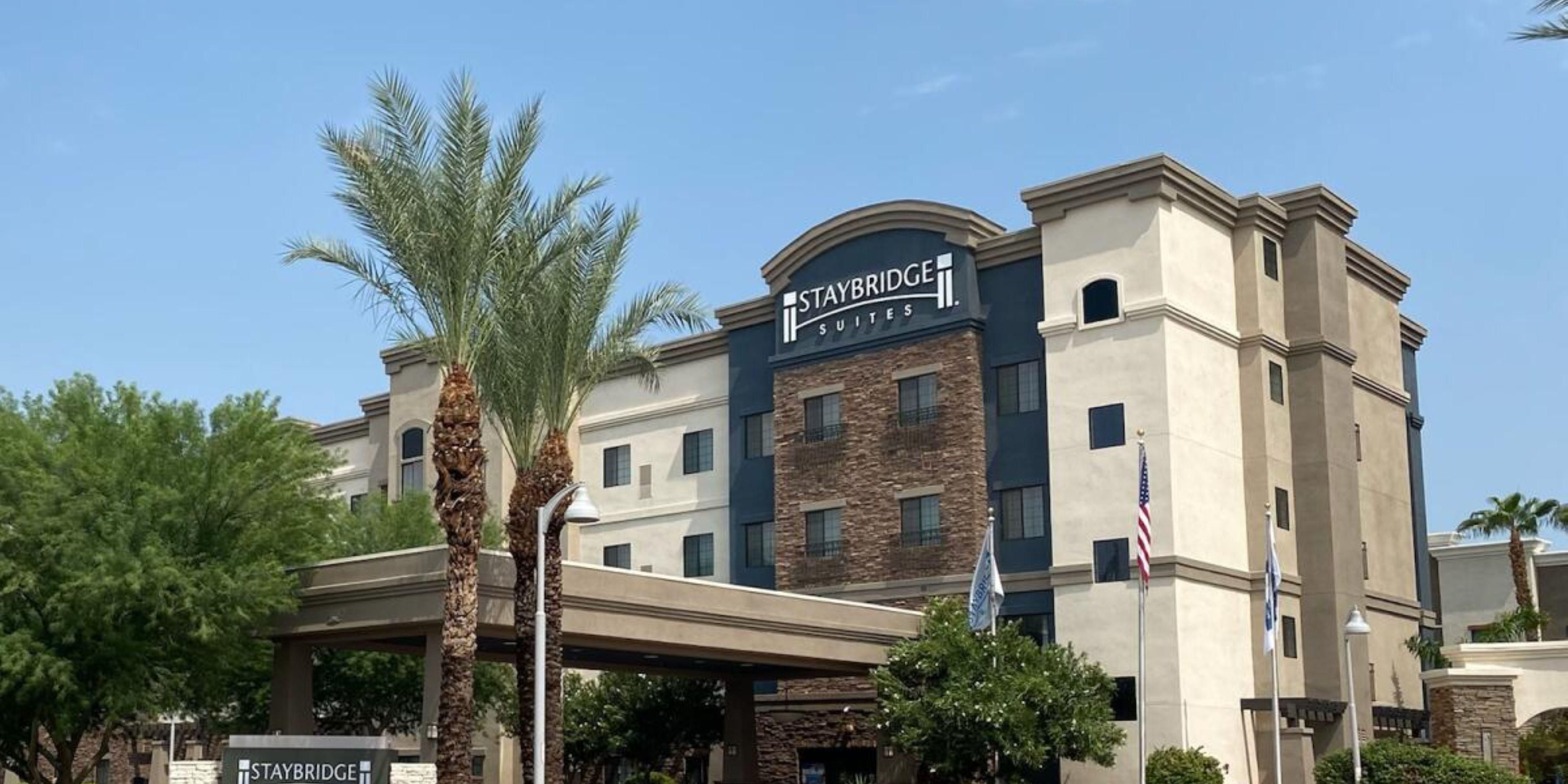 You'll find the Staybridge Suites Phoenix near the Cracker Barrel, just north of the Gila River Arena. You're a mile or less from the stadium when you stay here, depending on how you choose to get there. Walking will only take 15 minutes, and driving is a further distance but faster.
This newly renovated hotel features muted tones and a modern appearance. Many of the rooms have a balcony that overlooks the large outdoor pool. The pool is the best place to relax before whatever event you're seeing or on another day of your trip to Glendale. There are plenty of lounge chairs to soak up the sun on.
Staybridge Suites features free WiFi, a fitness center open for 12 hours per day, same-day dry cleaning services, a business center, and more. They even offer a self-laundry service for those staying a while or if they need to wash something before traveling home.
For two hours in the evening, three nights a week, the lobby hosts a reception hour with complimentary snacks and beverages for guests. They have free parking on the premises, but it's all self-park and not valet.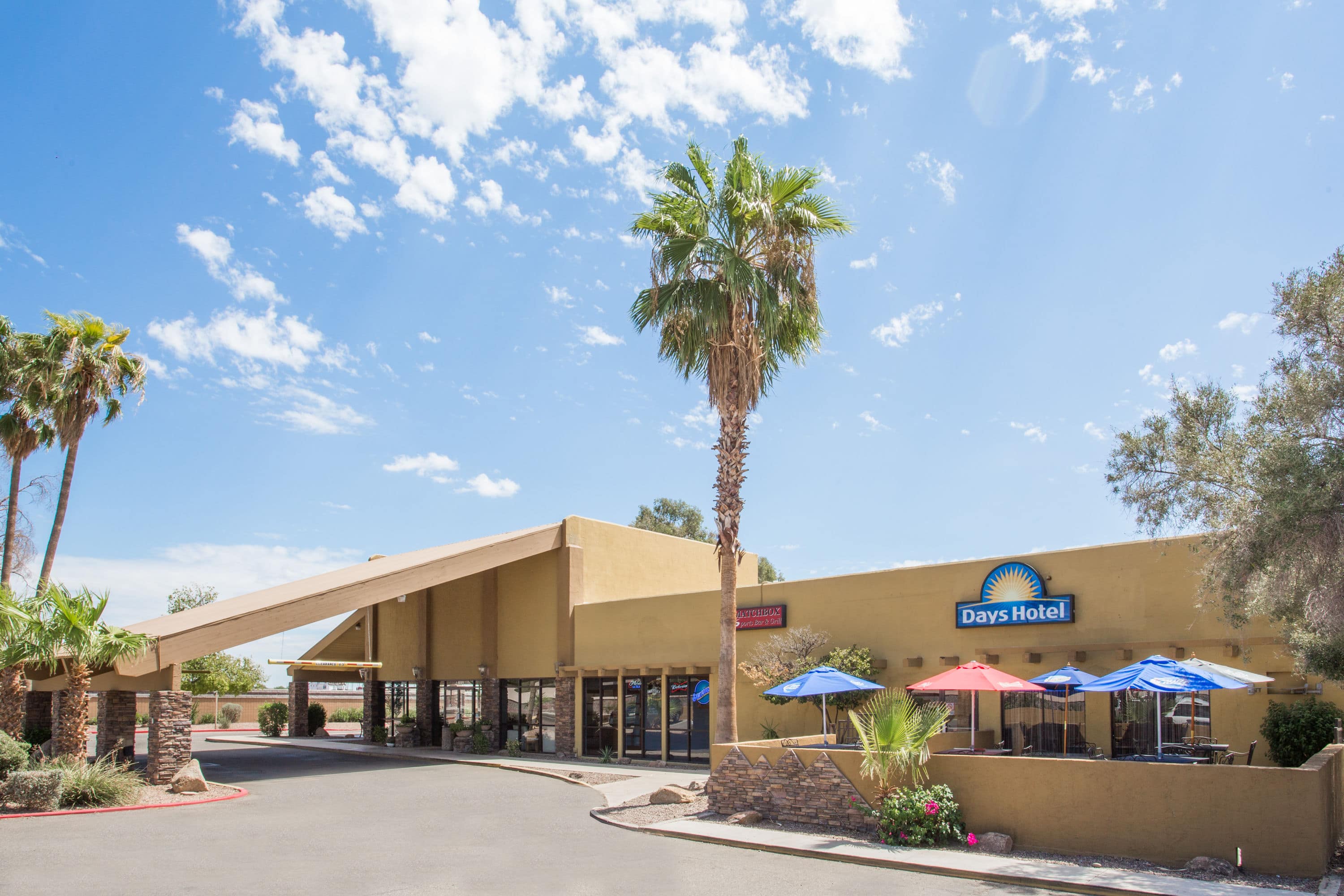 The Days Hotel Peoria isn't the closest hotel to Gila River Arena, but it's still an option worth considering. It's not within walking distance of the arena, but you can get there in ten minutes or less by car. It's a straight shot down the highway, and you'll be able to get to your event promptly.
While it's further away, you can't beat the price. This budget-friendly hotel is right off of Loop 101 and has all the comforts you want in a hotel. The rooms aren't the most extravagant, but they're affordable, clean, and comfortable.
You can take a dip in their outdoor pool when you're not at Gila River Arena or wandering around the Westgate Entertainment District. During the winter, they heat it so you can use it almost anytime throughout the year.
You can use their free WiFi anywhere in the hotel, utilize cribs if necessary, get free coffee and breakfast every morning, and more. Even a smaller hotel has a great little sports bar and restaurant on the property. It's an excellent place for a bite to eat when you don't want to travel off the hotel's premises.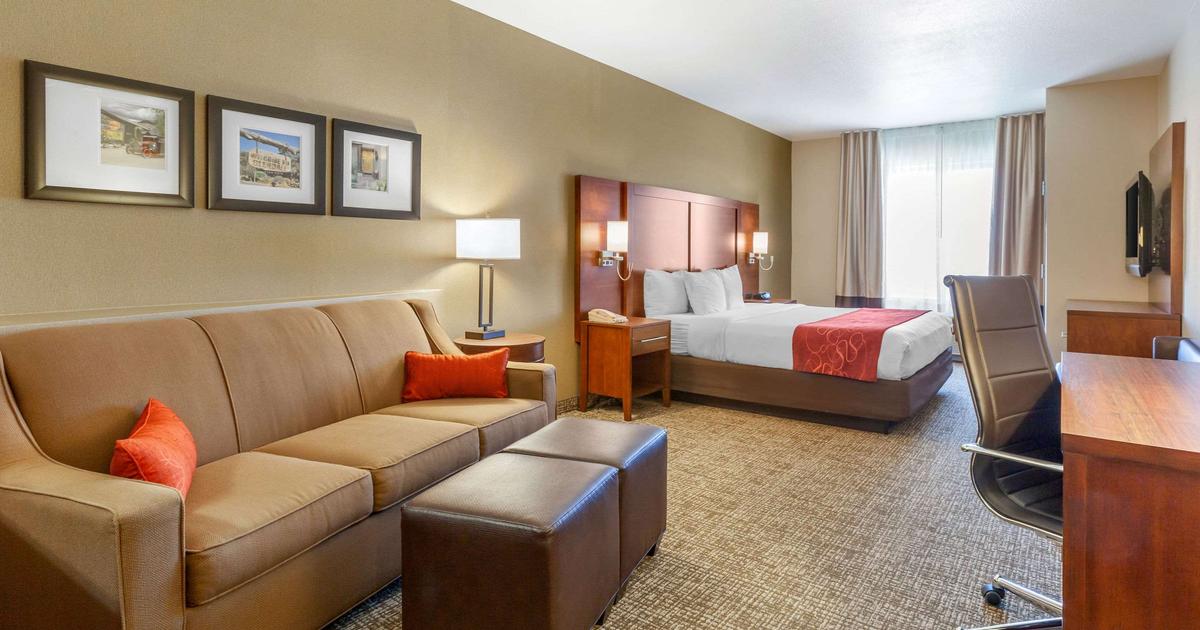 The Comfort Suites in Glendale is south of Gila River Arena. It's a little over two miles from the stadium, making it only a five-minute drive away. While nothing is stopping you from walking there, it's over a 40-minute walk, so getting a ride is going to be the better option for most people.
This non-smoking hotel offers free, premium WiFi to all guests in the lobby, common areas, and hotel rooms. This way, you can get any work done you need to while you're here before you attend the game or show you're there for at Gila River Arena.
All the rooms are suites here, so you'll have ample room to spread out and feel a little more at home. When you're not out exploring the surrounding area, the outdoor pool is the best place to relax while you're in town.
You can soak in the outdoor hot tubs when it's cooler out. While they don't offer complimentary hot breakfast, they have a breakfast station where you can grab pastries and other options and take them with you. Other amenities include a laundry room, free coffee, dry cleaning, and more.
Final Thoughts
Gila River Arena hosts various events worth checking out when heading to the Glendale or Phoenix area. Nestled in the Westgate Entertainment District means, you'll be close to the arena but have plenty of dining and other entertainment options during your stay.
You'll get to choose between budget hotels and slightly more luxurious options, but you can't go wrong with any of these nine hotels near the Gila River Arena.
James is a big time NBA Golden State follower, who makes sure to catch games when he's in the area. He likes to follow International Soccer, with an interest in small town soccer club, Blackburn Rovers located in the North on the UK.