Stadiums in North America have the reputation of being some of the biggest and most magnificent ones in the world. Compared to European football leagues, the NFL has fewer teams and matches in a season. Nevertheless, their stadiums are far bigger. This must be because Americans are devoted fans and never miss supporting their teams.
The State Farm Stadium is one of the largest and most recently built ones. With an extendable capacity of nearly 73,000 seats, this modern arena was built in 2006. It's equipped with the latest retractable roof and field technology, making it the perfect place for hosting concerts and large events other than games.
The size of these enormous stadiums has one downside – finding a parking place. That's why we decided to list the best parking spots near State Farm Stadium. So keep scrolling to find out more.
State Farm Stadium On-Site Parking and Policies
The on-site parking locations are commonly known as the Arizona Cardinals Parking lot. This huge parking space is divided into 12 parcels on four sides of the Stadium. Each is named differently and offers a different type of parking availability and accommodation for visitors (e.g., for big vans, regular cars, disabled persons, etc.).
Most of the parking spaces are located on the Western Lot, while the Black and Yellow Lot – the furthest parking locations are specially designed for ride shares.
All in all, the Arizona Cardinals Parking lot offers nearly 17,000 spots for parking. But, since people visit the State Farm Stadium on multiple occasions other than matches, concerts, and big events, there are a few different parking zones and policies suited to different purposes.
Everyday public parking
If you're planning to pick up your tickets for an upcoming event or take a private tour and visit the Arizona Cardinals team store and trophy room, you can park for free at one of their public parking spots.
These trips are usually on weekdays and regular days when no other events and gatherings are organized inside the stadium. Thus, there's not much crowd, leaving room for complimentary parking.
ADA parking
The parking spaces within the stadium's parking lot function on the principle of "first come, first served," which also applies to the handicap-accessible parking spots. However, only visitors with a valid ADA pass or license plate can park in these spots, according to the strict regulations of the Americans with Disabilities Act.
Parking on the Black (and Yellow) Lot
The Black (or Yellow) Lot is located South of the Stadium, right past Bethany Home Road. It's reserved for joint rides, ride shares and big fan vans that drop off groups of fans from different areas and cities.
3 of the Best Spots for Parking Near State Farm Stadium
Here, we included some of the best locations for parking near State Farm Stadium, which are outside the stadium's parking circle but close enough for you to arrive on foot.
Glendale Park and Ride 7099 N 99th Ave
The Glendale Park and Ride project is a partnership between the cities of Glendale and Peoria, focused on providing citizens with safe pull-away areas in emergency cases, like when they need a toll. There are numerous Park and Ride locations across Glendale, and they're all semi-covered.
The particular location on 7099, on 99th Avenue, is the closest location for parking near State Farm Stadium. It features around 390 parking spots, inspected and guarded by an attendant. However, remember that these parking lots offer free parking for all vehicles with a certain time restriction.
More specifically, the attendant is authorized to check for your parking time, and charges may apply after the initial two hours of parking. This is because of the specific parking policies, which means it is reserved for vehicles that are waiting for a toll or fixing a minor car failure.
Additional information
| | |
| --- | --- |
| Location | Glendale Park & Ride |
| Distance from the Empower Field Stadium | 1.4 miles or 24 minutes walk through West Maryland Avenue2.1 miles or 5-minute drive with a car |
| Operating hours | 24/7 |
| Price | Free up to 2 hours |
SP+ Parking (Multiple Locations)
SP+ Parking is an accredited parking company that owns and operates parking lots across the States. There are three locations to choose from within a mile radius of the Stadium, all operated by the same parking provider.
One of them (the one on 9495 W Coyotes Blvd) is located on a short four-minute walk, only 0.2 miles away from the Stadium's entrance.
Additional information
| | |
| --- | --- |
| Location | SP+ ParkingParking lot – SP+ parking lot on 6761 N Sunset BlvdParking lot – SP+ covered parking garage on N 95th Ave |
| Distance from the Empower Field Stadium | 0.3 miles by foot (a 7-minute walk) or a 3-minute drive0.6 miles by foot (a 13-minute walk) or 1.4 miles by car (around 5 minutes)0.2 miles by foot (a 4-minute walk) or 1.3 miles with a car (a 5-minute ride) |
| Operating hours | 24/7 |
| Price | The approximate rate is $15 |
Gila River Arena Lot E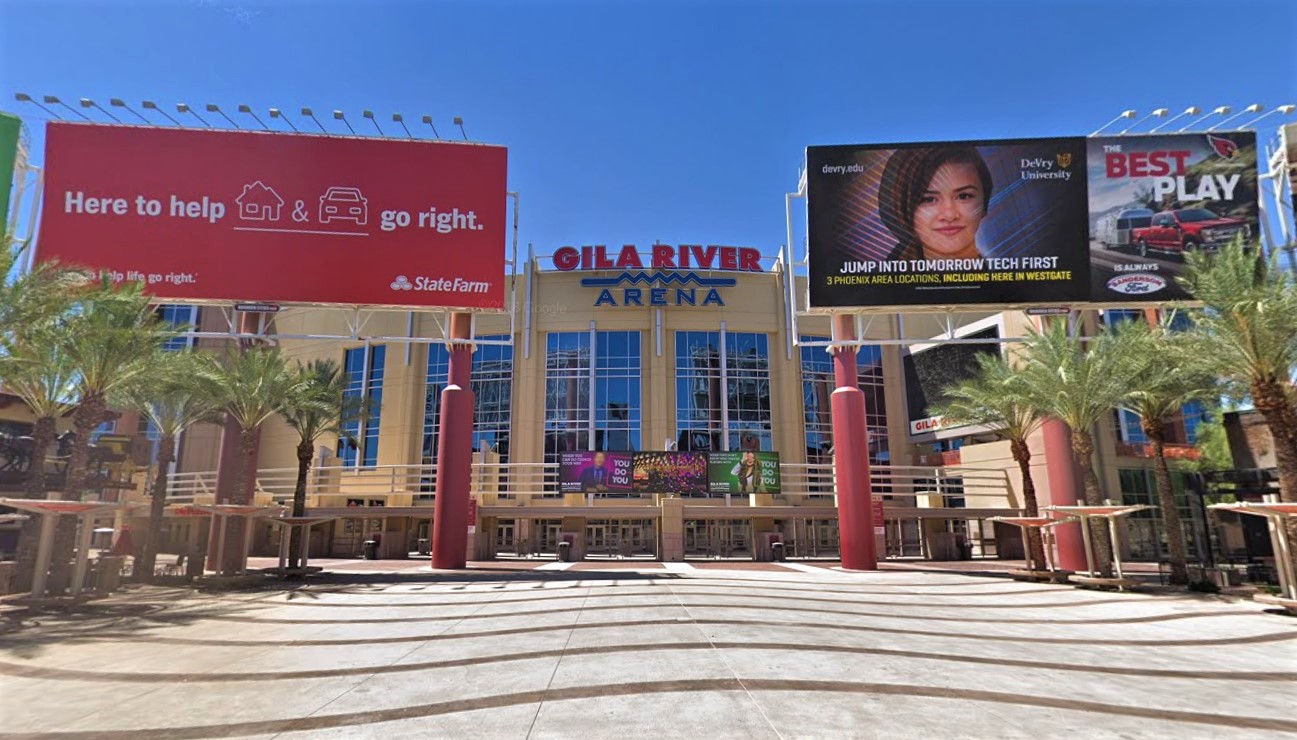 Once known as Gila River Arena, the new and upgraded Desert Diamond Arena is located next to the State Farm Stadium. This closed arena is mainly used for hockey games and other indoor events.
The Gila Arena has its parking lot circle, which opens before events only – much like all the private lots for parking near State Farm Stadium. However, Lot E is open non-stop, seven days a week, and parking is available for all visitors who happen to be nearby and isn't restricted to visitors of the Gila River Arena.
You can pay when entering the uncovered parking lot in cash or by card, or try reserving a spot through Ticketmaster.com – often used for reserving parking spots before a big game or event.
Additional information
| | |
| --- | --- |
| Location | Gila River Arena – Lot E |
| Distance from the Empower Field Stadium | 0.1 mile (a 3-minute walk), or 0.5 miles (a 10-minute car ride) |
| Operating hours | 24/7 |
| Price | Starting from $35 (including valet services) |
Wrapping Up
Are you planning a visit to the home of The Fiesta Bowl and the Arizona Cardinals soon? We warmly suggest checking out these spots for parking near State Farm Stadium and reserving a spot on time. This will spare you from driving in vain and public transportation troubles.
Or, if you're planning a short visit, we highly recommend parking at one of the few available Park and Ride locations but be careful to come back within the recommended time frame to avoid any charges.