Visiting the Footprint Center in Phoenix, Arizona is always an exhilarating experience, whether you're attending a Phoenix Suns basketball game, a Phoenix Mercury game, or a special event. Navigating the venue and knowing where all the entrances and gates are, however, is just as important as enjoying the event itself. That's why I'm here to provide you with a handy gate and entrance guide to make your visit a breeze, so you can focus on what really matters – having a great time!
The Footprint Center has various entry points designed to accommodate the thousands of fans who attend events at the venue. That's why it's crucial to understand which entrance works best for you and your specific needs. In this guide, I'll walk you through the essential gates and entrances of the Footprint Center, providing practical tips to help you have a seamless experience.
So let's dive right in! By the end of this article, you'll have all the information you need to effectively navigate the Footprint Center gates and entrances, allowing you to maximize your visit and enjoy every moment at this iconic venue.
Footprint Center Overview
When I first arrived at the Footprint Center in Phoenix, I was amazed by its prime location in the heart of downtown. This arena has been home to the Phoenix Suns since 1992 and also hosts Arizona Rattlers games, Phoenix Mercury games, and a variety of concerts and special events.
The main entrances and gates at Footprint Center are designed to provide easy access for attendees. For general public entry during Phoenix Suns, Phoenix Mercury, and Arizona Rattlers games, doors typically open one hour and 30 minutes before game time. For other events, it's usually one hour before the opening act. The Footprint Center Pavilion Entrance is a popular way to enter the arena, as it is well-marked and easy to find.
Parking at Footprint Center can vary depending on the event, but there are numerous parking options in the surrounding area. A map of the surrounding area is available on the Footprint Center website, which helps guide visitors to the best spots. There are also plenty of dining and entertainment options nearby, making it an enjoyable place to spend an evening.
Watching a game or attending a concert at the Footprint Center offers a unique experience. The arena is equipped with state-of-the-art facilities, and the seating is designed to provide great views of the action, no matter where you are sitting. In addition, they offer a wide variety of food and drink options to satisfy every appetite.
In summary, my experience attending events at the Footprint Center has always been enjoyable. With its convenient location, easy access, and top-notch amenities, it's no wonder the Footprint Center remains a beloved venue in downtown Phoenix.
Getting There
Public Transportation
If you're planning on using public transportation to get to the Footprint Center, I highly recommend taking the Valley Metro Light Rail. It has a stop conveniently located a couple of blocks away from the arena at 1st Street and Jefferson Street. This makes it really easy to reach the venue without worrying about parking or traffic.
Another option is to use bus services provided by the Valley Metro. Several bus routes have stops near the Footprint Center. You can check their website to plan your trip and find the most suitable route for your needs.
Parking Options
For those driving to the Footprint Center, there are several parking options available. The arena itself has a parking garage located on the Southeast corner of 1st Street and Jefferson in Downtown Phoenix. The garage usually opens 2 hours prior to the event, providing ample time to find a spot and make your way to the entrance.
In addition to the arena's parking garage, there are also numerous private and public parking lots and garages in the surrounding area. Prices may vary depending on the proximity to the Footprint Center and the event you are attending. I suggest checking out parking apps or websites to compare rates and secure a spot in advance.
Don't forget there's also valet parking available for those who prefer a more convenient option. The valet service typically starts 2 hours before the event, and you can find more information about the location and pricing on the Footprint Center's website.
Remember, it's always a good idea to arrive early to avoid traffic congestion and to find the best parking spaces. Enjoy your time at the Footprint Center!
Entrance Essentials
Security Checkpoints
As a visitor to the Footprint Center, it's essential to know what to expect at the security checkpoints. The arena has a strict bag policy, meaning most types of bags are not allowed, with some exceptions for small bags that meet size requirements, and certain types of medical and parental bags. This will help ensure a safe and enjoyable experience for everyone attending.
Ticketing
It's important to have your ticket handy when entering the Footprint Center. Whether you have a physical ticket or a digital one on your smartphone, make sure it's accessible and ready to be scanned once you get to the entrance. This will help make the entry process smoother for both you and the staff.
Gate Information
At the Footprint Center, there are several gates and entrances to be aware of. The main entrance, called the Footprint Center Pavilion Entrance, is the primary way to access the venue. In addition, there's the South Entrance that provides another entry point for the Phoenix Suns games, concerts, and other events.
When attending a game or event, the doors generally open 1 hour and 30 minutes before the start for Phoenix Suns and Phoenix Mercury games, and 1 hour before kick-off for Arizona Rattlers games. For other events, the doors usually open 1 hour before the opening act, although this can vary depending on the event.
Remember to always arrive early to account for any lines at the security checkpoints and to find your way to your seat. And most importantly, enjoy your time at the Footprint Center!
Navigating the Center
As a frequent visitor to the Footprint Center, I'd like to share some helpful tips on how to find your way around and make the most of your experience there.
Facilities Map
Having a facilities map handy can be a lifesaver when you're navigating the Footprint Center. I've found that the best way to get a map is to either:
Take a photo of the maps displayed throughout the arena
Look up the Footprint Center website or app for a digital map
Additionally, keep an eye out for signs directing you to various points of interest, such as entrances, exits, and restrooms.
Food and Beverages
One of my favorite things about the Footprint Center is the variety of food and beverage options available to enjoy during events. There are numerous concession stands throughout the arena, each offering a variety of choices. When you're looking for food or drinks, consider the following:
Try to explore the different stands – each one may have unique items
Look for special deals – sometimes, stands have promotions or combos that are more affordable
Plan your food breaks – if possible, go for food and drinks before or after peak times to avoid long lines
Lastly, don't forget to stay hydrated! Water fountains are available throughout the arena.
Restrooms and Amenities
Locating restrooms and other amenities at the Footprint Center is easy once you know where to look. Here are some pointers:
Use the facilities map to locate the restrooms nearest to your section
Plan your bathroom breaks – try to go during quieter times or breaks in the event to minimize wait times
Remember that Family restrooms are available for guests with disabilities or those requiring privacy
Be sure to look for wheelchair-accessible restrooms and amenities around the center if you require them
In conclusion, navigating the Footprint Center is a breeze once you have the right information and a good plan. Enjoy your time there and make the most of your experience!
Accessibility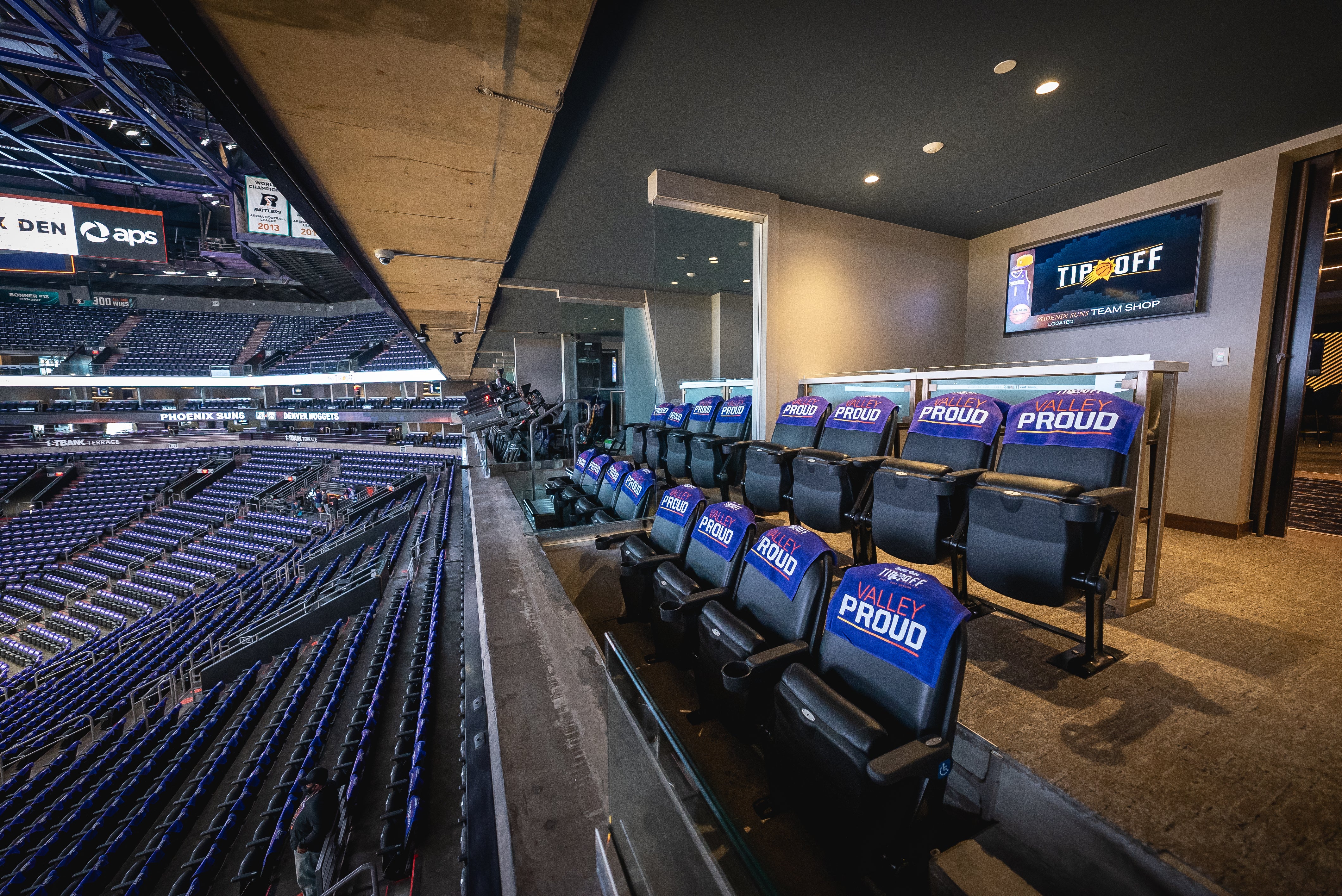 As a visitor, I found that Footprint Center has put significant effort into making their venue accessible for everyone. They have three elevators in different locations: one in the Northwest corner across from Section 117, reserved for guests with disabilities; another in the Northeast corner across from Section 122; and one in the Southeast corner across from Section 105. This ensures that guests with mobility challenges can comfortably navigate through the venue.
When it comes to parking, Footprint Center's garage is located at 1st Street & Madison, offering 31 parking spaces designated for vehicles displaying a disabled plate or placard. If these spaces fill up, there are additional accessible parking options in nearby garages, such as the Jefferson Street Garage and the Chase Field Garage. While the demand for accessible parking can be high, all three garages provide more spaces than required by the ADA.
Entering the venue is a breeze, thanks to the Footprint Center Pavilion Entrance. This main entry point is designed to accommodate guests with disabilities, ensuring a seamless and enjoyable experience from the moment you arrive.
Inside the Footprint Center, I discovered that they have a strict no-smoking policy which includes e-cigarettes. This creates a comfortable environment for guests who may be sensitive to smoke or have respiratory health concerns.
Lastly, if you're sensitive to loud noises or have sensory sensitivities, you may want to bring noise-canceling headphones with you. Stadiums can get very loud, and these can help make your experience more enjoyable.
Overall, my experience at the Footprint Center showed me that they prioritize accessibility and take many steps to ensure that all guests can have an enjoyable visit.
Rules and Regulations
I'd like to inform you about the rules and regulations at the Footprint Center to make sure you have a smooth and enjoyable experience when attending an event. It's important to follow these guidelines to ensure the safety and comfort of all visitors.
First things first: the Footprint Center has a set bag policy in place to guarantee security for everyone. Clear bags are allowed and should not exceed 12″ x 6″ x 12″ in size. These bags can be made of plastic, vinyl, or PVC. Make sure your bag adheres to these specifications to avoid any issues at the entrance.
In terms of health and safety protocols, it's important to keep in mind that each event may have its own requirements for entry. To find out the specific information pertaining to the event you're attending, please visit the individual event detail page on FootprintCenter.com.
When it comes to accessibility, the Footprint Center is committed to ensuring an enjoyable experience for all guests. For information on accessibility and ADA guidelines, you can visit their website or contact the venue.
As for alcohol consumption, there are rules in place to promote responsible drinking. Remember that moderation is key for maintaining a fun and safe atmosphere for everyone.
At the Footprint Center, all visitors are expected to treat each other with respect. Disruptive behavior, such as fighting or using abusive language, will not be tolerated, and can potentially lead to ejection from the premises.
Lastly, keep in mind that certain items may be prohibited to keep the environment secure for all. Make sure to check online before bringing anything that might be deemed unsafe or potentially disruptive.
Following these rules and regulations will contribute to a positive experience for everyone at the Footprint Center. Enjoy your time there!
Help and Support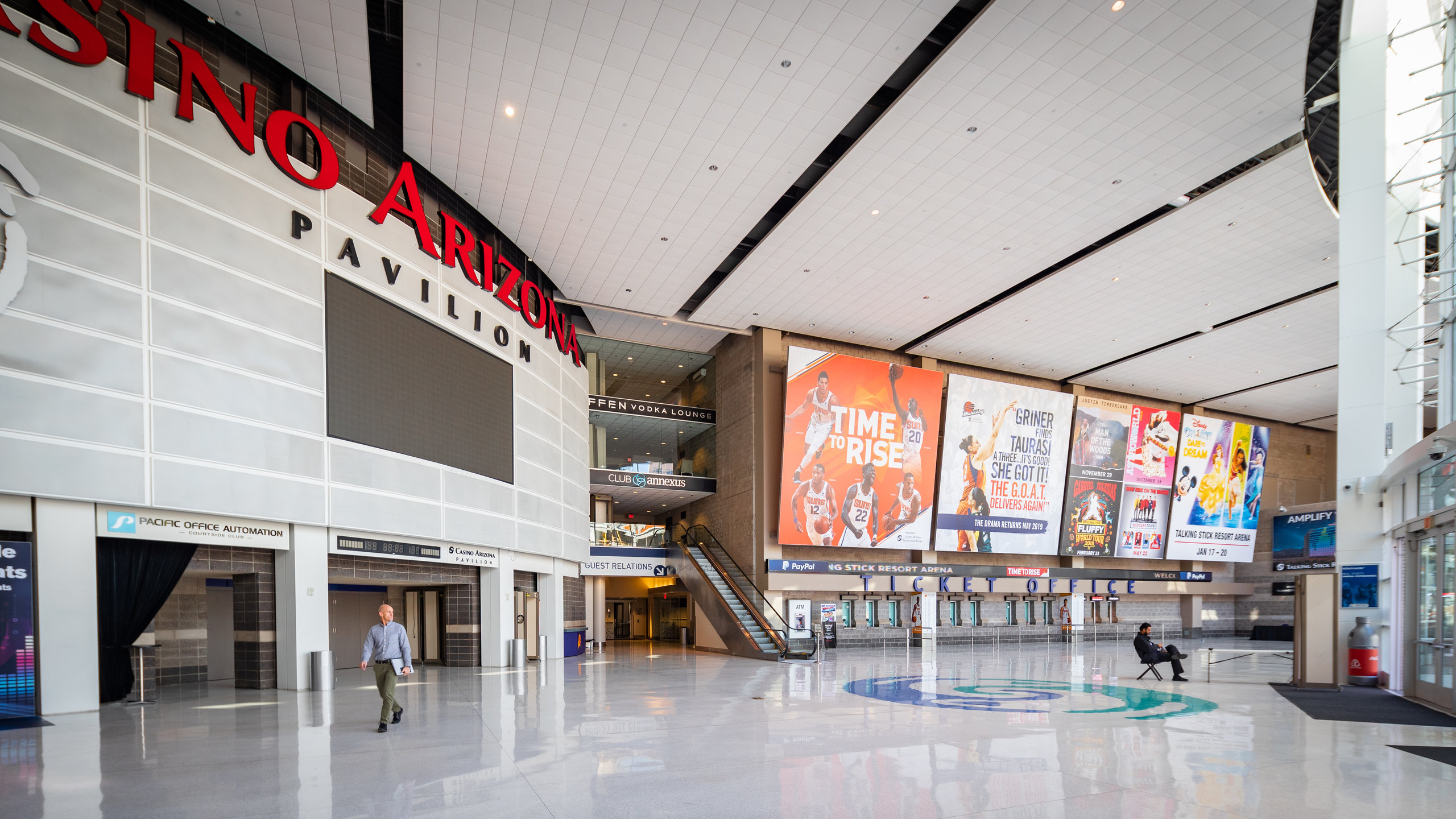 During my visit to Footprint Center, I found that getting help and support was pretty straightforward. Here are some tips and resources for anyone who might need assistance while attending an event at the arena.
Firstly, I noticed that the Footprint Center staff was very friendly and knowledgeable. They were located throughout the venue, making it easy to ask them questions or request assistance. Don't hesitate to approach them with any questions or concerns. They're more than willing to help guests have a smooth experience at the arena.
In case you need specific information related to accessibility and ADA accommodations, the Footprint Center provides this information on its website. Just look for the Accessibility / ADA Information section of their Visitor's Guide on their website.
It's also essential to know that Footprint Center operates a strict bag policy for all events. Most bags are not approved, except for small bags that meet certain size requirements and specific types of medical and parental bags. To avoid any inconvenience, check their website for the full list of approved bags.
Lastly, as with most sports venues, the Footprint Center has baby changing stations available in every women's restroom. These changing tables are clean and easy to use, making it convenient for parents attending events with young children.
I hope these tips prove helpful for anyone planning to attend an event at the Footprint Center. Just remember, the friendly staff is always available to provide assistance and support. Enjoy your visit!