The Footprint Center in Phoenix, Arizona, is a sports and entertainment venue known as the Phoenix Suns' home arena. Known under different names, this arena hosts basketball games, boxing matches, AFL, MML, and UFC matches, professional wrestling, bull riding, and even theater events.
Many famous names in the music industry have performed in this arena. Frank Sinatra, Jon Bon Jovi, Fleetwood Mac, Shakira, and Andrea Bocelli are just a few.
So, whether you're attending a basketball match or a concert, you'll probably have to spend at least one night in Phoenix. And below, you'll discover the best hotels to stay in. Also, you'll need to find a parking spot for your vehicle, which can be complicated if you attend some event.
However, we got you covered. This article holds the most essential and valuable information that someone visiting the Footprint Center should know, so let's start.
Footprint Center: Key Facts
It opened its doors on June 6, 1992.
Its size is 298,000 sq. ft.
The working hours are from Monday to Friday from 10 AM to 5 PM.
Has accessible features for guests with disabilities, such as wheelchair-accessible seating, seats that require no stairs, and accessible parking.
You can bring your service dog, no matter its size.
18,422 people can fit in this arena but there are some restrictions based on the event.
Originally, the capacity for basketball games was 19,023, but it's downsized to 17,071.
The capacity for indoor football and ice hockey is 16,210 people.
The capacity for concerts varies between 12,565 and 17,716 people.
The capacity for a theater event is 4,379 people.
This arena opens its doors for the Phoenix Suns games an hour and a half before.
For other events, you should know that the doors open an hour before the event starts.
Where Is the Footprint Center Located?
It is located in the "Legends Entertainment District" center at 201 E Jefferson St, Phoenix, AZ 85004, USA, downtown Phoenix, Arizona.
You'll immediately notice that this area is filled with rich nightlife thanks to the many bars, hotels, and restaurants. Only 1082.68 ft north of the Footprint Center is the Phoenix Symphony Hall, a multi-purpose performing arts venue. Furthermore, the Chase Field Stadium is 1377.95 feet from the arena.
The Railway station is 918.635 ft north of the arena, located on 3rd St/Washington, so as you can notice, you'll be close to very useful and interesting venues.
The Best Way to Get to Footprint Center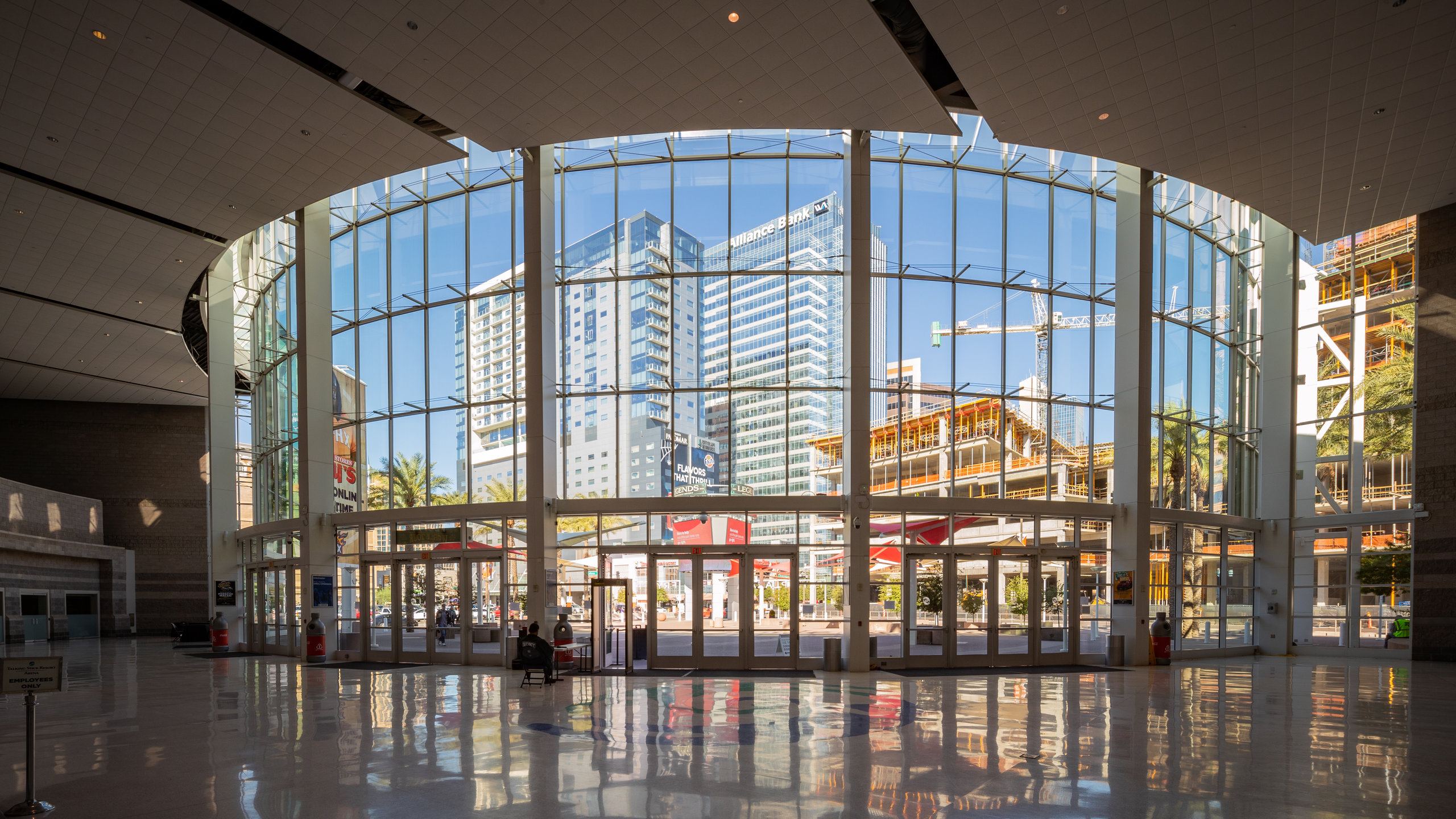 Getting to the arena isn't difficult because the area is big and lively. You can easily arrive by car or using the Valley Metro, especially if you're coming from the East Valley or the West Phoenix.
However, if you're traveling by car, below you'll find simple instructions based on which side of Phoenix you're driving from.
Traveling from East Phoenix
If you're planning to travel by car from East Phoenix, you should drive via Loop 202 and exit at 7th Street. By doing this, you'll end up on Washington Street and then on 3rd Street, on which, by turning left, you'll arrive at the arena.
Traveling from North Phoenix
If you're coming from North Phoenix, you should take State Route 51 south to Interstate 10 East. Then, simply exit at Washington/Jefferson Street and follow the signs; the directions are pretty simple.
Traveling from West Phoenix
If you're traveling from the west, you'll need to drive on Interstate 10. Then, you should switch to Jefferson Street, and from Jefferson Street, make sure to turn left to 1st Street. After doing that, you'll notice the arena on the corner.
The East Valley
If you're coming from the East Valley, the instructions are simple. All you'll need to do is drive on the Take Interstate 10 west, which will lead you to Washington Street. When on Washington Street, turn west to 3rd Street, and you'll see the arena in front of you.
Parking Near Footprint Center
If you decide to come by car, you should know that there are many options for parking. It's better to know more than just one parking space in case no free parking spaces are left. So now, let's look at the best and the closest ones.
Footprint Center garage
The first parking you should consider when driving to the arena is connected to the arena. The Footprint Center Garage is a five-story parking garage with 700 parking spots.
Even though most of them are reserved for the owners of premium seats and the suite holders, don't get disappointed. A few parking spots are always available to the public daily, so don't forget to check out this parking.
Jefferson Street Garage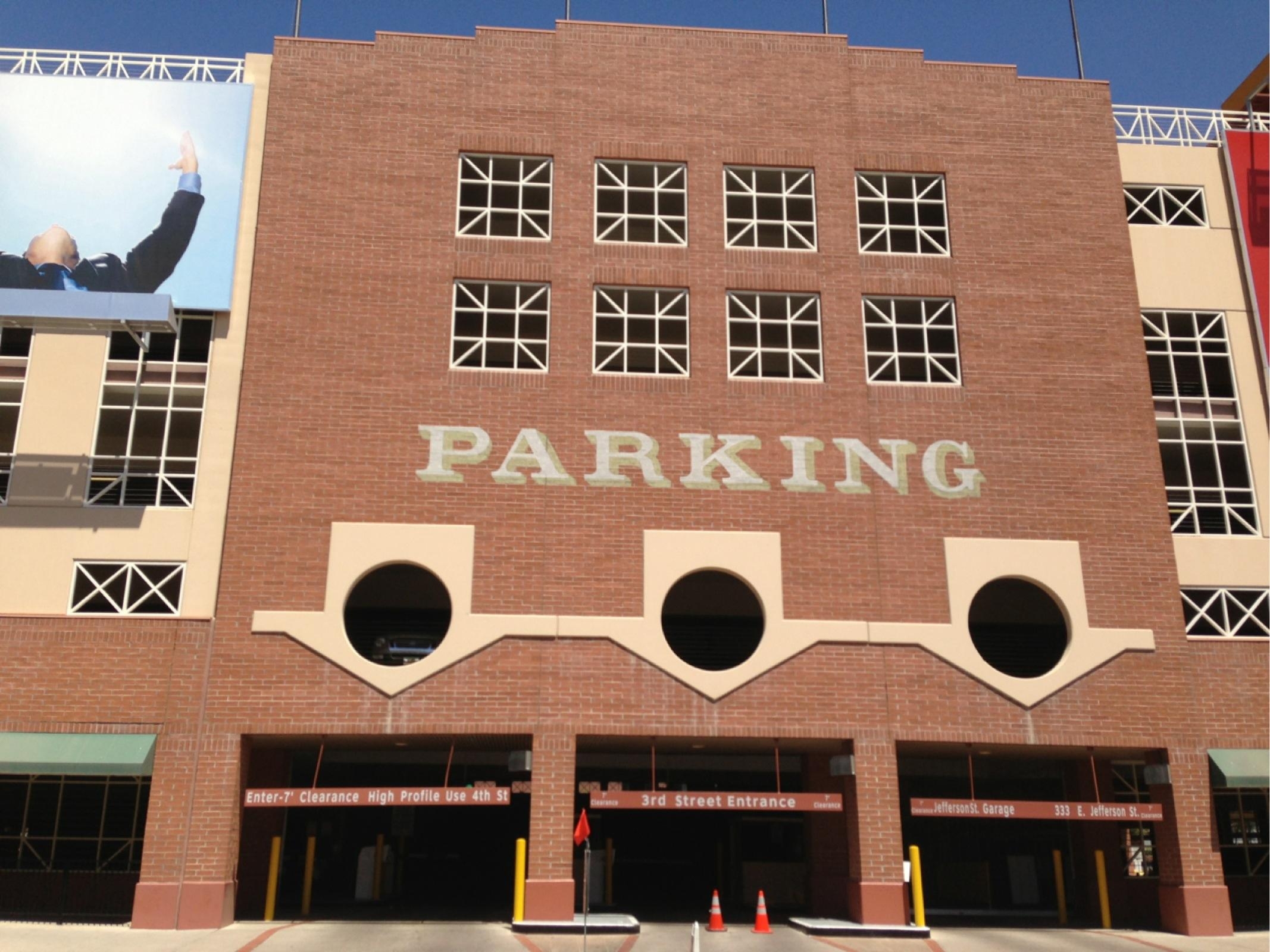 If you can't find a free parking spot in the Footprint Center Garage, you'll notice the Jefferson Street Garage just across the street. This garage has more than 1,400 parking spots and offers accessible parking. The flat rate for events is $15.
Because this parking is very close to the arena, if you're not there on time, it's possible not to have any free parking spots left. However, that's nothing to worry about, as the area has many private parking lots.
Chase Fields garage
The Chase Field is a covered garage that offers 1500 parking spots and spots for the disabled. The height restrictions of this garage are 9.48 ft, so you shouldn't have any problems getting your vehicle inside.
Leaving your car a half an hour will cost you $1, so 2 hours will cost you $4, and you can pay on your entry with a card. The garage doesn't have any opening hours because it operates 24/7.
Additional information
The Best Restaurants Near Footprint Center
As we've said, the arena is located in Downtown Phoenix, which means that finding a restaurant anytime you feel hungry is easy.
However, it's not easy to pick the right one as plenty of them exist. That's why, in continuation, you'll have the chance to learn about the best ones and enjoy their delicacies.
El Charro Café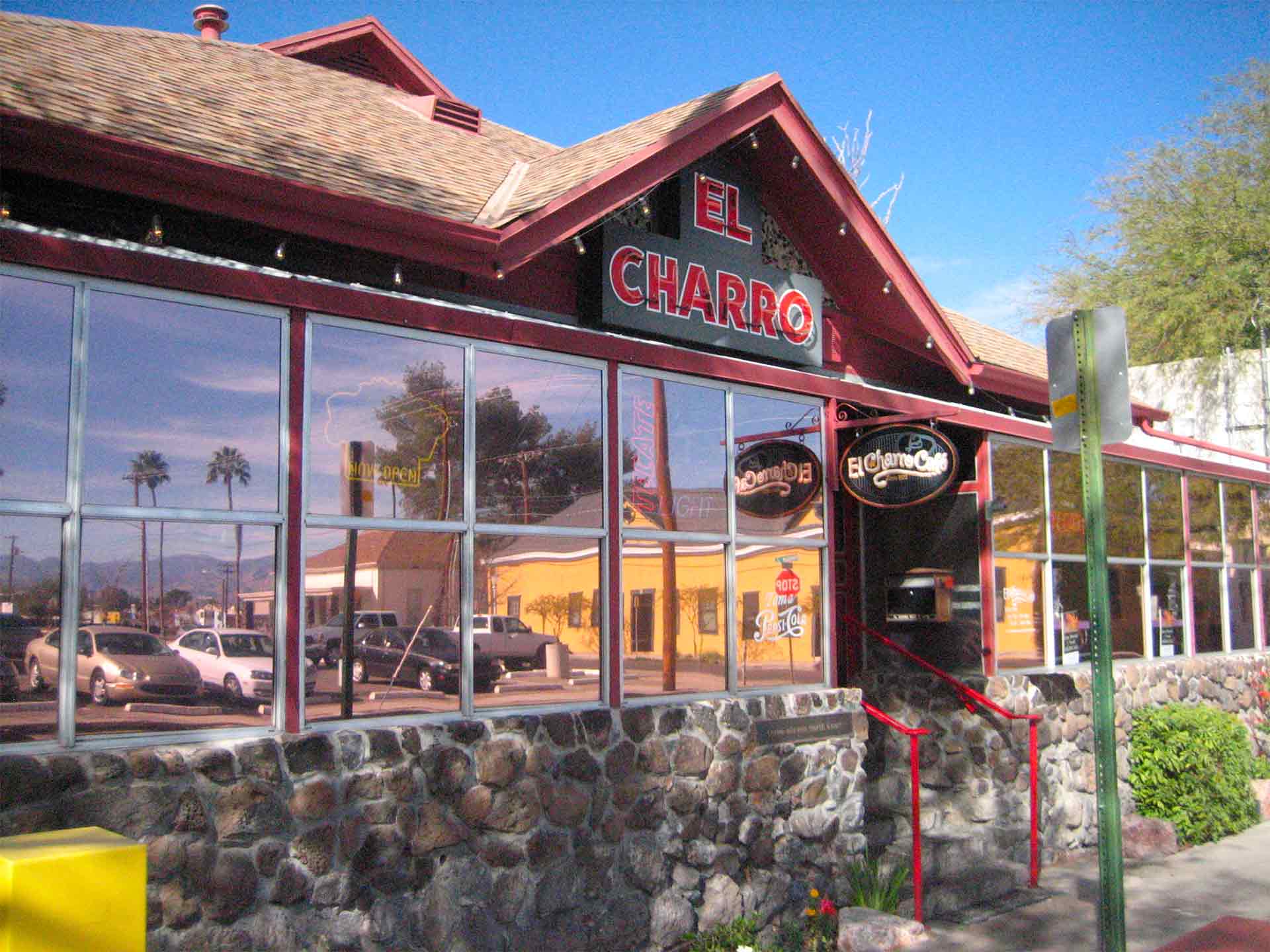 If you're a fan of Mexican food, El Charro Café is a Mexican restaurant that's only 348 ft away from the arena. So, don't miss out on trying the delicious food right after the game, as it's the closest restaurant to the arena.
Its authentic Mexican interior, big enchiladas portions, and quick and friendly service will make you want to return to this restaurant as quickly as possible.
The Arrogant Butcher
When in The Arrogant Butcher, you can order seafood, a juicy steak, or a tasty burger with a glass of wine or a beer. The Arrogant Butches is a steakhouse, and because it's only 0.1 miles away from the arena, you can visit it before or after the game.
Also, don't forget to visit this restaurant during the happy hours and treat yourself to a cold beer or a crafty cocktail.
Mancuso's Restaurant
Mancuso's Restaurant is elegant and spacious. It offers a variety of high-quality wines making it the perfect restaurant for relaxing after watching an intense game at the Footprint Center.
So, if you're in the mood for pasta, pizza, or other Italian food, Mancuso's Restaurant is just what you're looking for. It's located only 0.1 miles from the Footprint arena, so it's definitely worth visiting him.
Additional information
The Best Bars Near Footprint Center
The location of arena is a very busy area, surrounded by plenty of bars. So it doesn't matter if you're visiting this arena because of a game or a concert. After it, you can continue having fun in one of the bars near the arena.
Below you'll see the best and the closest ones, so feel free to visit them and enjoy their uniqueness.
Crown Public House pub
The Crown Public House is a cozy pub that is only 0.1 miles or a 2-minute walk from the arena. The chilled atmosphere and friendly employees will ensure you have everything you need.
You can watch a game on one of the many TVs in this pub with other like-minded people. Also, you can order your favorite draft beer or a beer packed in a bottle and combine it with some tasty food from this bar which is all you need to enjoy the game.
Little Rituals
Little Rituals is a cocktail bar, and it's the closest one to the arena if you're up for some delicious refreshments. You'll be only a 3-minute walk from the arena, which is extremely close.
The Little Rituals offers various drinks, especially unique cocktails. However, that's not even all. There are many different snacks to accompany your drink, so just take a look at the menu and enjoy.
Floor 13 Rooftop Bar
Another original bar near the arena is the Floor 13 Rooftop Bar. A variety of cocktails, beers, and wines are just what you need to achieve ultimate relaxation in the sundeck area over the city.
An important recommendation is to try one of the nine crafted cocktails this bar offers that are named after Alfred Hitchcock's movies.
Additional information
The Best Hotels Near Footprint Center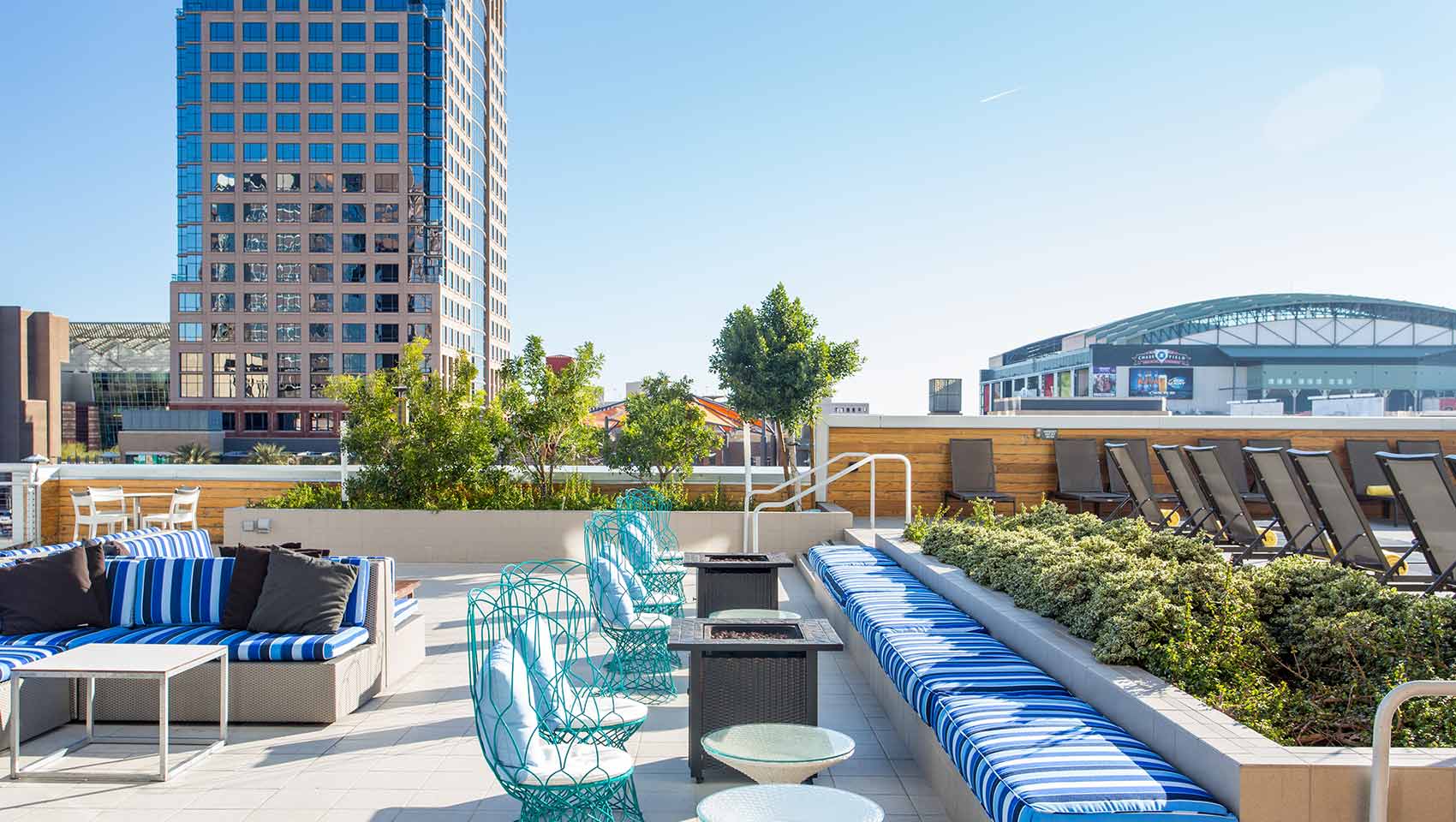 This stylish hotel is ideal if you want a luxurious and elegant stay. The variety of rooms will make it easy to choose the perfect one for you, whether you like it to have two Queen beds or one King bed.
You can also book a luxurious specialty or a presidential suite with a breathtaking panoramic view. There are also ADA-accessible hotel rooms.
Another important thing to mention is that the Kimpton Hotel Palomar Phoenix has a Rooftop pool on the third floor, a fitness center, and is pet-friendly. So, booking a room here will be a pleasant stay for you.
The Renaissance Phoenix Downtown Hotel is another fantastic place near the arena, modernly decorated and in a great location.
By deciding to book a room in this hotel, not only you'll be very close to the arena, but also, you'll be near the Phoenix Art Museum and Arizona Financial Theatre.
The rooms are spacious and comfortable, providing you with all the essentials. The on-site restaurant, the Dust Cutter, is a cowboy-inspired restaurant that offers Southwestern cuisine, and in the Phoenix coffee shop, you can order your favorite Starbucks coffee.
The outdoor pool might be just what you need after a show in the arena, and the fitness center in this hotel will help you stay active and healthy at any time.
The Hyatt Regency Phoenix is your next hotel alternative when visiting Arizona and the arena. This hotel has 693 rooms and 50,000 sq. ft. of space for events. The rooms have baths, flat-screen TVs, a minifridge, comfortable beds, and a workstation.
This hotel's on-site restaurant is amazing, and that's not all. You can use the fitness center, swim in the rooftop pool or relax in the hot tub with a sun deck.
Additional information
The History of Footprint Center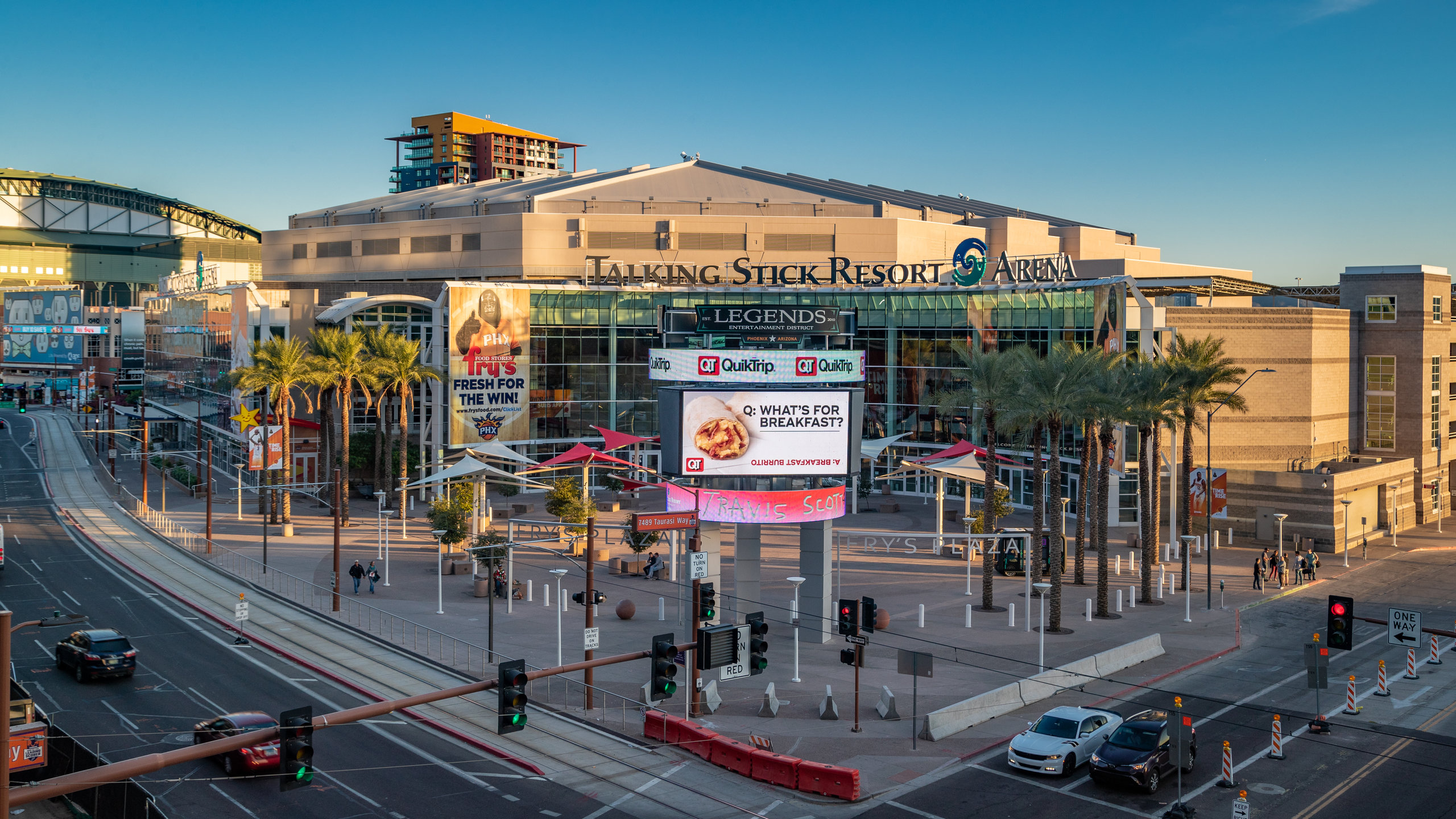 The building of a new arena in Phoenix started on August 1, 1990, so the Footprint Centre opened on June 6, 1992. Nonetheless, the name wasn't always the same, as this multi-purpose arena has changed it a few times.
The first name this arena had was the "America West Arena" (a name of an airline), but in 2005 the name was changed to "US Airways Center." This name stuck for a while, but in 2014, this arena was renamed and called the "Talking Stick Resort Arena." The next name, maybe the most popular, was the "Phoenix Suns Arena."
The last change in the name of this arena is the name this arena has today, which is the "Footprint Center." The name was changed from "Phoenix Suns Arena" to the "Footprint Center" right after the Phoenix Suns signed a deal with the materials science company Footprint on July 16, 2021.
Where to Get Tickets for Footprint Center
The fastest way to buy tickets for some events held in the arena is by visiting the Ticket Office. The office is located in the Pavilion on the Northwest side of the facility, on the corner of 1st Street & Jefferson. The exact address is 201 East Jefferson, Phoenix, AZ, 85004.
If you have questions regarding the tickets, you can call the Ticket Office at (602) 379-7800. The office's working hours are from Monday to Friday, from 10 AM until 5 PM. On the event days, the office is available from 10 AM until the event's start and at halftime.
When there are events during the weekend, you can reach the ticket office 3 hours before the event.
Remember that buying the ticket in person at the Ticket Office during operating hours is the safest way. If you want to purchase the tickets online, do that by only visiting Ticketmaster.com.
Call the numbers listed here for more information about the tickets and offices.
Does the Footprint Center Offer Tours?
If you're visiting Phoenix and are curious about visiting the famous arena without attending an event, you're probably thinking about taking a tour.
Nevertheless, to find the answer to that question, you should contact the Guest Services team at [email protected]. The employees know best, and they'll give you the correct answer if tours are currently being offered at Footprint Center.
Final Thoughts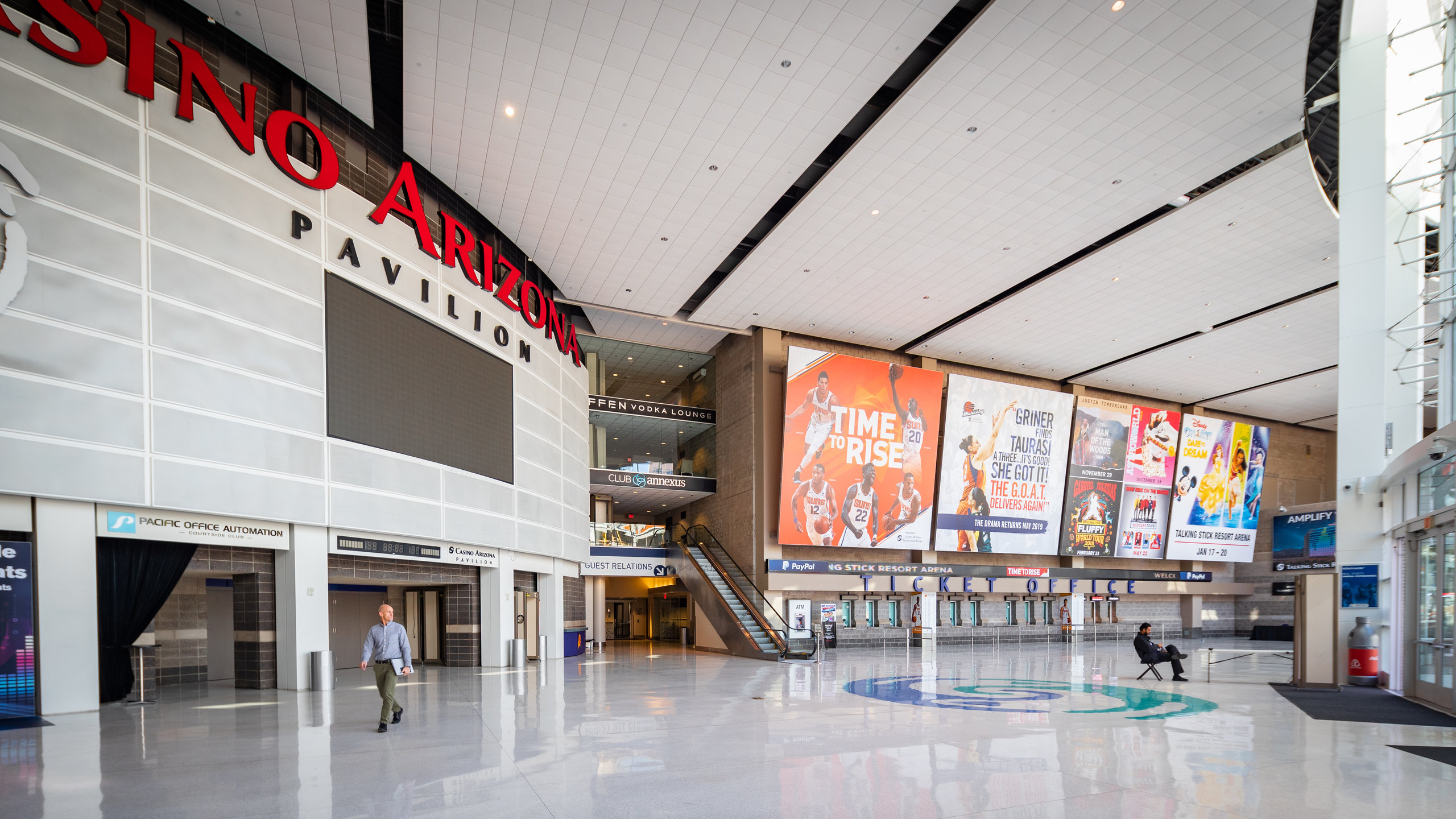 Visiting the great Footprint Center and Phoenix is something you must do, especially now that you know the best bars, restaurants, and hotels that will help you to have the best time ever. Even better if you're going to an event held in this arena.
So, reread this article if you need to, and you won't encounter any obstacles during your stay in Phoenix.
James is a big time NBA Golden State follower, who makes sure to catch games when he's in the area. He likes to follow International Soccer, with an interest in small town soccer club, Blackburn Rovers located in the North on the UK.