Visiting State Farm Stadium can be an exciting experience, whether you're there to cheer on the Arizona Cardinals or attend another special event. As I prepare for my visit, it's important to familiarize myself with the various gates and entrances to ensure a smooth and hassle-free entry.
Located in Glendale, Arizona, State Farm Stadium is home to a diverse array of events, from football games to concerts and even trade shows. With its unique features like a retractable roof and the first retractable natural grass playing field in North America, the stadium has a lot to offer. To make the most of my visit, it's essential to know which gates and entrances I should use, and for that, I have gathered some crucial information.
There are several gates and entrances at State Farm Stadium specifically designed to cater to visitors with varying requirements. From Hyundai Gate to University of Phoenix Gate and Bud Light Gate, there are a multitude of options to choose from. As we explore the stadium and its offerings, keep in mind the importance of choosing the right entrance for my needs to enhance my overall experience at the event.
Location and Contact Details
As someone who loves State Farm Stadium, I feel proud to share its location and contact details. The stadium is situated in the Glendale Sports & Entertainment District in Glendale, Arizona. To be precise, it is found between Bethany Home Road/Cardinals Way and Glendale Avenue, off the AZ Loop 101 Freeway. The stadium's address is State Farm Stadium, 1 Cardinals Drive, Glendale, AZ 85305.
To make it easier for you to connect with the right people, I've outlined the primary contact numbers for the stadium below:
Main Information Line: (623) 433-7101
Ticket Office: (602) 379-0102
So, whether you're planning to attend an event or just need some details regarding State Farm Stadium, you can reach out to the contacts provided and I'm sure they'll be happy to assist you. Stay tuned for more information about the stadium's gates and entrance guide!
Parking Information
General Parking
At State Farm Stadium, I found that there are approximately 14,000 parking spaces available in multiple lots surrounding the stadium. The primary parking location is the North Preferred Carpark, which is situated at the corner of Maryland and 95th Avenues.
Handicap Parking
For those who require handicap parking, I can confirm that all Sportsman's Park carparks have designated ADA parking spots available. Keep in mind that a valid state-issued hangtag or license plate is required for parking in one of these signed ADA spots. As with regular parking, accessible parking is also on a first-come/first-serve basis.
VIP Parking
Regarding VIP parking, I couldn't find specific information in the search results provided. However, based on my past experience, I suggest checking the event details or contacting the stadium directly for information on VIP parking availability. It's also a good idea to look out for any additional parking options that might be available for special events.
Gate Information
Opening and Closing Time
I've found that the gates at State Farm Stadium open 90 minutes prior to kickoff for the general public. However, if you have access to the Club Entrances, you'll be able to enter the stadium even earlier, as these gates open 3 hours and 15 minutes prior to kickoff.
Entry Requirements and Restrictions
While I don't have the specific details on entry requirements and restrictions for State Farm Stadium, it's always a good idea to follow some general guidelines when attending an event.
Make sure to carry a valid photo ID with you.
Keep your tickets handy, either printed or on your phone via the SeatGeek app.
Be prepared to undergo a security check and bag inspection; follow the stadium's clear bag policy, and avoid bringing any prohibited items.
Respect the stadium's code of conduct to ensure a fun and safe experience for everyone.
By keeping these points in mind, your visit to State Farm Stadium should go smoothly. Enjoy the event!
Overview of Entrance Points
As a regular attendee at State Farm Stadium, I wanted to share my experience and knowledge of the entrance points to make your visit more convenient. The stadium offers various gates for entry, but I'll focus on the North, South, and West Entrances. Each entrance caters to different ticket holders and locations within the stadium.
North Entrance
The North Entrance is one of my go-to entry points as it is accessible for most ticket holders. It is a popular choice for fans attending Arizona Cardinals games and other events, as it offers easy access to several seating sections. One thing I appreciate about this entrance is the efficient security checks, which allow me to enter the stadium quickly.
Pro Tips:
Arrive early to avoid long lines
Be prepared with your tickets and ID in hand
South Entrance
When I head to the South Entrance, it's generally for events with a smaller crowd. It's suitable for almost all ticket holders and provides convenient access to several seating sections in the southern part of the stadium. Additionally, amenities such as restrooms, concessions, and merchandise stands are close to this entrance, allowing me to take care of my needs before heading to my seat.
Pro Tips:
This entry point is perfect for events with lower attendance
Don't forget to check out the nearby amenities for added convenience
West Entrance
The West Entrance is often reserved for VIP and Premium Ticket holders. If you're one of the lucky ones with access to this entry point, count me as envious! This entrance offers exclusive perks such as expedited entry, minimal wait times, and quick access to VIP sections and lounges.
Pro Tips:
Make sure to bring your VIP or Premium Ticket for this entrance
Enjoy the additional perks and expedited entry that come with your special access
Amenities Near Every Entrance
Restaurants
When I visit State Farm Stadium, I always appreciate the variety of food options available near the entrances. Whether I'm in the mood for classic game day fare or something a bit more unique, there's always something for me to enjoy. Several popular restaurants are located just walking distance from each gate, making it easy for me to grab a bite before or after the game.
Restrooms
As someone who attends events at State Farm Stadium, I can confirm that finding a restroom is never an issue. There are conveniently located restrooms near every entrance, ensuring that I'm never too far from relief when I need it. The facilities are well-maintained and equipped with plenty of stalls, so waiting times are usually minimal. This allows me to focus on enjoying the game or event without any worries.
Concession Stands
One of my favorite parts about attending events at State Farm Stadium is the abundance of concession stands located throughout the venue. Close to each entrance, I can find a variety of options, ranging from classic game day favorites like hot dogs, nachos, and popcorn to more specialized treats like local delicacies and craft beers. This makes it easy for me to grab a quick bite or refill my drink during breaks without missing too much of the action.
Tips for a Smooth Entrance
As someone who has visited State Farm Stadium, I can't stress enough the importance of a seamless entry experience. Here are a few tips to make your entrance to the stadium smooth and stress-free.
First, plan to arrive early, as this could save you a lot of time and help you avoid any last-minute hassles. Traffic can get congested close to the stadium, and arriving early gives you ample time to deal with any unexpected delays. It also provides you enough time to find your seats and grab a bite before the game or event starts.
Make sure you are aware of the entrance gates and their respective locations. State Farm Stadium has five entrance gates, but the Gila River Club West Entry and the Gila River Club East Entry are reserved for VIP and Premium Ticket holders only. So, knowing which gate to enter can save you time and frustration.
If you're attending the event with a child, remember that lap passes are available for children under the age of two. Simply request a lap pass from the stadium team members scanning tickets at the entrance gates. Keep in mind that the child receiving the lap pass must be present when you request it.
Also, take note of the items allowed and prohibited inside the stadium to avoid being stopped at security. Check the stadium's website for the updated list of items to help you pack accordingly. And make sure you have your ID that matches the name on your ticket for a hassle-free entrance.
Lastly, don't forget to be patient and friendly; the stadium staff is there to help make your experience enjoyable. Being courteous and respectful goes a long way in ensuring a smooth entry into the stadium.
By keeping these tips in mind, you can make your entrance to State Farm Stadium as effortless as possible, and enjoy the game or event to the fullest.
Security Measures at State Farm Stadium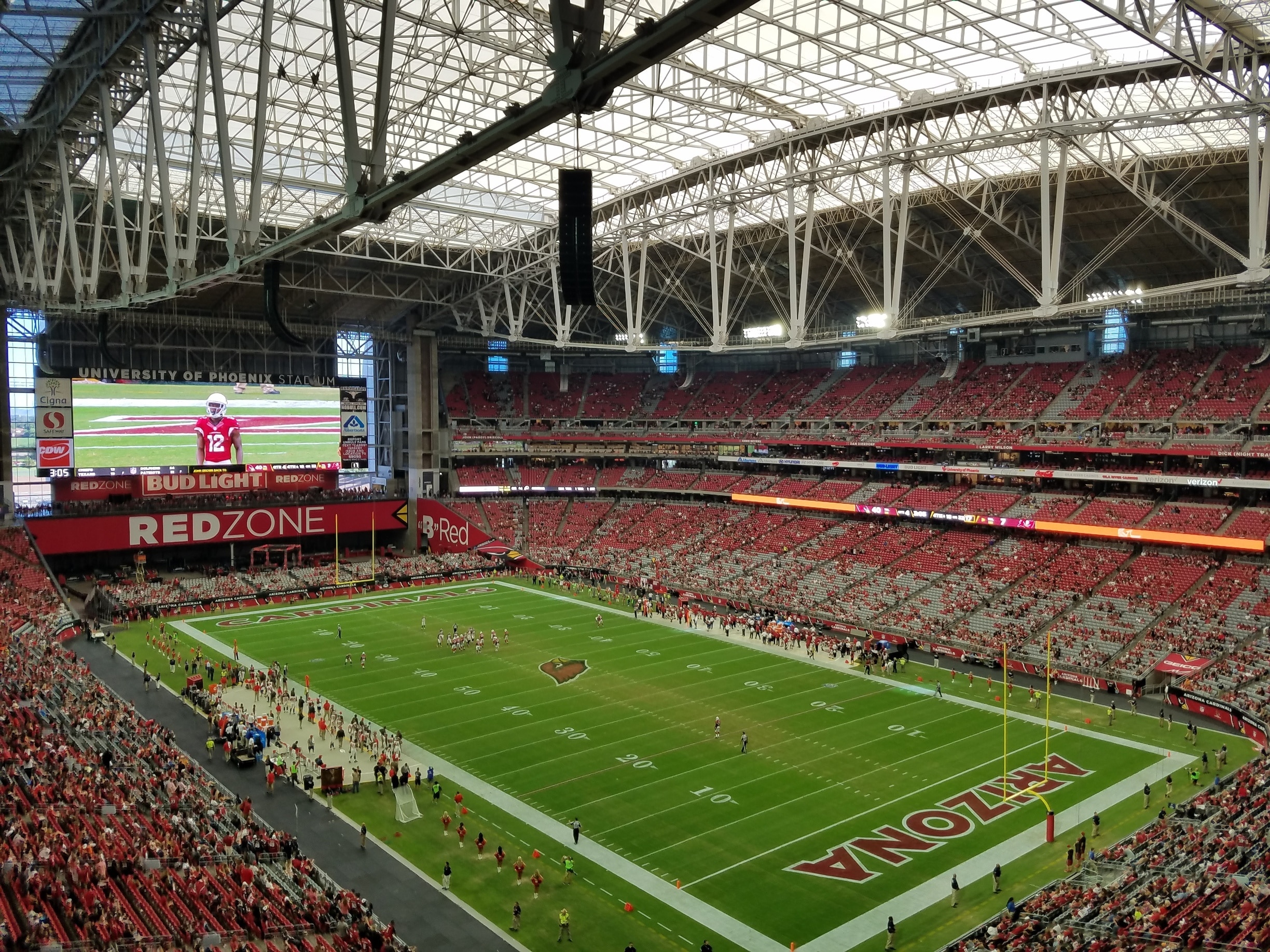 I want to tell you about the security measures in place at State Farm Stadium, an important aspect to consider when attending an Arizona Cardinals game or any other event hosted there.
Firstly, State Farm Stadium has a clear bag policy in line with the NFL guidelines to ensure the safety of all guests and expedite fan entry. So, if you're planning to bring bags into the stadium, it's essential to ensure they meet the size and type requirements as stated by the NFL Clear Bag Policy. This means carrying clear bags no larger than 12″ x 6″ x 12″ or small clutch bags approximately 4.5″ x 6.5″.
Additionally, there are certain items prohibited from being brought into the stadium. To avoid disappointment or delays, it's good to familiarize yourself with the prohibited items list before arriving at the venue. Some common items include large bags, backpacks, coolers, umbrellas, and outside food or drinks.
As you approach the stadium entrance, you will first encounter a security check, where staff will visually inspect the size and type of all bags being carried in. This process is carried out at a short distance from the gates to ensure smooth and efficient entry.
During your visit to State Farm Stadium, remember to be aware of your surroundings and don't hesitate to report any suspicious activities to stadium security personnel. Their priority is to create a safe, enjoyable environment for everyone present.
I hope this information helps you feel more prepared for your visit to State Farm Stadium, and, most importantly, ensures a secure and enjoyable experience for all.
Special Facilities for VIPs or Club Seat Holders
As a VIP or Club Seat holder at State Farm Stadium, I am delighted to share my experience with the exclusive facilities and privileges available to us. In addition to the State Farm Stadium Gila River Club West Entry and State Farm Stadium Gila River Club East Entry, which are specifically reserved for us, there are multiple club lounges and premium seating options that make our experience incredibly special.
One of the premium seating options I have come across is the Club Cabanas, an ideal space to relax and enjoy refreshments before an event on the Club Level. State Farm Stadium also offers four different Premium Seating options for us, including Private Lofts (suites), Party Lofts (shared suite), Club Cabanas, and Field Boxes. All of these can be easily accessed through the exclusive online portal.
As a Club Seat holder, I have exclusive access to State Farm Stadium's Club Level located in sections on the 200 level. From my experience, these are some of the most desirable seats in the stadium for Cardinals games and concerts. The Club Level offers multiple lounges, such as the 50-Yard Lounge, Flight Lounge, and Bubble Lounge. These lounges have modern, upscale furniture and elegant bars, making it an exclusive and refined space to enjoy the event.
Overall, my experience as a VIP or Club Seat holder at State Farm Stadium has been nothing short of exceptional. I can confidently say that the special facilities and exclusive access make attending events at the stadium a truly memorable experience.
Event Day Guide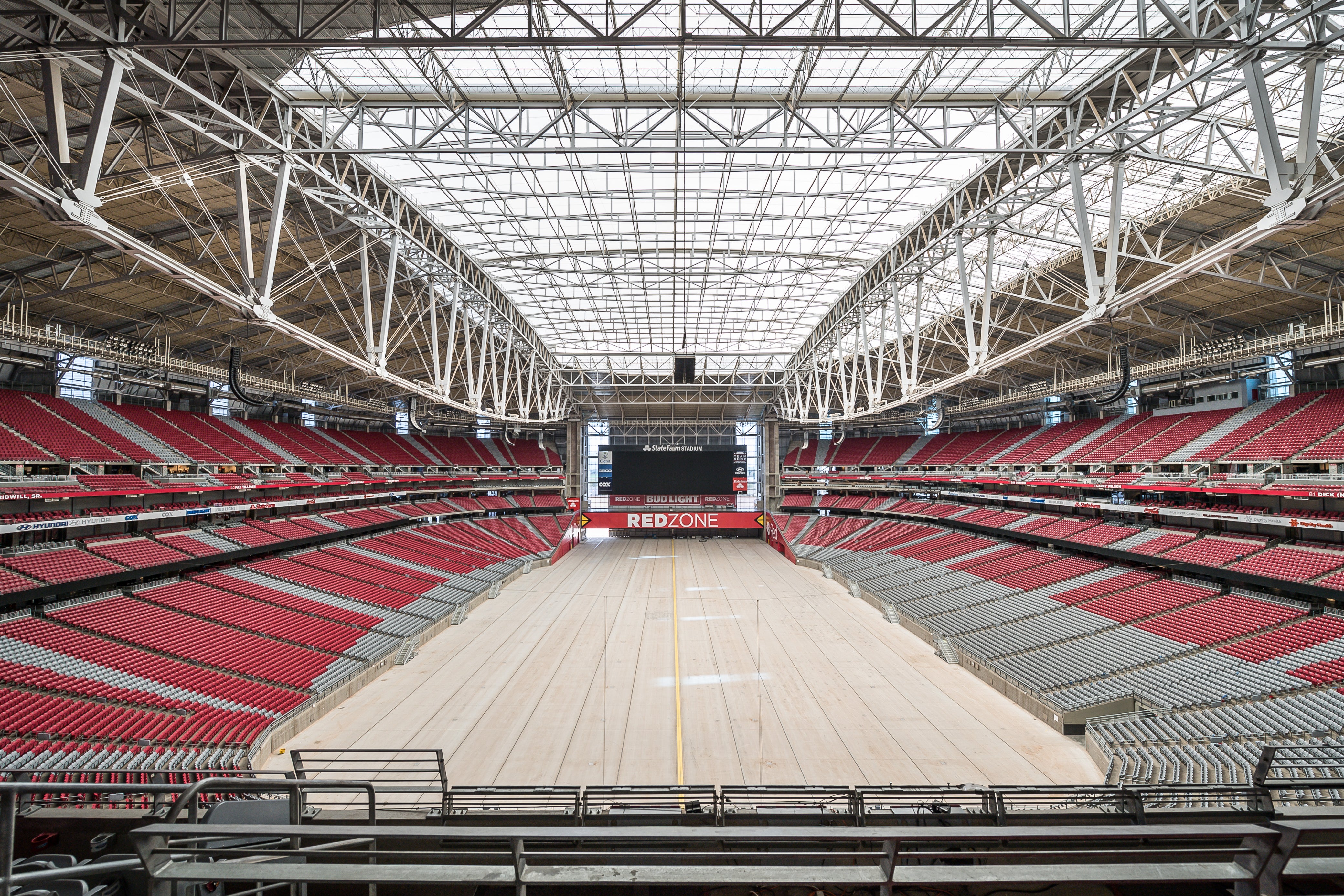 As someone who has attended events at State Farm Stadium, I want to share my insights to help you prepare for your visit. Trust me, knowing what to expect and being prepared can make all the difference in enjoying your experience at the venue.
First, parking is an essential aspect to consider when planning your trip to State Farm Stadium. Based on the search results, VIP parking passes may be provided for guests in luxury suites. Generally, finding parking can be a bit tricky, so I recommend arriving early to secure a good spot.
Next, let's talk about entrances. State Farm Stadium has various entrance gates for your convenience, so make sure to check the gate locations beforehand. This will help you avoid any confusion and find the best entrance for your seat location.
Once you're inside, you might need a portable charger for your mobile devices. Luckily, the stadium offers Portable Charging Banks for rent. Kiosks are located throughout the stadium, including Main Level (Sections 104, 123, and 136), Club Level (Sections 213 and 233), Loft Level (Sections 318 and 349), and Terrace Level (Sections 418, 434, and 446).
In terms of food and drinks, State Farm Stadium offers a variety of options to suit all tastes and preferences. I've always enjoyed exploring different stands and trying new dishes during my visits. Just keep in mind that outside food and drinks are generally not allowed, so make sure to plan accordingly.
Finally, for your safety and convenience, there are ATMs available at the stadium. You can find them in sections 104 & 123, sections 216 & 233, and sections 416 & 448. I've found this especially useful when I needed extra cash on hand for concessions or souvenirs.
And that's it! With this information in mind, I'm confident you'll have a great time at State Farm Stadium. Enjoy the event!
Conclusion
As a frequent visitor to State Farm Stadium, I can confidently say that the diverse selection of gates and entrance experiences enhances my visits. From the Hyundai Gate, the University of Phoenix Gate, to the Bud Light Gate, there are several options to consider when entering the venue. For those with suite and premium tickets, the dedicated entrances add an extra level of convenience and comfort.
In addition to the gates and entrances, State Farm Stadium offers various amenities and services that make it an amazing venue for attending events. There's ample parking, delicious food and beverage options, and helpful staff to guide you and answer any questions you may have.
Overall, knowing the ins and outs of State Farm Stadium not only saves time, but it also elevates your entire event experience. So the next time you're planning to attend an Arizona Cardinals game or another thrilling event, be prepared and enjoy everything State Farm Stadium has to offer!