Angel Stadium, located in Anaheim, California, has been the proud home of the Los Angeles Angels since 1966.
The stadium, initially known as Anaheim Stadium, has gone through several renovations and name changes since its inauguration.
With its rich history and unique features, it has become an iconic venue for both sports and entertainment events in Southern California.
The construction of Angel Stadium commenced on August 31, 1964, serving as a dedicated space for the then-California Angels, who previously rented Dodger Stadium for their games.
Over the years, the stadium has hosted not only baseball but also football games, concerts, and other major events. Its convenient location and easily accessible parking facilities make it a sought-after destination for fans of all ages.
One of the highlights of Angel Stadium is its guest guide, which features an A-to-Z listing of stadium information.
This guide provides vital details about the stadium's history, security guidelines, and ground rules, ensuring a safe and enjoyable experience for all who visit.
With its combination of modern amenities and classic charm, Angel Stadium continues to be a beloved destination for Los Angeles Angels fans and event attendees alike.
History of Angel Stadium
Origins
Angel Stadium, originally known as Anaheim Stadium, opened in 1966 and has since served as the home ballpark for the Los Angeles Angels of Major League Baseball (MLB).
The stadium's design showcases a unique blend of 1960s efficiency and 1990s retro-modern style, making it the fourth oldest active MLB stadium.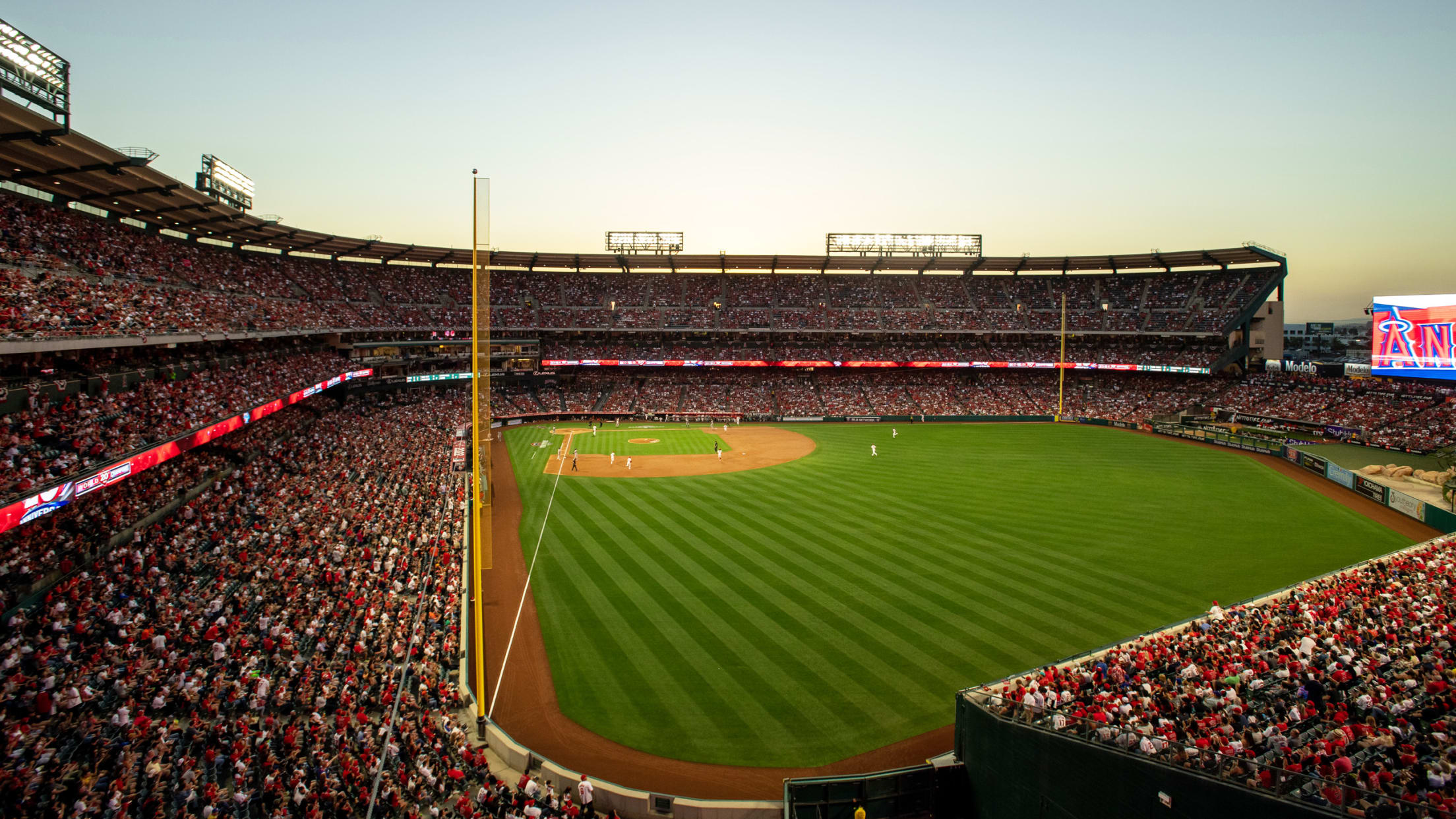 Renovations
In 1996, renovations to Anaheim Stadium began, and the 30-year-old structure was reverted back to a baseball-only facility.
A year later, on September 15, 1997, the newly renovated stadium's name was announced as Edison International Field of Anaheim.
However, on December 29, 2003, the stadium was once again renamed, and it became known as Angel Stadium of Anaheim.
Expansions
During its history, Angel Stadium has undergone several expansions and updates to accommodate football games and modernize fan experiences:
The stadium previously served as the home stadium for the Los Angeles Rams of the National Football League (NFL) from 1980 to 1994.
Various periodical revamps have transformed the stadium into its current state-of-the-art incarnation.
These updates have helped Angel Stadium remain a fan favorite and an iconic landmark in the world of sports.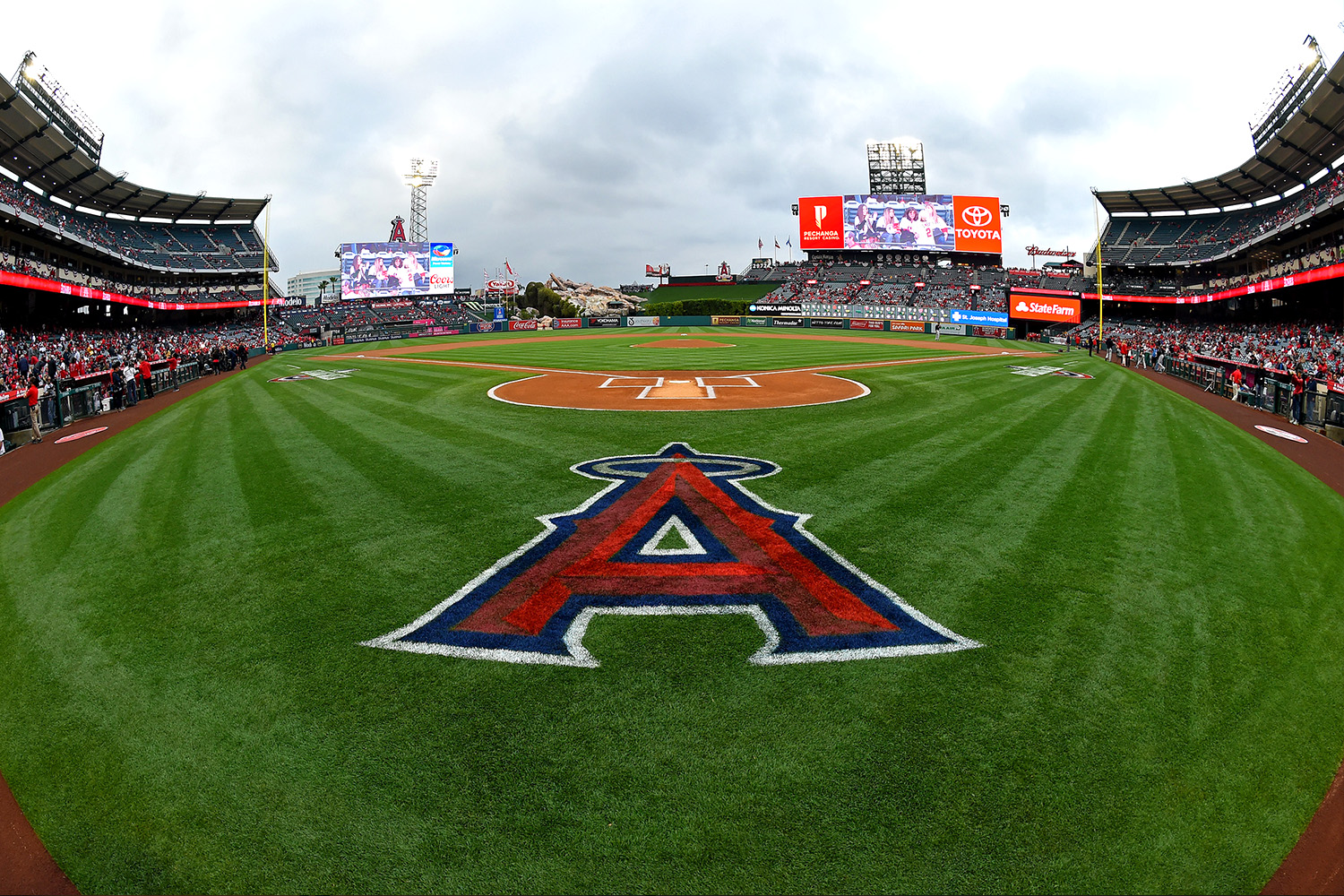 Getting to Angel Stadium
Driving and Parking
Angel Stadium is conveniently located, making it easy to access by car. To get driving directions, you can use the address 2000 E Gene Autry Way, Anaheim, CA 92806 in your GPS.
There are several parking lots available at the stadium to accommodate guests. For detailed parking information, visit the official Los Angeles Angels website.
Public Transportation
For those who prefer public transportation, the Metrolink Orange County Line is an excellent option. Simply take the service to the Anaheim ARTIC Station. After arriving, turn left toward S Douglass Rd and walk for 0.3 miles toward the stadium.
This will bring you directly to Angel Stadium. Alternatively, you can take the Pacific Surfliner train from Los Angeles to Anaheim. Train tickets range from $0 to $65. For more information on train schedules and ticket prices, visit Rome2rio.
Stadium Amenities and Attractions
Concessions
Angel Stadium offers a variety of delicious food options for fans to enjoy during the games.
Some of the popular menu items include:
Burgers: Choose from classic burgers, cheeseburgers, and specialty options like the BBQ Bacon Burger.
Hot dogs: Enjoy traditional ballpark hot dogs, chili dogs, and gourmet options with various toppings.
Pizza: Satisfy your cravings with a slice of cheese, pepperoni, or veggie pizza.
Mexican cuisine: Indulge in nachos, tacos, and burritos with your choice of fillings.
Apart from these, visitors can also find a wide range of snacks, desserts, and beverages throughout the stadium.
Family-Friendly Activities
Angel Stadium is committed to providing an entertaining experience for the whole family.
Some of the family-friendly activities available include:
Kids activities area: A designated area for children offers various games, face painting, and interactive activities.
Fireworks night: After selected evening games, fans can enjoy spectacular fireworks shows.
Kids run the bases: On Sundays, children aged 3-13 are invited to run the bases post-game as part of the Junior Angels program.
Luxury Suites and Seating
For fans seeking a more luxurious experience at Angel Stadium, there are several premium seating options available:
Diamond Club: Exclusive access to the Diamond Club Lounge, in-seat food and beverage service, and the best views of the field.
Club Level: Situated on the club level, these seats offer wider, padded chairs and exclusive access to the climate-controlled club lounge.
Luxury suites: Perfect for entertaining clients or hosting private events, suites offer a climate-controlled environment, indoor/outdoor seating, and personalized catering options.
These premium seating areas also provide fans with easy access to premium parking, private entrances, and upscale dining options at the stadium.
Los Angeles Angels Team Information
Roster and Coaching Staff
The Los Angeles Angels are a Major League Baseball (MLB) team that competes in the American League.
The team boasts a dynamic roster headlined by two-way sensation Shohei Ohtani. The Angels' lineup also features perennial MVP candidate Mike Trout and a solid supporting cast of talented players.
The team is led by their experienced coaching staff, including manager Joe Maddon, who brings a wealth of knowledge and success from his time managing in the big leagues.
Notable players:

Shohei Ohtani (P/DH)
Mike Trout (OF)
Anthony Rendon (3B)
To see the full roster and coaching staff, you can visit the Los Angeles Angels official website.
Championships and Achievements
The Los Angeles Angels have experienced moderate success in their history. They won their first and only World Series championship in 2002, led by then-manager Mike Scioscia.
Since then, the team has competed in the playoffs but has not managed to clinch another title.
World Series Championships:
American League Pennants:
Division Titles:

1979, 1982, 1986, 2004, 2005, 2007, 2008, 2009, 2014
The Angels have also had a number of individual achievements, with their star players earning multiple awards such as MVP and Cy Young.
James is a big time NBA Golden State follower, who makes sure to catch games when he's in the area. He likes to follow International Soccer, with an interest in small town soccer club, Blackburn Rovers located in the North on the UK.