San Francisco is one of the busiest cities in the world, and Chase Center is the venue of choice for some of the city's biggest events. Here are some of the best hotels near Chase Center.
One thing to note before you start traveling is that most of the good hotels are about two miles away from Chase Center. While there are some hotels closer to the arena, the city's design keeps most good hotels a little further away.
1. Hotel Emblem San Francisco
Viceroy's Hotel Emblem San Francisco is a quirky four-star hotel about 1.9 miles from Chase Center. That's far enough that it's probably better to catch a ride to the arena for events, which is easy to do thanks to the hotel's available taxi service. It has 96 guestrooms available, which is mid-size for a hotel in this area.
Hotel Emblem San Francisco is a relatively artistic location with art on the walls, patterns on the floors, and often bookshelves with actual books in them. High-speed wireless internet and a custom desk come standard, but the hotel can also provide unorthodox amenities on request.
ADA-accessible rooms are available here for guests with hearing or mobility needs. Features include the choice of an ADA tub or roll-in shower, as well as different room sizes to help meet each traveler's needs.
On-site dining is mainly available through the Obscenity Bar & Lounge. Drinks are the highlight here, with a selection of cocktails, beers, cider, and wine options alongside a few snacks. The Bluestone Lane Coffee Shop offers caffeine and some pastries but not full meals, so expect to go outside the hotel for those.
In many ways, Hotel Emblem San Francisco emphasizes the culture of the city. It's bold, and creative, and aims to feel like a unique destination instead of a cookie-cutter chain hotel. That choice stands out in everything from the decor to the food.
2. Cornell Hotel de France
Cornell's Hotel de France is one of the older structures in the area, built in 1910 in the Victorian style. This three-star hotel has 50 guestrooms across six floors, and it's about 1.9 miles away from Chase Center.
Accommodations include a wide selection of room and suite styles, with most comfortably sleeping 2-3 people. The accommodations are a little tighter than some other hotels, but the individually-decorated chambers feature plenty of artwork and varied lighting fixtures to help keep things fresh.
The owners have made renovations over the years, but this is an older building and there's only so much they can do while still keeping its character. As such, this hotel is not wholly ADA-accessible and may not be suitable for guests with some disabilities, so keep that in mind when deciding to make your reservations.
On-site dining is available at Jeanne D'Arc, a casual elegant French restaurant that opened in 1972. Like many hotel restaurants, it operates from Tuesday to Saturday for its main meals. Hotel guests can also get breakfast from an associated cafe, with options including tea, coffee, juice, fruit, and pastries.
3. Orchard Garden Hotel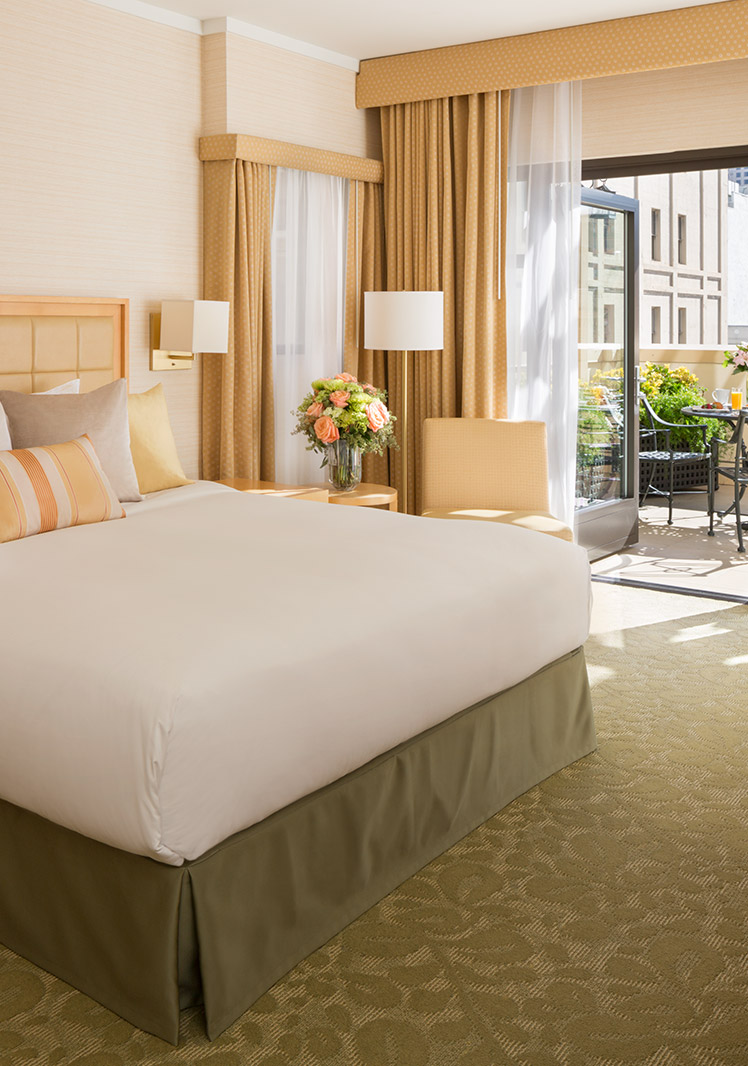 The Orchard Garden Hotel is an elegant three-star hotel and, notably, the first LEED-certified hotel in the city. It's about 1.8 miles from Chase Center, with an excellent view of the city from its garden areas.
Rooms at the Orchard Garden Hotel mainly sleep 2-3 people total with options that include single or split beds. Some of the rooms have a separate pull-out couches. In-room amenities are limited but usually include a mini-fridge, a wide desk, a flatscreen television, and some art. Colors in the rooms run towards beige and brown, with white linens and ceilings.
Some rooms are ADA-accessible and include features like lowered bathroom features, wider doors, and smoke detectors with strobe lights. These rooms are much more accessible than those in some other hotels, so this hotel is a great choice for travelers who need extra help.
Food is available at Roots Restaurant, which serves breakfast daily. Its menu focuses on lighter fare like pastries, supported by a pleasant sit-down environment. There's no other on-site dining, but the Orchard Garden Hotel is close to several other restaurants of varying styles, including dinner at Le Central and European fare at Cafe de la Presse.
4. Harbor Court Hotel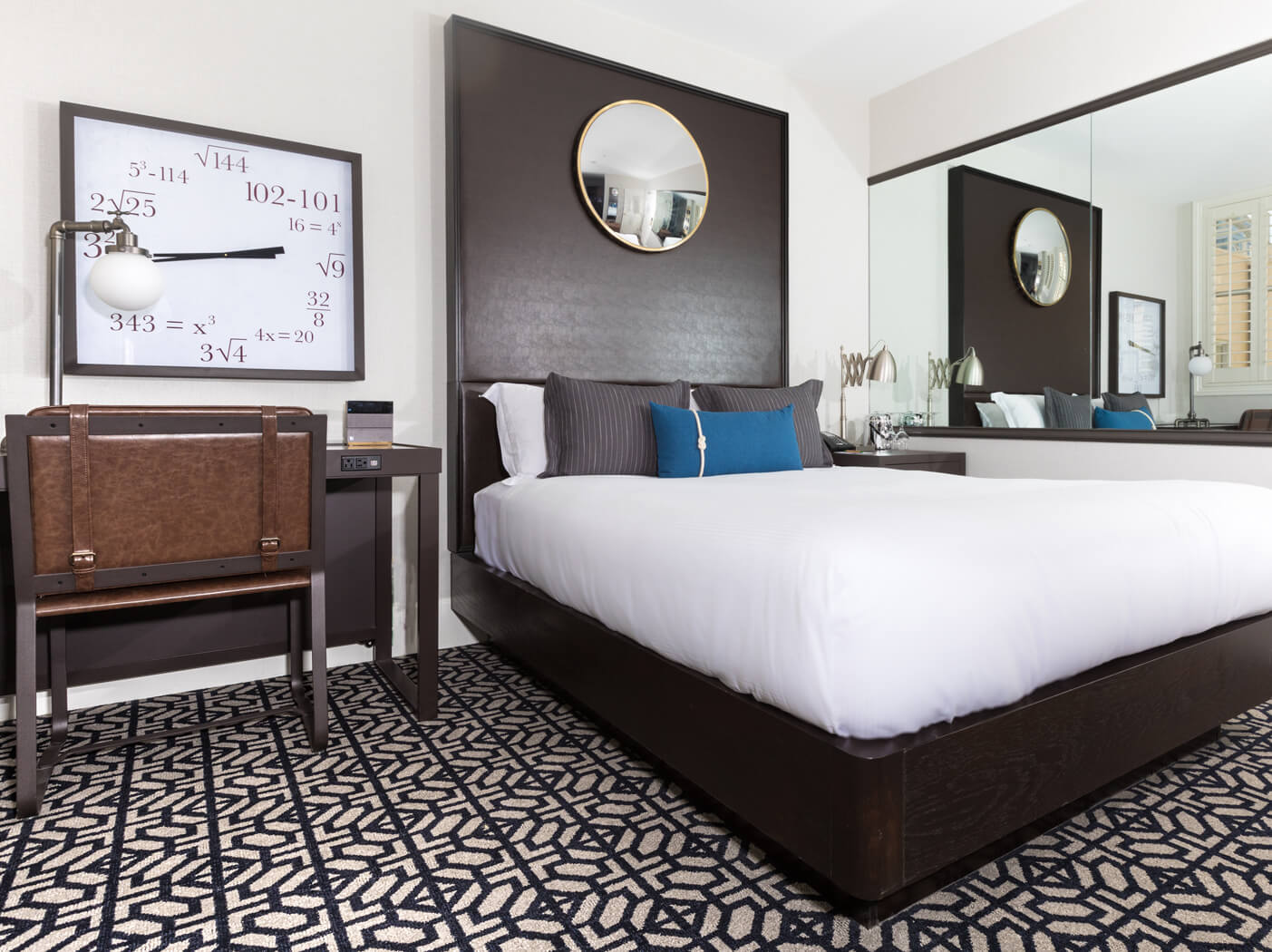 Harbor Court Hotel is just across the road from the waterfront in San Francisco, with 131 rooms about 1.7 miles away from Chase Center. This location is a surprisingly budget-friendly four-star hotel, especially considering the excellent views of the ocean and the newly redesigned interior. In that regard, it's one of the better values in the city.
Most of the rooms in this hotel sleep two people comfortably, with a single king or queen-sized bed. The decor is often eclectic, with unusual clocks, dark paneling, and a radio alarm system offering high-quality audio. The rooms themselves are small, though they often include large mirrors that help create a better illusion of space.
The Harbor Court Hotel is ADA-friendly, with accessible rooms on request. These rooms include wide doors, wheelchair access areas by the beds, grab bars, several bathtub and shower options, and lowered sinks. Individual rooms vary slightly to accommodate specific needs, and staff can help select the best room for guests with disabilities.
The Harbor Court Hotel is also group-friendly thanks to special rates for group rooms – this makes it much easier to stay here for a family reunion or a similarly large gathering, especially because it's otherwise difficult to get a family into a single room.
Dining is available at Ozumo, Harbor Court Hotel's next-door restaurant that offers sushi and other Japanese-style dishes. Ozumo is also mobility accessible, with an entrance route that includes a chair lift.
5. The Inn at Union Square
Union Square is one of the top spots for hotels in the city, and The Inn at Union Square is one of the best hotels in the area. This cozy retreat has just 30 rooms in a spot 1.8 miles away from Chase Center, giving it the personal and intimate feel that larger hotels can't quite match.
Rooms here generally feature a king or queen-size single bed, with patterned carpeting and some art on the walls. TVs vary by room, but unusually, some of the suites at this hotel include two televisions instead of one. Wireless internet access and spa-style bathroom products help complete the experience.
The Inn at Union Square is ADA-friendly, with such rooms available on a first-sold basis. They do sometimes sell out of these rooms, so it's better to reserve early if you need these accommodations.
The Inn at Union Square does not have on-site dining, although it is immediately adjacent to Morton's Steakhouse. It's also within casual walking distance of Michael Mina's American fare, Farallon's seafood, and the Great Eastern Restaurant's Chinese food. San Francisco has plenty of other dining options within easy walking distance.
The Inn at Union Square is a value-oriented hotel, more affordable than some other options in the area. Most of this value comes from having smaller rooms, so don't expect too much extra space outside of the ADA-friendly areas. That said, it's clean and has over three hundred restaurants within a third of a mile, so it's a great spot to enjoy events at Chase Center from.
6. Four Seasons Hotel San Francisco at Embarcadero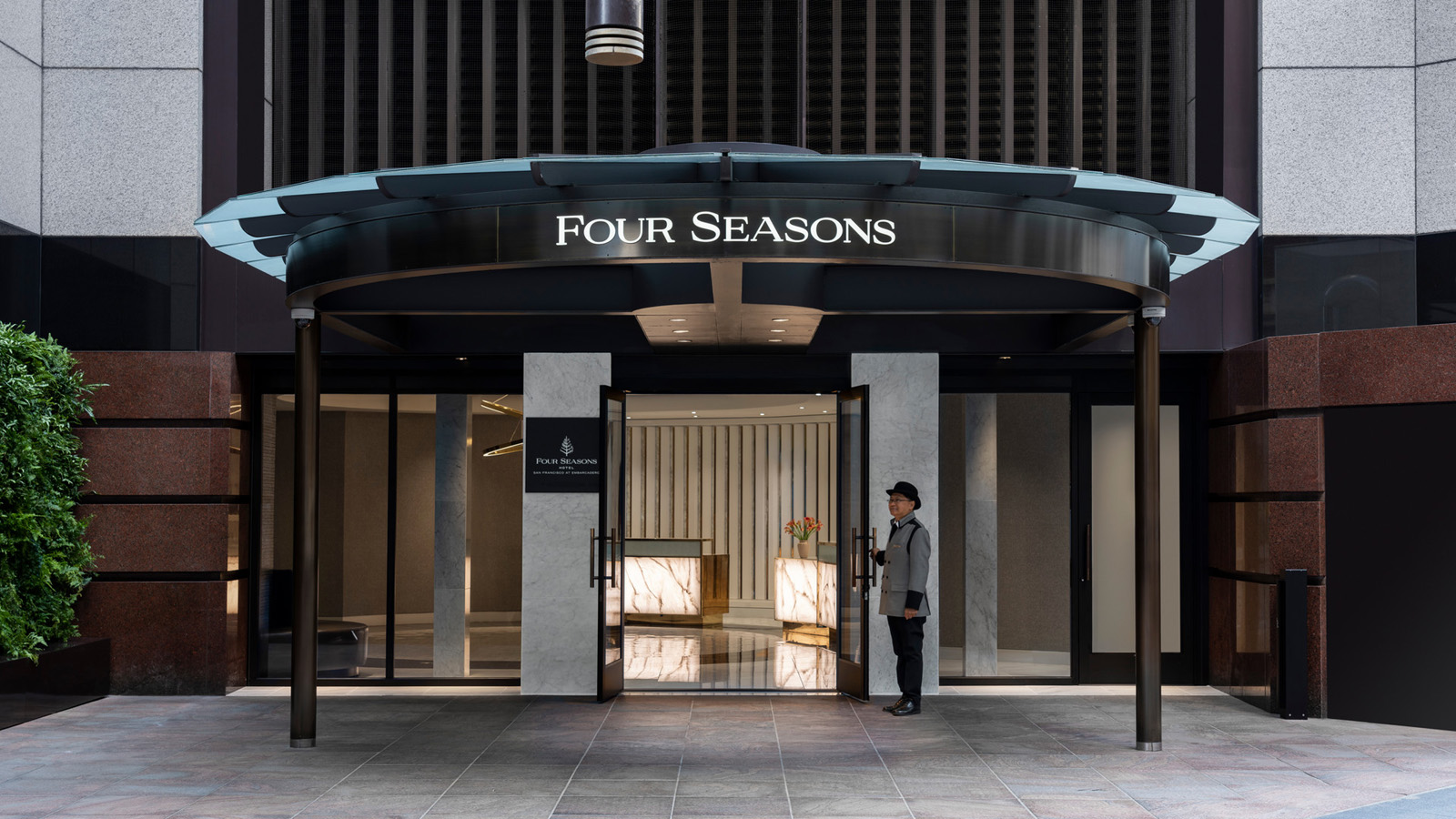 Four Seasons is one of the larger hotel chains in the area, and their San Francisco at Embarcadero location doesn't disappoint. Set about 1.8 miles from Chase Center, this five-star luxury hotel has outstanding views of the area. The hotel takes up the highest eleven floors in a forty-eight-story tower, so expect an elevator ride going in or out.
The Embarcadero location has 155 rooms in total, with surprisingly spacious designs considering their location in the narrow part of a tall tower. Most of the rooms sleep two to three people, although rollaway beds and cribs can expand this and a few suites go larger.
Room features vary, but corner suites have deep soaking tubs and extra-long beds to help ensure that even the tallest guests can be comfortable. This Four Seasons hotel is child-friendly, with kids staying free, access to children's television networks, and special kids' meals. They don't offer to babysit directly, but they can help arrange for that on request.
This hotel is ADA-accessible, with nine rooms featuring support for different needs. These rooms offer hearing, mobility, or both support, with tubs or roll-in showers options.
On-site dining is available in the building's lobby level at The Lounge & Bar, offering guests breakfast, lunch, and dinner. In-room dining is also available, with the menu including salads, sandwiches, pizza, meat, fish, vegetables, and desserts.
The Four Seasons Hotel San Francisco at Embarcadero is more expensive than most other options in the area, but the high quality of service, outstanding views of the city, and excellent hotel amenities make it an outstanding choice for visitors that want a luxury destination. If you're looking for the best hotels near Chase Center for pure quality, look here first.
7. White Swan Inn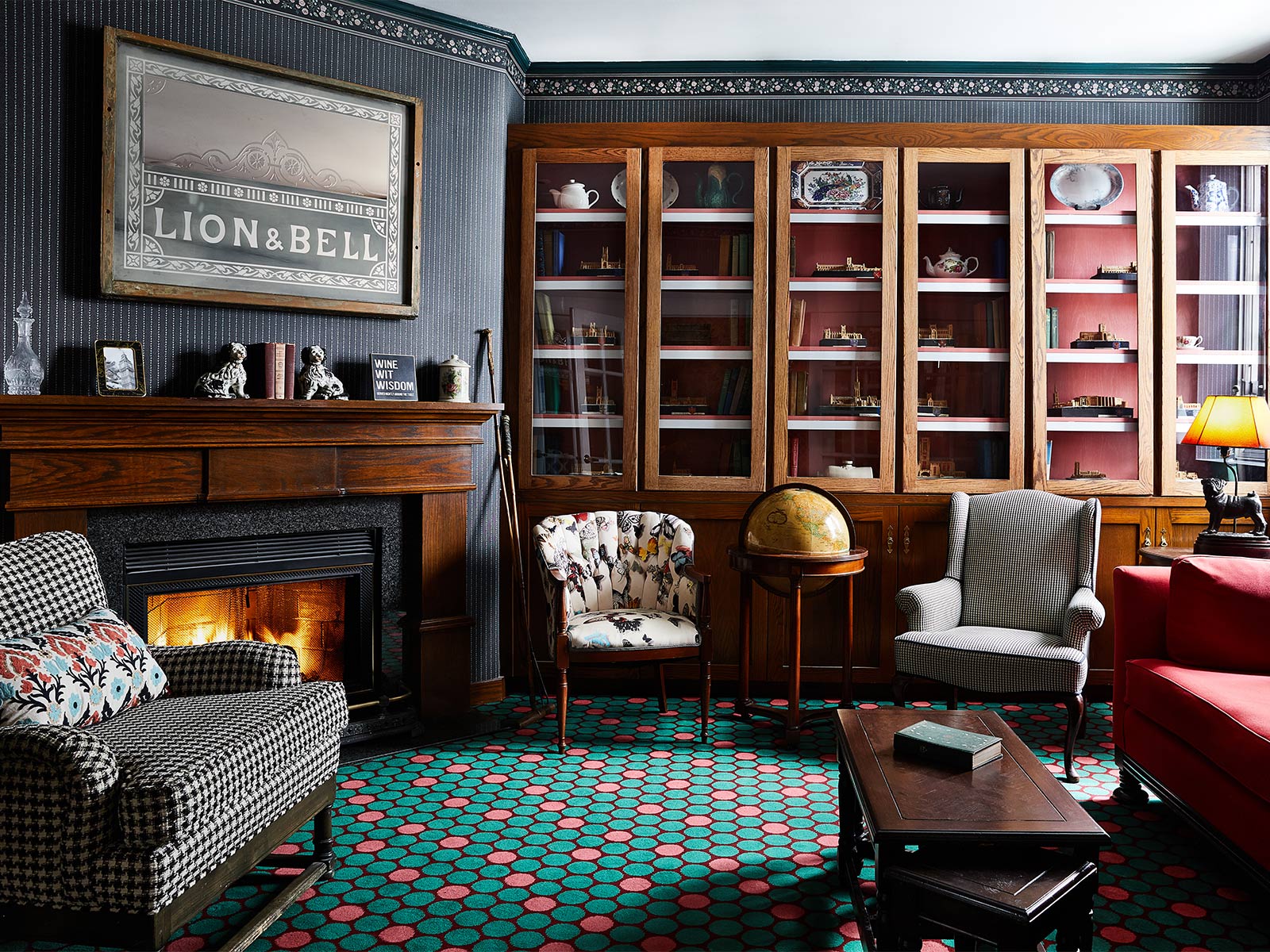 The White Swan Inn is a budget-friendly, 26-room boutique hotel about 2 miles from Chase Center. The decor takes heavy inspiration from London, with busy wallpapers and floral decor. It also has a parlor, a library, and a patio where guests can work or relax during the day.
The rooms here are comfortable and well-furnished, with more room than you might expect given the low price tag. Most of them only have a single king or queen bed, but some also have sleeper sofas to accommodate larger families. Some areas are ADA-accessible, though there are fewer rooms like that at White Swan Inn because it doesn't have many rooms at all.
This is a good hotel if you want to relax in a quiet area instead of busily going all around the city when you're not at the arena. Leisure options like a private courtyard and board games help emphasize the styling here, while complimentary breakfast, sodas, and evening glasses of wine make things even better.
The White Swan Inn doesn't have true on-site dining, but it does have room service from Del Popolo, an award-winning pizza place. Del Popolo emphasizes classic Italian-style pizzas but also serves a few other dishes like tuna tartare, charred Brentwood corn, and porchetta.
8. The Metro Hotel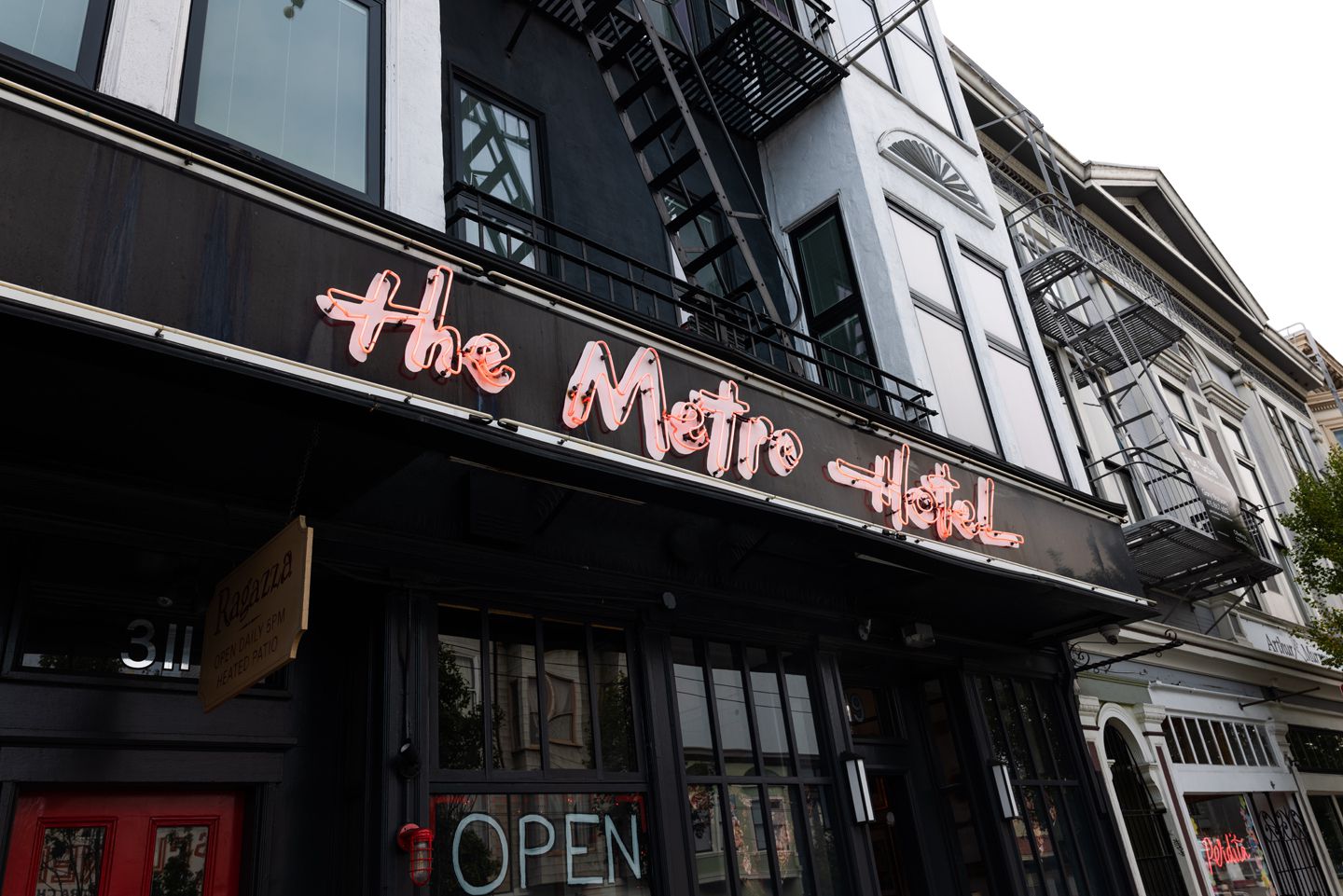 The Metro Hotel is about 2.7 miles away from Chase Center, which makes it one of the further options that still count among the best hotels near Chase Center – this is a budget-friendly hotel, with room options sleeping two to six people. All rooms come with two beds and hotel staples like flatscreen televisions and wireless internet access.
The rooms are small and simple, with basic services, so the Metro Hotel doesn't qualify as a luxury destination. That said, as you may save over $100/night compared to many other hotels in the area, it's easy to reroute that money into local dining options and entertainment while accepting a simple room.
The Metro Hotel is relatively central in San Francisco, close to Haight-Ashbury, Japantown, The Castro, and the Mission District. It's relatively easy to get to most of the interesting places in the city from here, which makes it particularly good for anyone who wants to explore the rest of the city and not stick to Chase Center.
Final Thoughts
Chase Center is a large stadium, but it's a little harder to access by foot unless you're willing to walk several miles. Whether you're visiting for sports games, music, or other special events, consider taking a bus or a taxi to get to the center.
Finally, most hotels are ADA-friendly and have mobility-accessible rooms, but the specific features can vary. Make sure to call your hotel and ask about the specific details of the room you want to reserve if this applies to you.
James is a big time NBA Golden State follower, who makes sure to catch games when he's in the area. He likes to follow International Soccer, with an interest in small town soccer club, Blackburn Rovers located in the North on the UK.