The Chase Center is one of the landmark buildings in San Francisco. It is home to the NBA team Golden State Warriors and a venue for many events. Many visitors to the center are also interested in enjoying San Francisco's cuisine and looking for restaurants nearby.
This article contains valuable information about the best restaurants near Chase Center. We have compiled the list based on important characteristics like type of cuisine, price range, and walking distance from the center.
We have tried to add a lot of variety to the list, covering different cuisines and price ranges. You can enjoy some of the most fantastic food and drink offers you have ever tasted in these places.
We are sure you will remember the precious moments spent at these incredibly sophisticated restaurants.
This restaurant is one of the best restaurants near Chase Center. It is a real representative of the amazing Mediterranean cuisine, offering many delicious meals.
The experienced chef Bawer Tekin will prepare some of his greatest culinary creations. Also, the place has an amazing atmosphere, and the staff is attentive and respectful.
This is a place for people who want to experience the wonders of the Mediterranean gastronomic offer. Many starters are available for the guests; one of the favorites is Baba Ganoush, but Dolma and Kibbeh are also very popular.
For the main course, we highly recommend the Lamb & Beef gyros wrap. The slow-cooked, thin-sliced, and marinated meat tastes amazingly together with the rich textures of the wrap.
You can also try other wraps and sandwiches, including Adana kebab wrap, Falafel wrap, Salmon wrap, and many others. Vegetarian wrap will be a good choice for people preferring options based on vegetables.
Furthermore, the place's trademark is the plates with different types of meat served with rice pilaf, bulgur, and homemade bread. Also, there is a special offer for the weekends when guests can enjoy omelets, French toast, Menemen, and many other meals.
When it comes to sweets, you can try some traditional ones, such as Kurdish baklava, Kazandibi, Kunefe, and many others.
Additional information
| | |
| --- | --- |
| Location | SF Kebab |
| Distance from Chase Center | 3 minutes walking distance |
| Working Hours | Monday -Sunday: 11 AM – 9 PM |
| Price Range | $$ |
This is an extraordinary place for fish and seafood lovers. It is located at 817 Terry A Francois Blvd, San Francisco, and is one of the best seafood restaurants near Chase Center.
The breathtaking Agua Vista fishing park is nearby, and you can park at 409 Illinois St Garage if you want to visit it.
So, if you are interested in a great gastronomic experience, you will find this place the right fit. You will be amazed by the place's aura and the staff's courtesy.
The meals are mostly based on fish and seafood but also include some tasty vegan options. This restaurant offers different menus: the Lunch/Dinner menu, the Rock Cafe menu, and the Brunch menu.
Its appetizers include excellent options, including tuna, hummus, vegan meatballs, and french fries prepared with rosemary, parsley, and garlic.
Furthermore, there are various tasty salads for people who prefer salads to start their meals. We recommend the Grilled Avocado Bowl with farro salad, refried black beans, plantain chips, and jicama relish. Also, you can taste various sandwiches and specialties like wild king salmon, fish and chips, grilled fish tacos, and many more.
One of the best things about this restaurant is its rich beverage offer. The guests can choose between the great draft beer, the house wine, the frozen cocktails, and other premium drinks.
Additional information
Location
Mission Rock Resort
Distance from Chase Center
3 minutes walking distance
Working Hours
Monday: Closed
Tuesday- Friday: 11 AM – 8:30 PM
Saturday- Sunday: 10 AM – 8:30 PM
Price Range
$$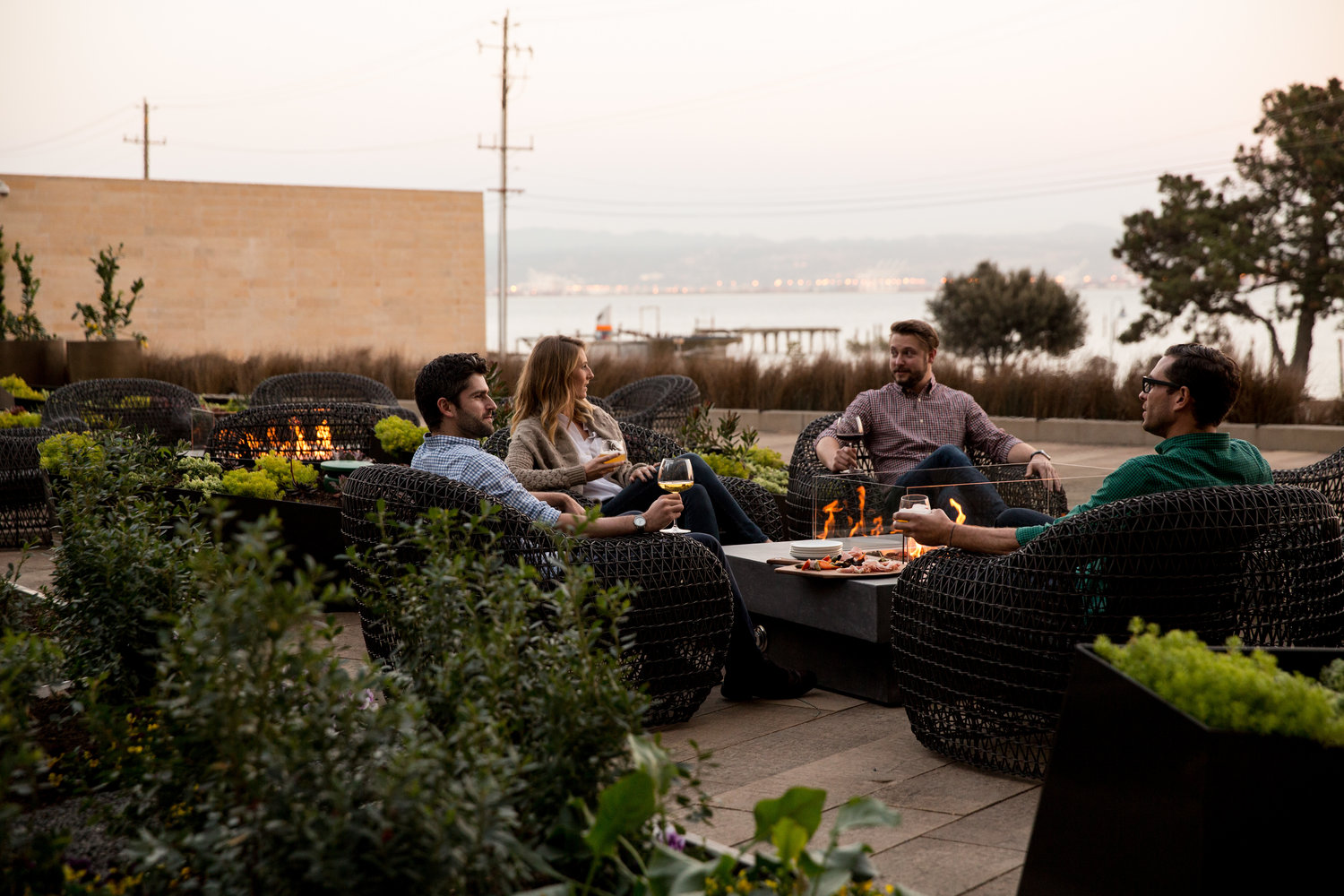 If you are near the iconic Chase Center and feel hungry, don't miss the opportunity to visit this restaurant. The ingredients for the meals are produced on a farm and are 100% organic.
The cuisine mixes Californian and Mediterranean dishes prepared by experienced chefs. Therefore, if you visit this amazing place, you will experience world-class hospitality and a family-like atmosphere.
The menu has several subsections: Stem Garden Bowls, Sandwiches, Pizzas, and Sides. The Stem Garden Bowls are salads containing some of the most incredible ingredients, like persimmon, golden gem, and endive. Prepared with ingredients from the adjacent garden, you will enjoy their taste.
Furthermore, the sandwiches are prepared with diligence and passion, coming in different variations. Whether you like grilled cheese, tuna, or fried chicken, you will not be disappointed.
Additionally, the Pizza menu offers Margherita, Seasonal Veggies, and Prosciutto prepared with garden-based basil and zucchini.
From the Sides menu, we recommend the Stadium fries with garlic, parmesan, and fresh garden herbs. Additionally, there are various tasty and refreshing beverages, from draft beers to vintage wines.
Additional information
Location
STEM Kitchen + Garden
Distance from Chase Center
3 minutes walking distance
Working Hours
Monday: 11 AM – 3 PM
Tuesday: 11 AM – 3 PM
Wednesday: 11 AM – 7 PM
Thursday: 11 AM – 7 PM
Friday: 11 AM – 3 PM
Saturday and Sunday: Closed
Price Range
$$$
Great dishes and beverages are available at this flawless place, one of the best restaurants near Chace Center.
Featuring occasional live music performances, the atmosphere in the restaurant is great. You can always expect to be treated like royalty by the kind and well-mannered staff.
You can find different culinary dishes and drinks in this restaurant. Many appetizers, sandwiches, soups, salads, and main courses are available. The meals are prepared with the finest ingredients, from seafood to meat and vegetables.
The Pasta & Risotto options are popular, especially the guest's favorite Fettuccine Alfredo, prepared with the traditional creamy sauce, chicken, and shrimp. Its Spaghetti & Meatballs option is also highly popular, but don't forget the Seafood Risotto. Also, there is a Vegan risotto with mixed vegetables, mushrooms, and parmesan.
Furthermore, guests can enjoy delicious burgers, including pulled pork and grilled chicken sandwiches. We recommend the Ramp Burger with beef patty, cheese, mixed green, tomato, crispy onion, fried egg, and other delicious ingredients.
When it comes to drinks, there are many draft beers, craft cocktails, wines, and non-alcoholic options.
Additional information
Location
The Ramp Restaurant
Distance from Chase Center
6 minutes walking distance
Working Hours
Monday: Closed
Tuesday-Thursday: 12 PM – 8 PM
Friday: 12 AM – 10 PM
Saturday & Sunday: 10 AM – 3 PM & 4 PM – 10 PM
Price Range
$$
If you are searching for a place to get a taste of the incredible Italian cuisine, then Espostos' Delicatezza is one of the best restaurants near Chase Center.
Here you can immerse yourself in the beauty of the Italian culinary culture. The stylish, elegant interior and friendly staff will make you feel at home.
Some traditional Asian and Mediterranean meals are also included in the restaurant's offer.
You can expect to find some of the specialties of the Italian gastronomic offer here. For example, Caesar salad, Spaghetti & Meatballs, Chicken Marsala, Lasagnas, and many others.
Moreover, various sandwich options are available, including hot sandwiches. The restaurant's special Espostos' Hero is an immensely tasty sandwich. It contains three types of processed meat, mortadella, salami, and ham. The chefs also add tomato, onion, provolone pickles, sourdough, red leaf, mustard, oil, and vinegar to create a unique taste.
Additionally, you won't want to miss the Old school sandwich with turkey pastrami. We recommend the Son of a Baker sandwich from the hot sandwich offer. It is made with meatballs, mozzarella, roasted hot peppers, marinara sauce, and ciabatta bread. You can also try traditional Asian chow mein noodles and Mediterranean salad.
Additional information
Location
Esposto's Delicatezza
Distance from Chase Center
5 minutes walking distance
Working Hours
Monday-Friday: 9 AM – 4 PM
Saturday-Sunday: Closed
Price Range
$
The last one on our list of the best restaurants near Chase Center is Cracked & Battered. It tries to combine the best classic dishes from different cuisines and give them a unique touch. If you are looking for the best Belgian waffles in San Francisco, this restaurant is the place to go.
You will be greeted by its wonderful staff and amazed by its classy and laid-back interior.
The restaurant offers various food options. Many of the world's most famous meals are prepared using the finest ingredients. This restaurant is renowned for its Belgian waffles and orange juice, but that's only a part of the offer.
You can taste colorful, delicious, and finely served meals from different cuisines. The Shakshouka, one of the Middle East's most famous meals, is part of the menu. Guests can choose between more and less spicy variations of this meal.
Furthermore, this place has one of the best chicken and waffle meals in San Francisco. People who love chicken meat can also try the delicious Fried Chicken Benedict and a world-class specialty Chicken a la Carte.
Additional information
Location
Cracked & Battered
Distance from Chase Center
15 minutes walking distance or 4-5 minutes car ride
Working Hours
Monday, Thursday, Friday, Saturday, and Sunday: 9 AM – 2 PM
Tuesday and Wednesday: Closed
Price Range
$$