Crypto.com Arena is a modern building with incredible architecture and one of the landmark buildings in LA. It is home to many sports collectives, notably the Los Angeles Lakers, the seventeen-time NBA winners.
If you want to explore the culinary magic of some of the best restaurants near the Crypto.com arena, you are at the right place. This article will be a handy guide in your search, giving you more time to enjoy your visit. We have tried to compile a comprehensive list of restaurants, each specializing in different cuisine.
Also, you will discover the distance from the arena, their offers, and their pricing ranges. Give yourself an unforgettable experience and try different cultures. So, let's get started!
Overview
This restaurant is one of the best restaurants near Crypto.com Arena. It represents the American soul culture, letting its guests experience its beauty.
This place offers delicious food, on-point service, and an impeccable relationship with its guests.
What's best is that it is within walking distance of the famous Grammy Museum and the modern Microsoft Theater.
Every item on the offer is tasty and representative of the rich African-American culture. These meals and drinks are a real thing for you with their flavors and textures. Fixins has four menus: Main, Brunch, Drink, and Vegan.
On the Main menu, there are some traditional African-American meals. The delicious fried chicken is the main dish, but don't forget the smothered pork chop and smothered catfish.
The most prominent meal of the culture, chicken, and waffles, comes in three different varieties, each prepared to the finest detail. The restaurant also offers some of the best sandwiches in the world. Its chicken sandwich has an outstanding taste, and for fish lovers, there is the fish sandwich.
The Brunch menu has incredible items, such as biscuits, gravy, and fried chicken omelets. Moreover, there is a special menu for vegans with a great salad (Vegan Uptown salad) and an amazing vegan burger.
Additional information
Address
800 W Olympic Blvd A150, Los Angeles, CA 90015, United States
Location
Fixins Soul Kitchen
Distance from Crypto.com Arena
4 minutes walking distance
Working Hours
Monday to Thursday: 11 AM to 9 pm
Friday and Saturday: 10 AM to 11 PM
Sunday: 10 AM to 9 PM
Price Range
$$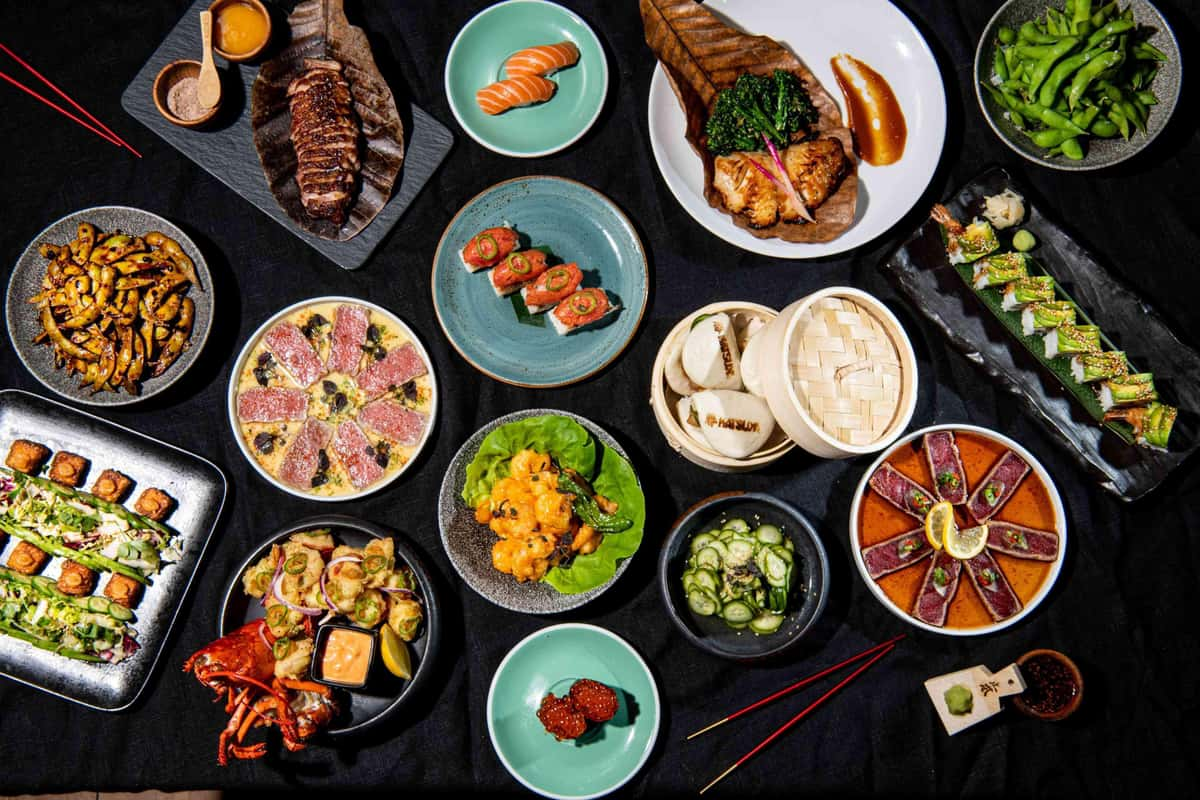 Katsuya is one of the best restaurants near Crypto.com Arena that offers a taste of traditional Japanese food. It is where Japanese culture and hospitality shine the brightest.
Here you can taste some of the wonders of the cuisine and relax in a friendly and pleasant atmosphere. The staff is attentive to the guest's needs, and you will be treated like royalty.
There are various offers for this remarkable place. The cold starters will let you enter the world of brilliant tastes, which is only the beginning.
The Albacore onion, Salmon Caviar Sashimi, Truffle Beef Tataki, and many others will satisfy your appetite. Also, the soups and salads are tasteful and sophisticated. The Classical Miso soup is the most famous, but Cucumber Sunomono and Seaweed salads are items you don't want to miss.
Furthermore, the restaurant offers hot starters, including Edamame prepared in different ways, chicken katsu bites, rock shrimp, etc.
For the main course, there are many options, including Sushi bars, Whitefish, Roe, Shellfish, and Sushi rolls. Chef Katsuya's specialty is also available to the guests' excitement, his special baked crab handroll.
Last but not least, there are some of the most delightful meat & poultry specialties alongside the grilled vegetables option for vegan food lovers.
Additional information
| | |
| --- | --- |
| Address | 800 W Olympic Blvd STE 220, Los Angeles, CA 90015, United States |
| Location | Katsuya |
| Distance from Crypto.com Arena | 3-4 minutes walking distance |
| Working Hours | Every day: 5 PM to 9 PM |
| Price Range | $$$ |
This modern place combines many flavors and cuisines typical of the modern American experience. Also, it is within a few minutes' walking distance from the Conga Room nightclub.
You can enjoy the blend of different culinary solutions and the incredible atmosphere created by the diligent and friendly staff.
This is an excellent place for gourmands since its meals and drinks offer is awesome. There are so many tasty items, and choosing between them is difficult.
Some of the greatest appetizers are included, such as Poke nachos, chicken lettuce wraps, Bavarian Pretzels, sweet potato fries, and more.
Delicious soups and salads are available, with chicken tortilla soup being the guest's favorite. Guests also love the various sandwiches, pizzas, and burgers.
There is a special Kids' menu, enabling the young to enjoy their favorite meals and cherish the time spent with their parents.
Furthermore, some extraordinary meals for the main course include Korean ribeye, Thai grilled pork chop, Filet Mignon, and Mediterranean salmon.
After finishing the main course, you can enjoy some incredible sweets. We recommend the chocolate fudge cake with three-layer chocolate, fudge frosting, chocolate chips, and marbled chocolate sauce.
Additional information
Address
800 W Olympic Blvd A-115, Los Angeles, CA 90015, United States
Location
Yard House
Distance from Crypto.com Arena
5-7 minutes walking distance
Working Hours
Monday to Thursday: 11 AM to 12:30 PM
Friday and Sunday: 11 AM to 1:20 PM
Sunday: 11 AM to 12:30 PM
Price Range
$$
Tom's Watch Bar is another place near Crypto.com Arena. It is one of the most notable places in the area, frequently visited by locals and tourists. Additionally, it is close to the E-Central Downtown Hotel.
You can enjoy the meals created by experienced chefs and some premium beverages in this amazing place.
Three menus are available: Lunch & Dinner, Kids and Beverages. There are world-class starters and snacks, mainly derived from Mexican cuisine. The nachos, queso, and calamari combine many flavors and tastes. The starters also include pan-seared potstickers, a classic of Asian cuisine.
Chicken wings are one of the favorite meals of the guests, especially wings with Buffalo sauce. Also, the guests are fond of the sandwiches, the all-American burger, the California chicken burger, and its Bacon avocado burger. Vegans love the plant-based option served on a vegan bun.
Furthermore, tacos come in different flavors, and the guests can choose between chicken, pork, and fish options. Also, some of the best Mac & Cheese can be tasted here, coming in two variations: butter-poached lobster and shrimp and bacon.
Moreover, there is the Colossal Cheesecake with a graham cracker crust and raspberry coulis for dessert. The Beverage menu is also very intriguing, with many cocktails, draft beers, and vintage red and white wines.
For the kids, there are many meal options. They can choose the Mac & Cheese option or taste the wonderful chicken salad. Some of the kid's favorites are crispy chicken tenders and hot dogs.
Additional information
Address
1011 S Figueroa St b101, Los Angeles, CA 90015, United States
Location
Tom's Watch Bar – Los Angeles
Distance from Crypto.com Arena
2 minutes walking distance
Working Hours
Monday to Friday: 4 PM to 11 pm
Saturday and Sunday: 11 AM to 11 PM
Price Range
$$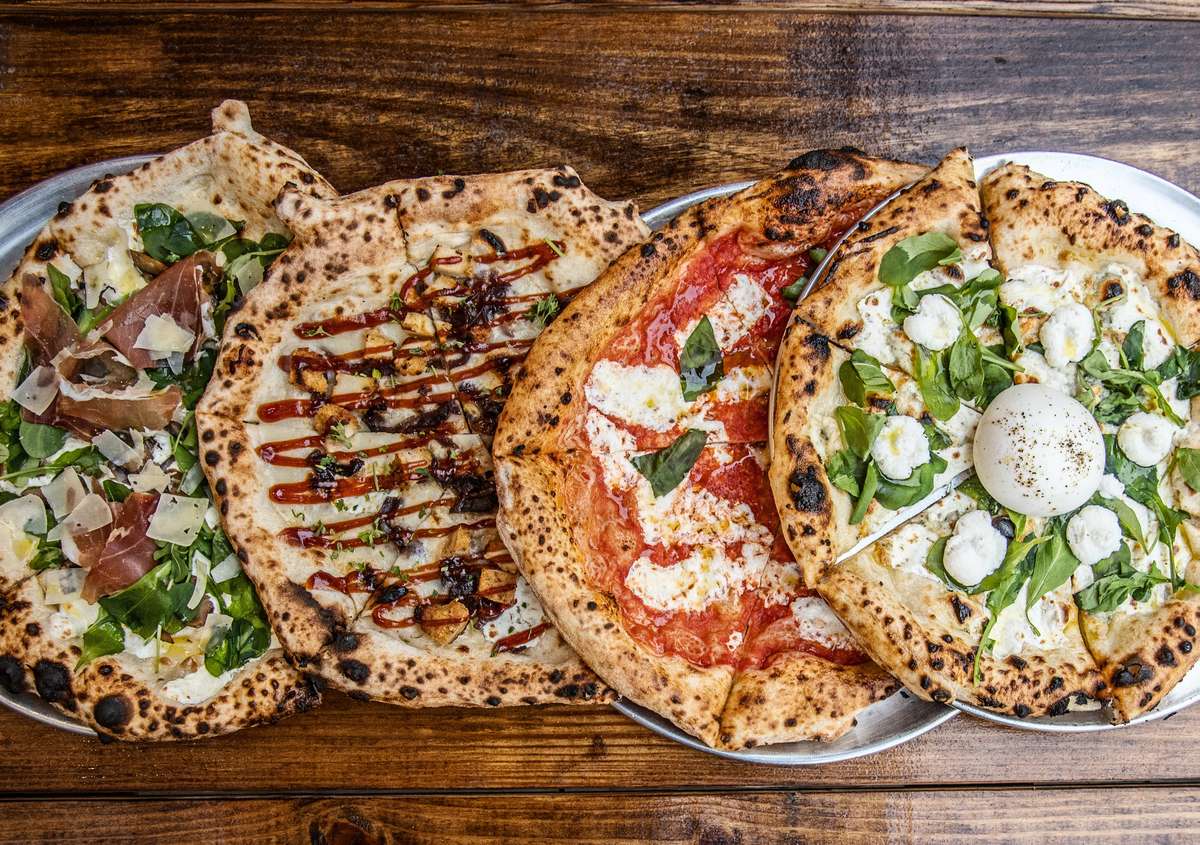 The Pizza Sociale is the last place on our list of the best restaurants near the Crypto.com arena. This traditional Italian restaurant is famous for its amazing pizzas, but its meal offer is much broader.
Experienced Italian chefs are responsible for creating culinary magic with dishes that words cannot describe.
For starters, there are great salads and many different options. The guest's favorite is the Mediterranean salad prepared with organic mixed greens, cherry tomatoes, Persian cucumbers, and balsamic glaze. However, don't forget to taste its trademark Sociale bread, either the standard option or the cheese and garlic one.
The main food of this restaurant is pizzas. We recommend the Grand Margherita, with its crispy taste and original tomato juice. However, there are many more yummy pizzas to satisfy your need for delicious food.
For example, L'Americana Picante is the right choice for people who like spicy food, and for salad lovers Insalata Pizza. There are many more extraordinary flavors like NY sausage and peppers, La BBQ, Buffalo Speziato, and many others. Additionally, there are some vegan choices, such as Carciofo and La Campagna.
Moreover, the restaurant also offers mini pizzas and many different meals from Italian cuisine. You can try some of the world's most tasteful spaghetti and meatballs alongside mozzarella sticks and crusty onion rings.
Every dish is prepared with love and devotion, using the finest ingredients and traditional ways of preparation.
Additional information
| | |
| --- | --- |
| Address | 448 W Olympic Blvd, Los Angeles, CA 90015, United States |
| Location | Pizza Sociale |
| Distance from Crypto.com Arena | 6-9 minutes walking distance |
| Working Hours | Everyday: 11 AM to 11 PM |
| Price Range | $$ |