Visiting the Crypto.com Arena in Los Angeles, formerly known as the Staples Center, can be an exciting experience. As the home to multiple sports teams, concerts, and special events, it's essential to know where you need to go when you arrive. That's why I'm here to help you navigate your way with this essential gate and entrance guide.
The arena has multiple gates and entrances designed to accommodate its massive number of visitors. These gates may differ slightly depending on the event you are attending, but with proper planning, you can ensure a smooth entry into the venue for a night of enjoyment.
Understanding the various entry points and the best practices for getting inside the arena will make your visit hassle-free. So let's delve into the most important information you need to know about the gates and entrances at Crypto.com Arena.
Location and Public Transport Access
As I visit the Crypto.com Arena, I noticed how conveniently located it is in downtown Los Angeles. With its position at 1111 S. Figueroa Street, it's adjacent to L.A. LIVE, which makes it easily accessible from various major freeways and numerous public transportation options.
Public Buses
I happily found out that many Metro Bus routes service Los Angeles and have stops nearby L.A. LIVE, including lines 30, 81, 439, 442, 460, and the Silver Line. To figure out the best route for my trip, I used the Metro Trip Planner and contacted Metro at (323) GO METRO or (323) 466-3876. It was a breeze!
Trains
For those who prefer train transportation, I discovered that Metro Rail is also available! This option offers another convenient way to get to the Crypto.com Arena without having to deal with traffic.
Walking Routes
One thing that surprised me was the number of parking spaces available within a 7 to 10-minute walk to the district – more than 10,000! With Crypto.com Arena-owned parking lots providing 3,300 spaces, I could choose to park my car and walk at my own pace, enjoying the lively downtown atmosphere.
Remember to always plan ahead, know the public transport routes, and choose the best travel option that suits your needs. Enjoy your visit to the Crypto.com Arena!
Entrance Points and Security Checks
As I visited Crypto.com Arena, I experienced their entrance gates and security checks firsthand. Let me share my insights to help you plan your visit.
I found three main entrance gate locations at Crypto.com Arena: Figueroa Street Entrance, Star Plaza Entrance, and 11th Street Entrance. Each entrance is easily accessible so choose the one that's most convenient for your arrival.
Before getting into the arena, you'll pass through security checks. My advice is to prepare yourself and make this process as smooth as possible by having a small clutch or wallet that's no larger than 5″ x 9″ x 1″. These are allowed, but just remember that they're subject to inspection. Parental and medical bags smaller than 14″ x 14″ x 6″ are also permitted.
On my visit, I noticed an American Express Card Member Entrance on the 11th Street side of the arena at the intersection of Chick Hearn Court and Georgia Street. Keep in mind, though, that this entrance is exclusively for American Express Card Members. It's a nice perk if you happen to have one of their cards.
As for the arena itself, it no longer accepts cash, so make sure you're carrying a debit or credit card, including contactless or mobile payment methods. I found this to be convenient, and it sped up my checkout time at concessions. For those without cashless payment methods, there were free "Cash to Card" conversion kiosks located throughout the venue.
The security personnel were thorough but friendly, ensuring a safe and enjoyable experience for all involved. I appreciated that Crypto.com Arena puts a high priority on guest safety and satisfaction during events.
So, if you're planning to attend an event at Crypto.com Arena, knowing about the entrance points and security checks can help your visit go more smoothly. Arrive with the right forms of payment and comply with the bag size limits, and you'll be well on your way to enjoying your time at this fantastic venue.
Facilities at Various Gates
Food and Beverage
I noticed that there are multiple concession stands available at various gates throughout the Crypto.com Arena. These stands offer a variety of food and beverage options to keep me satisfied during my visit. Some of them even have specialty items that are unique to the arena, which I found pretty interesting.
Merchandise Shops
As a fan of sports and entertainment events, I appreciated the merchandise booths scattered around the arena. These shops offer team apparel, souvenirs, and other memorabilia that allow me to take a piece of the event home with me. I found it convenient to have multiple locations, so I didn't have to worry about navigating through large crowds to get my hands on some cool merchandise.
Restrooms
Of course, it's essential to have easy access to restrooms during events. I discovered that Crypto.com Arena has restrooms located all around the venue, making it convenient for me to find one when needed. I appreciate that they cater to all genders and have wheelchair-accessible options, ensuring everyone can have an enjoyable experience at the arena.
Accessibility at the Arena
As someone who frequently visits the Crypto.com Arena, I can confidently share the information you need to know about accessibility at this venue.
Wheelchair Friendly Entrances
There are several wheelchair-friendly entrances at the Crypto.com Arena. From my visits, I can recommend the Figueroa Street Entrance, Star Plaza Entrance, and the 11th Street Entrance. These entrances have ramp access and are designed for easy accessibility for patrons who use wheelchairs or have mobility issues.
Seating for Disabled Patrons
The Crypto.com Arena has done a great job accommodating the needs of patrons with disabilities. In compliance with the Americans with Disabilities Act (ADA) and California accessibility mandates, they offer wheelchair-accessible and companion seating throughout the arena. When I attend events, I always notice that these seating options are available across multiple levels, ensuring you can choose the desired view you'd like during an event.
To make your visit more enjoyable, I suggest familiarizing yourself with the various entrance locations and seating options. And remember, you're not alone — the Crypto.com Arena staff is always available to help you have an excellent experience at their venue.
Ticketing and Box Office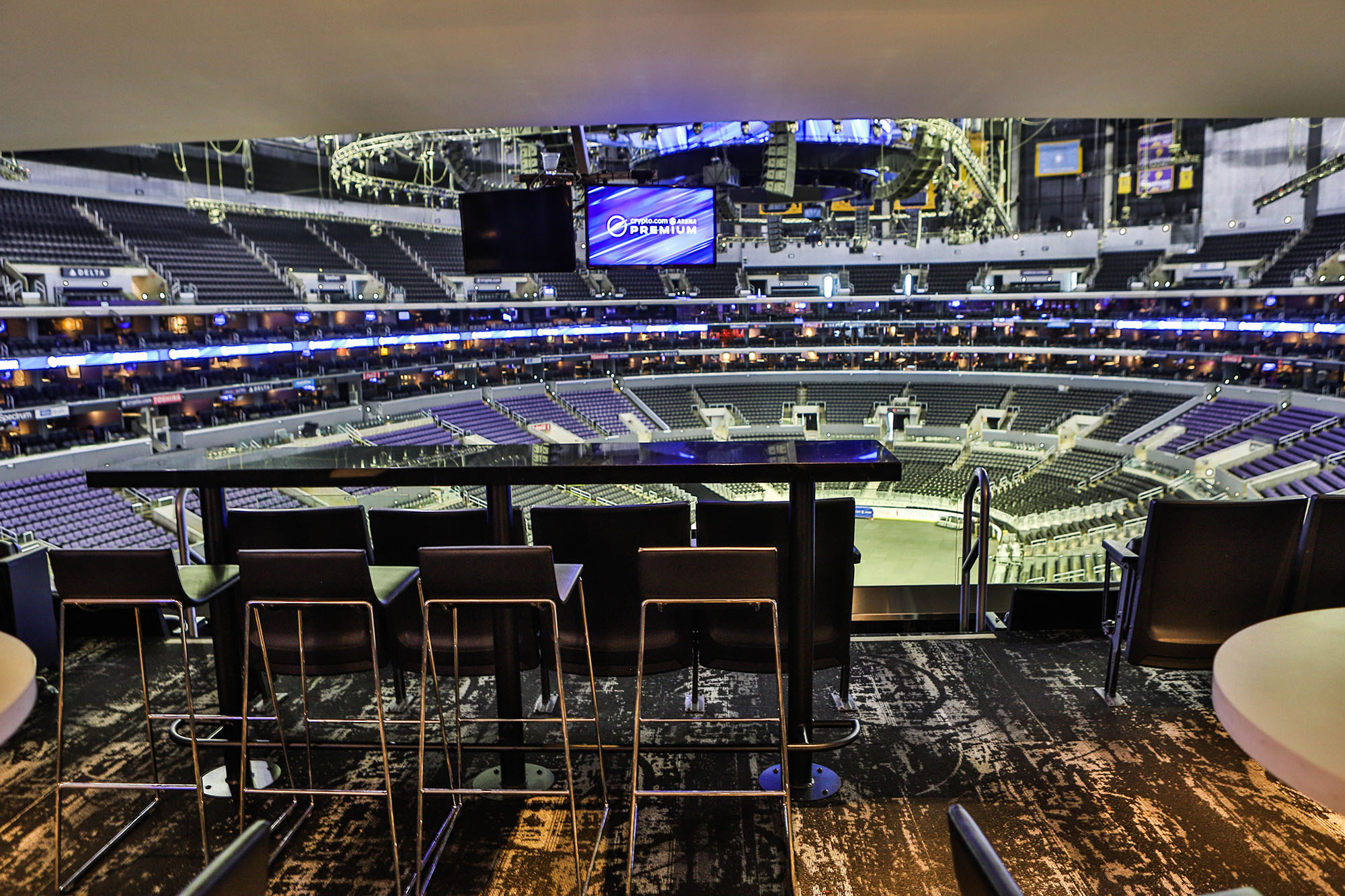 Digital Tickets
As a fan of events at the Crypto.com Arena, I prefer to access my tickets digitally. It is much more convenient and helps me plan my arrival location and time. Remember, when you purchase tickets at the box office, they'll be delivered via mobile delivery, so no printed paper tickets will be distributed at the windows.
On-Site Ticket Booking
For those who prefer to buy tickets in person, the Crypto.com Arena's box office is located adjacent to Star Plaza on Chick Hearn Court, between Georgia and Figueroa. You can contact the box office by phone at (213) 742-7340. It opens every Tuesday from 12pm-4pm for walk-up sales. Keep in mind that bags, backpacks, purses, totes, clear bags, fanny packs, and camera bags are not allowed inside the arena, so plan accordingly.
When you're at the arena, you'll find various entrance gates to choose from:
Crypto Arena Figueroa Street Entrance Gate
Crypto Arena Star Plaza Entrance Gate
Crypto Arena 11th Street Entrance Gate
If you have VIP tickets, you can use the Crypto Arena Star Plaza VIP Entrance Gate for a seamless entry experience. Now that you know the ins and outs of ticketing and box office at the Crypto.com Arena, I hope you enjoy your event!
Special Protocols During Events
As I'm getting ready to attend an event at Crypto.com Arena, it's essential for me to be aware of the special protocols in place during events. Firstly, I want to make sure I have my digital ticket handy, as this helps me plan my arrival location and time better. With health and safety being a high priority, I'm going to check the Crypto.com Arena SAFE page for the latest health requirements before heading out to the event.
At the entrance, I should keep in mind that bags, backpacks, purses, totes, clear bags, fanny packs, and camera bags are not allowed inside the arena. This helps to enhance the overall safety and security of the venue for all attendees.
Once inside, I notice that Crypto.com Arena is a fully cash-free venue, accepting only debit and credit cards, as well as major contactless and mobile payment methods. This ensures a safer and faster checkout process for everyone. If I don't have an accepted cashless method of payment, there are "Cash to Card" conversion kiosks available throughout the venue, which are free of charge.
During the event, it's important to adhere to the arena's code of conduct and avoid any disturbances, ensuring a pleasant and enjoyable experience for everyone. If I need any assistance or have an emergency, there are staff members and security personnel ready to help at any time.
In case of any evacuation due to an unforeseen circumstance, I will remain calm and follow the instructions provided by the arena staff and security personnel to safely exit the venue.
Contact Information
As someone who frequently visits the Crypto.com Arena, I know how important it is to have the right contact information handy. There are a few different ways you can reach out to the Arena, depending on your needs.
If you need to get in touch with the Crypto.com Arena for general inquiries, you can call their main phone line at (213) 742-7100. This is a great resource if you have any general questions about the Arena or an upcoming event.
For ticketing questions or concerns, the Crypto.com Arena Box Office team is available to assist. You can reach them at (213) 742-7340. It's always a good idea to call them if you need information about ticket availability, prices, or seating arrangements.
While attending an event at the Arena, if you require assistance or have any immediate concerns, you can approach the Guest Services booths available inside the venue. They are always ready to help make your experience as enjoyable as possible.
If you prefer using social media platforms for quick updates, follow Crypto.com Arena on Twitter (@cryptocomarena) and Instagram (@cryptocomarena). They often share exciting news, event announcements, and helpful information.
The Crypto.com Arena is located at 1111 S. Figueroa Street, Los Angeles, CA 90015. This address is essential if you're planning your trip to the Arena.
Remember, it's always a great idea to add these contact details to your phone or write them down, so you have them handy whenever you need them.
Conclusion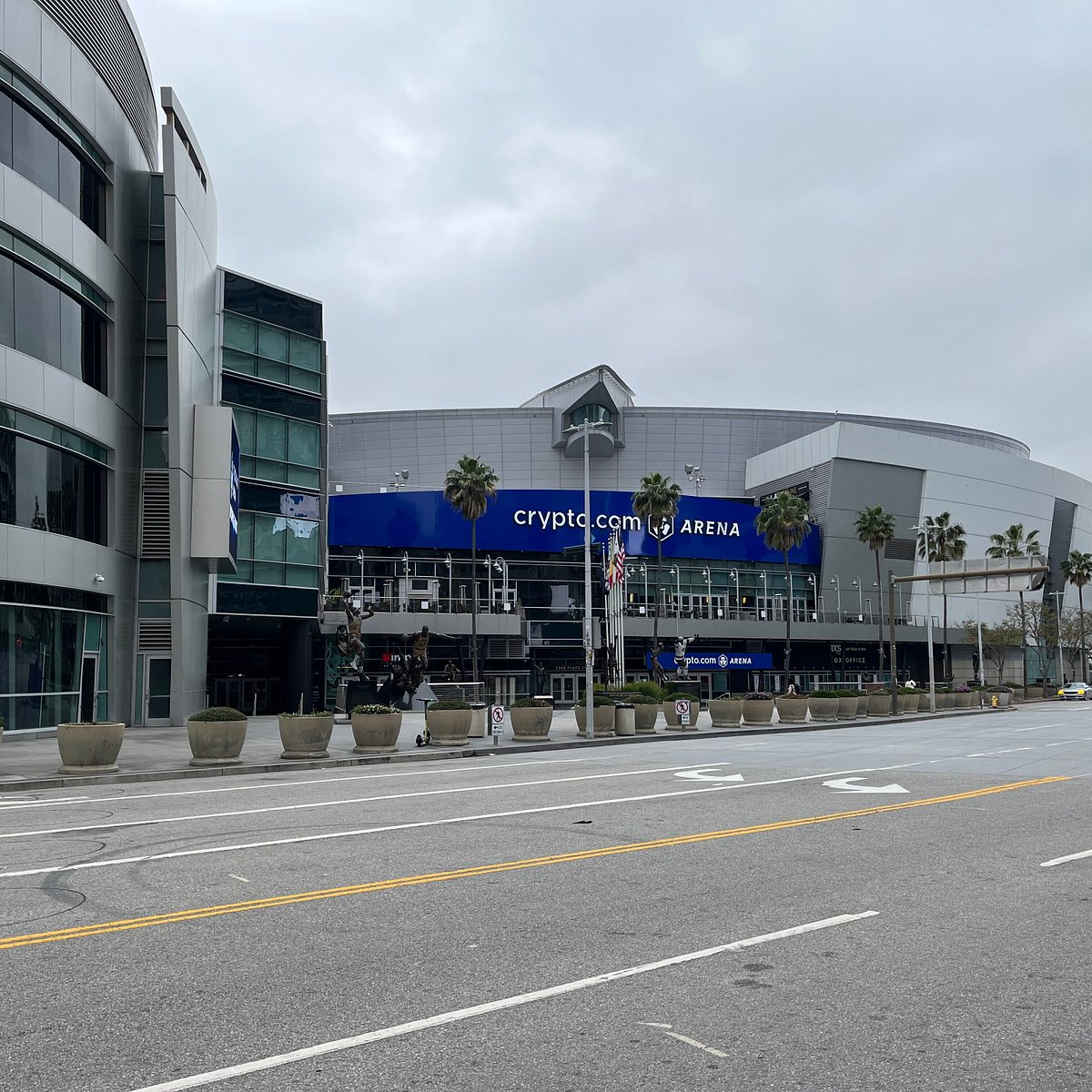 I hope you found this guide on Crypto.com Arena's gate and entrance information helpful. While attending an event at the Crypto.com Arena, always remember to access your digital ticket in advance and use it to plan your arrival location and time. Keep in mind that bags, backpacks, purses, totes, clear bags, fanny packs, and camera bags are not allowed, so be sure to travel light.
In case you have questions or need assistance during your visit, you can conveniently reach out to the Guest Services by texting 213-616-9950, all while remaining in the comfort of your seat. Don't forget to check out the Crypto.com Arena seating chart, and parking guide as well to make your experience as enjoyable as possible.
Once again, I hope this information has been helpful to you, and enjoy your time at the Crypto.com Arena!