Visiting Dodger Stadium is an exciting experience for any baseball fan, and knowing your way around the gates and entrances can make your visit even more enjoyable. I've put together this handy guide to help you navigate the stadium like a pro, covering everything from the main entrances to the best parking lots. So, let's dive in and learn all there is to know about Dodger Stadium's gates and entrances.
Dodger Stadium has several entrance gates to choose from, including Sunset Gate A, Dodger Stadium Gate B, Golden State Gate C, Academy Gate D, and Downtown Gate E. Each gate offers access to different parking lots and parts of the stadium, so being familiar with these gates can save you time as you make your way into the venue. In addition to gates, there are several parking lots to choose from, such as Lots 1 through 5, each with their own accessibility and proximity to the stadium.
As you can see, there's quite a bit to know when it comes to navigating Dodger Stadium seamlessly. I hope this guide has provided you a solid foundation for understanding the stadium's gates and entrances. Whether you're a seasoned fan or visiting Dodger Stadium for the first time, having this knowledge will surely enhance your experience. So, grab your ticket, head to your preferred gate, and get ready to enjoy some baseball at Dodger Stadium!
History of Dodger Stadium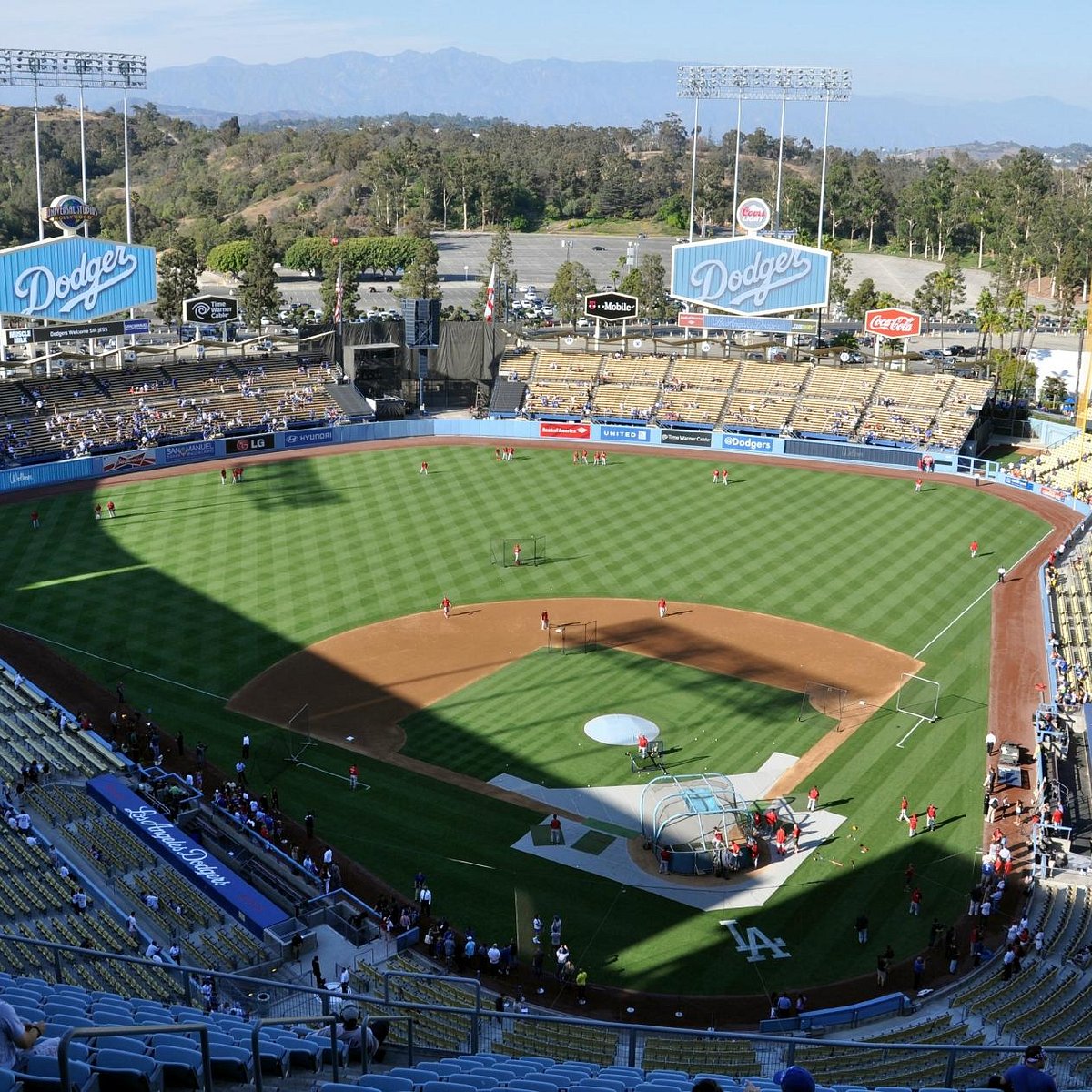 I remember when Dodger Stadium first opened its doors in 1962. Back then, it was a revolutionary move for baseball because it was one of the first stadiums built specifically for baseball. The Dodgers had relocated from Brooklyn to California, and the sparkling new stadium represented a fresh start for the team.
Before the stadium was built, Walter O'Malley, Dodger President at that time, had a hard time lobbying for a new stadium in Brooklyn. It wasn't until September 1957 that Los Angeles finally agreed to give 300 acres of land for the project, and thus, Dodger Stadium commenced construction.
Over the years, Dodger Stadium has gained significant attention as the home to exciting baseball games and unforgettable moments. It has hosted the MLB All-Star Games in 1980 and 2022, featured games throughout ten World Series, and even showcased exhibition baseball during the 1984 Summer Olympics. The 2009 and 2017 World Baseball Classics had their exciting semifinals and finals played here as well.
When I visit this incredible stadium, I'm always reminded of its rich history and the passion that has been poured into making it a landmark for baseball fans everywhere. From its early beginnings to the present day, Dodger Stadium remains a shining example of sportsmanship, excitement, and innovation.
Location and Surrounding Area
Dodger Stadium is located at 1000 Vin Scully Avenue, Los Angeles, CA. This iconic ballpark, home to the Los Angeles Dodgers, is nestled in the hills of Chavez Ravine, offering not just amazing baseball games but also fantastic views of downtown Los Angeles and the surrounding mountains.
Getting to the stadium is easy, with multiple arrival directions depending on your location. If you're coming in by freeway, there are three main gate departure routes – Downtown Gate, Academy Gate, and Sunset Gate. You can also use the Dodger Stadium Express, Uber, or other public transit options to arrive at the stadium. There are plenty of parking options available at Dodger Stadium, and I recommend purchasing a parking pass in advance to save time when you arrive.
The area around Dodger Stadium has some great spots to check out before or after a game. There are several Los Angeles restaurants nearby offering various food options, from classic ballpark fare like hot dogs and burgers to more unique culinary experiences like sushi or gourmet sandwiches. You can also explore local points of interest, such as Elysian Park, the Los Angeles River, and the downtown core with its array of attractions and entertainment options.
One thing to remember when visiting Dodger Stadium is the clear bag policy in place during MLB games. Make sure your bag is clear and no larger than 12″ x 12″ x 6″ in size, or if it's not clear, it should be 5″ x 8″ x 2″ or smaller. This will help you breeze through security checks and enjoy your visit without any hassles.
In summary, Dodger Stadium offers a fantastic experience for baseball fans, and its location in the heart of Los Angeles provides an array of activities and dining options to explore. So grab your tickets, pack your bag (remember the clear bag policy!), and I'll see you at the ballpark!
Entrance Gates Overview
Main Entrance
The main entrance to Dodger Stadium is located on Vin Scully Avenue. When I arrive at this location, I can expect to find the most traffic and the largest crowds, as it is the primary entrance for most fans. There are ticket windows available here for purchasing tickets or picking up will call tickets.
Preferred Entrance
For those who have preferred parking passes, there is a dedicated entrance on Sunset Boulevard. This entrance provides an expedited entry into the event and is usually less crowded than the main entrance. I highly recommend using this entrance if I have access to a preferred parking pass.
Stadium Club Entrance
The Stadium Club Entrance is an exclusive entry point for guests with Stadium Club access. This entrance can be found near the Left Field Pavilion area. As a Stadium Club member, I can enjoy perks like fine dining options, private restrooms, and a lounge area. I will use this entrance if I have Stadium Club access tickets.
Field Level Entrances
If my seats are located on the field level, I can use any of the entrances located along the field level concourse. These entrances provide easy access to my seating area, ensuring that I don't have to navigate through multiple levels of the stadium. There are multiple field level entrances available, so I can choose the one closest to my seat for added convenience.
Reserve Level Entrances
For me, with reserve level seats, there are exclusive entrances located around the stadium specifically for the reserve level. This makes it easier for me to access my seats without having to traverse through multiple levels of the stadium. These entrances are usually less crowded than the main entrance, providing a more relaxed entry experience.
Upper Deck Entrances
If my seats are in the upper deck, I can use entrances designated for upper deck ticket holders. These entrances are located near the top of the stadium, making it easier for me to access my seats without having to climb several flights of stairs. This is a convenient option for those sitting in the upper levels of the stadium.
Entrance Procedures and Regulations
Security Checks
Before entering Dodger Stadium, I have to go through a security check. This includes a bag inspection and walkthrough metal detector. I make sure to follow all safety protocols. The bag policy requires a clear plastic bag no larger than 12″ x 12″ x 6″ in size if I want to bring any items with me. Non-clear bags are also allowed but must adhere to size requirements.
Prohibited Items
There are certain items I cannot bring into the stadium. These items include:
Alcoholic beverages
Glass bottles or containers
Cans
Weapons or projectiles
Banners or flags with poles
Coolers or ice chests
Noise-making devices
Professional camera equipment or tripods
Pets (except for service animals)
Aerosol cans
I make sure not to bring any of these prohibited items with me, ensuring a smooth entrance experience and a safe environment for everyone at the game.
Re-Entry Policy
If I need to leave the stadium for any reason, it's important to know that Dodger Stadium has a no re-entry policy. Once I exit the gates, I'm not allowed back in. So, I always plan accordingly and ensure I have everything I need before entering the game.
Accessibility at Dodger Stadium
Disabled Entrance
When I visited Dodger Stadium, I found that all stadium gates were available to accommodate persons with disabilities. The side doors of gates are specifically designed for wheelchair access. If you need assistance to enter, you may contact the security personnel or any ticket taker. They're always available and ready to help with entry.
Wheelchair Assistance
My experience at Dodger Stadium was quite comfortable, as they provided wheelchair assistance for fans who need it. To check out a wheelchair, you'll need a valid driver's license or identification card. The process is hassle-free, and the staff is very supportive. Don't hesitate to ask for help if you need it; they're there to ensure your visit is enjoyable and accessible!
Facilities near Entrance Gates
As a Dodgers fan, I've had my fair share of visits to the Dodger Stadium. In this section, I will share my insights on the facilities available near the entrance gates. These include refreshment areas, restrooms, stadium shops, and information centers.
Refreshment Areas
Once I'm inside the stadium, I always make a beeline for the refreshment areas. I've found that there are various food and drink stands scattered throughout the concourses. These offer a variety of stadium fare, such as hot dogs, burgers, nachos, and soft drinks. Beer is also available for purchase, but keep in mind that sales typically stop at the end of the seventh inning.
Restrooms
When nature calls, it's reassuring to know that Dodger Stadium has a good number of restrooms located near the entrance gates. I've found them to be relatively clean and well-maintained during my visits. There are also family restrooms available for those with young children or special needs.
Stadium Shops
As a fan, I love browsing through the stadium shops to check out the latest Dodgers merchandise. These shops are conveniently located close to the entrance gates, so I don't have to search far to find them. They offer a variety of items, including jerseys, caps, souvenirs, and accessories. It's hard for me to resist picking up something new each visit.
Information Centers
For any questions or concerns during my visits, I've found that the information centers are a helpful resource. These are staffed by knowledgeable employees who can assist with a range of topics. Whether it's navigating the stadium, locating my seats, or finding a lost item, the information centers have been a valuable resource during my Dodger Stadium experiences.
Additional Tips for a Smooth Stadium Visit
Before heading to Dodger Stadium, I always like to keep in mind a few tips to make the visit as enjoyable as possible.
Firstly, I suggest arriving early. This will not only allow me to beat the traffic and have more time to find the perfect parking spot but also to have a chance to explore the stadium, grab some food, and watch pre-game activities.
Now, talking about food, I recommend trying the famous Dodger Dog. Trust me, this iconic hot dog is a must-try for any Dodger Stadium visitor. Remember that concession lines can get long, so be prepared to wait a bit or plan to get food before the game starts.
When it comes to entering the stadium, it's important to know that Dodger Stadium has a clear bag policy for all MLB games. Make sure that the bag I take with me is clear and no larger than 12″ x 12″ x 6″. If I need to bring a non-clear bag, it has to be smaller than 12″ x 12″ x 6″. Keeping this in mind will save time and hassle at the security check.
As for navigating within the stadium, it's helpful to be familiar with the surrounding streets, especially for the entry points and parking lots: Boyleston Ave, Lilac Terrace, and Stadium Way. Knowing these streets beforehand makes it easier for me to make my way to the stadium.
Lastly, don't forget to check the weather before attending an outdoor game. A little preparation will go a long way – packing sunscreen, a hat, and sunglasses for sunny days or a poncho for possible rain will ensure I can enjoy the game comfortably, regardless of the weather.
I hope these tips will enhance my stadium experience and make each visit to Dodger Stadium an enjoyable one!
Conclusion
As a frequent visitor to Dodger Stadium, I've learned a thing or two about the gates and entrances. To make your experience enjoyable, here are a few key takeaways:
There are multiple entrance points to Dodger Stadium, so it's essential to know the location of your seat to find the most convenient gate.
Dodger Stadium follows a clear bag policy for MLB games, and your clear plastic bag must be equal to or less than 12″ x 12″ x 6″ in size. Small non-clear bags are also allowed, but they must not exceed 5″ x 8″ x 2″ dimensions.
Parking and navigational aspects can be challenging for first-time visitors, so familiarize yourself with nearby streets and parking zones. Some important streets to know are Boyleston Ave., Lilac Terrace, and Stadium Way.
Incorporating these tips will make your visit to Dodger Stadium more enjoyable. Remember to check for the latest safety guidelines, and most importantly, have a great time cheering on the Los Angeles Dodgers!