Levi's Stadium opened its gates in 2014 and has been the home of the San Francisco 49ers NFL team since then. The stadium is in Santa Clara, California, just 40 miles south of San Francisco.
Throughout the years, Levi's Stadium has hosted various football championships, college football games, the Super Bowl, and more. It is also known that the stadium will host numerous matches during the FIFA World Cup 2026.
The stadium is pretty new but offers delicious food and beverages for the 49ers fans. So, we gathered the most famous savory and bar items provided at the stadium for your convenience.
Exploring the Food Options at Levi's Stadium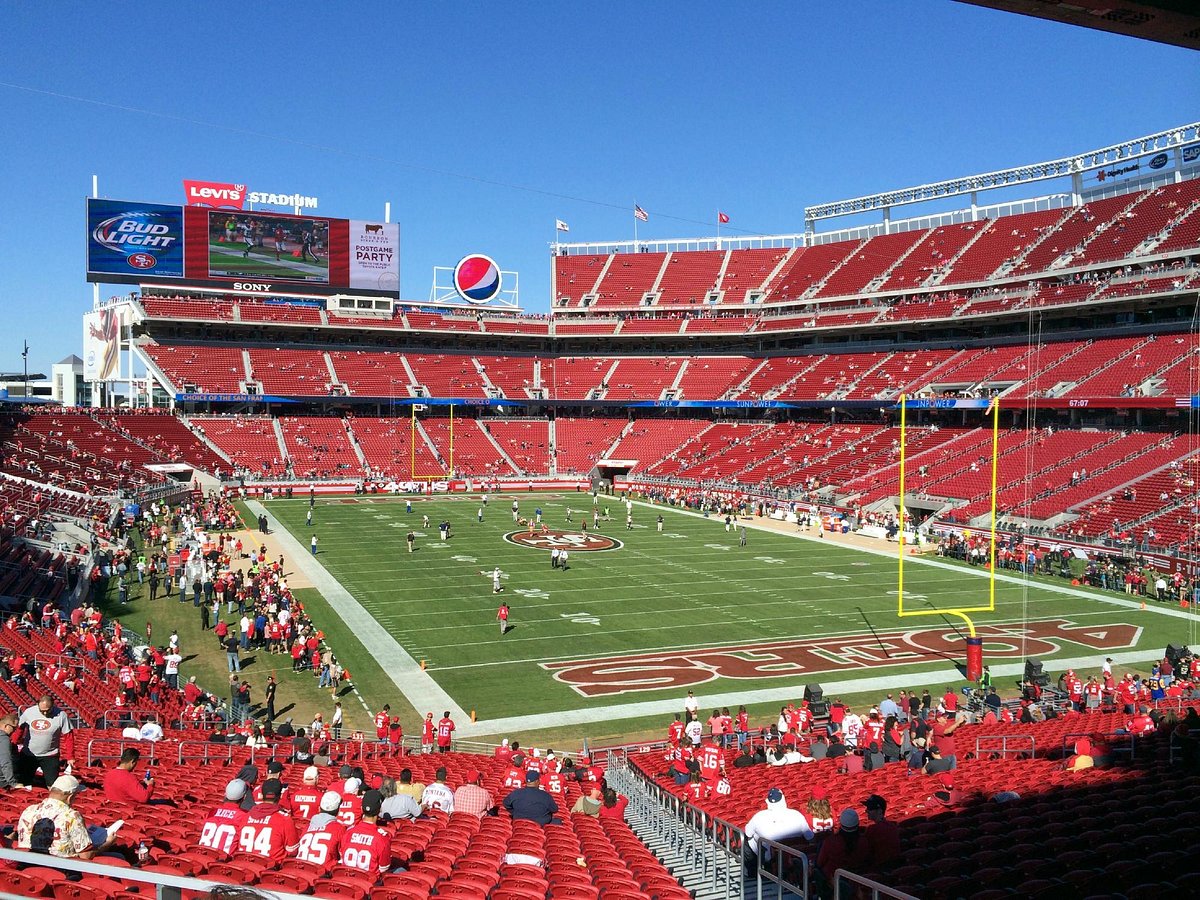 Levi's Stadium is not lacking in the department of food. They serve some of the best food and drinks that are worth a visit during a game day. If you are a regular fan of the San Francisco 49ers, you have definitely tasted some of these items. However, you might want to take a look again to see if you have missed any.
On the other hand, if you haven't visited the stadium yet, our list will help you enjoy delicious food without having to search and miss the game.
Savory Items
Let's start with the savory items everyone loves at the stadium.
Stadium Food
You can get the classic stadium food at Levi's Stadium's concession stands. You can get hot dogs, nachos, peanuts, candy, beer, water, soda, and more.
Loaded Big Kid Dog
Tasty Cuisine brings you hot dogs that aren't like your regular hot dogs. These loaded big kid dogs are topped with cheese, hot Cheetos, and mac n cheese. So, if you want a hearty meal, you can grab these in section 304.
Chicken Guy and Nathan's Famous Hot Dogs
You can get delicious classic chicken sandwiches and Nathan's famous hot dogs in section 309. These will satisfy your hunger as well as your cravings.
Tostitos Nachos
Tostitos Nachos serves special nachos in sections 302 and 305. These nachos are topped with various types of cheese for you to enjoy.
Slice House Pizza
If you want delicious slices of pizza, visit Slice House Pizza in section 315. They offer their delicious cheese, pepperoni, and many other pizza flavors.
Bulgogi Cheesesteak
You can get a classic Philly cheesesteak at Levi's Stadium. Bulgogi Cheesesteak serves Philly cheesesteak with peppers, onions, meats, cheese, and other delicious toppings. If you want to grab a bite, they are in section 106.
Crab Sammies
Crab Sammies offer delicious crab meat sandwiches. These enormous sandwiches are filled with crab meat and topped with your favorite sauces. You can easily get them in section 124.
Curry Roots
Who doesn't love Indian food? At Levi's Stadium, you can satisfy your craving for a curry at the Curry Roots. Their chicken tikka masala bowls are the fan favorite at the stadium. You can also grab a berry ginger lemonade to cool down on a hot game day. Grab them in section 128.
Smoking Pig BBQ
If you want BBQ food, pay a visit to Smoking Pig BBQ. They make fantastic BBQ sandwiches, baked beans, mac n cheese, cheeseburgers, and other delicious food items. You can find them in Section 320.
Super Duper
It gets hard to find something vegan at the stadium, but at Levi's Stadium, you can have a delicious vegan burger at the Super Duper. You can also order a side of tasty garlic fries with your burger. They are located in section 118.
Churwaffle
Churwaffle serves exceptional chicken items along with beer at their place. Their chicken bites, chicken tenders, and chicken fritters are the most delicious items on the menu. So, if you are craving chicken, Churwaffle in Section 103 is the place to go.
The Chairman
The Chairman offers fried chicken buns and pork belly buns to enjoy, along with a chilled beer. The Chairman is your best choice if you want something light during the game. Find them in section 105.
The Organic Coop
In section 127, The Organic Coop has the most delicious signature chicken sandwich. It is filled with juicy yet tender chicken slices and other fresh condiments. You can also get popcorn, tater tots, beer, water, etc., from the place.
Puesto
Levi's Stadium has amazing tacos that are offered by Puesto. The tacos are served with a side of guacamole and chips. Moreover, you can also get chilled beer from them if you need it. Find them in section 129.
Bar Items
A drink during the game or after the game with your friends and family sounds like a great plan. It also helps you relax after a hectic game day with all the excitement.
Tahoe Blue Estrella
Tahoe Blue Estrella is a bar at Levi's Stadium that offers cool and alcoholic mixed drinks. You can also get non-alcoholic beverages at the place if you want. So, if you want a drink, visit Tahoe Blue Estrella in section 316.
Peet's Coffee
If you don't want any beer or other drinks, Peet's Coffee will serve you a hot cup of delicious hot coffee. They also have different types of hot beverages on their menu. We especially love their hot chocolate! So, if you want a hot drink and can't seem to locate a location, go to Peet's Coffee in section 103.
Conclusion
Levi's Stadium always tries to bring good food to the San Francisco 49ers fans. That is why you will find a wide range of food items on their menu. They have both meat and vegan options, and even alcoholic and non-alcoholic options.
So, if you are planning to watch the next San Francisco 49ers game, visit the food stands we mentioned. It will help you navigate good food and save you time in the search so that you can enjoy your game day.