Welcome to the Honda Center, home of the Anaheim Ducks!
This guide will provide you with all the information you need to know about the Honda Center, from its history to its current events.
We'll cover the arena's amenities, its seating options, and the events that take place here. We'll also provide you with tips on how to get the most out of your visit to the Honda Center.
So, whether you're a die-hard Ducks fan or just looking for a fun night out, this guide will help you make the most of your experience.
Let's get started!
Honda Center: Key Facts
Capacity: 17,174 for hockey games
Opened: June 19, 1993
Owner: City of Anaheim
Operator: Anaheim Arena Management
Surface: Multi-surface
Address: 2695 E Katella Ave, Anaheim, CA 92806
Where is Honda Center Located?
The Honda Center is located in Anaheim, California, in the heart of Orange County.
It's situated just southeast of the junction of the 57 and 22 Freeways, adjacent to the ARTIC transit center.
The arena is conveniently close to Disneyland, making it an ideal destination for sports fans and tourists alike.
The Best Way to Get to Honda Center
There are multiple ways to get to the Honda Center depending on your preferences and where you are coming from.
By Car: If you're driving, the Honda Center is easily accessible from the 57 Freeway. Exit at Katella Avenue and head east to reach the arena. There are several parking options in the vicinity, which we will cover later in this guide.
By Train: The Honda Center is conveniently located next to the Anaheim Regional Transportation Intermodal Center (ARTIC), which is a major transportation hub for the area. The ARTIC is serviced by both Metrolink and Amtrak trains. If you're traveling by train, simply disembark at the ARTIC station and walk to the Honda Center.
By Bus: The Orange County Transportation Authority (OCTA) operates several bus routes that stop near the Honda Center. Route 50 and Route 83 are the most convenient options, with stops just a short walk from the arena. For more information on bus schedules and fares, visit the OCTA website.
By Rideshare: If you prefer using rideshare services like Uber or Lyft, you can easily get dropped off and picked up at the designated rideshare zone located on the north side of the arena, near the intersection of Douglass Road and Katella Avenue.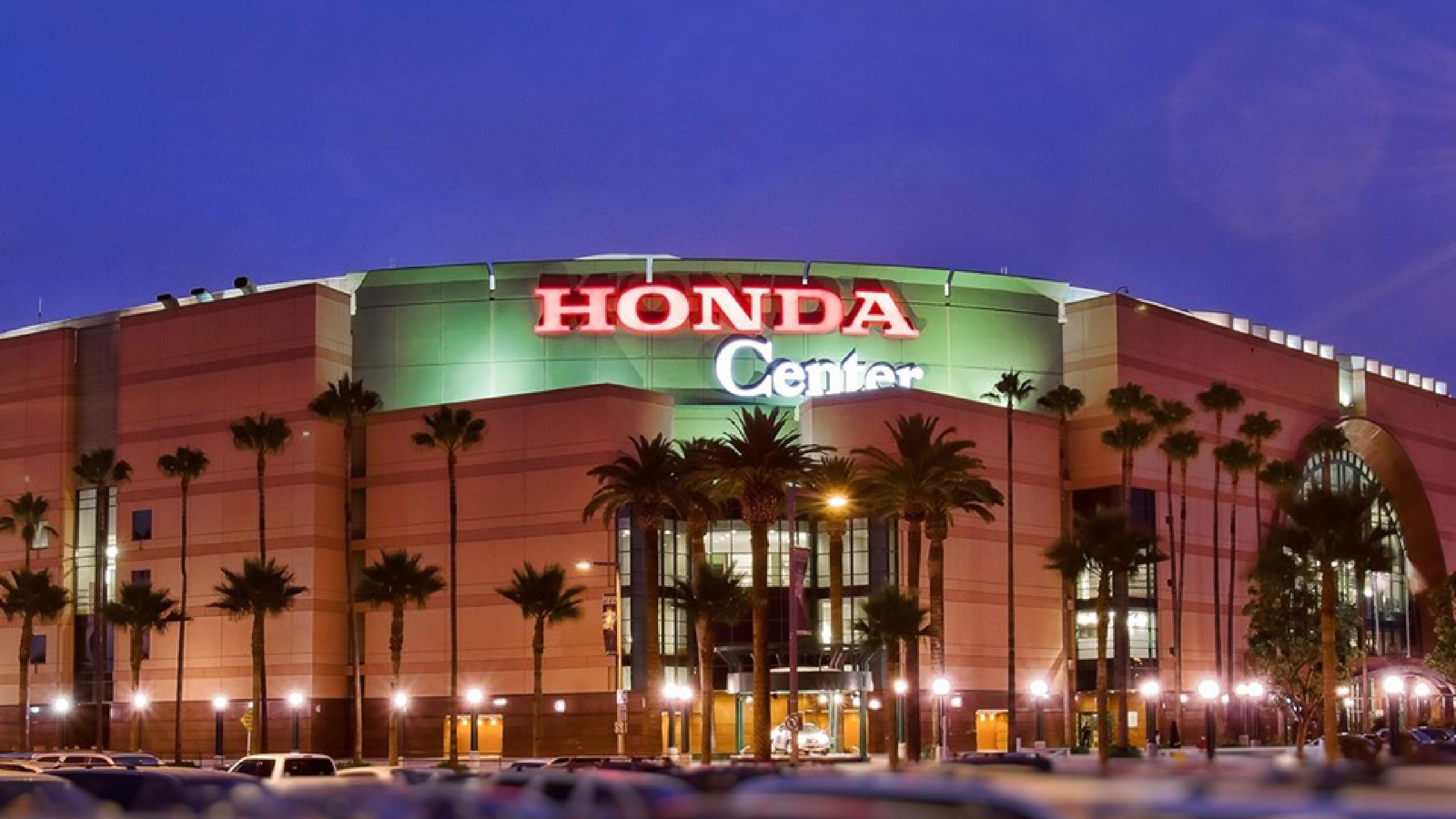 Parking near Honda Center
There are plenty of parking options around the Honda Center for those arriving by car. The arena itself has several parking lots that accommodate over 4,500 vehicles. General parking ranges from $20 to $25, depending on the event. Preferred parking, which offers a shorter walk to the entrance, is also available at a higher price. Make sure to arrive early, as spots can fill up quickly, especially during popular events.
In addition to the arena's parking lots, there are several privately-owned lots and garages in the surrounding area. Prices and availability may vary, so it's best to research your options beforehand or use a parking app like ParkWhiz or SpotHero to reserve a spot in advance.
The Best Restaurants near Honda Center
Whether you're looking for a quick bite before the game or a sit-down meal after the event , there are plenty of dining options near the Honda Center to satisfy any appetite.
1. JT Schmid's Restaurant & Brewery: Located just across the street from the arena, JT Schmid's offers a wide variety of American fare, including burgers, sandwiches, salads, and steaks. They also have an extensive beer selection, including their own house brews.
2. The Catch: A popular destination for sports fans, The Catch is a high-end sports bar and restaurant offering an upscale atmosphere and gourmet menu. With over 20 screens showing various sports, you can enjoy dishes like prime steaks, fresh seafood, and hand-crafted cocktails.
3. Karl Strauss Brewing Company: If you're a craft beer enthusiast, Karl Strauss Brewing Company is a must-visit. Located less than a mile from the Honda Center, this brewery and restaurant offer an extensive selection of house-brewed beers and a diverse food menu that includes pub favorites, tacos, and flatbreads.
4. Mix Restaurant & Lounge: Located inside the nearby Hilton Anaheim, Mix Restaurant & Lounge is a great option for a more sophisticated dining experience. Their menu features contemporary American cuisine, including small plates, salads, and entrées made from locally sourced ingredients.
5. The Kroft: For a more casual dining option, head to The Kroft in the nearby Anaheim Packing District. This gourmet sandwich shop specializes in comfort food with a twist, including their signature poutine and a variety of unique sandwiches.
The Best Bars near Honda Center
Looking for a drink before or after the game?
Here are some of the best bars near the Honda Center to grab a cold one and mingle with fellow Ducks fans.
1. Noble Ale Works: Just a short walk from the arena, Noble Ale Works is a popular spot for craft beer enthusiasts. This award-winning brewery offers a wide variety of beers on tap, from hoppy IPAs to smooth stouts, in a laid-back atmosphere.
2. The Tilted Kilt Pub & Eatery: This Celtic-themed sports bar offers a lively atmosphere, complete with dozens of TVs, an extensive beer list, and a pub-style menu. The Tilted Kilt is located just a mile from the Honda Center, making it a convenient spot to grab a drink before or after the game.
3. Danny K's Billiards & Sports Bar: If you're in the mood for a game of pool or want to catch up on other sports, Danny K's is the place to go. Located a short walk from the arena, this spacious sports bar features numerous pool tables, dart boards, and a wide selection of beers on tap. With numerous large-screen TVs, you won't miss any of the action.
4. The Cave Sports Bar: Situated a little over a mile from the Honda Center, The Cave offers a cozy, laid-back atmosphere to enjoy a drink and some pub fare. This local favorite is known for its friendly staff, tasty bites, and an extensive beer selection.
5. The Pump Room: This dive bar, located just a mile from the arena, is a great spot to grab a cold beer and unwind. Known for its friendly and unpretentious atmosphere, The Pump Room is a popular choice for those looking for a relaxed pre- or post-game hangout.
The Best Hotels near Honda Center
If you're coming from out of town or looking to make a night of it, there are several hotels near the Honda Center to choose from.
1. Ayres Hotel Anaheim: Located just a half-mile from the arena, the Ayres Hotel offers a comfortable and elegant stay. With amenities like a heated outdoor pool, fitness center, and complimentary breakfast, this hotel is a great option for visitors looking for a touch of luxury.
2. Embassy Suites by Hilton Anaheim Orange: A short drive from the Honda Center, the Embassy Suites offers spacious rooms with separate living areas, an indoor pool, and a complimentary cooked-to-order breakfast. The hotel also features an evening reception with complimentary drinks and snacks.
3. Hampton Inn & Suites by Hilton Anaheim Resort Convention Center: This modern hotel is conveniently located near the Honda Center and offers comfortable rooms and suites, an outdoor pool, and a fitness center. Guests can also enjoy a complimentary hot breakfast.
4. DoubleTree Suites by Hilton Hotel Anaheim Resort – Convention Center: This all-suite hotel, located just over a mile from the arena, offers spacious accommodations, an outdoor pool, and a fitness center. Guests can also enjoy on-site dining at the Agio Ristorante & Bar and take advantage of the complimentary shuttle service to nearby attractions.
5. Holiday Inn Anaheim-Resort Area: A budget-friendly option near the Honda Center, this hotel offers comfortable rooms, an outdoor pool, and a fitness center. The on-site restaurant, Burger Theory, serves up gourmet burgers and craft beers.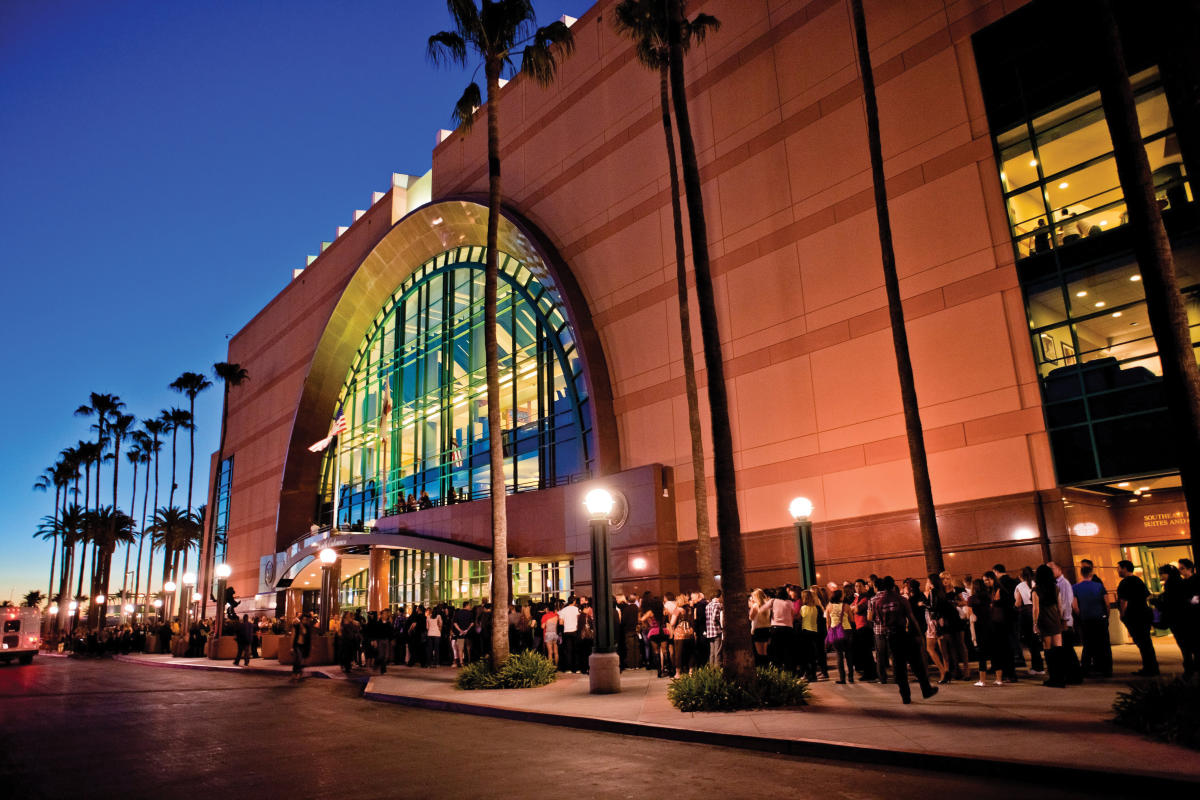 The History of Honda Center
The Honda Center, originally known as the Anaheim Arena, was constructed by the City of Anaheim and opened its doors on June 19, 1993. It was later renamed Arrowhead Pond of Anaheim in 1993, following a sponsorship deal with Arrowhead Water.
The arena served as the home of the Anaheim Ducks since their inception in 1993 when they were known as the Mighty Ducks of Anaheim, inspired by the popular Disney film.
In 2006, the naming rights were acquired by American Honda Motor Co., Inc., and the arena was renamed the Honda Center. The venue has seen several significant events in its history, including the 2003 Stanley Cup Final, where the Ducks played against the New Jersey Devils, and the 2007 Stanley Cup Final, where they emerged as champions against the Ottawa Senators.
The Honda Center has also hosted numerous other events, such as concerts, family shows, and sporting events like NCAA basketball tournaments and UFC fights. With its multi-purpose design, the arena can accommodate a wide variety of events and attract millions of visitors each year.
Where to Get Tickets for Honda Center
Tickets for Anaheim Ducks games and other events at the Honda Center can be purchased through a variety of channels. The primary source for tickets is the arena's official website, where you can find information on upcoming events and directly purchase tickets.
Other options for purchasing tickets include third-party sellers like Ticketmaster, StubHub, and Vivid Seats. Be cautious when buying from third-party resellers and always opt for reputable sources to ensure the authenticity of your tickets.
In addition, you can visit the Honda Center Box Office in person to purchase tickets. The box office is located on the east side of the arena near the main entrance and is open Monday through Friday from 10 a.m. to 6 p.m. and Saturday from 10 a.m. to 4 p.m. Hours may vary on event days, so it's a good idea to call ahead to confirm.
Does Honda Center Offer Tours?
Yes, the Honda Center offers guided tours of the arena, providing fans and visitors with a unique behind-the-scenes experience.
The tours offer an opportunity to learn about the history of the arena, explore the inner workings of the facility, and get an up-close look at areas not typically accessible to the public, such as the press box, locker rooms, and premium seating areas.
Tours are available on select days and are subject to change based on the arena's event schedule. Reservations are required and can be made by contacting the Honda Center Guest Services department.
Group tours are also available for schools, organizations, and other large parties. These tours can be customized to meet the specific needs and interests of the group. For more information and to book a group tour, contact the Honda Center directly.
In conclusion, the Honda Center is an iconic venue that has been home to the Anaheim Ducks and a host of other memorable events for nearly three decades. With its convenient location in the heart of Orange County and a wealth of nearby dining, entertainment, and accommodation options, it's an ideal destination for sports fans and event-goers alike.
James is a big time NBA Golden State follower, who makes sure to catch games when he's in the area. He likes to follow International Soccer, with an interest in small town soccer club, Blackburn Rovers located in the North on the UK.