One of the biggest football stadiums in the US is Levi's Stadium, the home of the San Francisco 49ers. But this wasn't always their home. So how did the story start?
Read on to learn everything about the stadium's history, the best access routes, what it has to offer, and where you can stay and visit while you're in Santa Clara for the weekend.
Levi's Stadium: Key Facts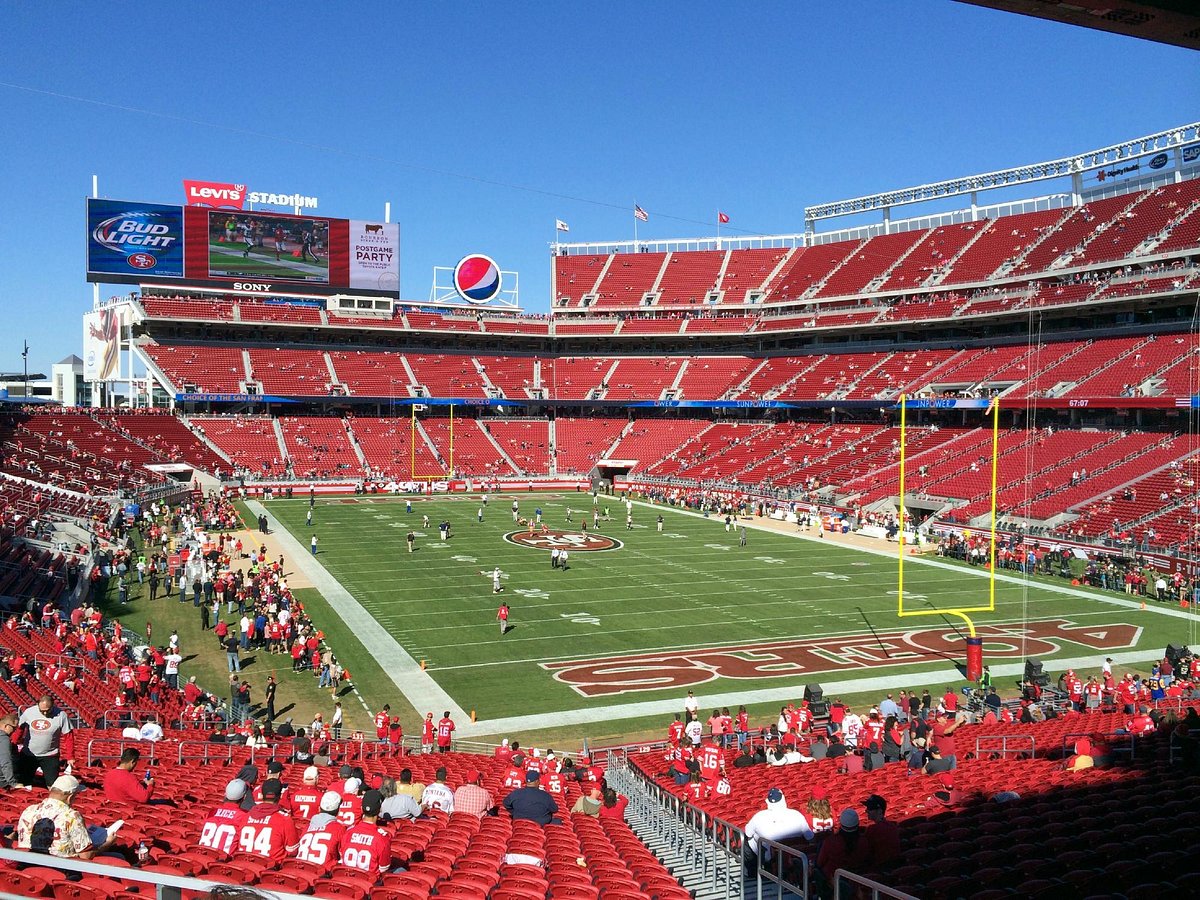 Where Is Levi's Stadium Located?
Levi's Stadium is located in Santa Clara, California, right on the edge of San Jose, and is part of the San Francisco Bay Area.
Santa Clara is a place with a growing population. Namely, per the last census in 2020, it is home to a little over 120,000 residents with vastly diverse ethnic backgrounds.
Even though Santa Clara is overshadowed population-wise by the much larger San Jose, it has great cultural value in the region, namely, by being in the heart of Silicon Valley and housing tech giants such as Intel, AMD, and NVidia.
In addition to this, Santa Clara has been the home of the NFL's San Francisco 49ers in Levi's Stadium since its grand opening on July 17, 2014.
The Best Way to Get to Levi's Stadium
There are three options to get to the stadium:
Car
Public transit
Walking or cycling
Car options
The main road access to Levi's Stadium is Tasman Drive, a long-distance east-to-west road which is located on the north side of the stadium.
Tasman Drive has connecting roads east and west of the stadium, with the closest being the Great America Parkway, which is west of the stadium.
Tasman Drive also connects to various north-south roads, including:
US Route 101
California State Route 87
California State Route 237
Moreover, guests can easily reach the stadium as it's located near many highways and expressways, such as:
Lawrence Expressway
San Tomas Expressway
Public transit options
You can take quite a few public transit options as the stadium is conveniently located near VTA light rail and bus line routes, ACE/Capitol Corridor heavy rail routes, and even direct San Francisco access with Caltrain.
Light rail
VTA's light rail routes are the most direct way you can get to Levi's Stadium if you're in the greater south bay area.
Passengers can board any daily scheduled routes from Mountain View, Sunnyvale, Milpitas, San Jose, Santa Clara, and Campbell and be dropped off at the Great America Station, right outside the stadium's north side.
There's a cart/wheelchair service available from VTA's Great America station to the stadium's west gates for disabled passengers. For more info, call the Mobility Services team at (408) 579-4610.
Heavy rail
The ACE trains direct routes can drop off passengers at Levi's Stadium from Stockton, Lathrop/Manteca, Tracy, Vasco, Livermore, Pleasanton, and Fremont.
Capitol Corridor trains offer routes to the stadium for passengers from Auburn, Rocklin, Roseville, Sacramento, Davis, Suisun, Fairfield, Martinez, Richmond, Berkeley, Emeryville, Oakland, Hayward, Santa Clara, Fremont/Centerville, and San Jose.
Caltrain has routes from San Francisco with stops throughout the peninsula to South San Jose and even connects all passengers to VTA light rail on event days at the Mountain View Transit Center on Evelyn Ave and Castro Street.
Please note: Caltrain passengers require a separate boarding ticket for the VTA light rail or joint Caltrain/VTA Adult Day passes.
Bus options
The VTA covers the local south bay area with scheduled bus lines reaching the greater San Jose area, Mountain View, Cupertino, and Sunnyvale, that will drop off passengers in two locations in the stadium's proximity:
The intersection of Tasman Drive and Great America Parkway
The intersection of Tasman Drive and Calle Del Sol
Accessible cart service is only available at the Tasman Drive and Great America Parkway Station.
Walking/Cycling options
The San Tomas Aquino Trail is a pedestrian and cycling lane on the stadium's west side. The trail connects a vast network of off-street paths over 100 miles and even the regional San Francisco Bay Trail, offering easy access if you are visiting the stadium by foot or cycling.
Please note: The one-mile part of the trail between Agnew Road and Tasman Drive is closed off before and during events, so fans must make a brief two-mile on-street detour to get to the stadium during these times.
Detour routes for cyclists include Agnew Road, Lakeshore Drive, Gianera Street, Stars and Stripes Drive, Centennial Boulevard, and Tasman Drive.
Other notable bike trails and roads you can take are:
John W. Christian Greenbelt Trail/Prescott
Guadalupe River Trail
Lafayette Street
North First Street
Great America Parkway
Tasman Drive/Great Mall Parkway/Capital Avenue
Parking Near Levi's Stadium
There are 18 color-coded Parking lots associated with Levi's Stadium with dedicated Premium, VIP, and RV parking lots, as well as tailgating and non-tailgating designations.
You can look at their official map of all the parking lots, their designation, and instructions on routing for each one that you should consult before heading down there.
It's better to pre-purchase parking passes online since there's no guarantee that attendees will find a vacant parking spot on-site. On top of that, event-day passes might cost more than pre-paid parking passes.
Accessible parking
Accessible parking locations are available in Red Lot 1 and Red Lot 3, but a DMV-issued placard and DMV-issued placard identification card are required at the entrance of the parking lots for access to the accessibility parking stalls.
Also, there are designated accessible pick-up and drop-off locations:
Pick up is located in Red Lot 7
Drop-off is located at Patrick Henry Drive and Great America Parkway
A courtesy Electric Cart service is available for all disabled guests that need assistance with transportation.
Bicycle parking
Bicycle valet corrals are available in Red Lot 1, Gate A, and Gate C, which are opened by Silicon Valley Bicycle Coalition two hours prior and one hour after events.
The Best Restaurants Near Levi's Stadium
Mikayla's Cafe
La Fontana
Truya Sushi
Ambur Biryaniz
Little Caesars Pizza
Mikayla's Cafe
This American-style restaurant specializes in breakfast, burgers & sandwiches, where you can enjoy good food in a comfy atmosphere served by a pleasant staff.
Mikayla's Cafe is located west of Levi's Stadium, and it will only take you a 13-minute walk through Tasman Drive or Calle de Lune, either way.
Additional information
La Fontana
As part of the Hilton Hotel, La Fontana offers a Californian and Mediterranean Riviera-inspired dining experience and is open daily for breakfast, lunch, and dinner.
The restaurant is located just a three-minute walk west of the stadium's Premium Green Lot 1 along Tasman Drive.
Additional information
Truya Sushi
If you're looking for Japanese food, like tempura and handcrafted rolls, this wonderful little spot is a great choice.
Located only a five-minute walk north of Levi's Stadium Premium Green Lot 1, this little Sushi restaurant is on the back side of the Convention Center.
Additional information
Ambur Biryaniz
This restaurant serves excellent Indian food with an authentic taste and recipes, a good amount of appetizers, entrees, and soups with vegetarian and non-vegetarian options.
It's a 13-minute walk west of the stadium, whether you take Tasman Drive or Calle de Lune.
Additional information
Little Caesars Pizza
If you're on the go, Little Caesars Pizza chain allows you to pick up one of their signature pizzas, chicken wings, and Crazy Bread breadsticks at an amazing price.
Little Caesars Pizza is located southeast of the stadium, down Lafayette Street, a 20-minute walk away.
Additional information
The Best Bars Near Levi's Stadium
Bogart's Sports Bar
SmokeEaters Hot Wings
Barebottle Brewing Company
Quarter Note Bar & Grill
Faultline Brewing Company – Sunnyvale
Bogart's Sports Bar
This laid-back bar offers TV sports, hosts karaoke nights, and guests can enjoy a game of pool with an incredibly welcoming staff and service.
Bogart's Sports Bar is located on Wildwood Avenue, southwest of Levi's Stadium, which you can find easily with a five-minute drive through Tasman Drive and Lawrence Expressway.
Additional information
SmokeEaters Hot Wings
If you're looking to get your hands dirty with a variety of hot-flavored chicken wings or burgers while enjoying a beer with some sports TV on the side, SmokeEaters Hot Wings is the place for you.
The bar is located on Mission College Boulevard, south of the stadium. You can reach the pub in only a four-minute drive through Great America Parkway and Mission College Boulevard.
Additional information
Barebottle Brewing Company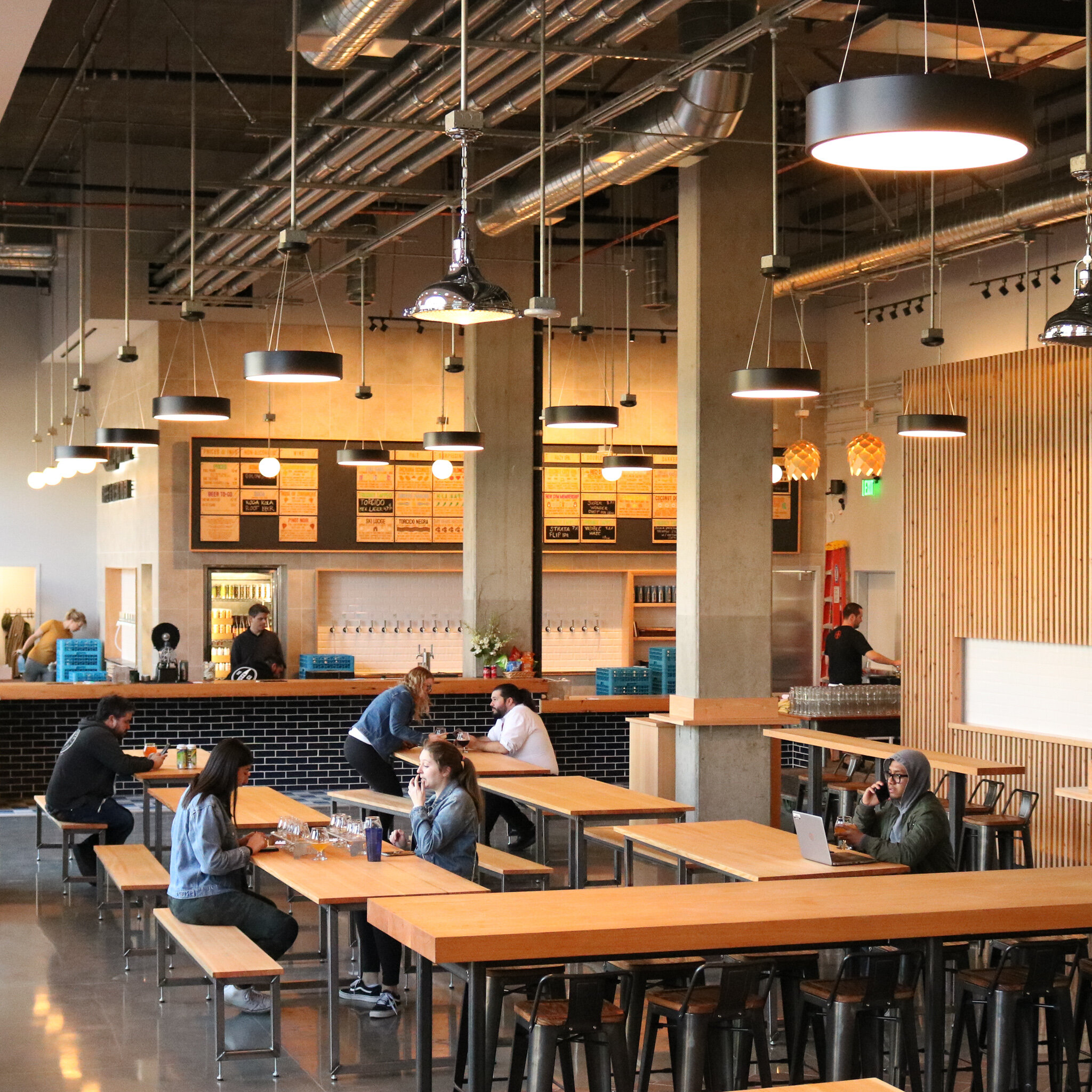 The Barebottle Brewing Company brings you unexpected mixtures of ingredients to craft some of the best home-brewed beer, wine, coffee, and soda you've had.
You can find this brewery on Augustine Drive, south of the stadium, on a four-minute drive down the Great Americ Parkway.
Additional information
Quarter Note Bar & Grill
From cover bands and jam sessions to karaoke and pool games, this local bar has so much to offer that you might even miss the event taking place.
Quarter Note Bar & Grill has a wide array of fast-food options, including pizzas or Korean BBQ chicken wings with some beer on the side.
Situated on Apollo Way north of Levi's Stadium, you can get there by taking a six-minute drive down Great America Parkway, Bowers Avenue, and a right turn on the Central Expressway.
Additional information
Faultline Brewing Company – Sunnyvale
Faultline Brewing Company is a bar with a main specialty being home-brewed beer, which is evident in their four award-winning craft beers Kölsch, Hefeweizen, FSB (Faultline Special Bitter ((N2)), and Gold Rush Ale.
In addition to this, you can eat tasty food such as breakfast plates, burgers, salad bowls, and pizzas while you enjoy TV sports.
You can get to the bar down Great America Parkway and Lakeside Drive with just a six-minute drive southwest of the stadium.
Additional information
The Best Hotels Near Levi's Stadium
Hilton Santa Clara
Hyatt Regency Santa Clara
Aloft Santa Clara
Hilton Santa Clara
The Hilton Hotel in Santa Clara is located west of the stadium, next to the Premium Green Lot 1, on a two-minute walk down Tasman Drive.
The hotel provides excellent amenities for its guests throughout its array of guest rooms and suites, like free Wi-Fi, indoor and outdoor pools, a business center, and a fitness center.
Additional information
Hyatt Regency Santa Clara
The Hyatt Regency Hotel in Santa Clara is part of the Convention Center, located within a five-minute walking Distance from the stadium Premium Green Lot 1.
It is easy to choose this hotel as it provides top-of-the-line room furnishing and overall facility amenities.
Additional information
Aloft Santa Clara
The Aloft Hotel in Santa Clara is part of the America Center complex and just a three-minute drive through Great America Parkway, located north of Levi's Stadium.
Do not get fooled by Aloft's three-star rating is lower than the other hotels on the list, as it offers all the necessary amenities to its guests, like an outdoor pool, a fitness center, a dry cleaning service, and even an oversized spa showers.
Additional information
The History of Levi's Stadium
The 49ers initially planned on building a new stadium near their previous one in Candlestick Point. Two plans were made for this location in 1997 and 2006.
After a few years, the plans seemed to go nowhere as the costs of building the infrastructure, parking accommodations, and other changes cost more than the stadium itself.
On November 9th, 2006, the team owners announced a new plan to build a stadium that would house the 49ers in Santa Clara, close to their team offices and training facilities.
The proposed new location would take the 49ers approximately 40 miles away from San Francisco, which left many fans outraged due to the shared history of the team and the city.
The official construction of the stadium began on April 19th, 2012, after several years of disputes, negotiations, planning, and financing.
Where to Get Tickets for Levi's Stadium
Fans can get tickets to see the 49ers either in person at the Visa Box Office at the northeastern corner of the stadium on Tasman Drive or online through Ticketmaster.
There are seasonal event tickets, premium seating tickets, group tickets, or single event tickets.
For non-49ers events, fans can get tickets online through Ticketmaster, and Will Call tickets can be collected at the Visa Box Office Will Call windows which open three hours prior to the event.
All major credit cards are accepted as payment methods, with Visa being preferred. The Visa Box Office takes credit cards as well as cash payments.
Does Levi's Stadium Offer Tours?
The stadium hosts the 49ers Museum, a sizable art gallery with exhibition spaces dedicated to the history of the 49ers.
The museum is engaging and exciting for fans of all ages, with many places and exhibits to visit.
Namely, fans can see the story of the 49ers as told through film in the Morabito Theater within the facility, walk among life-sized statues of Hall of Famers, or interact with touchscreen testimonials of the 49er's all-time roster, among many other things.
Fans can purchase tickets, which cost $15, from the museum lobby during open hours.