Visiting Oracle Park, the iconic home of the San Francisco Giants, is an unforgettable experience. With its picturesque views of the bay and the city skyline, this baseball stadium undoubtedly stands out as one of the big-name parks in the baseball world. While a visit to Oracle Park promises excitement, it's crucial to be well-prepared and informed about the various gates and entrances available to make your visit pleasant and hassle-free.
As a first-time visitor or a returning fan, there's always something new to discover at Oracle Park. In this article, we'll explore everything you need to know about the stadium's gate locations, parking lot entrance locations, and more relevant information that you'll want to be aware of before your arrival.
With a seating capacity of over 41,000 fans, Oracle Park was designed with everyone's enjoyment in mind. However, navigating such a massive venue can be daunting, especially for those who are not familiar with the layout. So, buckle up and join me as I unfold the essential gate and entrance guide you'll need for a smooth visit to Oracle Park.
Location and Transport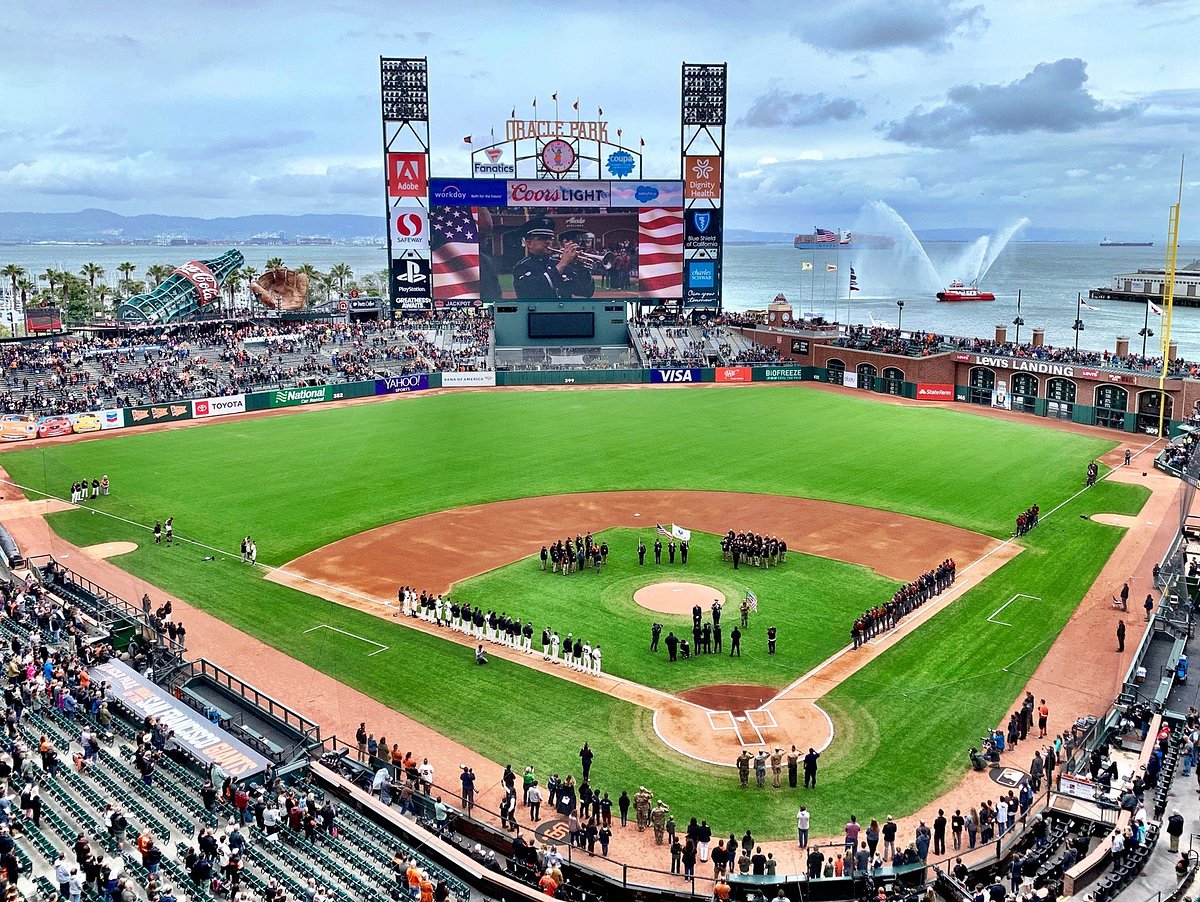 Reaching the Park
Oracle Park is situated in San Francisco, and it's easy to reach by various modes of transportation. I personally prefer taking public transit to avoid traffic and parking hassles. The N Judah and gameday shuttles stop at 2nd & King Station, which is right next to Oracle Park. The T Third/Central Subway line stops at 4th & King Station, just a block away from the park. Don't worry about the train schedules; they run until midnight from Monday to Saturday and 10 p.m. on Sunday.
Parking Facilities
Parking at Oracle Park can be a bit challenging, especially during game days. I recommend checking out the official San Francisco Giants website for information on parking lots and their entrance locations near Oracle Park. Make sure you arrive early to ensure you find a spot, as they tend to fill up quickly. Keep in mind there might be parking fees, so be prepared with cash or a credit card. And remember, enjoy your time at Oracle Park!
Gates and Entrances
Gate Numbers and Locations
At Oracle Park, there are several gates for you to enter through. These gates are situated around the ballpark, and their accessibility may differ depending on the type of ticket you have. Please have your ticket ready to present upon arrival to avoid any confusion or delays.
The gates are as follows:
Gate A: Located at the corner of King Street and 2nd Street
Gate B: Adjacent to the Willie Mays Plaza, on King Street
Gate C: Along the Portwalk, near the Marina Gate area
Gate D: On 2nd Street, closest to the Lefty O'Doul Bridge
It's important to note that the gates open 90 minutes before the game starts. If you plan on arriving early, I recommend avoiding any wait times by arriving no more than 2-3 hours before the game. This way, you'll be there when the gates open and you'll have access to the full range of amenities within the park.
Security Measures
When entering Oracle Park, be prepared for standard security protocols. No matter which gate you choose to enter through, you'll encounter security personnel and metal detectors to ensure the safety of all guests within the ballpark.
To expedite the process, I suggest familiarizing yourself with the ballpark's bag policies and restrictions before attending the game. Prohibited items include, but are not limited to:
Large bags (exceeding 16″ x 16″ x 8″)
Alcoholic beverages, glass containers, or cans
Hard-sided coolers
Weapons or projectiles
Selfie sticks, drones, or professional photography equipment
Remember to follow all guidelines and procedures during the security check, as this will help ensure a smooth and efficient entry experience for both you and your fellow fans. Cheers to a great time at Oracle Park!
Ticketing
Buying Tickets
As a frequent visitor to Oracle Park, I can tell you that buying tickets is quite simple. You can purchase tickets online through the San Francisco Giants' official website or other authorized ticket resale websites. Personally, I prefer to buy my tickets in advance, as this allows me to choose my favorite seating area and ensures that I won't miss out on popular games or events.
When buying tickets, remember to check the seating chart to select the best area for you, taking into consideration the view of the field and proximity to amenities such as restrooms and concessions. Prices may vary based on seat location and game popularity, so keep an eye out for deals and special offers.
Ticket Booths
For those who prefer the traditional route or want to purchase tickets on the day of the game, there are ticket booths located near the Oracle Park entrances. Based on my experience, these booths are typically open a few hours before the game starts and may close after the game begins. It's essential to arrive early if you want to buy your ticket on-site, as tickets might sell out for popular games and events.
At the ticket booths, friendly staff will be more than happy to assist you with seating options, pricing, and any other relevant information. Just remember to have your photo ID handy, as this might be required when purchasing tickets.
In conclusion, buying tickets for Oracle Park events is a straightforward process, whether you choose to purchase them online or at the ticket booths. With a bit of planning, you can secure seats in your preferred area and enjoy a fantastic game or event!
Facilities and Amenities
Food and Beverage
At Oracle Park, I can enjoy a wide variety of food options. While I'm allowed to bring my own food in a soft-sided cooler that fits the size restrictions, the park offers an amazing range of culinary delights. From classic stadium fare like hot dogs and burgers to more diverse options such as sushi and tacos, there's something for every palate. As a friendly reminder, cans, glass bottles, and alcohol are strictly forbidden.
Restrooms
Oracle Park ensures that clean and accessible restrooms are available throughout the stadium. With facilities located near the seating areas, I can comfortably enjoy the game without having to venture too far when nature calls. The restrooms are also equipped with ADA compliant features, ensuring that all guests can have a pleasant experience at the park.
Seating
The seating at Oracle Park is designed with comfort and accessibility in mind. From regular seats to luxury suites, there's a spot for every budget and preference. I enjoy watching the game in a setting that boasts breathtaking views, not only of the field but also of the surrounding Bay Area. With clear sightlines, comfortable seats, and close proximity to various amenities, the ballpark experience at Oracle Park is truly exceptional.
Accessibilities
As I explored Oracle Park, I found that it was designed to be enjoyed by all guests. However, there are specific areas that require designated tickets to access. So, it's important for everybody to keep their tickets handy at all times. This way, there won't be any confusion while enjoying the various amenities the Park offers.
One of my favorite features at Oracle Park is the magnificent waterfront view. Not only does it showcase the breathtaking San Francisco Bay, but it also provides a stunning view of the Bay Bridge. So, when visiting the Park, make sure to take some time to appreciate the beautiful surroundings.
There's more than just baseball at Oracle Park. The baseball stadium has a reputation for delivering a friendly and enjoyable experience to both fans and first-time visitors. From convenient parking lots to multiple gate entrances, Oracle Park ensures that all guests have a smooth and hassle-free visit. For that reason, it's advisable to arrive at the stadium a bit early to make sure you're well-oriented with the available facilities, so you don't miss out on any of the fun.
I hope you enjoy your time at Oracle Park as much as I did, and don't forget to bring your sense of adventure when attending a San Francisco Giants game or any other event held at the stadium. The park was even recognized as the 2008 Sports Facility of the Year by Sports Business Journal and Sports Business Daily, a testament to its excellent design and contribution to sports entertainment in San Francisco.
Visitor Policies
At Oracle Park, the home of the San Francisco Giants, I want to ensure that all visitors have a fantastic experience. In this section, I'll outline some key visitor policies to help you plan your visit.
First and foremost, it's essential to remember that Oracle Park is designed for all guests, but access to certain areas within the park requires a designated ticket. Make sure to keep your ticket with you at all times to avoid any confusion while you're enjoying the ballpark and its amenities.
When it comes to food and beverages, cans, glass bottles, and alcohol are strictly forbidden. However, Oracle Park does allow you to bring your own food, as long as it's in a soft-sided cooler that conforms to the park's size restrictions. This way, you can enjoy some homemade snacks while watching the game.
Now, let's talk about bags and belongings. To ensure guest safety at Oracle Park, all bags will be inspected upon entry. It's best to keep your belongings in a clear bag, as opaque bags will go through a more thorough inspection. Please also avoid bringing any items that may be considered a potential safety hazard, such as weapons or fireworks.
Remember that Oracle Park is a family-friendly environment, and all guests should maintain a respectful and courteous behavior. If you happen to encounter any issues or need assistance, don't hesitate to reach out to the Oracle Park staff, who are always on hand to help.
I hope this information on visitor policies at Oracle Park helps you prepare for a fun and enjoyable visit to the iconic home of the San Francisco Giants.
Conclusion
I had a great time exploring Oracle Park, and I feel well equipped to help you navigate it! It's essential to keep in mind the various gate locations and parking lot entrances. Arriving early can help ensure a smooth entry process and give you more time to enjoy the atmosphere.
When it comes to parking, don't forget to consult the official Oracle Park website for up-to-date information and plan ahead for the best spots. I recommend using public transportation if possible to avoid any congestion or parking costs.
In conclusion, Oracle Park is a fantastic place to catch a baseball game, and understanding the ins and outs of its gate & entrance system will only enhance your experience. So, grab a ticket, plan your route, and enjoy your next visit to one of the best ballparks in the country! Have fun and go Giants!