Oracle Park, situated in the scenic Mission Bay neighborhood of San Francisco, California, has been the home of Major League Baseball's San Francisco Giants since 2000.
Renowned for its breathtaking views and classic design, this impressive ballpark was even named the 2008 Sports Facility of the Year by Sports Business Journal and Sports Business Daily at the inaugural Sports Business Awards program.
Over the years, Oracle Park has undergone several name changes, initially called Pacific Bell Park, then SBC Park and AT&T Park, before finally receiving its current moniker when the Oracle Corporation acquired the naming rights in 2019.
Located in the SoMa district of San Francisco, Oracle Park is a true jewel among baseball stadiums. It has gained a reputation as one of the premier ballparks in all of baseball, offering fans a truly unforgettable experience.
In addition to hosting countless games, Oracle Park also provides ballpark tours for those interested in taking a closer look at this remarkable facility and learning about its rich history.
As an iconic destination for both baseball enthusiasts and visitors to San Francisco, Oracle Park stands as a testament to the Giants' enduring legacy and the city's dedication to providing a world-class experience for its residents and tourists alike.
Capturing the essence of the classic American ballpark while integrating modern design elements, Oracle Park remains a must-visit destination for any baseball fan and lover of San Francisco's vibrant sports scene.
History
Construction
Oracle Park, sitting in the SoMa district of San Francisco, California, has been the home stadium of the San Francisco Giants since 2000.
Built as the first privately financed ballpark in Major League Baseball since Dodger Stadium in 1962, it boasts a nine-foot statue of Willie Mays at its main entrance and features the unique spectacle of Portuguese water dogs fetching home runs that splash into McCovey Cove.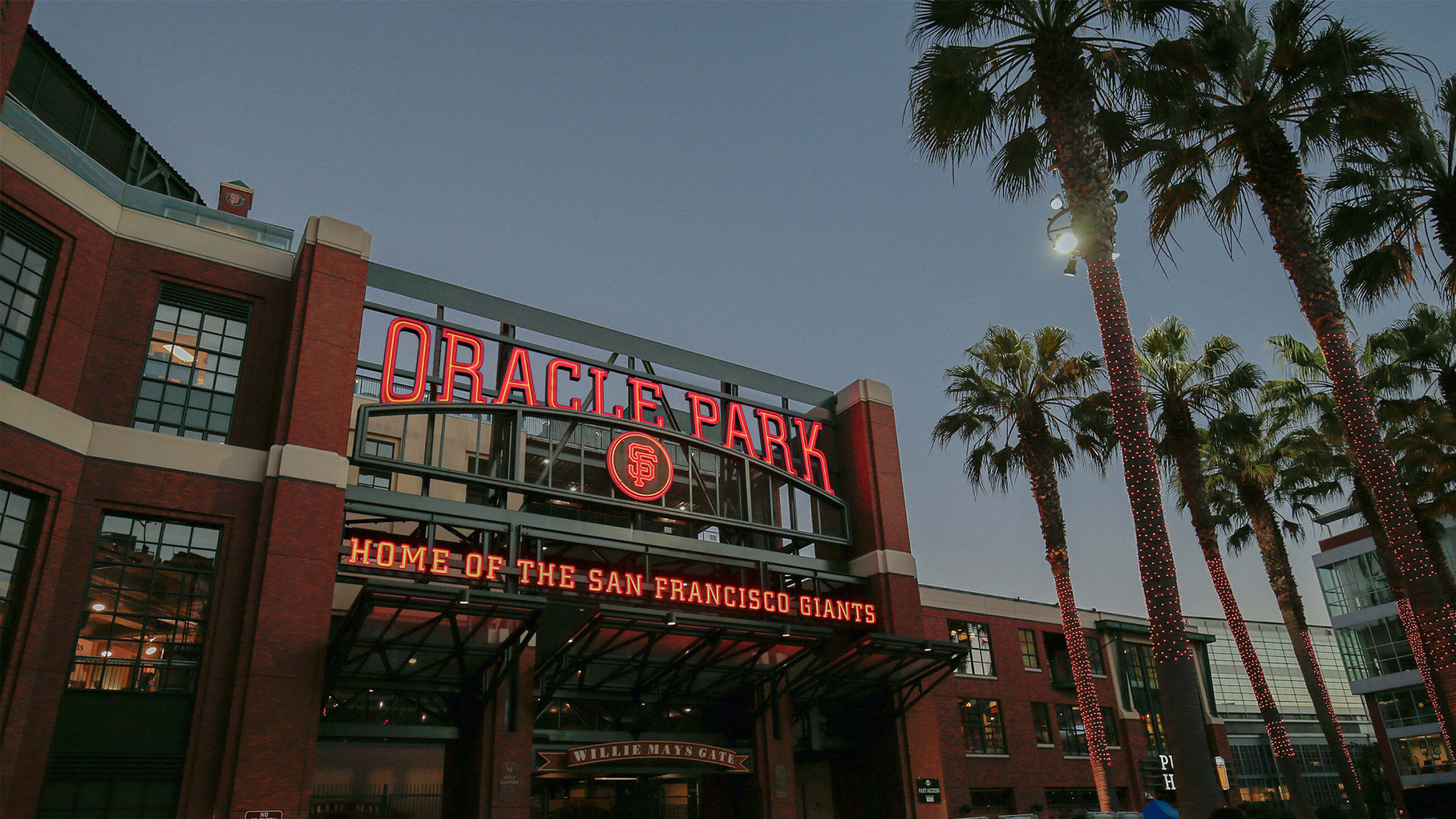 Renaming and Sponsorships
Over its lifespan, Oracle Park has gone through a number of name changes due to various corporate sponsorships.
Initially, it was called Pacific Bell Park followed by SBC Park. Later, it was renamed AT&T Park until its current name, Oracle Park, came into existence in 2019 when Oracle Corporation acquired the naming rights.
Despite these changes, Oracle Park has maintained its status as a premier sports facility, winning the 2008 Sports Facility of the Year award from Sports Business Journal and Sports Business Daily.
Features
Seating Capacity
Oracle Park, located in the SoMa district of San Francisco, California, is the home stadium of the San Francisco Giants since 2000.
The ballpark has a seating capacity of approximately 41,900 guests and offers spectacular views of the water, city skyline, and the Bay Bridge.
Attractions and Amenities
Behind-the-scenes tours: Fans of all ages can explore areas typically only accessible to players and coaching staff, including The Field, Giants' Dugout, a Luxury Suite, the Press Box, and more! These tours are available year-round and can be booked through the MLB Ballpark app.
Access Privileges: Oracle Park is designed for everyone to enjoy, but some areas require a designated ticket for access. Guests should keep their tickets with them at all times to avoid confusion as they explore the park.
Scenic Views: Oracle Park offers stunning views of the surrounding landscape, including the city skyline, the Bay Bridge, and the waterfront. This unique location adds to the overall experience for baseball fans.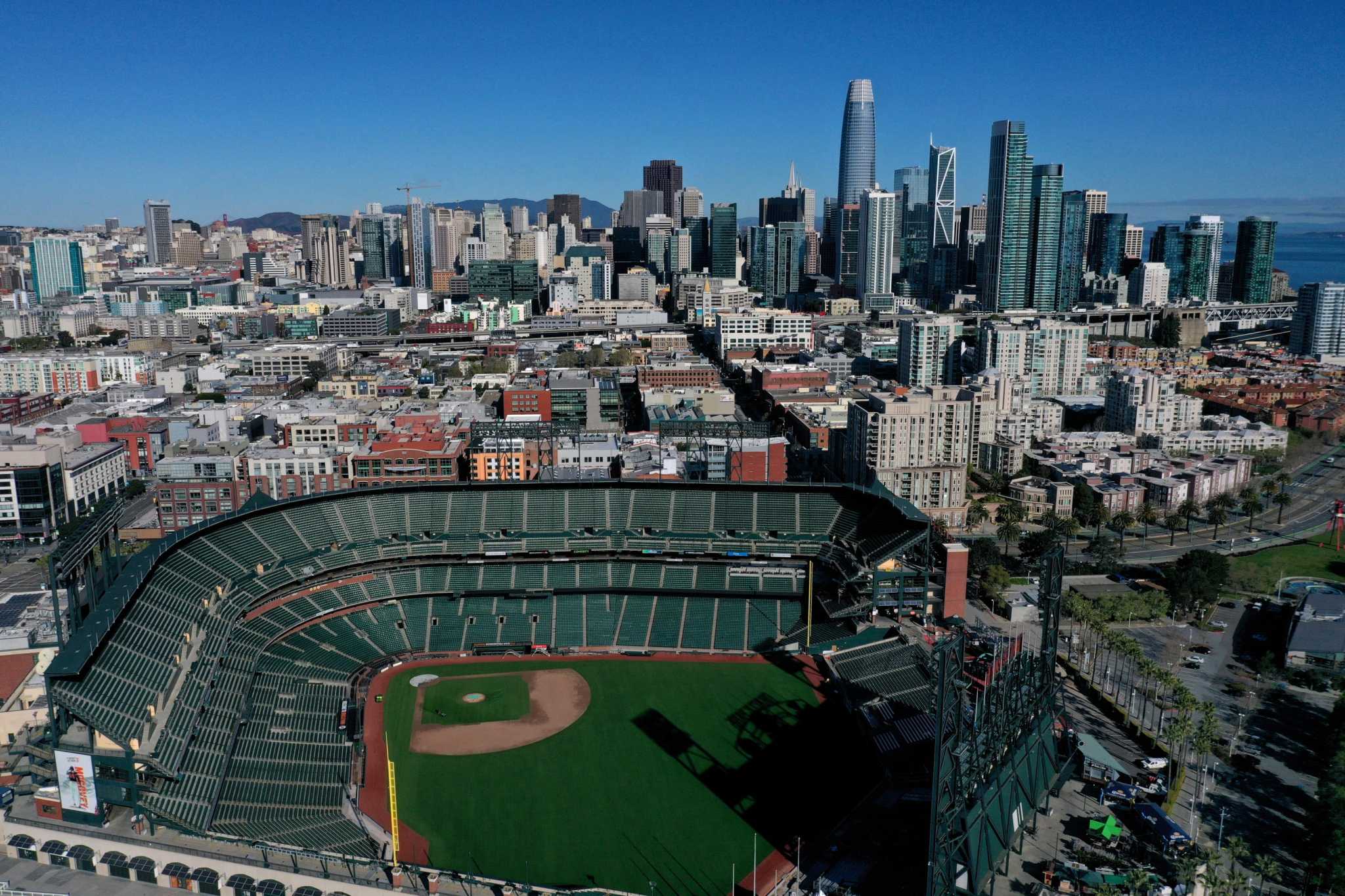 Technology Upgrades
To keep up with the times and provide an enhanced experience for fans, Oracle Park has undergone various technology upgrades over the years. Some of these upgrades include:
Wi-Fi: The stadium is equipped with Wi-Fi to help keep fans connected during games and events. This allows fans to quickly share their experiences on social media and stay informed about the game.
Digital Displays: Oracle Park features state-of-the-art digital displays, including high-definition video screens and scoreboards, ensuring fans don't miss a moment of the action.
Ticketing System: The MLB Ballpark app is a convenient way for fans to purchase tickets, explore the park, and even book behind-the-scenes tours.
Oracle Park continues to provide an enjoyable experience for all its guests by incorporating new technologies and offering various amenities and attractions to complement the excitement of watching the San Francisco Giants.
Events and Concerts
Notable Baseball Games
Oracle Park has been home to numerous memorable baseball games since it first opened its gates. Some notable games include:
2000 Inaugural Game: On April 11, 2000, the Giants faced the Los Angeles Dodgers in the first game at Oracle Park (then known as Pacific Bell Park). The Giants won the game 6-5.
Barry Bonds' 756th Home Run: On August 7, 2007, Barry Bonds hit his 756th career home run, breaking Hank Aaron's record and establishing a new MLB milestone.
2010, 2012, and 2014 World Series: The San Francisco Giants secured three World Series championships in five years, with Oracle Park hosting decisive games in all three series.
Major Concerts
Oracle Park has also hosted various major concerts throughout the years. Some of the most notable events include:
Paul McCartney's Farewell to Candlestick Tour: In 2014, Sir Paul McCartney played the final show ever at Candlestick Park, the Giants' former stadium, before it was demolished.
Dead & Company: The band Dead & Company performed at Oracle Park for their final tour on July 14, 15 & 16, 2023.
BLACKPINK: The popular K-pop group BLACKPINK held a concert at Oracle Park on August 22, 2023.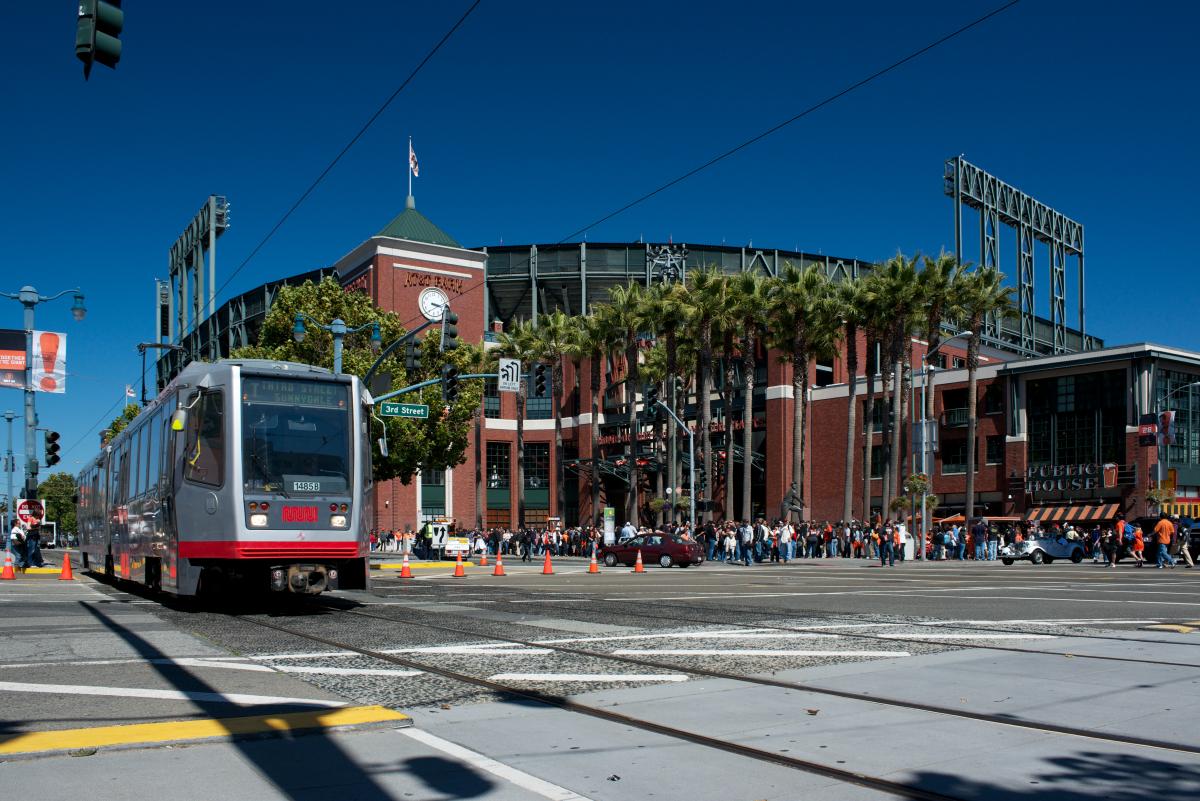 Events
In addition to baseball games and concerts, Oracle Park also hosts other events such as:
Pickleball Tournament: Oracle Park was the venue for a four-day Pickleball tournament from July 20 to July 23, 2023.
Races: Giants Enterprises hosts various races at the ballpark, along with other sport-related events to engage fans throughout the year.
Visiting Oracle Park
Transportation and Parking
Getting to Oracle Park, located in the Mission Bay neighborhood of San Francisco, California, is convenient with various transportation options.
The ballpark is easily accessible by public transit, such as the Muni Metro, Caltrain, and BART. Additionally, you can find parking lots and garages nearby if you prefer driving.
Muni partners with the Giants to provide a Muni Express route called the "Giants Express" on game days, which is a convenient option for fans. For those biking to the ballpark, there are secure bike parking facilities available.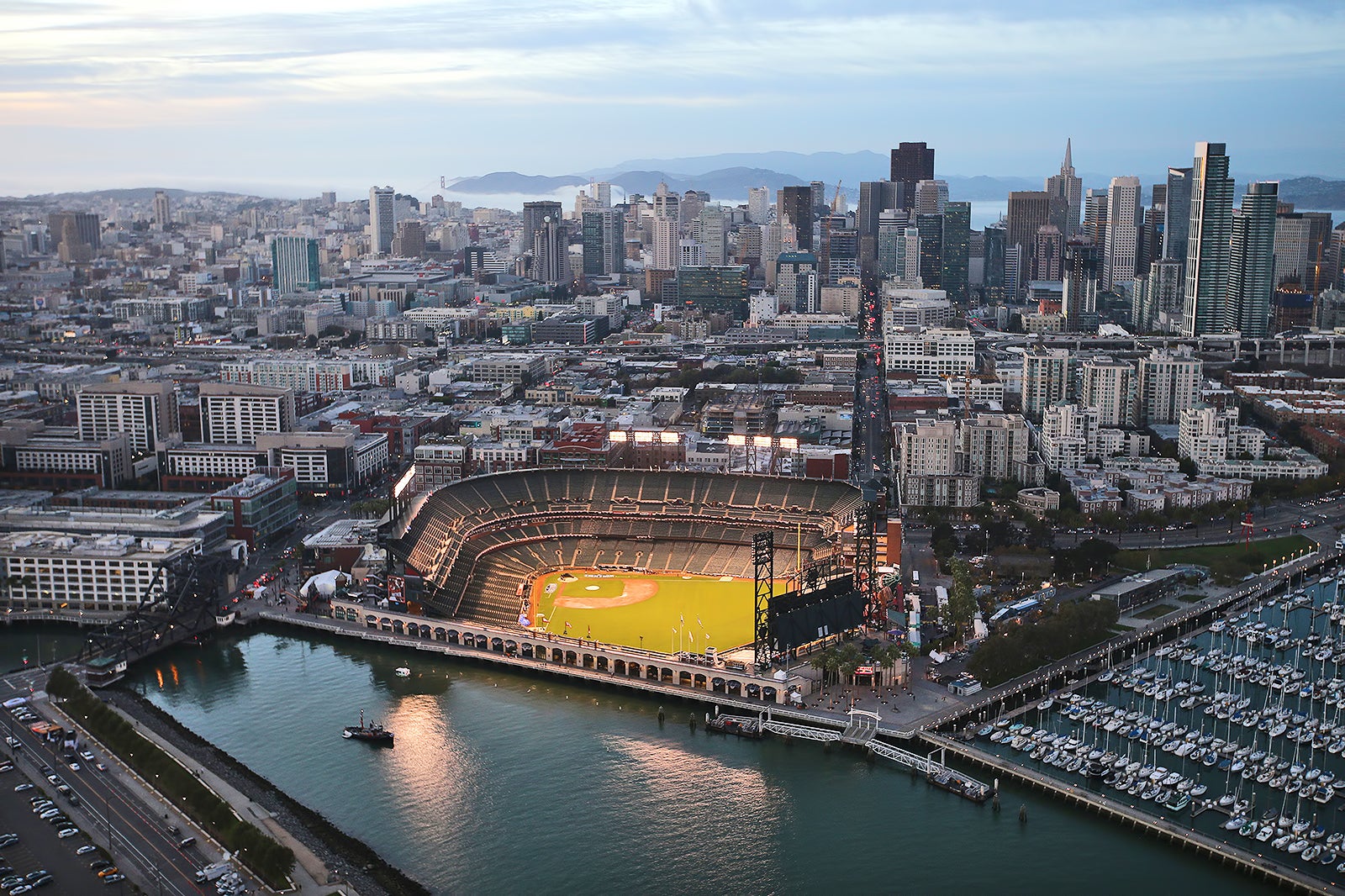 Guided Tours
Experience the magic of Oracle Park – the home of the San Francisco Giants – by taking a guided tour of the ballpark. This premier Major League Baseball venue offers various tours, such as the:
Full-Day Guided Tour of San Francisco with Alcatraz ($139.00)
The San Francisco Sightseeing Flex Pass: A Golden Gate Ticket to 30+ Attractions ($64.00)
Streets of San Francisco Guided Electric Bike Tour ($99.00)
Guided tours provide a unique opportunity to see behind-the-scenes areas and learn about the rich history of the ballpark and its team – ideal for both Giants fans and baseball enthusiasts alike.
Nearby Attractions
While visiting Oracle Park, be sure to explore the surrounding attractions to make the most of your trip to San Francisco. Some popular nearby attractions include:
Mission Bay: This waterfront neighborhood is filled with parks, playgrounds, and walking paths offering scenic views.
South Beach: A short walk away, enjoy splendid views of the San Francisco Bay, the Bay Bridge, and the city skyline from this popular waterfront area.
Embarcadero: Stroll along the Embarcadero and take in the iconic sights of the city, such as the Ferry Building, the Exploratorium, and the historic streetcars.
Regardless of whether the Giants win or lose, Visiting Oracle Park and the surrounding areas promises to be a memorable experience for fans and visitors alike.
James is a big time NBA Golden State follower, who makes sure to catch games when he's in the area. He likes to follow International Soccer, with an interest in small town soccer club, Blackburn Rovers located in the North on the UK.