If you're planning a visit to the iconic Petco Park, home of the San Diego Padres, getting to know the various gate entrances and exit points is crucial for a smooth and enjoyable experience. As a fellow fan, I want to make sure you have all the information you need for a fantastic time at the stadium. In this guide, I'll be sharing everything you need to know about the entrance gates and their locations, so you can easily navigate your way around the park and make the most of your visit.
Petco Park features multiple entrance gates strategically located around the stadium for easy access, regardless of where your seats are. Some of the popular gates include the Gaslamp Gate, Seventh Ave. and K St., Downtown Gate to Gallagher Square at Eighth Ave. and J St., Balboa Gate to Gallagher Square at Ninth Avenue and J St., and the East Village Gate at 10th Avenue and K St. Each gate is designed to provide convenient entry for visitors and to ensure a hassle-free start to your Petco Park adventure.
Now that you're familiar with the locations of the entrance gates, remember to arrive early and have your digital tickets ready to ensure a stress-free entry. Prioritizing your health and safety is essential, so be sure to follow the guidelines put in place by Petco Park and have a fantastic time cheering on your favorite team or enjoying an unforgettable concert experience!
The Basics of Petco Park
Location
Petco Park is located in the heart of downtown San Diego. You can find it at the intersection of Park Blvd. and Tony Gwynn Drive, offering visitors a close proximity to the city's Gaslamp Quarter, beautiful waterfront, and other attractions. For reference, the ballpark's address is San Diego, CA 92101.
Size
Petco Park is an architecturally magnificent stadium that combines the best sightlines in baseball with breathtaking views of the San Diego skyline. It has a seating capacity of approximately 40,000 spectators and offers a variety of seating options, from lower-level seats to spacious suites. The park also hosts numerous events outside of baseball games, including concerts and other special events.
Opening Hours
The stadium's gates typically open 90 minutes prior to the start of a ballgame, giving fans plenty of time to grab a bite to eat, explore the park's amenities, or enjoy the pre-game activities. However, when attending a special event or concert, it's always a good idea to check the specific opening hours for that particular occasion.
Gate Guide
Gate Hours
I want to make sure you are aware of the gate hours for Petco Park. Generally, gates open 90 minutes before the first pitch for regular-season games. So, if you want to get in early, make sure you are there at the right time.
Gate Locations
Petco Park has multiple gate locations to make it convenient for you to enter the stadium. Here's a brief list of the main entrance gates:
Home Plate Gate: Located at Park Blvd. and Tony Gwynn Drive on the southeast side of the stadium, near the Padres Ticket Office.
Gaslamp Gate: Found at Seventh Ave. and K St.
Downtown Gate: This entrance is situated at Eighth Ave. and J St., providing access to Gallagher Square.
Balboa Gate: You can find the Balboa Gate at Ninth Avenue and J St., also offering access to Gallagher Square.
East Village Gate: This gate is located at 10th Avenue and K St., perfect for visitors coming from the East Village area.
Security Procedures
As a fan, your safety is important to me. When entering Petco Park, expect to go through security checks, including metal detectors at every gate. Make sure to follow guidelines on prohibited items, as it will make your entry smoother and quicker. Check out the Padres website for a full list of prohibited items and other security policies to help you plan accordingly and enjoy the game without any hassle.
Ticket Information
As a frequent visitor to Petco Park, I've gathered some helpful information on purchasing tickets for San Diego Padres games and other events. In this section, I'll share my insights on acquiring tickets online and on-site.
Online Purchase
Personally, I find purchasing tickets online to be the most convenient option. You can get your tickets through the official San Diego Padres website or from authorized ticket sellers like Ticketmaster and StubHub. Buying online allows you to:
Choose your preferred seating section
Compare various ticket prices
Avoid long lines at the stadium
Before completing your purchase, you might need to create an account with the chosen ticket seller. And don't forget to check for any promo codes or discounts that could save you a few bucks!
On-Site Purchase
If you prefer to buy your tickets in person, you have a few options as well. The Petco Park Box Office is open on both game days and non-game days. Here's a brief overview of their operation hours:
Game Days: The box office opens 2.5 hours before the first pitch and remains open until the end of the 7th inning.
Non-Game Days: Monday through Friday, 10:00 AM to 5:00 PM; Saturday, 10:00 AM to 4:00 PM; closed on Sundays and holidays.
Keep in mind that on-site purchases could involve long lines, especially on game days. So it's a good idea to arrive early or choose a less popular game.
Another option is to look for ticket kiosks near the stadium, where you can purchase tickets using your credit or debit card.
In summary, whether you choose to buy your tickets online or in person, you have various options when it comes to acquiring tickets for events at Petco Park. Just make sure to plan ahead, and have a great time at the game!
Stadium Facilities
Restrooms
In Petco Park, numerous restrooms are available throughout the stadium, ensuring that visitors have easy access when needed. All restrooms are maintained to the highest standards and include accessible stalls for guests with disabilities. I've noticed that the facility management team is always working hard to keep them clean and stocked for guests.
Food and Beverage Outlets
What I love about Petco Park is the variety of food and beverage options available for visitors. From classic ballpark favorites like hot dogs and peanuts to local cuisine, Petco Park has it all. Some dining options include, but are not limited to:
Pizza: Great pizza options are available at the park.
Taco stands: Taste some delicious San Diego-style tacos.
Craft Beer Bars: Enjoy some local brews while watching the game.
The stadium offers both sit-down restaurants and concession stands, ensuring a fantastic experience for every visitor regardless of their preferences.
Lost and Found
Have you ever misplaced an item during a game or event at Petco Park? I know how frustrating it can be. Fortunately, the stadium offers a convenient lost and found service that can help reunite you with your missing belongings. If you lose something while at the park, simply head to the guest services to report it. They'll help you in locating your item if it has been turned in. Don't forget that it's important to retrieve your belongings as soon as possible to avoid them being misplaced or discarded.
Special Features
Park at the Park
The Park at the Park is one of my favorite areas within Petco Park. It's a unique feature that truly sets the stadium apart from others. This is a beautiful park area behind the outfield, where visitors can relax, enjoy the game on a large screen, and even bring their dogs! I think it's a fantastic place for families and friends to gather, have a picnic, and enjoy the scenery without the standard stadium seating.
KidsFest
When attending a Padres game with little ones, I know how important it is to keep them entertained. That's where KidsFest comes in! It's a perfect area for families, as it offers a variety of activities for children to enjoy during the game. The area features inflatable play areas, face painting, and even a mini baseball diamond where kids can practice their skills. With KidsFest, I believe families can have a great time at Petco Park, knowing there's something for everyone to do.
Accessible Services
As someone who's been to Petco Park, let me tell you about the available accessible services they offer. It's important for fans with disabilities to have an enjoyable experience at the ballpark. Here are some essential services provided at Petco Park:
Wheelchair Access
At Petco Park, they understand the importance of wheelchair access. For people in wheelchairs or with limited mobility, there are accessible parking options. Additionally, there are plenty of elevators and escalators available to help you get around the park with ease. You'll also find ADA Power Stations where you can charge your electric wheelchair or scooter if needed. If you require accessible seating, rest assured that Petco Park has this covered. Be sure to inquire about this option when purchasing your seats.
Service Animals
Petco Park is a pet-friendly stadium, being welcoming to service animals that provide assistance to guests with disabilities. In accordance with the U.S. ADA regulations, guests may use either a dog or a miniature horse as a service animal. Both types of service animals must be individually trained to perform specific tasks or work related to the guest's disability. When attending a game or event at Petco Park with your service animal, you can feel secure knowing that they're welcome and accommodated.
Please enjoy your visit to Petco Park, knowing that your needs for accessibility services are well-covered.
Helpful Tips
As someone who has visited Petco Park, I want to give you a few helpful tips to ensure you have an enjoyable experience.
First, make sure to choose the entrance gate that best suits your needs. There are several main gates around the stadium. The Gaslamp Gate is located at Seventh Ave. and K St., while the Downtown Gate can be found at Eighth Ave. and J St. If you need to access the East Village Gate, you'll find it at 10th Avenue and K St. For a quicker entrance, the Home Plate Gate is available at Park Blvd. and Tony Gwynn Drive.
Another great feature of Petco Park is the Gallagher Square area, which you can enter through both the Downtown Gate and Balboa Park Gate. This space provides a variety of entertainment and hangout options, perfect for a night out with friends.
When attending an event at Petco Park, it's vital to arrive early. Stadium gates typically open 90 minutes before game time. This will give you ample time to find your seats, grab a bite to eat, and explore the venue before the fun starts.
If you need any assistance during your visit, you should know that Automated External Defibrillator (AED) units are located throughout the ballpark and can be used in case of emergencies. Moreover, you can always ask the friendly staff on-site for help navigating the different sections of the stadium.
Lastly, always be respectful of other guests and adhere to Petco Park's policies to ensure everyone has a great time. Enjoy your experience, and go Padres!
Conclusion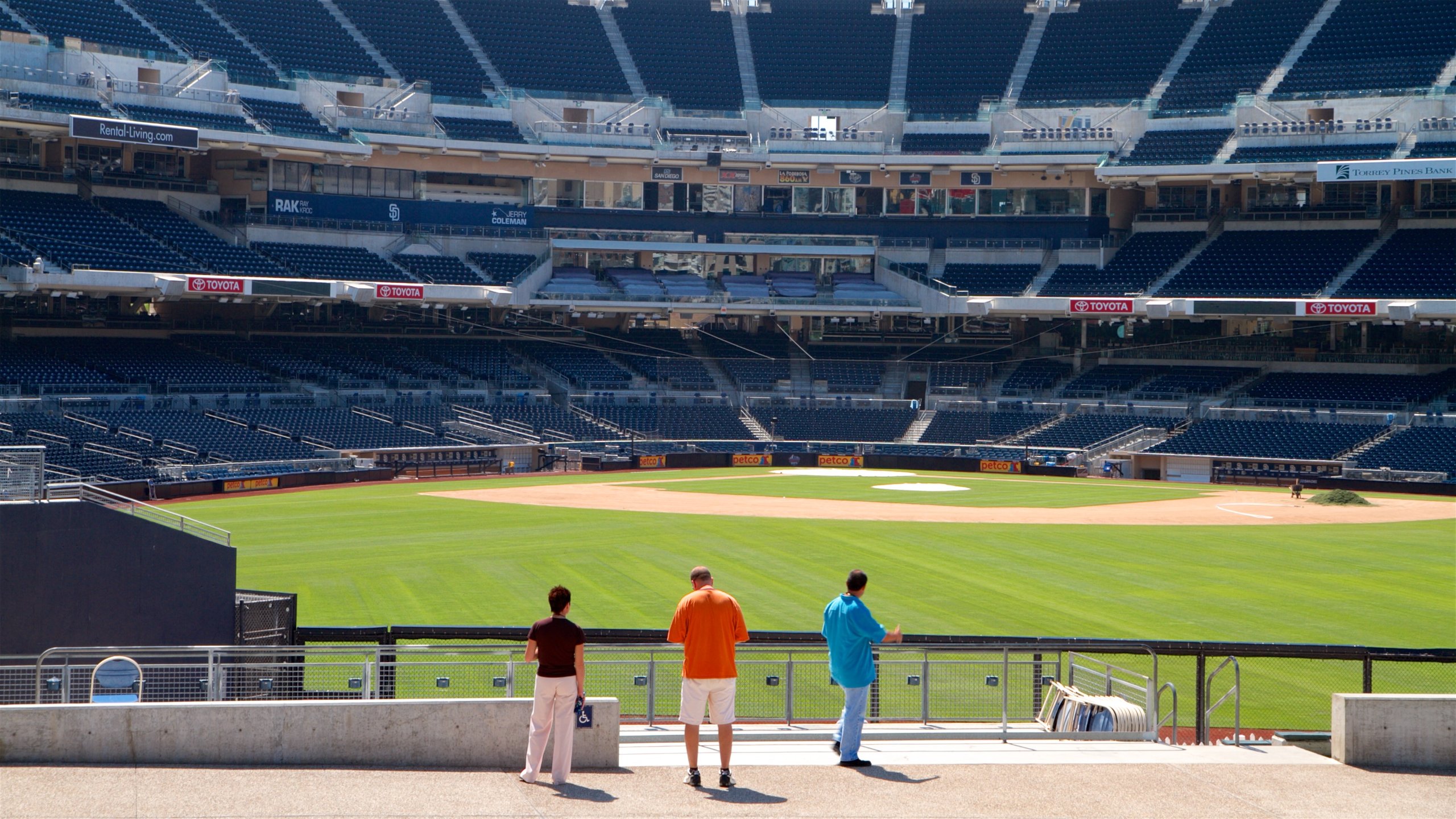 I found Petco Park to be a fantastic venue with a variety of entrance gates to cater to the needs of fans. My favorite gate was the Home Plate Gate at Park Blvd. and Tony Gwynn Drive, located on the southeast side of the stadium. It's near the Padres Ticket Office and across the street from Lexus Premier Lot, which made it convenient to access.
While attending a game, I appreciated that there were both the Gaslamp Gate on Seventh Ave. and K St. and the Balboa Gate to Gallagher Square at Ninth Avenue and J St. These gates are perfect for those who want to explore downtown San Diego before or after the game, and they provide quick access to the bustling Gaslamp Quarter and East Village neighborhoods.
In addition to the gates mentioned above, there's also the Downtown Gate to Gallagher Square at Eighth Ave. and J St. and the East Village Gate at 10th Avenue and K St. I found it helpful to have numerous options for entering the stadium depending on my location and plans for the day.
Remember, Petco Park has a bag policy that only allows a 16 x 16 x 8-inch soft-sided bag. Make sure to adhere to these rules and expect a security examination when going through the gates.
I hope you find this guide helpful in planning your visit to Petco Park and choose the best entrance gate for you. Have fun, and enjoy the game!