Heading to the SAP Center for a concert, game, or event? To make your experience as smooth as possible, it's essential to be familiar with the gates and entrances of this amazing venue. In this article, I'll provide you with all the essential gate and entrance information you need to know about the SAP Center, so you can focus on enjoying your visit.
Located in San Jose, California, the SAP Center is a popular destination for sports events, concerts, and performances alike. With a seating capacity of 17,562, this modern and accessible arena offers a variety of different entrance points to accommodate the diverse needs of its guests.
From parking options, public transportation connections to accessibility services, SAP Center takes pride in making your visit a comfortable and enjoyable one. In the upcoming sections, I will further discuss the key information about gates and entrances, ensuring you have an unforgettable time at the SAP Center.
Understanding SAP Center: A Brief Overview
As someone who has visited the SAP Center, I want to share my experience to help you understand what you can expect when attending an event there. The SAP Center, located in San Jose, California, is a top-notch venue that hosts various events, such as hockey games, concerts, and other entertainment options. The arena is home to the San Jose Sharks, an NHL team, so it's a popular destination for sports fans as well.
Accessibility is essential at the SAP Center, which not only has ample parking options but is also well connected to public transportation systems like buses and trains. Remember that for a smoother experience, it's always a good idea to familiarize yourself with the transportation methods and parking fees ahead of your visit.
One crucial thing to note is the strict bag policy in place at the SAP Center. You must not bring any bags with you, as even clear and thin plastic bags are forbidden. This means you'll have to carry any food, drinks, or personal items individually. Keep this in mind when planning your visit, especially if you're planning to bring snacks or souvenirs with you.
In conclusion, the SAP Center is an excellent venue for various events, including sports and concerts. By understanding its policies and logistics, you'll be better prepared to enjoy your time at the venue.
Locating Each Gate
As I explored the SAP Center, I found that there are four main entrances located at different sides of the building. I'll share my experience of finding each entrance to make your visit to the SAP Center smoother and more enjoyable. The four main entrances are the North Entrance, South Entrance, East Entrance, and West Entrance.
North Entrance
The North Entrance is easily accessible from the surrounding parking lots. As I approached the entrance, I could clearly see the signage and the wide, welcoming doors. This entrance is spacious, great for accommodating a larger crowd. Many people use this entrance as a convenient way to enter the SAP Center, especially when coming from the parking lots or public transportation.
South Entrance
Located opposite the North Entrance, the South Entrance is also well-signed and welcoming. This entrance is closer to nearby dining and shopping options. I found this entrance to be a good choice for those who would like to grab a bite before or after an event at the SAP Center. It's also easily accessible for those arriving via passenger drop-offs or ride-sharing services.
East Entrance
The East Entrance is another option when visiting the SAP Center. This entrance brought me closer to the box office area and was an excellent choice for purchasing last-minute tickets or picking up will-call tickets before entering the venue. The East Entrance can get a little crowded at times, but the staff is friendly and efficient in helping visitors get inside quickly.
West Entrance
Finally, the West Entrance is perfect for those coming from the nearby park and outdoor areas. When I visited through this entrance, I noticed the beautiful scenery surrounding the SAP Center, making it ideal for a leisurely walk before or after an event. This entrance offers easy access to the building and requires fewer steps to reach the main concourse area inside the venue.
Guide to SAP Center Entrances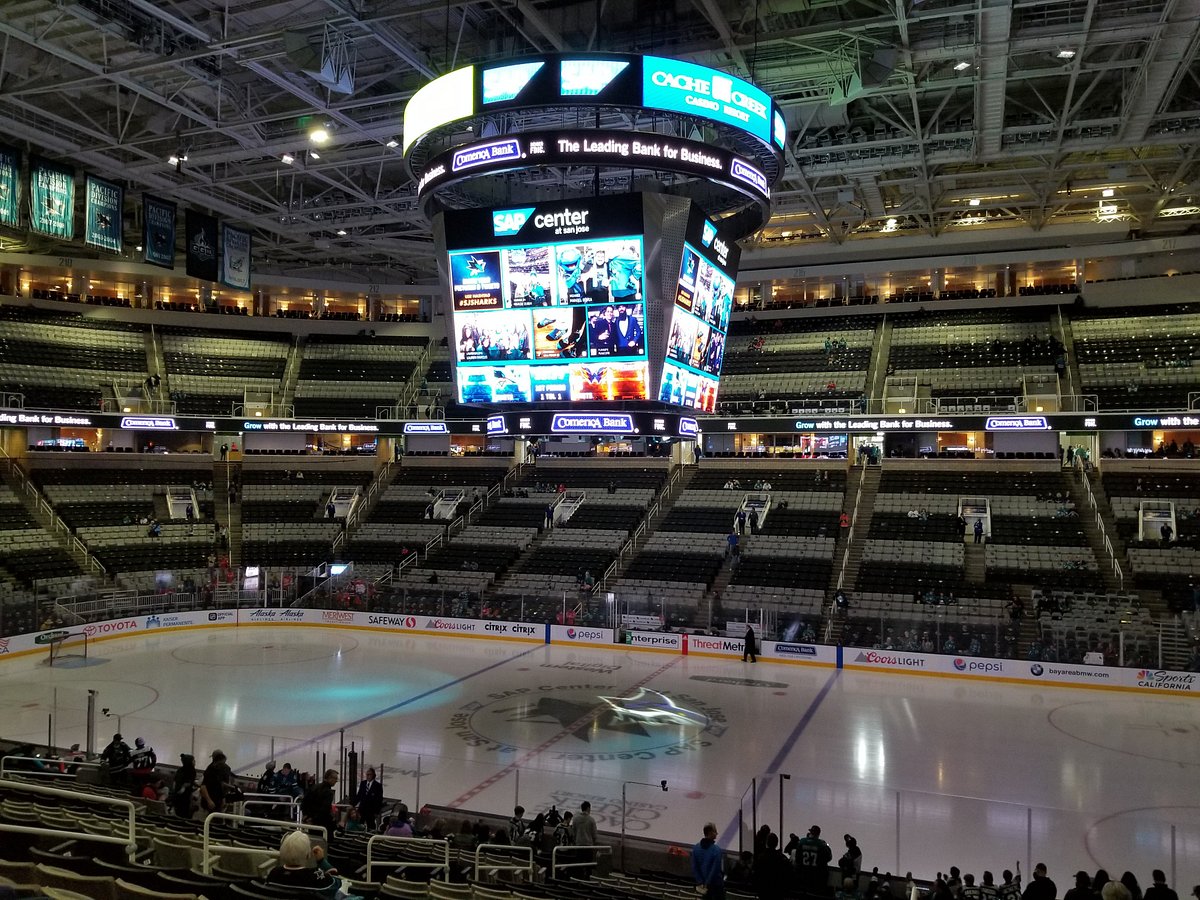 Accessibility Options
At SAP Center, they prioritize accessibility for everyone to enjoy events. They offer several services for guests with disabilities, such as accessible seating, parking, and assistance. If you need help, feel free to ask their friendly staff at the North and South Entrances or visit the Tech CU Arena Information booths.
Entry Procedure
When attending an event at SAP Center, make sure to have your ticket ready and in hand before approaching the entrance. There may be lines depending on the event, so arrive with plenty of time to allow for any delays. Remember that SAP Center reserves the right to deny entrance to any guest deemed to be intoxicated, so be mindful of your condition before entering.
Security Measures
The safety of all guests is important at SAP Center. Expect to encounter security checkpoints upon entering the arena. Be prepared to have your bags checked and walk through a metal detector. To expedite this process, travel light and avoid bringing any unnecessary items or prohibited items into the arena.
I hope this guide provides a helpful overview of the entrance procedures at SAP Center. Enjoy your event, and remember to have a great time!
Best Times to Arrive
As a seasoned event-goer at the SAP Center, I'd like to recommend the best times to arrive at the venue. To ensure a smooth entry and a great experience, it's essential to plan ahead and make wise choices regarding your arrival time.
First, I suggest arriving at least an hour before the scheduled event time. This will give you ample time to find parking, which can be busy around the event center. Remember, if you need more information on parking, check the SAP Center's website for official lots and directions on public transportation options as well.
There's also a benefit to arriving early: You'll be able to explore the concourse and familiarize yourself with the location of your seats, restrooms, and concession stands. Plus, you'll have enough time to enjoy a snack or drink before the event starts.
If you're planning to attend a highly popular event like concerts or playoff games, be sure to factor in additional time for entry, as there might be longer lines and security checks. It's always worthwhile to be patient and prepared when going to such events since they can draw large crowds.
In summary, arrive at least an hour before the event time, prepare for parking and transportation, and enjoy the SAP Center before the event kicks off. With this friendly advice, I'm sure you'll have a fantastic time at the SAP Center events!
Parking and Transportation
I find it essential to mention that there are over 6,000 parking spaces within a ½ mile radius of the SAP Center at San Jose. Of these, approximately 1,500 spaces are located on-site in the large parking lot next to the building. You can easily access these spaces from either Santa Clara or Julian Streets.
The ABC Lot is the main parking lot on SAP Center's property. It is worth noting that some spots here are reserved for San Jose Sharks season ticket holders. However, you can still purchase parking in advance for single games or events. The rates for on-site parking typically range between $25 and $40. You can use ParkMobile to secure a spot and make the payment.
In addition to driving, you have the option to take public transportation or ride a bike to the venue. SAP Center offers excellent public transit connections and bicycle parking facilities to make your experience even more enjoyable and eco-friendly.
When it comes to ride-sharing services, there's a designated passenger pick-up and drop-off area to ensure a smooth and hassle-free experience.
Remember, planning your transportation and parking in advance will help you enjoy a stress-free visit to the SAP Center. So, don't wait too long to decide on the best choice for your needs. Happy travels!
FAQs on SAP Center Gates and Entrances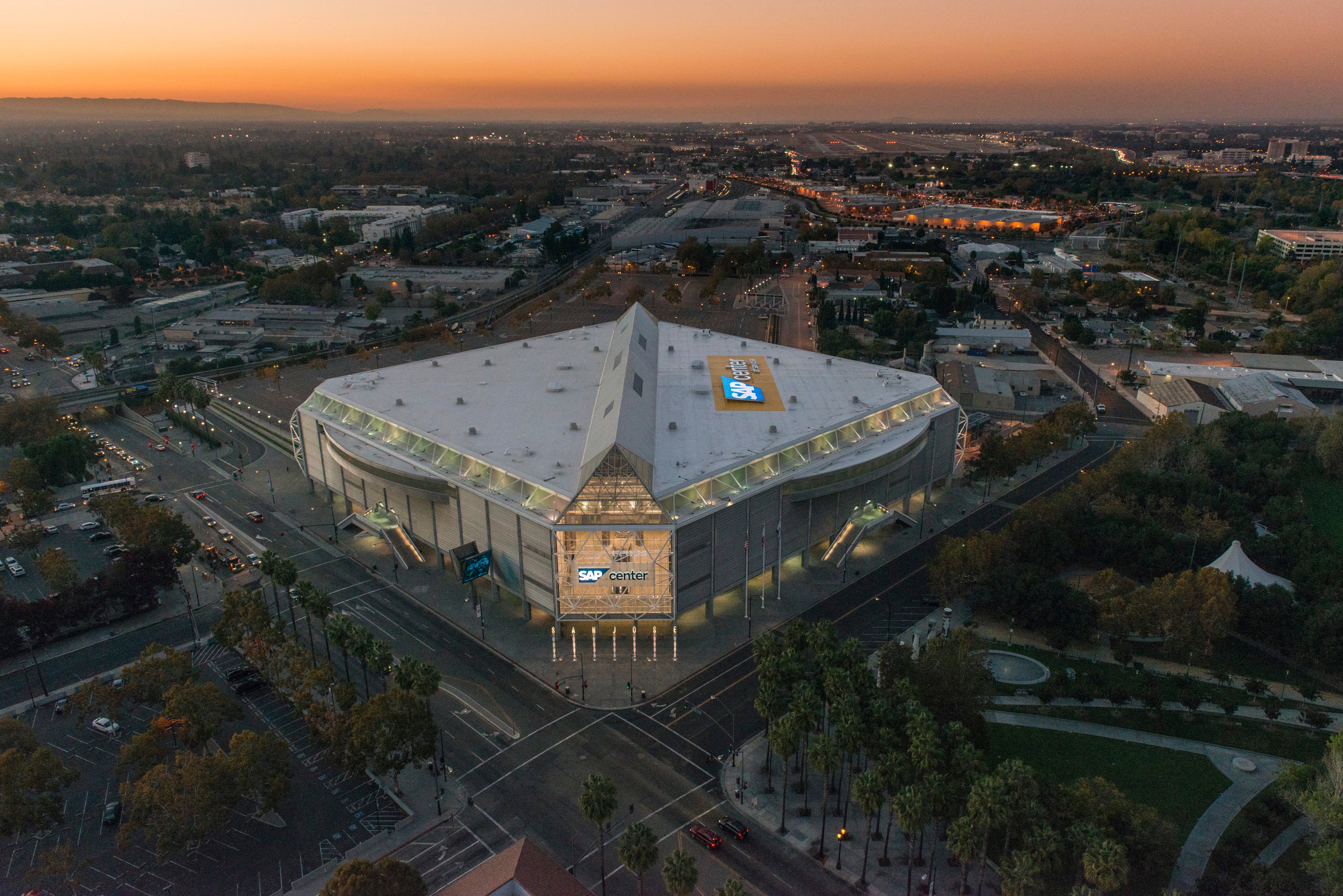 I often get questions about the gates and entrances at the SAP Center, so I thought I'd put together a little FAQ section to help answer some of the most common queries.
What is the SAP Center?
The SAP Center is an indoor arena located in San Jose, California. It is primarily home to the San Jose Sharks of the National Hockey League and the San Jose Barracuda of the American Hockey League.
What are the guest safety guidelines at the SAP Center?
To ensure a safe and enjoyable experience, the SAP Center has strict guidelines for all guests. They have the right to evict any underage guests consuming alcohol, any guests providing alcohol to underage individuals, and any guests who appear intoxicated. They may also deny entry to those deemed to be intoxicated.
How about the bag policy?
The SAP Center has a no-bag policy, which means guests cannot bring bags of any kind, including clear bags and thin plastic shopping bags. This policy means you have to carry your food and drinks in a loose manner.
What are some other essential rules I should know about?
Remember that the SAP Center is committed to guest safety and comfort, so their mechanical heating, ventilation, and cooling systems are designed accordingly. Additionally, they meet the NHL's requirements for air exchanges and follow industry-standard guidelines to ensure a safe and great experience for all.
I hope this section has addressed some common questions about gates and entrances at the SAP Center. Enjoy your visit!
Conclusion
As a frequent visitor to the SAP Center, I can confidently say that understanding the gates and entrances is essential for a smooth and enjoyable experience. With various parking options and transportation methods, it's crucial to plan ahead to ensure a hassle-free arrival.
The Concourse Map provided by the SAP Center offers detailed information about parking, public transportation, bicycle parking, and ride-share pick-up and drop-off points. This resource can significantly assist visitors like myself in navigating around the venue with ease.
Accessibility is crucial at the SAP Center. For disabled visitors, special parking facilities are available, making their visit a comfortable experience.
Finally, keep in mind that the SAP Center hosts various events, and each event might have different gate or entrance policies. It's always best to check for specific information related to the event you're attending.
That's everything I have to share about gates and entrances at the SAP Center. I hope that this information helps make your visit as enjoyable and stress-free as it has made mine. Happy exploring!