Welcome to the SAP Center, an indoor arena located in the heart of San Jose, California, and home to the NHL's San Jose Sharks.
This state-of-the-art facility is often referred to as the "Shark Tank" and hosts a variety of events throughout the year, including concerts, ice shows, and other sporting events.
In this blog post, we'll guide you through everything you need to know about this iconic venue.
SAP Center: Key Facts
Opened: September 7, 1993
Capacity: 17,562 (hockey), up to 19,190 (concerts)
Address: 525 W Santa Clara St, San Jose, CA 95113
Owner: City of San Jose
Operator: Sharks Sports & Entertainment
Cost of construction: $162.5 million
SAP Center, affectionately known as the "Shark Tank," is a state-of-the-art indoor arena located in San Jose, California. It serves as the home venue for the National Hockey League's (NHL) San Jose Sharks.
The arena boasts a seating capacity of 17,562 for hockey games, with additional seating configurations available for other events such as concerts and basketball games.
The SAP Center is a multi-purpose arena that has been designed to provide the best possible experience for fans and visitors alike.
Since its opening in 1993, the SAP Center has hosted numerous events, including the NHL All-Star Game, the NCAA Men's Basketball Tournament, the U.S. Figure Skating Championships, and concerts featuring world-renowned artists.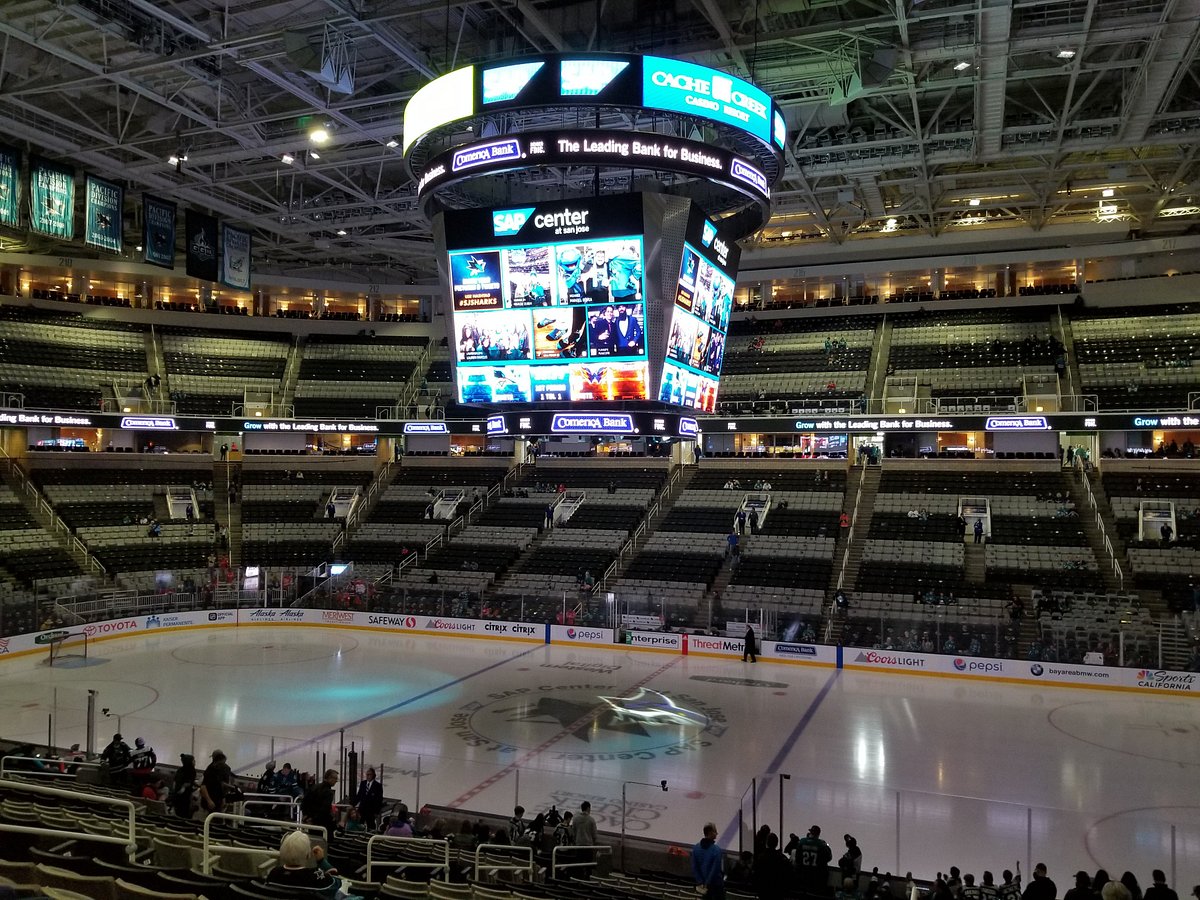 Where is SAP Center Located?
The SAP Center is situated in downtown San Jose, California, at 525 W Santa Clara Street.
The arena is conveniently located near the intersection of major highways, including Interstates 280, 680, and 880, as well as State Route 87.
The Best Way to Get to SAP Center
There are several options for getting to the SAP Center, including public transportation, driving, and ridesharing services.
Public Transportation: The SAP Center is easily accessible via public transportation. The Valley Transportation Authority (VTA) provides both bus and light rail services to the arena. The closest light rail station is the San Fernando Station, which is just a short walk from the arena. Caltrain, a commuter rail service, also stops at the nearby San Jose Diridon Station.
Driving: If you prefer to drive, the SAP Center is accessible via several major highways. Parking is available at various lots near the arena, with more details in the following section.
Ridesharing: Ridesharing services like Uber and Lyft are also popular options for getting to the SAP Center. The arena has designated pick-up and drop-off zones to make using these services hassle-free.
Biking: San Jose is a bike-friendly city, and the SAP Center offers bike racks for fans who choose to cycle to the game.
Parking near SAP Center
There are several parking options available near the SAP Center:
SAP Center's official parking lots: The arena operates three official parking lots – A, B, and C – with rates varying depending on the event. It's a good idea to arrive early, as these lots can fill up quickly.
Nearby public parking garages and lots: In addition to the official lots, there are several other parking garages and lots within walking distance of the SAP Center. Some popular options include the San Pedro Square Garage, the Market/San Pedro Garage, and the Almaden/Woz Lot.
Street parking: While less common, it's possible to find metered street parking near the arena. Be sure to carefully read the posted signs and follow all parking regulations.
Remember to arrive early to secure a parking spot and account for potential traffic congestion during peak event times.
The Best Restaurants near SAP Center
Downtown San Jose offers a wide variety of dining options for fans and visitors attending events at the SAP Center. Some popular choices include:
Henry's World Famous Hi-Life: This historic San Jose establishment, located just a short walk from the arena, offers mouthwatering barbecue dishes, including ribs, chicken, and tri-tip. With its casual atmosphere and delicious food, it's a popular choice among Sharks fans.
Poor House Bistro: This New Orleans-inspired eatery offers tasty Cajun and Creole dishes like jambalaya, gumbo, and po' boys. It's also known for its live music, adding to the lively pre-game atmosphere.
San Pedro Square Market: This bustling market features a wide array of food vendors, offering everything from wood-fired pizza to sushi. With its outdoor seating and communal tables, it's an excellent spot for groups to gather before heading to the SAP Center.
Il Fornaio: For those seeking a more upscale dining experience, Il Fornaio offers authentic Italian cuisine, including pasta, seafood, and wood-fired pizzas. Its elegant atmosphere and extensive wine list make it an ideal choice for a special night out.
La Victoria Taqueria: A local favorite, La Victoria Taqueria offers delicious Mexican fare like tacos, burritos, and quesadillas. Known for their famous orange sauce, it's a must-visit for a quick and satisfying meal before the game.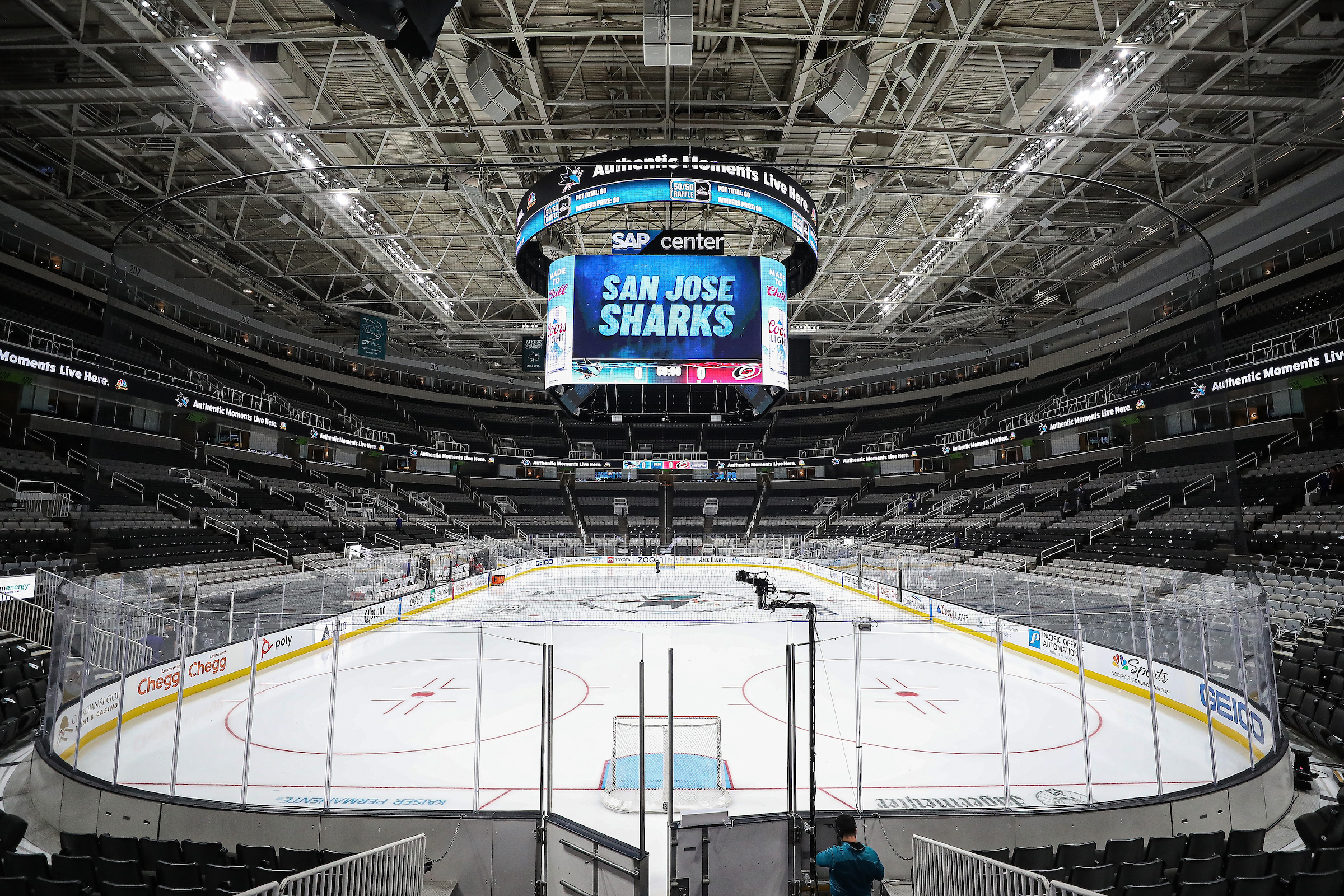 The Best Bars near SAP Center
There are several bars and pubs within walking distance of the SAP Center where fans can enjoy a drink before or after a game or event:
The Old Wagon Saloon & Grill: This western-themed bar offers a wide selection of beers on tap, a full bar, and a menu of classic pub fare. With its spacious outdoor patio and lively atmosphere, it's a popular gathering spot for Sharks fans.
The Brit (Britannia Arms Downtown): This British-style pub offers a cozy atmosphere, a wide range of beers, and a menu of pub favorites like fish and chips, shepherd's pie, and bangers and mash. It's a great spot to catch a pre-game pint or watch other sporting events on their large-screen TVs.
San Pedro Square Market Bar: Located inside the San Pedro Square Market, this bar features an extensive selection of local and international beers, wines, and craft cocktails. With its communal seating and convenient location, it's a popular choice for fans looking to grab a drink before the game.
O'Flaherty's Irish Pub: This authentic Irish pub offers a welcoming atmosphere, a wide range of beers and spirits, and live music on select nights. It's a great spot to enjoy a pint of Guinness and some traditional Irish fare.
55 South: For fans seeking a more upscale bar experience, 55 South offers an extensive cocktail menu, as well as a curated selection of wine and beer. Its sleek, modern atmosphere makes it a perfect spot for a sophisticated night out.
The Best Hotels near SAP Center
Whether you're visiting from out of town or looking for a convenient staycation, there are several hotels located near the SAP Center:
AC Hotel by Marriott San Jose Downtown: This stylish, contemporary hotel is located just a few blocks from the SAP Center and offers comfortable accommodations, a fitness center, and an outdoor pool.
The Westin San Jose: A historic hotel with modern amenities, The Westin San Jose is located in the heart of downtown and features luxurious guest rooms, a 24-hour fitness center, and an on-site restaurant.
Hotel De Anza: This boutique hotel, built in 1931, offers a unique blend of historic charm and modern amenities. Guests can enjoy the on-site restaurant and bar, as well as easy access to downtown attractions and the SAP Center.
Hyatt Place San Jose/Downtown: A short walk from the SAP Center, this hotel offers spacious guest rooms, a fitness center, and a complimentary breakfast.
Fairmont San Jose: For a luxurious stay, the Fairmont San Jose offers elegant accommodations, multiple on-site dining options, and a rooftop pool.
The History of SAP Center
The SAP Center, also known as the Shark Tank, is a versatile indoor arena located in San Jose, California.
Home to the San Jose Sharks of the National Hockey League, the venue first opened its doors on September 7, 1993, as the San Jose Arena.
The name changed to Compaq Center at San Jose in 2001 and then to HP Pavilion in 2002 after Hewlett-Packard acquired Compaq. In 2013, the arena was renamed SAP Center following a sponsorship deal with the German software company SAP.
Throughout its history, the SAP Center has not only hosted the San Jose Sharks but also various other sporting events, concerts, and family shows.
In addition to hockey, the arena has been home to the San Jose Barracuda, the American Hockey League (AHL) affiliate of the Sharks, and the San Jose SaberCats of the Arena Football League (AFL).
The venue has also hosted numerous high-profile events, including the 1996 and 2007 U.S. Figure Skating Championships, the 2012 U.S. Olympic Gymnastics Trials, and the NCAA Men's Basketball Tournament.
Where to Get Tickets for SAP Center
Tickets for San Jose Sharks games and other events at the SAP Center can be purchased through the official SAP Center website, the San Jose Sharks website, or through authorized ticket resellers like Ticketmaster and StubHub.
It is recommended to purchase tickets through official channels to ensure authenticity and avoid potential scams.
Does SAP Center Offer Tours?
Yes, the SAP Center offers guided tours that provide an exclusive, behind-the-scenes look at the arena.
The tours typically last about 90 minutes and include visits to the press box, luxury suites, locker rooms, and the Sharks' practice facility, among other areas.
Tour schedules and pricing can be found on the SAP Center's official website, and reservations are required.
James is a big time NBA Golden State follower, who makes sure to catch games when he's in the area. He likes to follow International Soccer, with an interest in small town soccer club, Blackburn Rovers located in the North on the UK.