SoFi Stadium is the ultimate destination for football fans and architectural enthusiasts alike. This stunning venue is more than just a home for the Los Angeles Chargers and Los Angeles Rams- it's a modern marvel taking the sporting world by storm.
With modern technology, sleek design, and enough seating to fit an army of cheering fans, the stadium is the perfect place to witness heart-stopping plays.
This article will reveal some facts and historical moments about the stadium. Plus, we included some useful hints about where to park, eat and stay during your visit to the SoFi Stadium.
SoFi Stadium is a state-of-the-art sports and entertainment venue in Inglewood, California. It is the home stadium of the Los Angeles Rams and Los Angeles Chargers and hosts various other events, including concerts, festivals, and more. It opened in 2020, and today the stadium is one of the world's most technologically advanced and innovative stadiums.
SoFi Stadium: Key Facts
In only three years, this stadium has already gained popularity and admiration from people worldwide. Here are some key facts and features about the SoFi Stadium that interest you.
Impressive size and capacity
SoFi Stadium is one of the world's largest and most expensive stadiums. It covers a total area of 298 acres with a seating capacity of 70,240, which can be expanded to 100,240 for major events like the Super Bowl. The stadium's sheer size is impressive, and its unique design allows for unobstructed views from every seat.
Advanced video display and sound system
SoFi Stadium boosts an advanced video display and sound system that enhances the fan experience. The massive double-sided video board nicknamed 'The Oculus', is the largest and highest-resolution center-hung display in any stadium. The system features 4K video resolution and a dynamic audio system that delivers immersive sound throughout the stadium.
Sustainable design
This stadium was designed with sustainability in mind. It features an advanced rainwater capture system, which collects and recycles rain for landscape irrigation and other non-potable uses. The stadium also uses energy-efficient LED lighting, which reduces energy consumption.
Premium seating options
SoFi Stadium offers a variety of premium seating options for fans who want to experience the ultimate in luxury and comfort. The stadium features 260 luxury suites, club seats, and over 13,000 premium seats. The premium seating areas include exclusive access to upscale dining options, private lounges, and other top-notch amenities.
Art and Architecture
SoFi Stadium is not just a sports venue but also an architectural masterpiece. The stadium's design incorporates various elements, including a unique transparent and retractable roof, open-air concourses, and expansive plazas. The stadium also features a variety of art installations, including a massive mural on the stadium's exterior.
Good location
The location of SoFi Stadium is not a coincidence. It is strategically built in the heart of the sports and entertainment industry, Los Angeles. Plus, it's just a few miles from Los Angeles International Airport and is easily accessible by car, public transportation, and ride-sharing services. The stadium is also located near a variety of dining, shopping, entertainment options, and luxury hotels.
Where Is SoFi Stadium Located?
SoFi Stadium is located in Inglewood, California, United States. The stadium is situated on the former Hollywood Park Racetrack site, adjacent to The Forum. It is a short drive from the Los Angeles International Airport (LAX) and about 10 miles southwest of downtown Los Angeles.
Additional information
The Best Way to Get to SoFi Stadium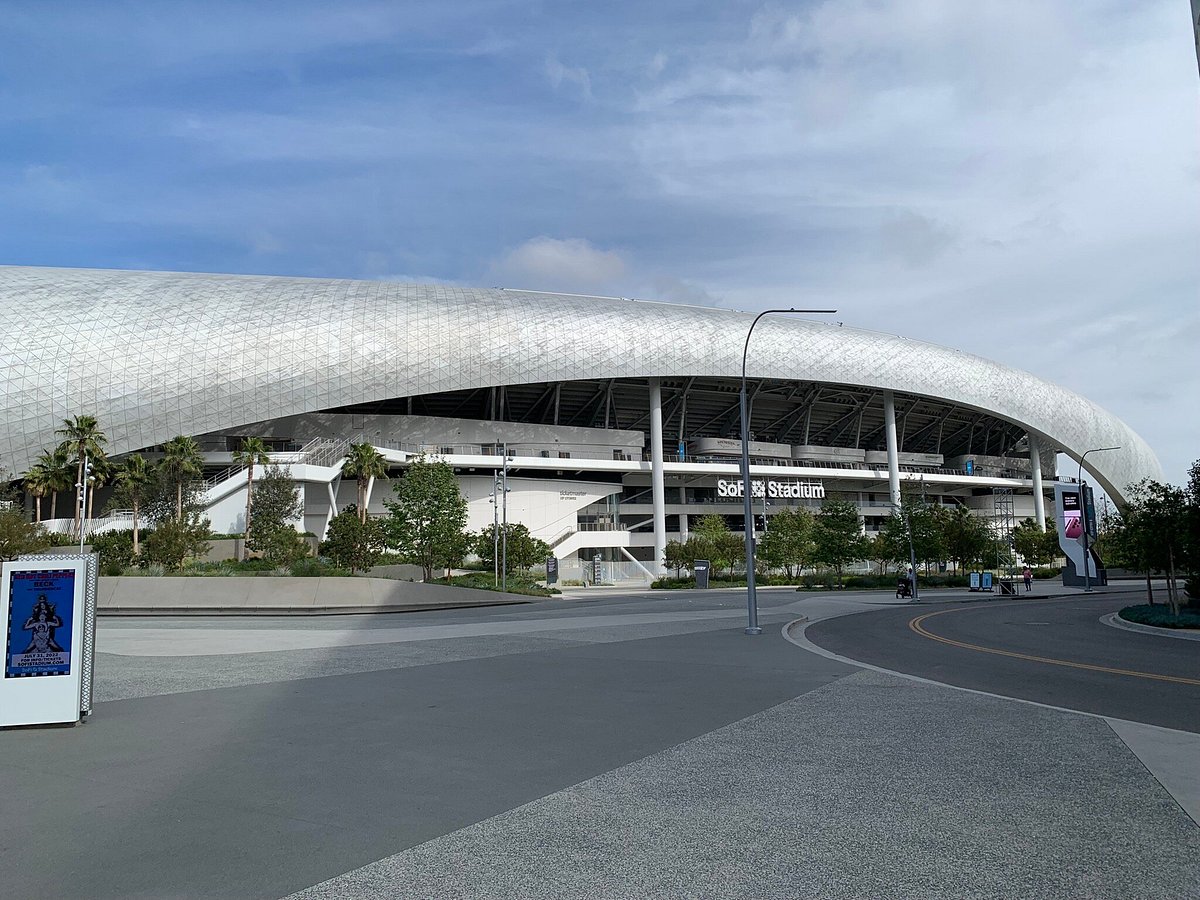 No matter where and how you travel, there are several ways to get to SoFi Stadium as fast as possible. Here are some of the best options:
Driving: SoFi Stadium has several parking options if you plan to drive. You can purchase parking passes in advance or on the event day.
Public transportation: The Metro Rail and Bus are great options to get to the stadium. The C Line of the Metro Rail stops at the nearby Fairview Heights Station, and several bus routes also serve the area.
Rideshare: If you prefer not to drive or take public transportation, rideshare services like Uber and Lyft are readily available in the area.
Shuttle service: SoFi Stadium offers shuttle services from the Hawthorne/Lennox Station. Disembark at the station and wait for the shuttle bus to take you to the stadium.
If you plan and research your options, you should be able to find a convenient and efficient way to get there.
Parking Near SoFi Stadium
Parking can be a big problem for stadiums like the SoFi Stadium, especially during game season. Luckily, a few "golden" parking spots are close to the stadium.
The Hollywood Park Casino parking lot
Located adjacent to the stadium, Hollywood Park Casino is the perfect parking lot for events at SoFi Stadium. This parking lot offers many amenities, such as ADA parking, shuttle services, and electric vehicle parking.
Additional information
SoFi Stadium Parking Blue Zone
This parking zone is one of the closest lots to the stadium and offers the most convenient parking experience. The Blue Zone has its dedicated entrance, and parking spaces are pre-assigned, so fans can rest assured that they will have a spot reserved.
Additional information
Sofi Stadium Parking Orange Zone
Convenience is among the best things about the Sofi Stadium Parking Orange Zone. The lot is located just a short walk from the stadium. It is monitored by security personnel, ensuring that your vehicle is safe and secure while you are attending the event.
Additional information
So next time you head to a game or concert at Sofi Stadium, consider parking in one of these convenient parking lots for a stress-free and enjoyable experience.
The Best Restaurants Near SoFi Stadium
Sizzler
Sizzler is famous for its affordable prices and a diverse menu that caters to all tastes and preferences. It has a comfortable and relaxed atmosphere, and it is a perfect spot for families and groups of friends to gather before or after a game or event at SoFi Stadium.
Sizzler's menu includes steak, seafood, burgers, ribs, chicken, salads, and desserts. The restaurant is particularly known for its signature all-you-can-eat salad bar, where diners can customize their salads with a wide range of fresh ingredients.
Casa Rios
If you are a food lover and are near SoFi Stadium, you must visit Casa Rios restaurant. This Mexican restaurant offers an authentic dining experience that will satisfy and impress you.
The restaurant's menu features traditional Mexican dishes, from sizzling fajitas and crispy tacos to savory enchiladas and homemade guacamole. The ingredients used in each dish are fresh and flavorful, with generous portions that are sure to satisfy even the hungriest.
Century Bar and Grill
Whether you're in town for a game at SoFi Stadium or just looking for a great meal, check out Century Bar and Grill. This restaurant offers many menu options, including steaks, burgers, seafood, and other comfort food. Their signature dish, the Century Kobe Burger, is a must-try for all burger lovers.
The bar area is also worth a visit, as it offers an extensive selection of craft beers, wines, and cocktails. The happy hour specials are also a great way to try out new drinks and snacks at an affordable price.
Juquila
Juquila restaurant is a hidden gem near SoFi Stadium that serves authentic Mexican cuisine. One of the standout dishes at Juquila is the Mole Negro, a rich sauce made with more than 20 ingredients, including chiles, nuts, and chocolate.
The restaurant also offers a variety of tlayudas, which are large crispy tortillas topped with beans, cheese, meat, and vegetables. Other must-try items on the menu are the tamales and the enchiladas.
Juquila has a warm and inviting atmosphere, colorful decor, and friendly staff. The restaurant also offers outdoor seating for those who want to enjoy their meal in the sun.
There are plenty of great restaurants near SoFi Stadium that offer a variety of cuisines and flavors. So the next time you attend an event at SoFi Stadium, check out one of these fantastic restaurants and enjoy a delicious meal before or after the big game.
The Best Bars Near SoFi Stadium
The Nile Bar
The bar's location near SoFi Stadium makes it convenient for pre-game or post-game drinks and bites. A spacious outdoor patio lets customers enjoy the nice weather while indulging in their favorite drinks and snacks.
Customers can choose from craft cocktails, beer, and wine while enjoying live music or watching their favorite sports team on one of the many flat-screen TVs throughout the bar. The Nile Bar also offers a diverse food menu featuring American classics with a twist, such as truffle fries, sliders, and chicken wings.
Champ City Bar & Lounge
Champ City Bar & Lounge is a must-visit destination for a fun night near SoFi Stadium. The bar and lounge are located just a few minutes from the stadium and offer a lively atmosphere, delicious drinks, and great music.
The interior of the Champ City Bar & Lounge is tastefully designed, with a sleek and modern feel. You can sit at the bar, relax in a comfortable booth, or dance the night away on the spacious dance floor.
The venue also has an outdoor patio area, perfect for enjoying a refreshing drink or catching up with friends.
Lavender Blue Restaurant Lounge
Lavender Blue Restaurant Lounge's sleek and modern decor is perfect for taking in the game on one of their flat-screen TVs while providing a comfortable and stylish atmosphere for socializing with friends. The lounge also features a variety of cocktails, wines, and local craft beers, making it the ideal spot for pre or post-game drinks.
Cork & Batter
Cork & Batter is a rooftop bar near the stadium with a casual and inviting atmosphere. The outdoor patio is charming, decorated with string lights and cozy fire pits.
This trendy bar offers an extensive selection of craft beers and wines and a creative cocktail menu. Cork & Batter has the most delicious chicken wings and sliders in town for hungry cheerleaders.
Now you know where you can grab a beer after a good game or concert in the SoFi Stadium.
The Best Hotels Near SoFi Stadium
Sonder Lüm
Sonder Lüm Hotel, located just a short walk away from the SoFi Stadium, YouTube Theater, and Kia Forum, is a stylish and comfortable accommodation option for visitors to the area. Besides its proximity to the stadium, the hotel also offers a range of amenities, including a fitness center, business center, and a heated pool with a jacuzzi.
Tradewinds Airport Hotel
Tradewinds Airport Hotel is just a short drive from the SoFi Stadium. The hotel offers easy access to the arena and the surrounding area. Guests can also take advantage of the hotel's complimentary shuttle service to and from the airport, making it a convenient choice for those traveling by air.
In addition to its prime location, the Tradewinds Airport Hotel has a fitness center, outdoor pool, golf course, and an on-site restaurant serving delicious American cuisine.
La Quinta Inn & Suites by Wyndham Inglewood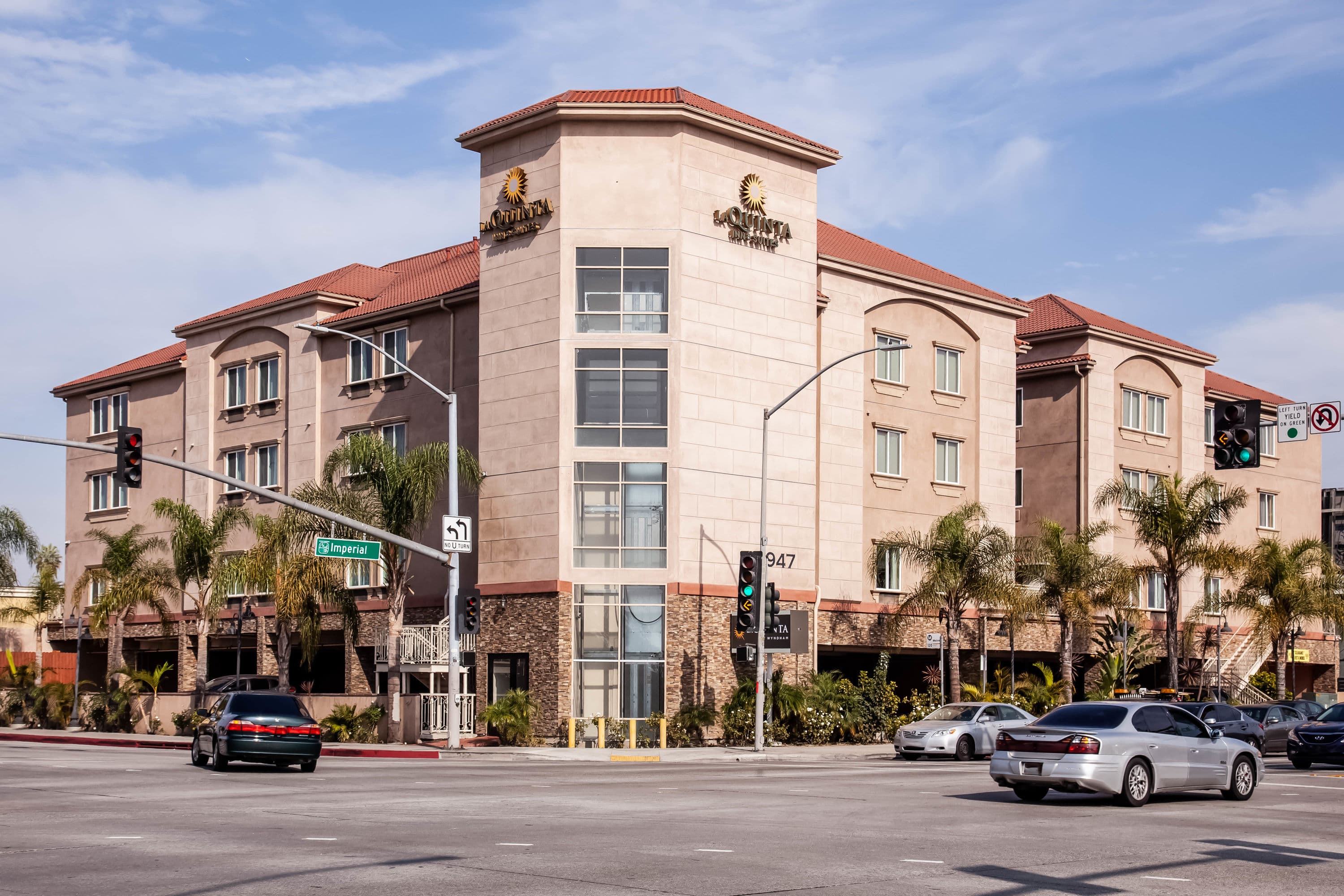 La Quinta Inn's convenient location provides easy access to other attractions in the area, including the Hollywood Park Casino and the Forum, and, of course, SoFi Stadium.
The hotel has a welcoming service and concierge that can make your stay carefree. This is a non-smoking hotel with free parking and free airport transportation.
Best Western Plus Suites Hotel
Best Western Plus Suites Hotel features spacious and well-appointed suites perfect for families, groups, or anyone who wants extra space during their stay. The hotel has a pool, and a business center, making it perfect for business and pleasure travel.
Whether you are looking for a luxurious or affordable option, there are plenty of choices to suit your needs.
The History of SoFi Stadium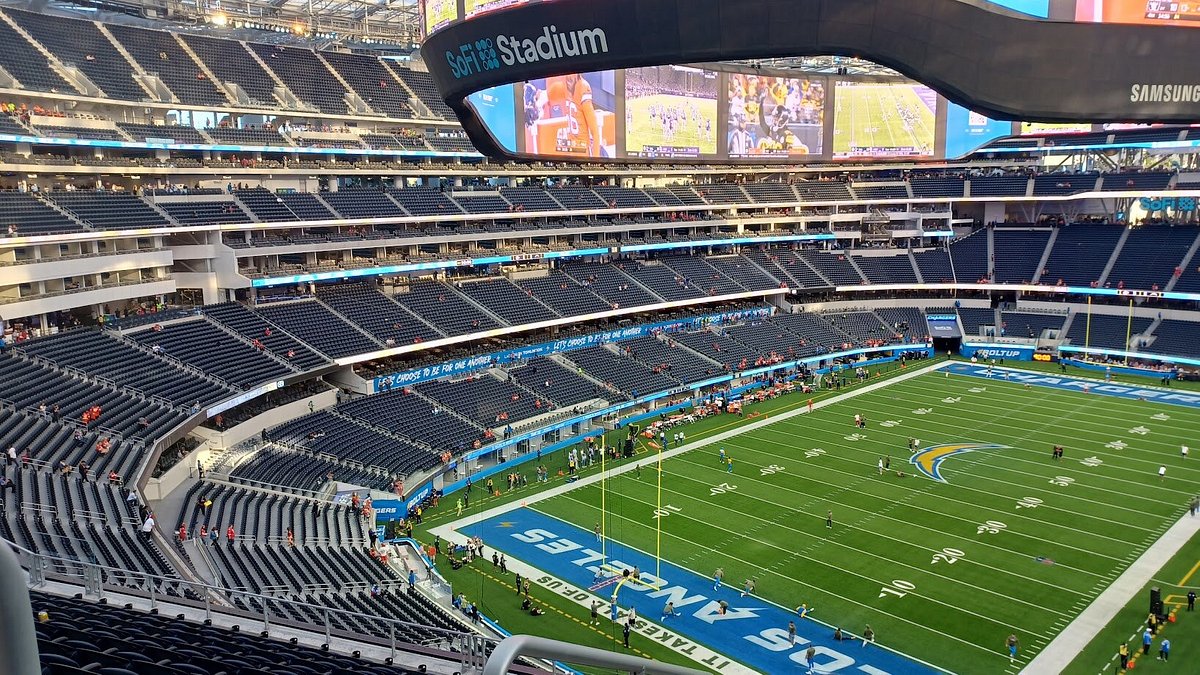 The idea of constructing a new stadium in Los Angeles, which later resulted in the SoFi Stadium, was initially conceived after the departure of the Rams and the Raiders to St. Louis and Oakland in 1994.
Soon after, there were several attempts to build a new stadium in Los Angeles, but none of them were successful. Finally, in 2015, the NFL approved the relocation of the Rams to Los Angeles, followed by the Chargers in 2017.
In 2016, the City of Inglewood approved a plan to build a new stadium for the Rams and the Chargers. HKS Architects designed the stadium, and construction began in November 2016. The project was initially estimated to cost around $2.6 billion, making it one of the most expensive stadiums ever built.
The stadium's construction was completed in September 2020, despite some delays caused by the COVID-19 pandemic. The ribbon-cutting ceremony took place on September 8, right before it officially opened on September 13, 2020, with a Sunday Night Football game between the Rams and the Dallas Cowboys.
Where to Get Tickets for SoFi Stadium
Tickets for events at SoFi Stadium can be purchased through various online ticket marketplaces and the official SoFi Stadium website.
Some popular online ticket marketplaces where you can purchase tickets for SoFi Stadium events include:
To purchase tickets through the official SoFi Stadium website, visit their 'Events' page and select the event you want to attend. You can select your preferred seating and purchase tickets directly through the website.
Does SoFi Stadium Offer Tours?
Yes, SoFi Stadium offers tours to the public. The tours allow visitors to explore the stadium and learn about its unique features, including its cutting-edge technology, architecture, and design. Here are some tour options available for the public:
A behind-the-scenes experience tour
Rally days (a tour available a day before a home game)
Group tours
It is recommended that visitors book their tours in advance, as they can sell out quickly, especially during peak season. Visitors can visit the SoFi Stadium website or contact the stadium for more information on booking a tour and tour times.