Many sporting events and live musical performances have been performed in the Ball Arena since the early 2000s. This venue is popular for its versatility and large capacity to welcome more than 20,000 guests and visitors from all over America.
The city of Denver is one of the most suitable places for outdoor activities because of its mesmerizing nature and rocky mountains. Tourists can enjoy local food and popular events and stay in beautiful Hotels near Ball Arena.
Visit Ball Arena
Known as the Ball Corporation by many, the stadium with a large stage that we know today as Ball Arena has existed for over two decades. Located in the capital of Colorado, this arena is a true treasure of Denver.
The staff at Ball Arena is specifically trained to take proper care of each guest by offering parking spots and catering for prestigious visitors as well as providing the best service characterized by pleasant hospitality.
During special events such as sports matches and musical spectacles, the Ball Arena opens its doors to all fans of respected players or artists.
Having fun at the Ball Arena is guaranteed, and there are hotels nearby that you can visit during your stay.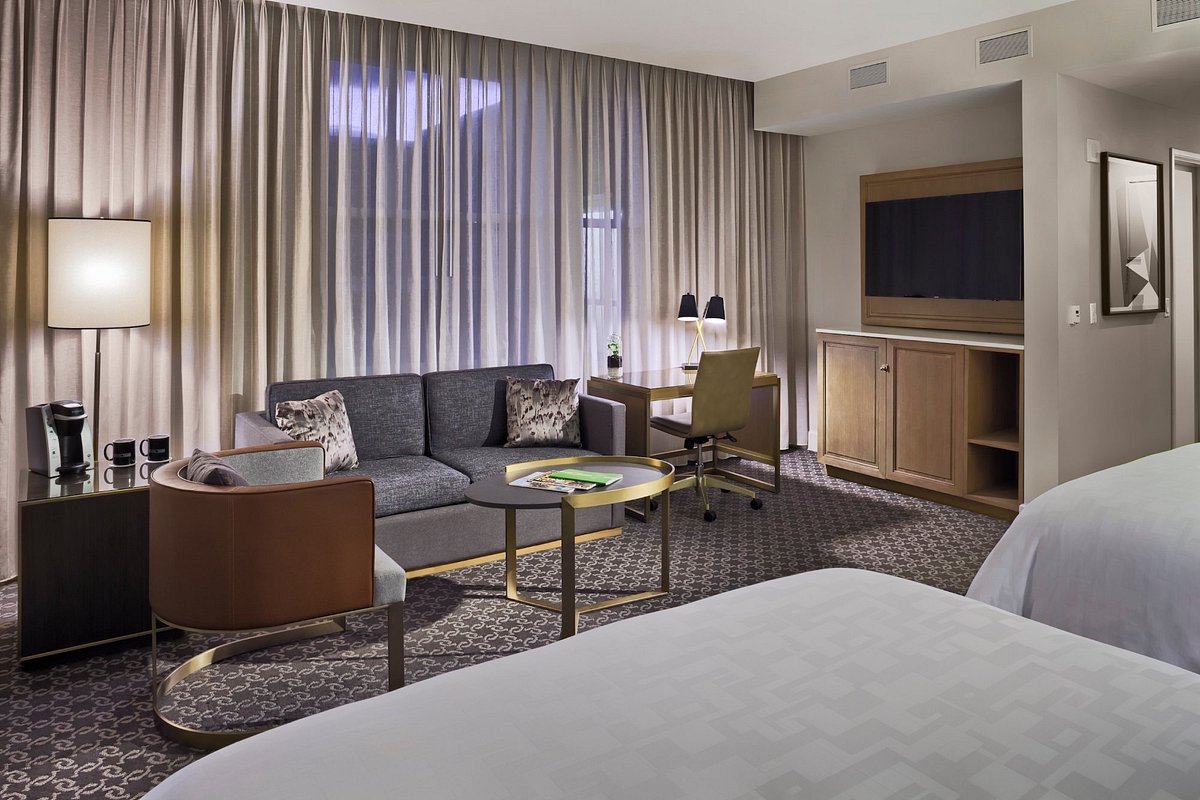 Not far from the Ball Arena grounds, there is a hotel just downtown Denver that is often described as a "home away from your home."
Amenities
Wi-Fi connection
Car wash service
Free of charge room calls
Athletic center
Rooms
A variety of accommodation options are offered by Hotel Teatro, such as luxe suites and spacious rooms. Each room is equipped with comfortable cushioning and clean bedding to make your experience as cozy as possible.
The rooms at this hotel either contain a king bed or a queen bed, and you can choose either of them based on your individual needs. In comparison, the Teatro suites also contain a large lounge area and a big bed.
By request made at the front desk, the guests can receive soft bathrobes, massages, and coffee makers within their rooms or suites. Each accommodation also includes a large TV and the option for ordering room service.
Restaurants
The management team of Hotel Teatro is focused on providing the best possible experience for its visitors by offering them to try the meals prepared by accredited chefs in the restaurants near and in the hotel.
A restaurant located within the Hotel Teatro that is proven to be one of the best spots in Denver is The Nickel Restaurant. Whether you only want to enjoy a bottle of wine with a charcuterie board or prefer a three-course meal, this place can make it happen.
A lounge bar located very near the Nickel is The Study. Apart from serving their guests in the restaurant, the cooks at the Nickel Restaurant also kindly serve breakfast in this homey bar so that people can enjoy their morning coffee by the fireplace.
Additional information
| | |
| --- | --- |
| Location | Hotel Teatro |
| Phone Number | +1 888-727-1200 |
| Stars | 4* |
| Distance from the Ball Arena | 0.5 miles |
Downtown Denver is known to be among the most cheerful and vibrant places in this area. It is also the home of a very nice hotel at a short walking distance from the Ball Arena.
Amenities
Fitness center
Breakfast service
Free Wi-Fi
Welcoming pet policy
Indoor pool
Rooms
Each room at the Hyatt Place Hotel receives daily cleaning services. Apart from this, coffee machines and ironing boards are included within most available accommodations as well as the possibility to receive additional amenities per request.
Relaxing in a cozy environment during your visit to Denver is extremely important especially if you are planning on attending a couple of Ball Arena events. Luckily, this hotel has some of the comfiest rooms that are accessible for a reasonable price.
The showers and lounge areas are carefully designed to avoid the appearance of unnecessary clutter. The sleeping areas are separated from the sofas to get a good and uninterrupted night's sleep during your stay at this hotel.
Restaurants
One of the best features that Hyatt Place offers is the free breakfast which is enjoyed by all guests at the Breakfast Bar. This hotel cares about its visitors' well-being and ensures that everyone has a cup of tea or coffee in the morning.
Plenty of different supermarkets are located close to this hotel, which is very convenient because there are no restaurants within the Hyatt Place Hotel. You can pick up everything you need from the store and enjoy your meals in your hotel room.
Even though this hotel lacks a restaurant spot, it has some of the coolest bars in town. You can also get a bite-size treat along with your drink of choice at the Hyatt's famous and well-known locals – H Bar.
Additional information
One of the most unique and modern hotel interiors is offered by the Curtis Hotel, which is located in downtown Denver, Colorado.
Amenities
Colorful designs
Lively atmosphere
Pet-friendly
24/7 gym
Options for catering
Rooms
Maybe you have heard that simplicity is key, but there is nothing simple about the room design in each accommodation offered by the Curtis Hotel. Every room and suite contains colorful furniture and a cozy vibe that will surely catch your eye.
If you and your partner are planning on visiting the Curtis Hotel, the best and most affordable option for you will be the standard room with one large bed. However, if you bring your children with you, a better choice would be a room with two beds.
All suites available for booking at this hotel are designed with a specific theme in mind to bring a playful atmosphere. The interesting decor and wallpapers are especially fun for young children because many rooms and suites have cartoon themes.
Restaurants
The Curtis Hotel has become very popular over the last few years because of the excellent dining area within it called The Corner Office Restaurant. This restaurant serves dishes inspired by various cuisines while simultaneously emphasizing the culture of Denver.
The Corner Office Restaurant also includes a Martini Bar, which you can visit to spoil yourself with a few drinks that are served in a unique way worth taking pictures of and remembering these special moments forever.
If you are more of a grab-and-go person in the morning, there is a Starbucks establishment in the Curtis Hotel. So, you can get a cup of coffee as soon as you wake up after that exciting event at the Ball Arena.
Additional information
An urbanistic hotel worth visiting by young people and Ball Arena event fans located in the heart of Denver and its beautiful mountain view.
Amenities
On-site parking
Accessible pool
Fitness center
Business area
Pet accessories
Rooms
Since many accommodation options within the Sonesta Hotel are currently being renovated, the number of available rooms is limited. For this reason, you might have to book your place in advance if you want to visit your hotel.
The constantly booked rooms are a result of it being one of those hotels near the Ball Arena. People rush to reserve their luxe accommodation in the Sonesta Hotel whenever an event happens at the stadium.
Some of the available rooms in this hotel contain either one king bed or two queen beds. Of course, choosing a room with two Queen beds is also available if your entire family is ready to cheer up their favorite players at the Ball Arena.
Restaurants
Apart from the luxurious accommodation options you can choose from in the Sonesta Hotel, there is also a famous restaurant known for preparing and delivering some of the best cuisine Denver has ever experienced – The Lockwood Kitchen & Bar.
All guests that are staying in the Sonesta Hotel can easily access this restaurant and try the most delicious and exciting meals prepared by cooking professionals. The menu is all about embracing the heart of Denver and its people.
The bar area is also a popular hangout spot for visitors to this hotel. The selection of wines and uniquely prepared cocktails draw people to come back and visit this place again whenever they are in Denver for a Ball Arena event.
Additional information
If you want to experience the modern feel of Denver and choose to stay in this hotel, you have come to the right place as this is one of the best Hotels near Ball Arena.
Amenities
Night & Day parking options
Deposit-free pet stay
High-speed internet
Non-smoking area
Equipped library
Rooms
Traveling to Denver will become even more enjoyable if you choose to stay in one of the rooms or suites within the Magnolia Hotel. The accommodations have high levels of comfort and a contemporary feel.
If you are planning on staying in Denver for a short period, the most suitable accommodation option for you would be a guest room. The bathrooms within each guestroom are spacious, which is perfect for relaxing after spending the entire day in the Ball Arena.
However, suppose you planned an extended stay in the city of Denver to explore all of the cool spots in Colorado. In that case, you can book one of the comfiest suites offered by the Magnolia Hotel, with one large bed and a separate area for lounging around.
Restaurants
Even though choosing a suite also comes with a private kitchen, when you are on holiday, it is very likely that you will prefer going out to eat instead. Nonetheless, that won't be necessary if you choose to stay in the Magnolia Hotel.
In the lobby area of this hotel, there is a restaurant called Harry's – the perfect place to enjoy some deliciously prepared meals without having to leave the hotel at all. The chef prepares seasonal menus to provide a unique dining experience for all his guests.
The breakfast, lunch, and dinner operating hours at Harry's are constant during the entire week.Тhat is because this hotel is focused on welcoming their visitors in the most suitable way possible by offering them to try classic meals in a relaxing atmosphere.
Additional information