Empower Field at Mile High is the home field of the Denver Broncos football team. This stadium is located at 1701 Bryant St. in Denver, CO 80204. Empower Field at Mile High holds other activities all year long in addition to NFL games.
In this new season for the guests, new food options have been introduced by the Denver Broncos and Aramark Sports and Entertainment at Empower Field at Mile High.
Here's where to eat the tastiest food if you score tickets to a Broncos game this season.
Food Options to Try at Empower Field at Mile High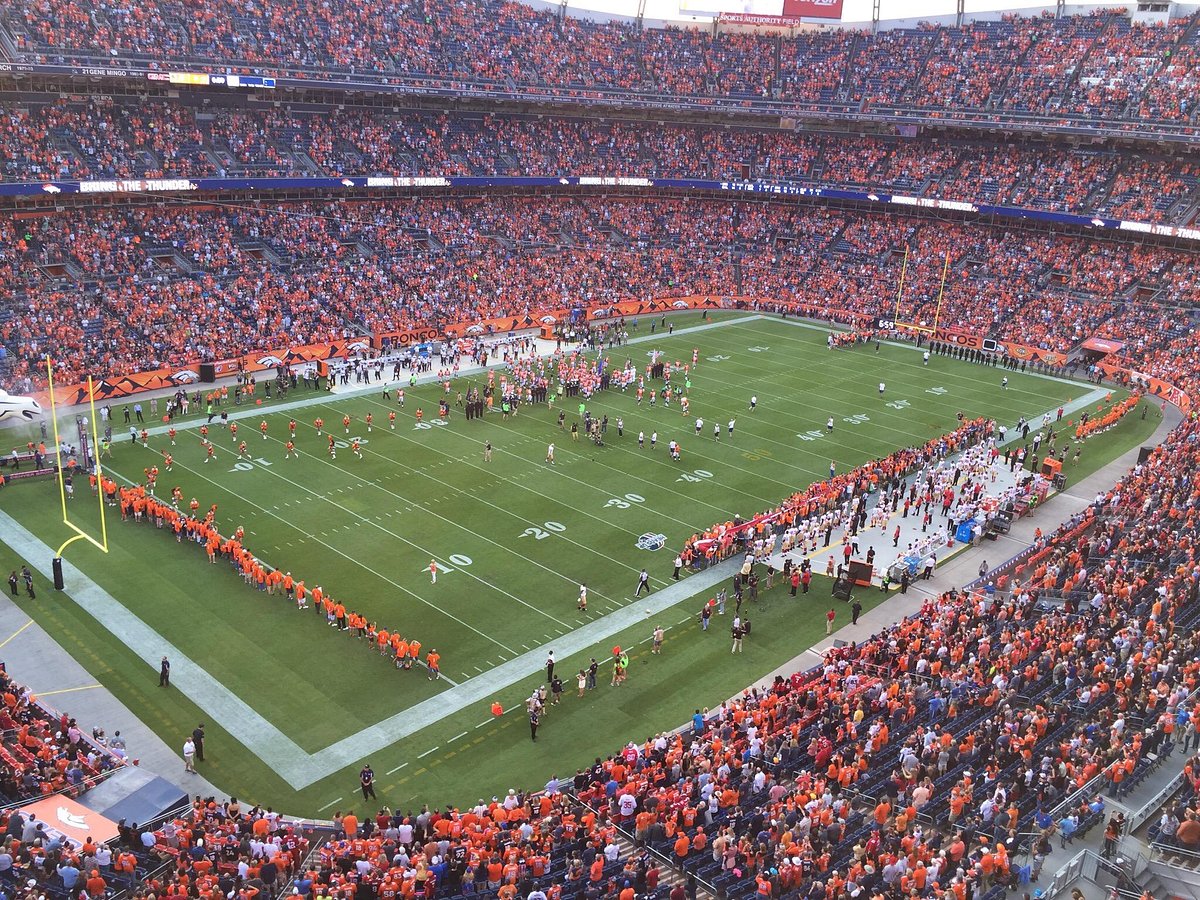 Empower Field has a variety of food options for its fans and visitors. To make it more convenient for their supporters, the Broncos and their food partner, Aramark, keep trying to upgrade their service and bring new dishes to the menu always so that fans can enjoy good food and exciting matches at the same time. 
Favs@MH
This concession stand serves nachos, hot dogs, popcorn, soda, and more out in section 123.
King of Brats
For hot dogs, monster dogs, peanuts, and sausage green chili, you can go to King of Brats in section 117.
Federal Blvd Burger
For custom gourmet burgers with cheese, go to sections 107, 512, and 538.
Tenders Love and Chicken
They offer up chicken wings, wings, fries, sauces, and more. You will find them in sections 103 and 122.
Biker Jim's Gourmet Dogs
Biker Jim's Gourmet Dogs, in Section 103, is another fan-favorite restaurant that sells a variety of famous hot dogs and sausages.
Vegetarian Street Tacos
They serve flour tortillas with ranchero black beans, cauliflower, and pico de gallo on top. You can find them in Sections 103, 107, 119, 503, and 539.
GQue Championship BBQ
You can also try some BBQ in section 135.
Red Zone Pizza
For some classic Italian pizza, go to section 101.
505 Green Chili Cheese Dog
They serve all beef hot dogs topped with shredded pepper jack cheese, mild 505 green chile sauce, and sprinkled with crushed 505 Hint of Hatch Tortilla Chips. You will find them in sections 112 and 117.
Frank Bonanno Concepts
Located in section 119, they sell pork belly sandwiches and fried hot chicken sandwiches.
Wyly Coyote Potatoes
Here, you will find a wide range of potato dishes, mac n cheese, short rib, jalapeno popper, Texas chili, and more out in section 121.
End Zone Cheesesteak
Located in sections 106, 131, 513, and 529, this restaurant serves the traditional Philly cheesesteak.
You can also order some other dishes such as kimchi hot dogs, jalapeno pork belly, 505 green chile cheese dogs, and so on at different food stalls of this stadium.
What Are the Available Vegan Snacks at the Empower Field?
At Empower Field in Mile High Stadium, there are many vegan options for visitors. Look through our list of vegan-friendly restaurants at Empower Field.
Ozo Plant-based Burgers
Available in Blitzburger (sections 100 and 504), Sideline Grill (sections 107, 512, and 538), Legends Grill (sections 110 and 530), and Club Grilles (section 314).
Vegan Hotdogs
Vegan hotdogs are available in sections 111, 230, 509, and 533.
Grain Bowls
Grain bowls are with rotating fresh ingredients made up of wild grains, fruits, veggies, and a choice of protein selections available in sections 303 and 342 markets.
Vegan Snacks
You will find the following vegan snacks throughout the stadium:
Bavarian Pretzels
Chips and Salsa
Pretzel Bites
Select Candy
French Fries
Peanuts
Kettle Corn
Dippin' Dots Rainbow Flavored Ice
Available Desserts at the Empower Field
Dippin' Dots
Dippin' Dots ice cream is available in many concession stands around the venue.
Nitrogenized Ice Cream
You can also find liquid nitrogenized ice cream, which is served in a Denver Broncos helmet.
Available Drinks and Beverages at the Empower Field
Throughout the stadium, you will find plenty of concessions selling juice, soda, cocktail beer, draft beer, and wine.
Drink MKT
Fans should go to sections 116, 124, 321, 510, and 528 if they want to get a cold beer with lots of options such as iced tea, diet coke, vitamin water, Dasani sparkling water, canned cocktails, and wine.
Denver Cocktail Co.
This is a walkup bar with beer and mixed drinks standing at section 124. 
For the new season, the Denver Broncos' stadium is introducing high-tech cocktail bars. According to the stadium concessionaire, Aramark, bars' digital age verification feature through facial recognition can verify guests' age for each purchase and let them make a cocktail with just a few taps on a screen.
Popular Food Items at the Empower Field
Here is a list of must-have items at Empower Field.
Wild Taco
You must try tacos from Wild Taco in section 127. Be sure to add frozen marg, chips, and salsa for a divine taste.
505 Southwestern Monster Chicken Nachos
Another item that should be on your list is 505 Southwestern monster chicken nachos. Throughout the stadium, you will find many nachos shops (sections 103, 110, 116, 128, 231, 303, 342, 503, and more). When visiting the Empower Field, if you crave some nachos, make sure to get 505 Southwestern monster chicken nachos.
Denver Cheesesteak
You can't miss out on Denver cheesesteak when you are at the Empower Field. Go to 505 Roasted Green Chiles, Shaved Sirloin, or Chile Con Queso (sections 106, 131, 513, and 529) to have some delicious Denver cheesesteak.
Cherry Cricket
Cherry Cricket's cheeseburger, Cricket burger, and sandwich. You will find the concession in section 127.
Ozo
The last popular and must-have item is for vegetarians. If you are a vegetarian and want to have a savory yet hearty meal, you must have plant-based burgers and meatball subs from Ozo. You will find the concession in sections 100, 107, 110, 130, 303, 314, 332, 342, 504, 512, and more.
Conclusion
Empower Field at Mile High Stadium offers plenty of choices of food for Broncos fans to enjoy, along with exciting matches.
Empower Field at Mile High has upgraded concessions concepts while continuing to use A.I. and other technology to ensure a smooth and enjoyable stadium experience for this season in order to enhance fans' enjoyment of gameday and the stadium's foods. So, fans can be sure to receive improved and accelerated service.
FAQs
Can I Bring Outside Food to the Empower Field?
According to the Empower Field food policy, food of any kind that is contained in a clear plastic bag is permitted into the stadium.
Can Visitors Bring Alcohol to the Empower Field?
No alcoholic beverages from outside are allowed at the Empower Field. Guests who bring alcoholic beverages from outside will be ejected without a refund.
Is Smoking Allowed at the Empower Field?
Smoking is not permitted at Empower Field at Mile High. Smoking or using alternative smoking devices (electronic or vapor) is only permitted in specified smoking locations. If you smoke or use alternative smoking devices in an undesignated location, you will be ejected from the stadium with no refund or re-entry.
Can You Tailgate Before a Game?
Before every home game, Denver Broncos fans tailgate in the parking lots. To learn about all of the regulations, refer to the official tailgating guideline. Take a look at the Empower Field parking tips before your next visit.