Capital One Arena, located in Washington, D.C., is a popular venue that hosts various events such as basketball games and concerts.
Finding the best seats for a great experience can be a challenge, considering the numerous seating options available. This article aims to provide an insight into the best and the worst seats at Capital One Arena, allowing you to make an informed decision to enhance your experience at the venue.
For basketball games, center-court second-tier seating is often considered the best, offering a fantastic bird's eye view of the plays, while still being close enough to see the action on the court. As for concerts, the most common seating layout consists of an end-stage setup with the stage located near sections 115, 116, and 117. Here, the floor seats are widely considered the best, as they provide the closest views of the stage at event level.
On the other hand, the 400s sections can be a less desirable option due to their skyrocketed view, which may come across as too distant for some attendees. Moreover, for concerts with extended stages, seats located behind the extended stage may have obstructed views. This article will further discuss the pros and cons of various seat sections at Capital One Arena to help you decide on the perfect spot for your next event experience.
Best Seats at Capital One Arena
VIP Seats
VIP seats at Capital One Arena are an excellent choice for those looking for a premium experience. These seats come with many advantages, such as:
Exclusive access to lounges and bars
Private restrooms
In-seat food and beverage service
Extra legroom and comfortable seating
These amenities make the VIP seats an unbeatable option for fans who prefer a luxury experience while enjoying a concert or event.
Lower Level Center
The lower level center sections provide fans with optimal views of the stage at Capital One Arena, particularly for concerts. The sections to consider for a great experience would be:
Section 115
Section 116
Section 117
These sections are directly facing the stage, ensuring an excellent line of sight and proximity, making them an ideal choice for fans looking for a memorable night at the show.
Club Seating
Club seating at Capital One Arena offers a mix of comfort and excellent views. Some advantages of club seating include:
Access to exclusive club lounges
In-seat food and beverage service (in select sections)
Wider, more comfortable seats
Keep in mind that club seating locations might vary depending on the event configuration. Capital One Arena is known for its excellent customer service, making club seating an attractive option for those looking for a touch of luxury without sacrificing a great view.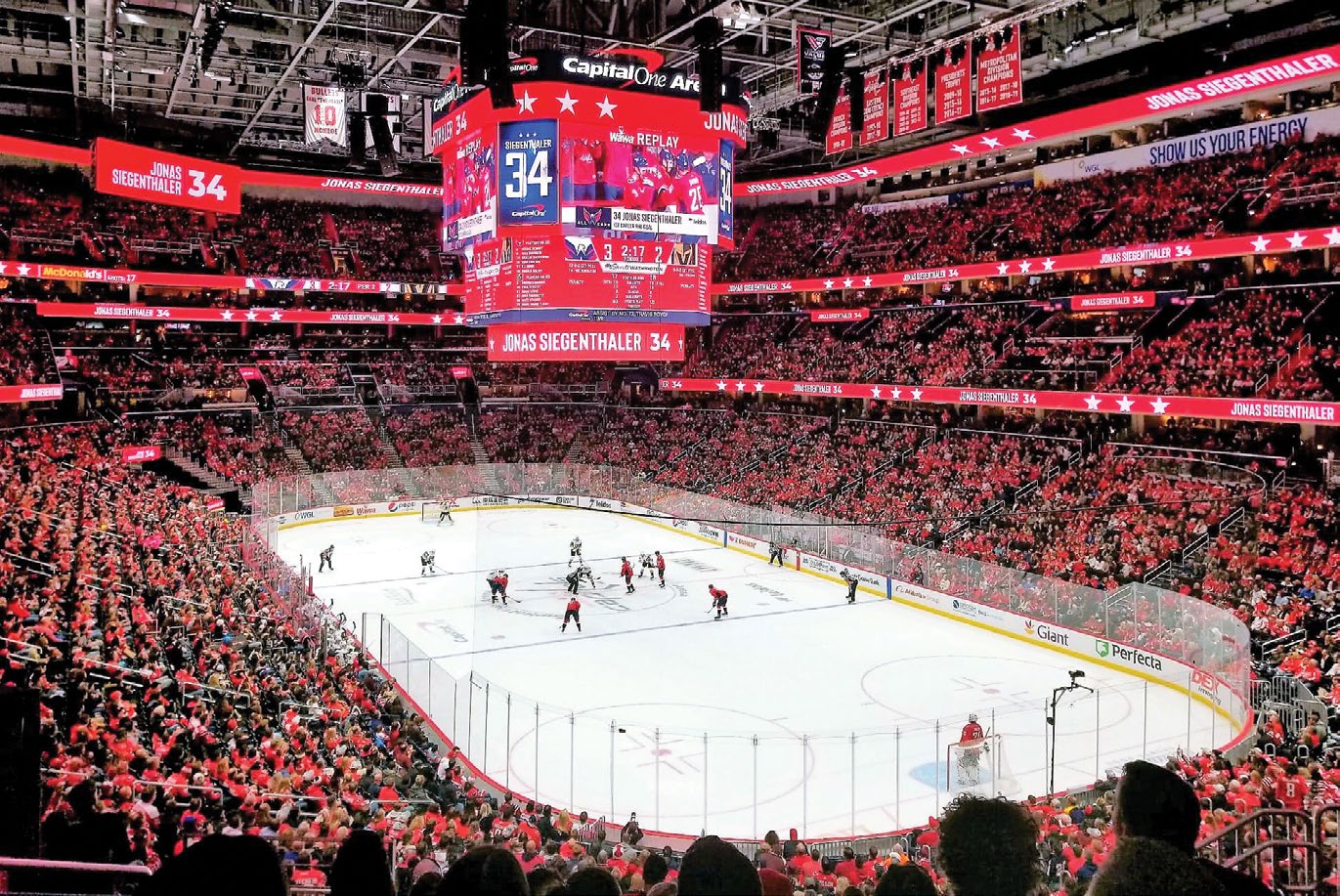 Worst Seats at Capital One Arena
Upper Level Corner
Upper level corner seats, typically located in sections 400 and above, often offer distant and partially obstructed views of the event. These nosebleed seats have a steep angle, making it challenging to interpret plays and follow the action on the court or stage. Additionally, the distance from the action affects the overall atmosphere, and these sections tend to have less crowd energy.
Pros: Lower ticket prices
Cons: Distant and partially obstructed views, steep angle, and less crowd energy
Obstructed View Seats
Some seats at Capital One Arena may offer obstructed views due to the venue's structural elements or equipment used for the event. These seats might be located behind a pillar, scoreboard, or side stage equipment, limiting your ability to fully enjoy the event. It's essential to check seating charts and read seat reviews before purchasing tickets to avoid disappointment.
Pros: Possibly more affordable (depending on the event)
Cons: Limited or obstructed view of the action, reduced overall experience
In conclusion, the worst seats at Capital One Arena are typically found in the upper level corners and sections with obstructed views. While these seats may come with lower ticket prices, the trade-off includes limited visibility and a less immersive experience. Always consult seating charts and reviews to make the best decision for your event.
Factors to Consider when Choosing a Seat
When choosing the best seat at Capital One Arena, there are a few factors to keep in mind. In this section, we'll discuss the importance of ticket price, the view of the event, and proximity to amenities.
Ticket Price
It's essential to consider your budget when selecting a seat. Ticket prices can vary significantly depending on the section, seat location, and event type. Typically, floor seats – like those in Floor 4 – are among the most expensive, while upper-level seats are more affordable. To find the best seat within your budget, compare different sections and their prices before purchasing tickets.
View of the Event
The primary purpose of attending an event at Capital One Arena is to enjoy the performance or game. Therefore, the view from your seat is a crucial factor. The most common seating layout for concerts is an end-stage setup with the stage located near sections Section 115, Section 116, and Section 117. For many concerts, there may be slight variations in the layout, which can include general admission seats, fan pits, and B-stages.
SeatGeek offers a "View from Seat" feature that allows you to preview what your view at the Capital One Arena will look like before making a ticket purchase, taking the guesswork out of seat selection. Additionally, you can utilize tools like SeatGuru to review different seat maps and read reviews from others who have sat in those seats.
Proximity to Amenities
Finally, when selecting a seat at Capital One Arena, consider your proximity to amenities such as restrooms, concessions, and exits. It might be helpful to have easy access to these areas during the event, especially if you're attending with children, elderly relatives, or people with mobility issues.
When looking at the seating chart, note the location of amenities and choose a seat that balances your desired view with easy access to these facilities. After all, you'll want to have an enjoyable and convenient experience at the event.
In conclusion, when selecting a seat at Capital One Arena, it's essential to consider factors such as ticket price, your view of the event, and proximity to amenities.
Tips for a More Enjoyable Experience
In this section, we will provide some useful tips to enhance your experience at Capital One Arena. By keeping these suggestions in mind, you can make sure that your visit to the venue is as enjoyable as possible.
Arriving Early
Beat the crowd: Arriving early helps you avoid long queues at the entrances, food concessions, and restrooms. Aim to arrive at least 30 minutes before the event starts.
Parking: By coming early, you can find a convenient parking spot or even a discounted parking option in nearby garages.
Time to explore: Use the extra time to explore the arena and familiarize yourself with the facilities (e.g., restrooms, food concessions, and merchandise shops).
Dress Appropriately
Layered clothing: It is essential to dress comfortably and in layers as the indoor temperature may vary depending on the event or your seating location. Bring a light jacket or a sweater just in case.
Show your support: Attending a sporting event? Show your support for your favorite team by wearing their colors, jerseys, or other themed apparel.
Comfortable footwear: Choose comfortable shoes as you may have to walk long distances or stand in queues.
Remember, by following these simple tips, you can enhance your overall experience and create lasting memories at the Capital One Arena.
James is a big time NBA Golden State follower, who makes sure to catch games when he's in the area. He likes to follow International Soccer, with an interest in small town soccer club, Blackburn Rovers located in the North on the UK.