Amalie Arena, home to the Tampa Bay Lightning, offers more than just exciting hockey games and thrilling events. This impressive venue is also known for an extensive range of food options catered to satisfy every taste bud. From well-known chains to unique, locally-inspired eateries, the arena provides a memorable dining experience for guests.
Noteworthy food options include national franchises like Papa John's Pizza, Outback Steakhouse, and Corona Baja, which offer popular, crowd-pleasing dishes for fans to enjoy. Additionally, the arena takes pride in showcasing local flavors with venues such as Holy Hog BBQ, Ford's Garage, and Mr. Empanada, serving delectable, Tampa-inspired culinary delights that underscore the city's rich food culture.
With an emphasis on variety, Amalie Arena's Cur(ate) TPA program also delivers a heightened focus on fresh, local food and beverage options, value, service, and sustainability. The Cur(ate) TPA initiative ensures that Lightning fans and arena guests can expect the very best dining options during their visit, making every event a truly immersive and enjoyable experience.
Amalie Arena Overview
Amalie Arena, located in Tampa, Florida, is a popular venue for various events such as concerts, basketball games, and hockey matches. It's home to the Tampa Bay Lightning, a professional ice hockey team in the National Hockey League (NHL). The arena offers a wide range of amenities and services to ensure a delightful experience for guests, including numerous dining options for visitors to grab a bite to eat during events.
Cur(ate) TPA, a culinary experience within Amalie Arena, features fresh, local, and sustainable food and beverage options at different locations throughout the venue.
Some of the new menu items introduced for events and Lightning games include pub-style food like tater tots, cheese curds, and buffalo wings, along with beer and soda at the Budweiser Biergarten Eats. For regional flavors, Amalie Arena offers popular Tampa Bay items such as the Cuban sandwich and empanadas at its concession stands.
Besides traditional food options, the arena also provides alternative choices for guests with dietary restrictions or preferences. Whether you're in the mood for pub-style food or something with a local twist, Amalie Arena has a diverse selection of culinary experiences to satisfy any craving.
Signature Food Offerings
At Amalie Arena, you can indulge in a wide range of delicious signature food offerings that cater to various tastes and preferences. In this section, we will highlight some of the popular food options available at the arena.
One of the well-known local favorites is Mr. Empanada, a family-owned Tampa restaurant founded in 1984. With locations in sections 110 and 307 of the arena, Mr. Empanada offers a variety of tasty options, including beef and cheese, Italian sausage and cheese, spinach, artichoke and cheese, guava and cream cheese, and apple empanadas.
For another local taste, you can try Holy Hog BBQ, which serves some mouthwatering barbecue dishes. Alternatively, if you're looking for a more international cuisine, consider Portside Place at Section 214, available exclusively to guests on the Tampa Bay Club Level. Here, you can enjoy a variety of tacos like Carne Asada Tacos, Pork al Pastor Tacos, Shredded Chicken Tacos, and Vegan Tacos. They also offer snacks like popcorn, pretzels, and a selection of Haagan Dasz ice cream flavors.
Besides these local flavors and specialty options, Amalie Arena also hosts well-known names such as Papa John's Pizza and Outback Steakhouse. These popular food franchises provide familiar and comforting food options for visitors.
In summary, Amalie Arena has a diverse mix of signature food offerings that cater to various food preferences and cravings. Whether you're in the mood for local flavors, international cuisine, or familiar franchise options, you're sure to find something satisfying at this venue.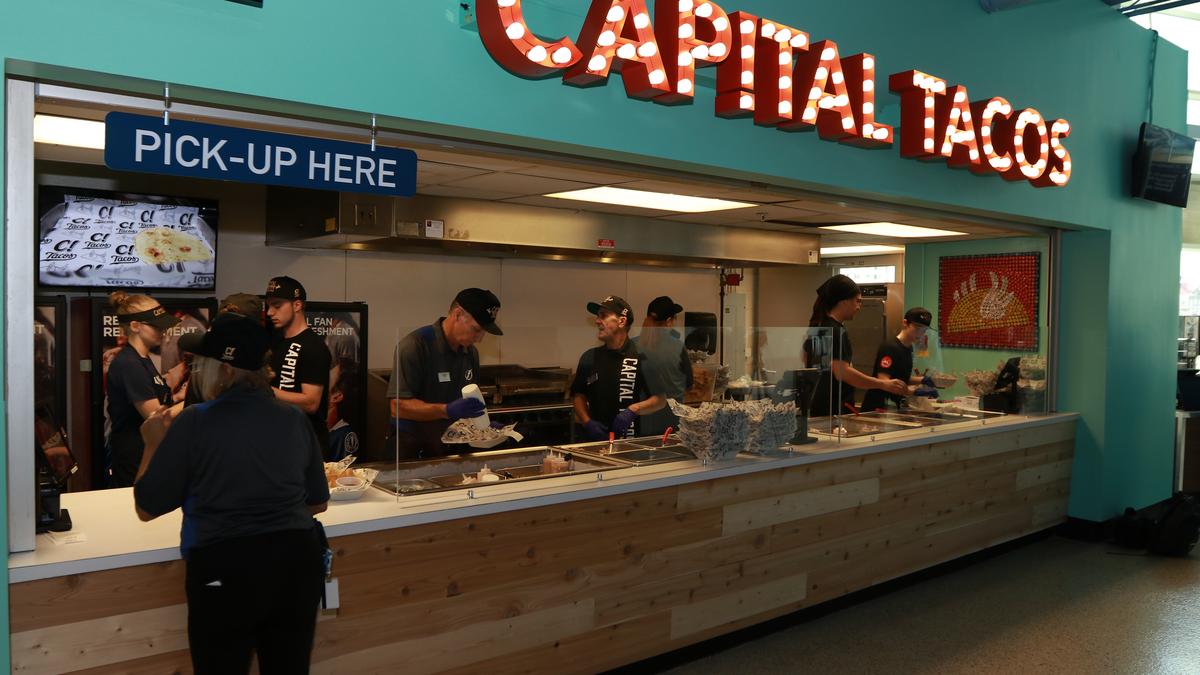 Concession Stands and Restaurants
Main Concourse Concessions
In the main concourse area of Amalie Arena, fans will find a mix of well-known chains like Papa John's Pizza and Outback Steakhouse. Visitors can enjoy a variety of food options, such as the Bloomin' Burger at the Outback Steakhouse concession stand, located at section 117.
Upper Level Concessions
The upper level of Amalie Arena also offers a variety of concession options, ensuring that all fans have access to delicious food choices while attending events. Some popular food spots within this area include the Corona Baja concession stand, providing fans with a taste of Mexican cuisine.
Club Level Dining
For fans with access to club level seating, Amalie Arena boasts several premium dining options throughout this exclusive section. Executive Chef of Amalie Arena constantly updates menus, offering world-class dining experiences unparalleled to other arenas.
Suite Level Dining
Those fortunate enough to enjoy events from the luxury suites at Amalie Arena can indulge in a wide array of food options. Suite level dining includes high-quality catering and personalized service, which greatly enhances the overall guest experience.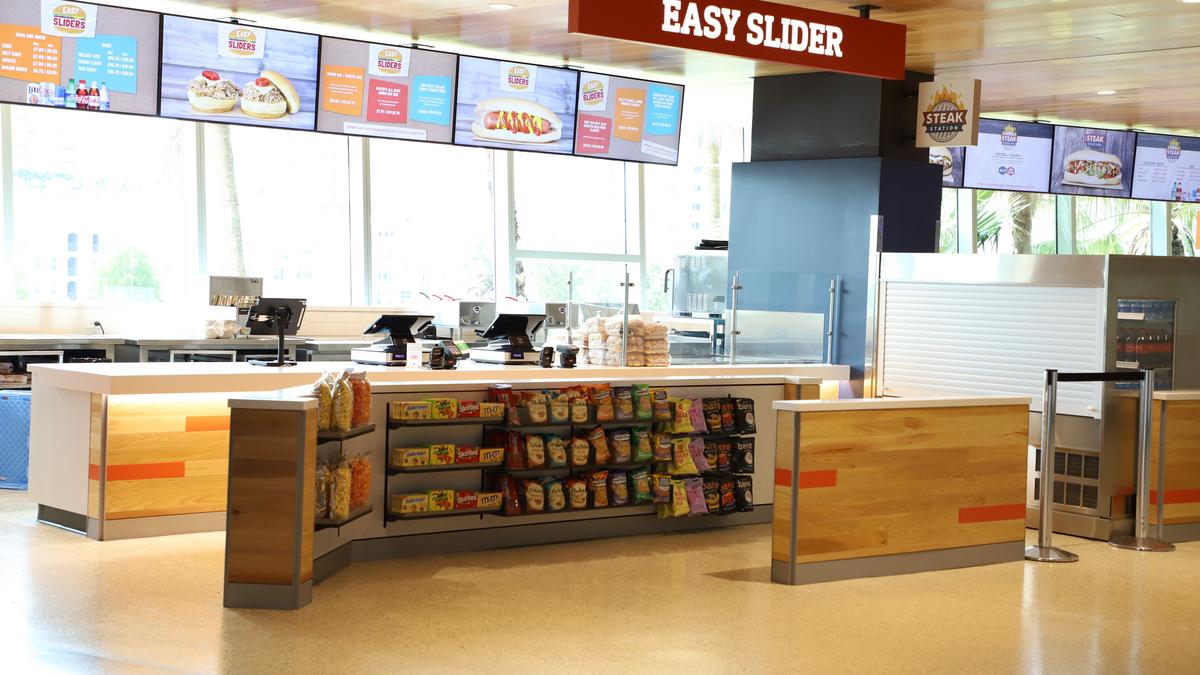 Special Dietary Needs
Amalie Arena understands the importance of providing diverse food options to accommodate a wide range of dietary requirements. In this section, we will discuss some of the special dietary offerings available at the arena.
Vegetarian and Vegan Options
For patrons following a vegetarian or vegan lifestyle, Amalie Arena offers a variety of plant-based options. Guests with specific dietary needs should contact Amalie Arena at 813.301.6545 to get more information about the available vegan options. Additionally, you can refer to the Amalie Arena vegan options 2023 guide for an updated list of offerings.
Gluten-Free Options
Gluten-free guests will also find suitable food choices at Amalie Arena. While not every concession stand may have gluten-free alternatives, the arena has taken steps to include various options that cater to gluten-free diets in new menus.
Allergen-Friendly Options
Amalie Arena strives to accommodate guests with food allergies and sensitivities by offering allergen-friendly options. If you have specific dietary needs due to medical conditions or religious requirements, it is advisable to contact Amalie Arena directly at 813.301.6545 to learn more about the available options.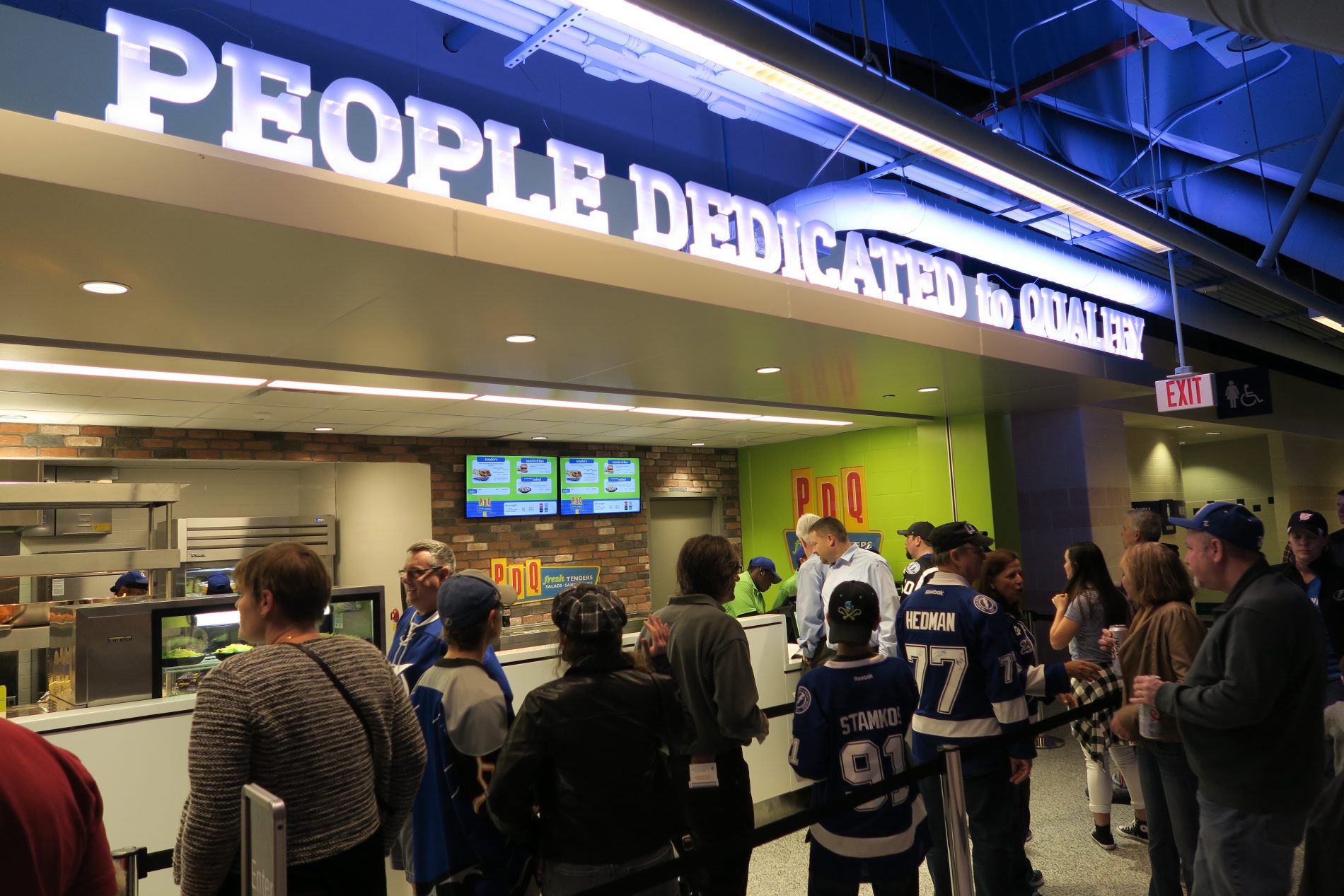 Beverage Options
When attending an event at the Amalie Arena, guests have a variety of beverage options to choose from. The arena offers a wide range of both alcoholic and non-alcoholic beverages to suit the diverse preferences of its visitors.
Alcoholic Beverages
Amalie Arena offers a selection of alcoholic beverages to enjoy during events. Fans can choose from a variety of domestic, imported, and craft beers, as well as an assortment of wines and spirits. Many of these options can be found at the Cur(ate) TPA culinary experience within the arena, which features multiple food and beverage options, including local and sustainable offerings.
For special occasions or a more upscale experience, visitors can also explore the arena's premium clubs and lounges, which may offer an elevated selection of alcoholic beverages, such as champagne or high-end cocktails.
Non-Alcoholic Beverages
Guests seeking non-alcoholic refreshments also have a variety of options at Amalie Arena. Some of the available options include:
Soft drinks
Bottled water
Fruit juices
Energy drinks
Iced teas and lemonades
Coffee and tea
These non-alcoholic beverages can be found at most concession stands throughout the venue. It is also worth noting that Amalie Arena has implemented a sustainable approach to food and beverage options, aiming to offer fresh, local, and eco-friendly selections where possible, as part of the Cur(ate) TPA experience.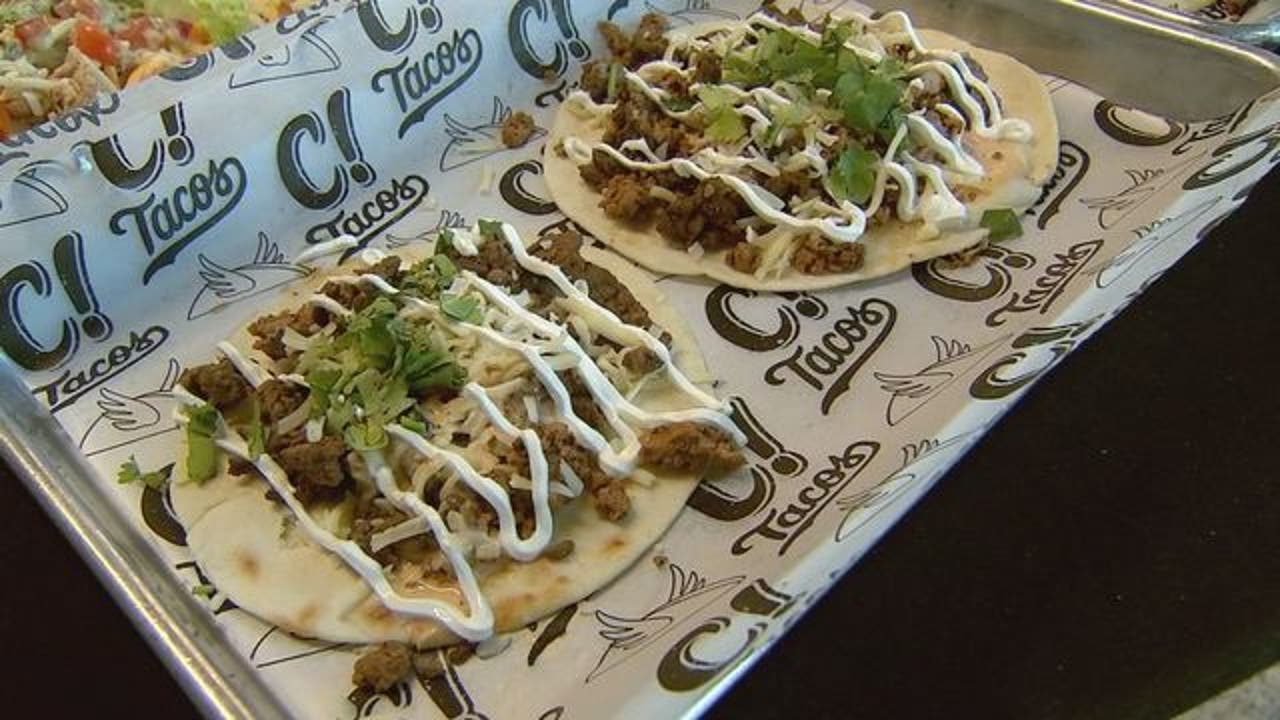 Payment Options and Policies
Amalie Arena offers a variety of payment options to make purchasing food and beverages convenient for visitors. The arena has adopted cashless payment systems to streamline transactions and provide a safer experience for guests. As a result, all concession stands, bars, and restaurants in the arena no longer accept cash.
For customers who do not have access to cashless payment methods, several Reverse ATM machines are available throughout the arena. These machines allow guests to convert cash into a prepaid debit card that can be used for purchases within the arena.
Accepted payment methods at Amalie Arena include:
Major credit and debit cards, such as Visa, Mastercard, American Express, and Discover
Mobile payment options like Apple Pay and Google Pay
Preloaded Amalie Arena gift cards
It's essential to keep in mind that some food and beverage locations may have their own specific policies related to payment methods. For instance, some premium seating areas and clubs might include food and beverage costs in the ticket price, while others might require a separate payment. Be sure to check the specific policies for your seating area before attending an event at Amalie Arena.
James is a big time NBA Golden State follower, who makes sure to catch games when he's in the area. He likes to follow International Soccer, with an interest in small town soccer club, Blackburn Rovers located in the North on the UK.