If you're planning a visit to Amalie Arena in Tampa, Florida, it's important to be familiar with the different gates and entrances to make your experience smooth and enjoyable. In this guide, we'll provide essential information on everything you need to know about Amalie Arena's gate and entrance policies.
Amalie Arena is a first-rate entertainment venue located on Channelside Drive in the heart of Tampa's Water Street district. Since its opening in 1996, it has become well-known as the home of the 2020 Stanley Cup champion Tampa Bay Lightning. Besides hosting thrilling sports events, the arena also offers a wide range of concerts and other shows.
To ensure a seamless visit, we'll cover topics such as the arena's bag policy, food and beverage restrictions, and accessibility options. By the end, you'll have a solid understanding of how to navigate the various gates and entrances at Amalie Arena. Let's dive in!
Amalie Arena: A Brief Overview
As a fan of entertainment, I've had the pleasure of experiencing events at Amalie Arena in Tampa, Florida. Let me give you a brief overview of this fantastic venue. Amalie Arena opened in 1996 and is located on Channelside Drive in the heart of Tampa's Water Street district. It is best known as the home of the 2020 Stanley Cup champion Tampa Bay Lightning. Originally called the Ice Palace, the arena was built to serve both the NHL's Tampa Bay Lightning and the Arena Football League's Tampa Bay Storm.
When it comes to capacity, Amalie Arena has room for quite some crowds. It can accommodate 19,092 fans for hockey, 20,500 for basketball, 21,500 for concerts, 18,500 for arena football, and 19,000 for wrestling events. This makes it a versatile location suitable for various events that you might want to attend.
One of the things I like about Amalie Arena is its dedication to accommodating all of its guests. The venue has information available on ADA/accessibility and strives to create an inclusive environment for everyone attending events there.
If you're planning on visiting Amalie Arena, make sure to check out the various entrances for easier access and navigation. There's the West Entrance, Suite Entrance, Club & ADA Entrance, and more. This way, you'll know exactly where you're going and can arrive at your seat quickly.
In summary, Amalie Arena is an incredible venue for entertainment in the Tampa area. It offers ample seating for various events, an inclusive environment, and multiple entrances for ease of access. So, if you're planning on attending an event there, I hope you'll enjoy your visit as much as I have in the past.
Getting to the Amalie Arena
Parking Information
In my experience, there are a few options for parking near Amalie Arena. It's essential to consider time and costs when choosing a parking spot. While I don't have specific information on parking lots, I can confirm that parking is available near the arena. You may want to do a quick search for parking lots and garages close to Amalie Arena to make your choice.
Public Transport Options
As for public transportation, I usually find the TECO Line Streetcar to be a convenient choice. It operates from Monday to Friday, 6am-11pm, and on weekends from 11am-11pm. The pick-up and drop-off location for Amalie Arena is at the intersection of Channelside Drive and [insert street name]. Taking the streetcar to and from the arena can save you some time and hassle when attending an event.
Understanding the Gate and Entry System

Gate Locations
There are a few different entrances to the Amalie Arena that you may encounter. Some of the main ones include the West Entrance, the Suite Entrance, and the Club & ADA Entrance. These entrances are designed to accommodate the needs of different ticket holders and guests, making it easier to navigate the arena and find your seats.
Entry Procedures
As you approach Amalie Arena, be prepared to follow the entry procedures. The Amalie Arena has a bag policy in place that prohibits any bags larger than 12″ x 12″ x 12″. This means that backpacks, briefcases, and most luggage are not allowed. If your bag is larger than a small clutch (4″ x 6″ x 1.5″), it will need to go through an X-Ray scanner prior to entry. In addition, guests may not bring food and/or beverages into the arena, unless it's for medical purposes or specific dietary needs due to medical conditions or religious requirements. If you fall under these exceptions, you should contact Amalie Arena at 813.301.6545.
So, when you make your way down to Amalie Arena for an event, keep these gate locations and entry procedures in mind. This will ensure a smooth and enjoyable experience.
Accessibility Information
At Amalie Arena, they are dedicated to ensuring all guests have a great experience. That's why they've made efforts to implement numerous accessible services and amenities for guests with disabilities.
For those who require accessible parking, there are designated spaces available in the surrounding lots. They also offer accessible seating options throughout the arena with companion seating available as well. To make the event experience even better, they provide American Sign Language interpreters upon request. Just be sure to let them know in advance, so everything is ready for your visit.
I've noticed that Amalie Arena has several building access points designed to accommodate guests with mobility impairments. They also have elevators to help you reach your destination within the venue. If you have hearing impairments, the Amalie Arena website is designed to be hearing impaired-friendly. Plus, they offer closed captioning at events to make sure you don't miss any of the action!
In case you need assistance navigating the arena, Amalie Arena has wheelchair escorts available to help. Simply ask a staff member, and they'll be more than happy to assist you. They even offer ProWire Real-Time Audio Streaming for those who might benefit from it.
I hope this information helps you plan a fantastic visit to Amalie Arena and enjoy all the incredible events they host. Have a great time!
Prohibited Items
I would like to share some important information with you regarding prohibited items at Amalie Arena. Based on the information I gathered, the bag policy at Amalie Arena restricts any bags larger than 12″ x 12″ x 12″. A key thing to note here is that they do not allow backpacks, luggage, or briefcases. On top of this, any bags larger than a small clutch (4″x 6″x 1.5″) are required to go through an X-Ray scanner prior to entry.
Now let's talk about some of the specific items that you cannot bring into Amalie Arena. For a Tampa Bay Lightning match, the following items are not allowed:
Bags that exceed the size of 12x12x12″
Binocular bags
Weapons
Please keep in mind that besides these restricted items, certain events or shows happening at Amalie Arena might result in other items being prohibited as well. It is always a good idea to check the event page of the show you are attending beforehand, as the bag and item policies might differ on a show-by-show basis. I hope this information helps you in understanding what items are not allowed at Amalie Arena, so you can enjoy your event without any issues.
Facilities Inside the Arena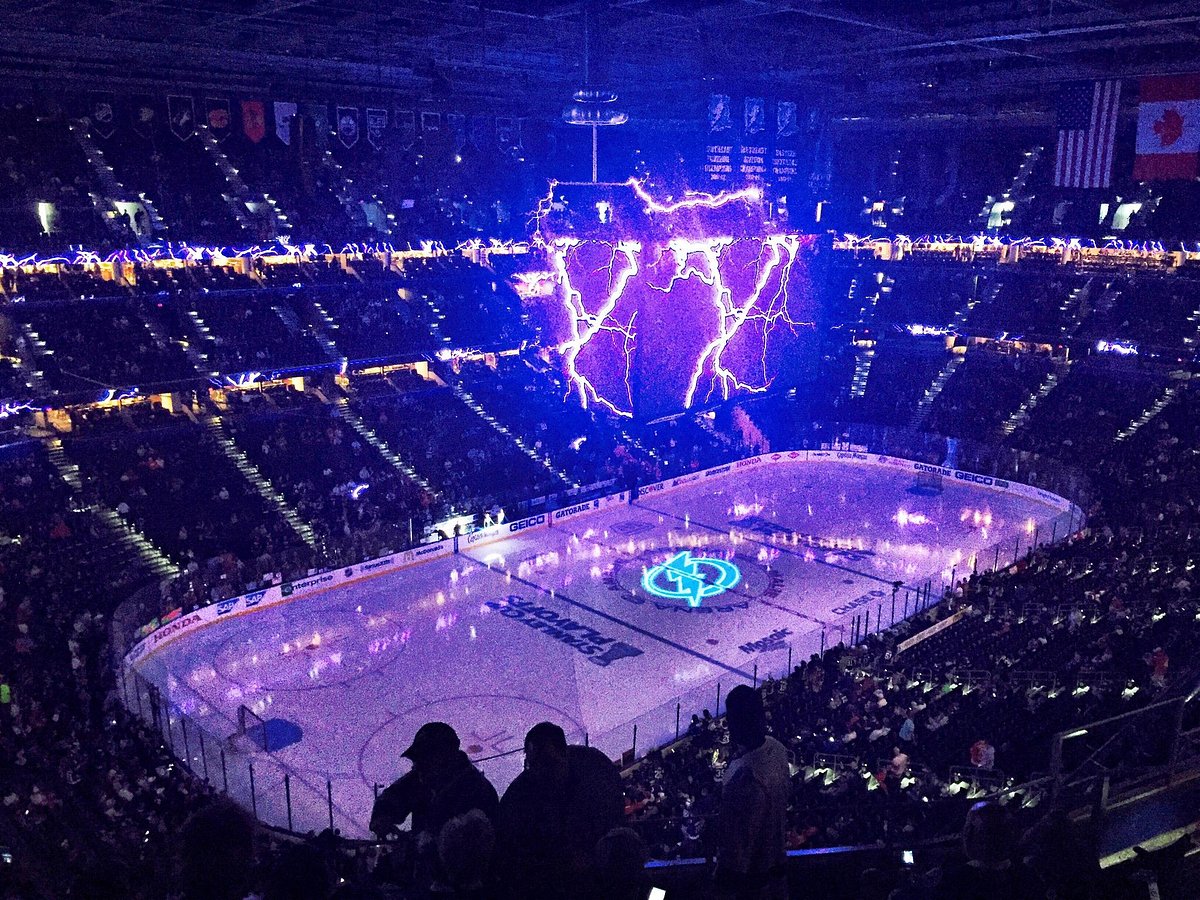 Restroom Locations
The Amalie Arena has restrooms available throughout the venue for your convenience. You'll find them on each level of the arena, so you won't need to go too far when nature calls. They are accessible for disabled guests, as they have been designed to accommodate wheelchairs. Additionally, baby changing facilities are available in all the restrooms to cater to families attending events at the arena.
Food and Beverage Options
I discovered a wide variety of food and beverage options available within the Amalie Arena. You'll find everything from classic arena fare like hot dogs, burgers, and pretzels to more unique options like gourmet tacos and sushi. For those who enjoy traditional American cuisine, there are options like chicken tenders and fries. Vegetarian and vegan alternatives are also available to cater to various dietary preferences.
When it comes to beverages, there's something for everyone at Amalie Arena. A diverse range of drinks, including soft drinks, bottled water, beers, wines, and cocktails are available throughout the venue. You'll also find stands with coffee, hot chocolate, and other warm beverages for those cool game nights.
Seating Arrangement
The seating arrangement in the Amalie Arena is organized into sections and rows, ensuring that every fan has a clear view of the action. There are multiple levels, including the lower bowl, club level, and upper level. Each section offers a unique perspective on the game or event, so choose your seats based on your preferences.
Accessible seating options are available throughout the arena for guests with disabilities. These areas provide wheelchair-accessible spaces and companion seats, making it easy for everyone to enjoy the action. Additionally, seating areas for hearing-impaired guests equipped with Assistive Listening Devices are also available.
Don't forget that seating sections may vary depending on the event, so make sure to double-check the specific seating chart for the event you're attending.
Other Important Info
As someone who has been to Amalie Arena, I'd like to give you some friendly advice about a couple of crucial details to keep in mind when planning your visit. In this section, I'll cover the box office details and security measures at the arena.
Box Office Details
Before attending an event at Amalie Arena, it's important to know a bit about the box office. The box office is located at the arena, with the address being 401 Channelside Drive, Tampa, Florida 33602. To get the most up-to-date information regarding hours of operation, it's best to check their website or call the box office directly.
Security Measures
For your safety and the safety of others, Amalie Arena has implemented specific security measures to help maintain a secure environment. Be aware of the bag policy, which prohibits any bags larger than 12″ x 12″ x 12″. This means no backpacks, briefcases, or luggage. If you bring a small clutch larger than 4″x6″x1.5″, it will need to go through an X-ray scanner prior to entry.
Moreover, there are certain prohibited items that you must keep in mind when attending events at Amalie Arena. To avoid any issues at the entrance, take a look at their website for a detailed list of such items.
In conclusion, knowing important details like the box office timings and security measures can help you better prepare for your visit to Amalie Arena. By keeping these friendly tips in mind, you can focus on having a fantastic time at the arena.