If you're planning to catch an Orlando Magic game at the Amway Center, there's tons of useful information you should know.
That's why we want to give you a detailed guide about everything to do near the arena, from its history and key facts to the perfect parking spots and accommodations.
Since the arena is in Orlando, Florida, we want to provide you with an unforgettable experience during your visit. Continue reading to discover what makes the arena so majestic and what the Downtown area offers.
Amway Center: Key Facts
The arena is home to Orlando Magic, Orlando Predators, and Orlando Solar Bears. This indoor arena hosted the NBA All-star game in 2012, ECHL All-Star Game in 2015, WWE's Royal Rumble in 2016, and multiple UFC events.
Furthermore, numerous famous musicians have stepped foot on the arena, including Shakira, Lady Gaga, Bon Jovi, Taylor Swift, and KISS.
As one of the world's most technologically advanced sporting venues, the visitors are left in awe by the center-hung installation. Thanks to Daktronics' unique design, it's the tallest one in NBA history and can display high-quality, real-time content.
Since it took $380 million to build and has 875,000 square feet to work with, there's a large seating capacity. It can fit 18,500 NBA fans, 20,000 NCAA fans, and 17,000 Arena Football fans.
The arena also has a public art program with 110 pieces contributed by fourteen Central Florida artists. You'll find 140 original pieces of artwork and 200 high-quality photographs highlighting the city's spirit and Orlando Magic.
Where Is Amway Center Located?
The arena is located at 400 W Church St Suite 200, in Downtown Orlando, Florida. Its exact coordinates are Latitude: 28.539169 North, Longitude: 81.383598 West.
The Best Way to Get to Amway Center
Traveling by car
The best way to get to the arena when traveling by car is by taking the SR408 or I-4. If you're coming from the North, follow I-4W until the 82B exit at Anderson Street. Then, take the next two turns right at Division Street and West Church Street.
If you're coming from the South, exit the I-4E at 82B on the right to reach South Street. Continue driving straight down to Garland Avenue and take a left turn at West Church Street.
You can reach the arena from the West by taking the FL-408E toll road to exit #9 towards US-92/US-17/US-441. Next, you merge onto Carter Street, turn left at South Orange Blossom Trail, and then right to West Church Street.
You take the FL-408 toll road from the East and exit at #11A toward Rosalind Avenue. Take a left at FL-15E/East South Street, and two right turns at South Division Avenue and Church Street.
Traveling by plane
If you decide to travel by plane, four airports are at your disposal. The first and closest option is the Orlando Executive Airport, located only 4 miles from the arena.
Next, Orlando International Airport is 13 miles, while Signature Flight Support and Galaxy Aviation of Orlando are 11 miles away.
Traveling by bus or train
There are a few public transportation options to reach the arena, such as by bus or train. When traveling by bus, you can take the ones numbered 19, 40, 61, and 62.
Bus number 19 takes you from N Garland Ave And W Amelia St to Bethune Dr. And Lewis Ct. On the other hand, 40 goes from Backlot Dr. And Universal Studios Plz to N Garland Ave And W Amelia St.
Both bus numbers 61 and 62 make a circle, the first starting and ending from W Livingston St And N Garland Ave, while the latter from E Church St And S Magnolia Ave.
As for a train ride, the only option available is Sunrail, starting from Poinciana and ending at Debary.
Parking Near Amway Center
There are a few parking options near Amway Center when traveling by car.
If you want a parking spot right next to the arena, the best one is their Geico Garage. Located at 400 West South Street, it offers reserved parking that must be purchased by 5 PM the day before. However, even though your car can stay there the entire day for $15, there's no re-entry allowed.
The Blue Lot is reserved for VIP parking on the north side of the arena. It's easily accessible from Division Avenue and costs around $30. There's also the Gold Lot, holding prices from $50.
The Grove Park Lot is located at 521 West Central Boulevard and offers parking at a daily rate of $10. Furthermore, it has 325 spots available and is just a five-minute walk from the arena.
Other nearby options include Jefferson St. Garage, Washington St. Garage, Central Blvd Garage, Garland Ave Lot, and 55 West Garage. Their prices range from $10 to $20, all within walking distance from the arena.
The Best Restaurants Near Amway Center
There's nothing better than grabbing a delicious meal before or after an exciting game at the arena. Luckily enough, a variety of unique restaurants nearby provide premium-quality food and experience.
The District GastroBar
The District GastroBar is a restaurant with an innovative design and vintage vibe. It has an open-air patio, a rustic dining area, and a spotless bar.
The brick walls radiate a homey vibe, while the bronze tin ceiling is lit by glamorous lighting. It's the ideal place to warm up before a game, as the atmosphere is always ecstatic and cheerful.
The owner KC Preston and menu creator, Andre Walton, embarked on the shared plate dining trend. They offer a dine-in, delivery, and takeaway service.
As for the menu, you can choose between Sandwiches, Salads & soups, Land & Sea, Pizza & Pasta, Tacos & Sliders, and Desserts.
Additional information
| | |
| --- | --- |
| Location | 534 W Church St, Orlando, FL 32805 |
| Contact | (407) 237-0366 |
| Price Range | / |
| Work Hours | Monday: Closed;Tuesday to Thursday from 4 PM to 11 PM; Fridays from 4 PM to 12 AM;Saturdays from 12 PM to 12 AM;Sundays from 12 PM to 10 PM. |
Harry Buffalo
The Harry Buffalo is an American restaurant known for its craft beer and bison burgers. Sporting fans will love its casual and old-school vibe, ideal for pregame excitement. Its warm wooden tones make you feel like you've returned in time, far away from the busy city noise.
The rustic bar, showcasing numerous liquor bottles, is on the second floor for those who want to sit back and relax. Furthermore, the Jerseys on the wall add to the sporting spirit that spreads through the venue.
If you're looking for a delicious dish, there's no better place than Harry Buffalo. They specialize in American cuisine and offer tacos, pizza, chicken tenders, sandwiches, burgers, wings, bowls, salads, and desserts.
Additional information
| | |
| --- | --- |
| Location | 129 W Church St, Orlando, FL 32801 |
| Contact | (407) 422-6656 |
| Price Range | $$ |
| Work Hours | Thursday to Sunday from 11 AM to 12 AM;Fridays and Saturdays from 11 AM to 2 AM. |
Hamburger Mary's
As portrayed in the name, this hamburger restaurant is the perfect place to eat and be mary. Its colorful design with elegant furnishings will surely lift your mood. Plus, the decor has various details that will send you downright laughing.
The long bar and the unusual red ceiling are unique touches that awe guests. There's also an outdoor dining area right before it for those who want to enjoy the fresh air.
The restaurant offers dine-in, takeaway, and delivery options. The menu is divided into several sections: Starters, Gourmet Burgers, Tacos & Tex-Mex, Sandwiches and Wraps, and Salads.
Additional information
| | |
| --- | --- |
| Location | Church Street Station, 110 W Church St, Orlando, FL 32801 |
| Contact | (321) 319-0600 |
| Price Range | $$ |
| Work Hours | Monday: Closed;Tuesday and Thursday from 11 AM to 9 PM;Wednesday and Sunday from 11 AM to 4 PM;Friday and Saturday from 11 AM to 10 PM. |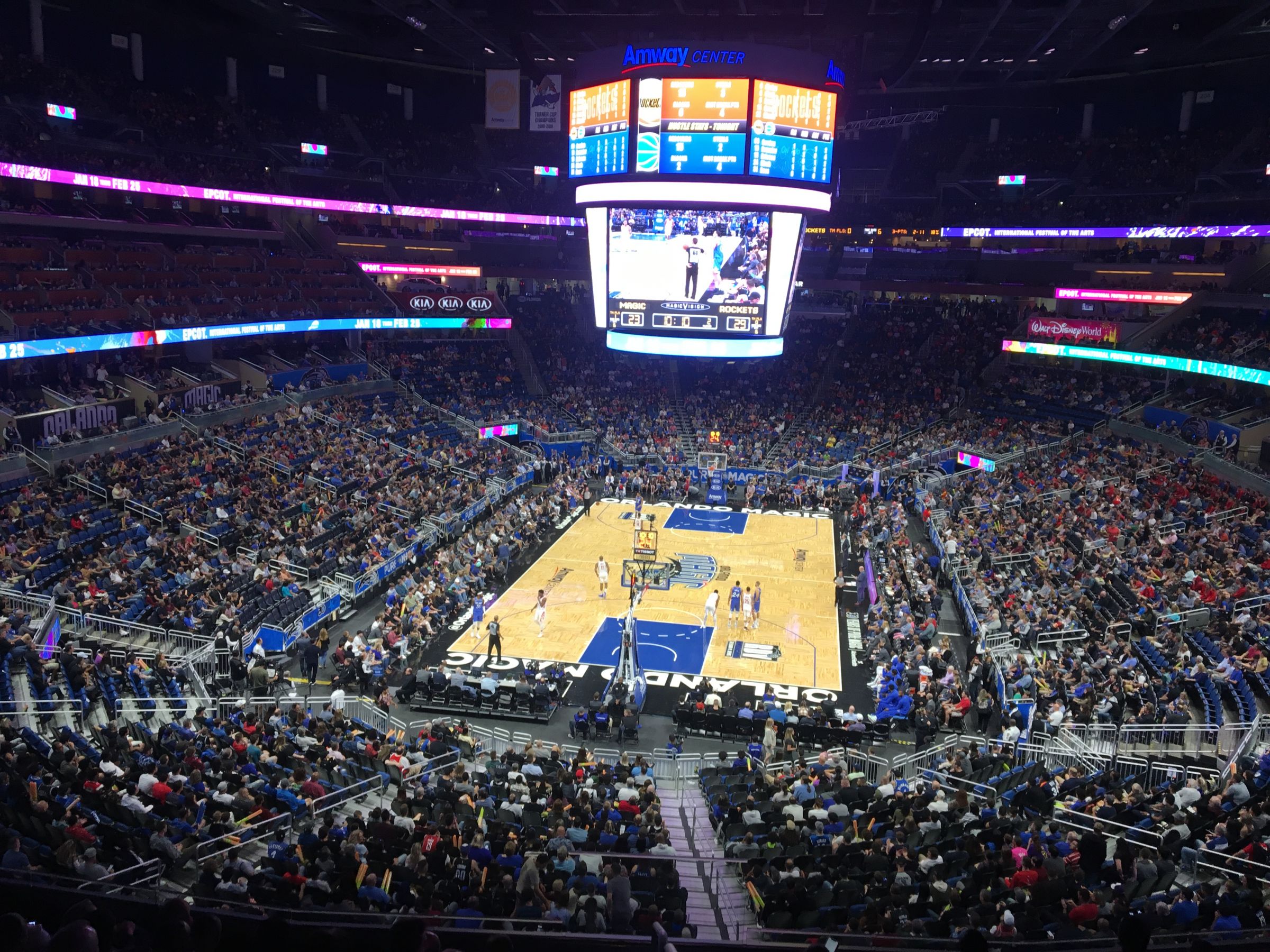 The Best Bars Near Amway Center
Now that you've decided on a place to eat, the next step is to find a place to drink. Even though the area is filled with countless bars nearby, here are our top picks.
Sky Lounge Orlando
Sky Lounge Orlando is a nightclub on the Amway Center's roof. This premium rooftop bar is a real treat for music lovers as they play various genres, from Latin and Hip-Hop to House and EDM. As for liquor enthusiasts, there's a wide choice of signature cocktails, beer, seltzers, wine, and bottle service.
However, the bar has a strict dress code you'll have to follow. No flip-flops, tank tops, shorts, jerseys, backpacks, baseball caps, or athletic wear are allowed.
Additional information
| | |
| --- | --- |
| Location | 400 W Church St, Orlando, FL 32801 |
| Contact | +1 888-913-0180 |
| Work Hours | On Event Days: Opens 1 hour before the event starts and closes 2 hours after the event endsNon-Event Days: Fridays and Saturdays from 9 PM to 2 AM;Sundays from 12 PM to 6 PM. |
Fields Ultimate Lounge
As one of the city's premier event spaces, the Fields Ultimate Lounge is located on the arena's Event Level. It's also close to the Orlando Magic's renowned locker room.
Furthermore, the wide space that fits 1,000 guests is perfect for unwinding and relaxing while sipping a drink.
However, be aware that this lounge is only available for courtside and select season-ticket holders during Orlando Magic home games.
Additional information
| | |
| --- | --- |
| Location | 400 W Church St, Orlando, FL 32801 |
| Contact | / |
| Price Range | / |
| Work Hours | / |
BauHaus
Unlike the two bars before, the BauHaus is located outside the arena in one of the oldest downtown Orlando buildings. However, getting there takes just an eight-minute walk across the street.
Since the owners preserved its original architecture, the bar has a new industrial aesthetic highlighted by its craft cocktails. Its wooden flooring, brick walls, and out-of-this-world drinks make this place a once-in-a-lifetime experience.
Additional information
| | |
| --- | --- |
| Location | 27 E Pine St, Orlando, FL 32801 |
| Contact | (407) 649-0000 |
| Price Range | $$ |
| Work Hours | Fridays and Saturdays from 5 PM to 2 AM;Sundays from 3 PM to 2 AM;Monday to Thursday from 7 PM to 2 AM. |
The Best Hotels Near Amway Center
After enjoying some food and drinks, the next destination should be a warm bed. Following a day of riling up at the stadium and celebrating your victory, here are the best places to call home for the night.
AC Hotel by Marriott Orlando Downtown
This sophisticated hotel in the heart of the neighborhood offers 180 rooms spread across eight floors. Together with the luxurious European design, they provide modern furnishing that radiates cleanliness. You should check out their SkyBar Rooftop Terrace to enjoy an astonishing 360° view of the city while sipping a cocktail.
For those leading an active business lifestyle, the AC Hotel by Marriott offers a gym and three meeting spaces. As for food enthusiasts, check out the Bumby Arcade Food Hall and the SunRail Station inside the building.
Room amenities
No matter which room you pick, they all come equipped with fast Wi-Fi and elegant furnishings. Expect a private bathroom, air conditioning, hair dryers, telephones, comfy beds, and reading lights.
Additional information
| | |
| --- | --- |
| Location | 333 S Garland Ave, Orlando, FL 32801 |
| Contact | (407) 635-2300 |
| Price range | $$ |
| Hotel Class | / |
Grand Bohemian Hotel Orlando, Autograph Collection
Just a short five-minute walk from the arena, the Grand Bohemian Hotel welcomes guests with a boutique charm. As soon as you enter the lobby, you'll be mesmerized by Italian mosaics, vaulted ceilings, and an art gallery. You'll also be treated like royalty in their spa, after which you can indulge in spectacular cuisine at the restaurant.
If you're traveling with your furry friend and looking for an eco-friendly hotel, this is the place to be. Furthermore, it has both indoor and rooftop venues to work with where you can host an event.
Room amenities
One thing that distinguishes this hotel's rooms from others is their over-the-top private bathrooms. With marble vanities, comfy bathrobes, and a great whirlpool, you'll feel like your spa is in the room. The luxurious furnishings also involve a workstation and fast Wi-Fi.
Additional information
| | |
| --- | --- |
| Location | 325 S Orange Ave, Orlando, FL 32801 |
| Contact | (407) 313-9000 |
| Price range | $$ |
| Hotel Class | 4-star hotel |
Aloft Orlando Downtown
If you're looking for a modern but hip hotel to stay at, check out Aloft Orlando Downtown. It comes with a pool, a fancy lobby, an exciting bar, and a fitness center.
Furthermore, this child-friendly and pet-friendly hotel has golf courses that bring fun to all age groups.
For those who travel by car, paid valet parking and electric car charging stations are available. If you've been on the road for some time now, a laundry and dry-cleaning service is at your disposal.
Room amenities
If you decide to stay at this hotel, expect nothing less than fully-equipped, modern rooms. They all have a minimalist yet elegant design and fast Wi-Fi.
Other amenities include coffee makers, desks, ergonomic chairs, minifridges, reading lamps, flat-screen TVs, and comfy beds.
Additional information
| | |
| --- | --- |
| Location | 500 S Orange Ave, Orlando, FL 32801 |
| Contact | (407) 380-3500 |
| Price Range | $$ |
| Hotel Class | 3-star hotel |
The History of Amway Center
The original concept of the Amway Center was created to overtake the outdated Amway Arena. Since the arena was one of the oldest in the NBA league, the owner of Amway, Richard DeVos, kept nudging the City of Orlando for a new one.
In 2006, after almost ten years of negotiation, Orlando Magic finally struck a deal with the Orlando Mayor and Orange County Mayor. With it, the Amway Center was to be built on the corner of Hughey Avenue and Church Street.
Ownership of the arena went to the City of Orlando, while Orlando Magic took control of the planning and construction.
The grand opening was held on September 29, 2010, and the ribbon was cut exactly at 10:01 AM. On October 8, the first-ever ticket event was dedicated to a Vicente Fernández concert.
On the other hand, the Orlando Magic had their first preseason game against the New Orleans Hornets on October 10. They turned out victorious, winning by a margin of 52 points. Since then, numerous concerts from world-renowned artists and sporting events have been held.
Where to Get Tickets for Amway Center
If you still haven't gotten a ticket for an upcoming game, there are two ways to get one. The first is through the Amway Center box office, open Monday through Friday from 9 AM to 6 PM. If you're running a bit late and want to get one right before the game, the box office is also open three hours before any event.
Located just west of I-4, on Church Street, there's short-term parking available on a non-event day. However, be aware that you can't order a ticket from the box office through the phone, so you must visit it in person.
If you're not a local, the second way to obtain a ticket is through the Ticketmaster website. Don't trust third-party sellers, such as other websites or ticket brokers, since the tickets may be stolen and may prevent you from entering the venue.
Conclusion
Now that we've gone through everything there is to know about the Amway Center, we're sure you'll have an amazing time!
You're up to date with all the key facts and history, know where to grab a nice meal or drink, and are informed on the best places to spend the night.
Don't miss the opportunity to see the Orlando Magic play live and have a once-in-a-lifetime experience in Downtown Orlando!
James is a big time NBA Golden State follower, who makes sure to catch games when he's in the area. He likes to follow International Soccer, with an interest in small town soccer club, Blackburn Rovers located in the North on the UK.