Are you heading to Florida for an event at the Amalie Arena?
Maybe you're going to see a concert, or a sports game you've been looking forward to. Either way, once the excitement is all said and done, you'll need a place to put your feet up and grab some grub!
We've put together a list of the best restaurants near Amalie Arena so that no matter what happens at your event, your tummy will be left more than satisfied!
Alternatively, why not check out our guide to food at Amalie Arena for information on grabbing a bite inside the arena?
Located at 1001 Water Street, Naked Farmer serves fresh, contemporary American cuisine made with food sourced from Floridian and Southeastern farms.
Choose from an array of chef-selected Harvest Bowls or build your own with chicken, grass-fed beef, or a vegan option. There are plenty of gluten-free items as well. The menu rotates every season, ensuring the freshest flavors in Florida!
Naked Farmer's commitment to a 100% locally-sourced food future is apparent as soon as Naked Farmer's website loads. As their 'Mission' tab says: "We partner with farmers we know on a first-name basis to serve veggies harvested days, not weeks, ago."
The chefs are so proud of their vegetables that they do not feel the need to coat them in heavy dressings. "The veggies that arrive at our back door are so farm-fresh, they don't need much else. So good, we leave 'em naked."
If you want to support both your hometown farmers and your hometown hockey team, give Naked Farmer a try!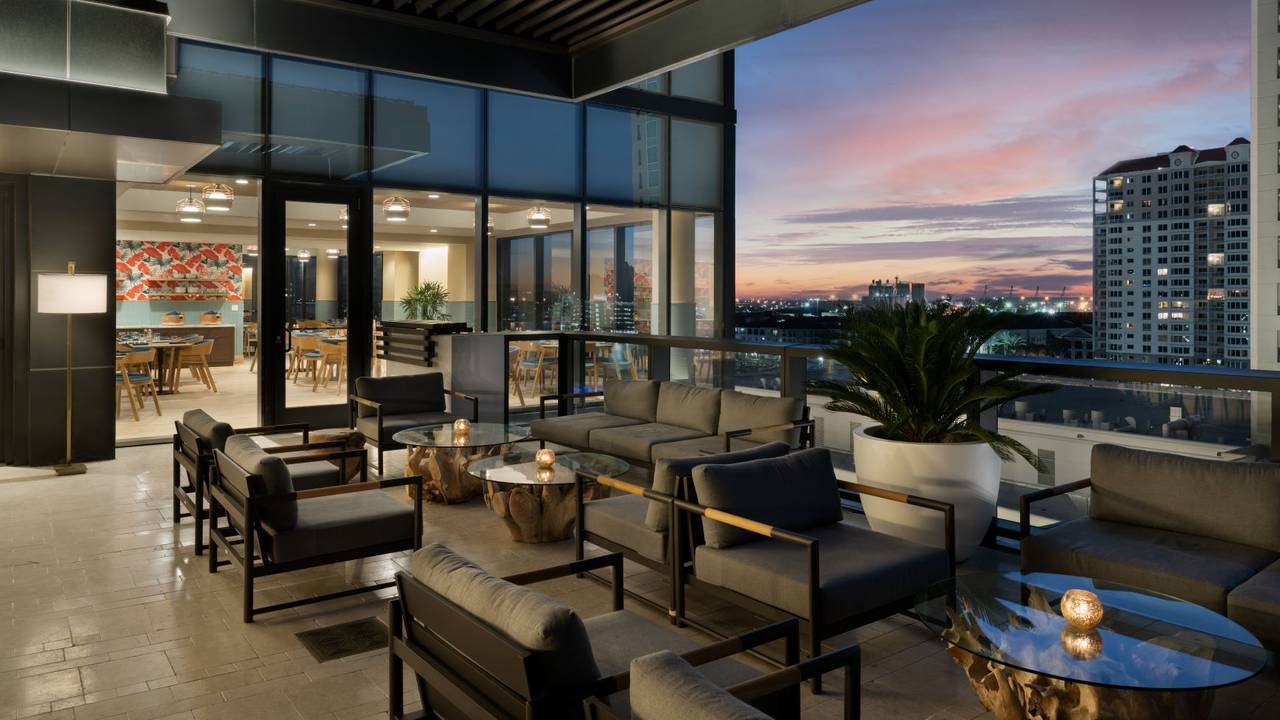 On the sixth-floor roof of the JW Marriott Hotel at 510 Water Street, SiX Tampa offers upscale indoor and outdoor dining with a fantastic view of the Tampa bayfront.
The menu includes a wide array of items, from angus burgers, to racks of lamb, to cauliflower steaks and dayboat scallops. The Cedar Key clam chowder is a hit with the guests, who praise its seasoning and abundance of clams.
Visitors also rave about the cocktail menu. Two particular favorites are the "Rose' Colored Glasses", a wine cocktail made with sparkling rose', Florida citrus vodka, and a tart strawberry syrup, and the "Lavender Fields", another rose' cocktail made with gin, lavender syrup, and a spritz of lemon.
Drinkers who like a kick from more than just the alcohol can try the "Seis", made with tequila, mezcal, champagne vinegar, prickly pear syrup and habanero foam garnish.
If you enjoy some fine cocktails paired with a stunning rooftop view, you should check out SiX Tampa!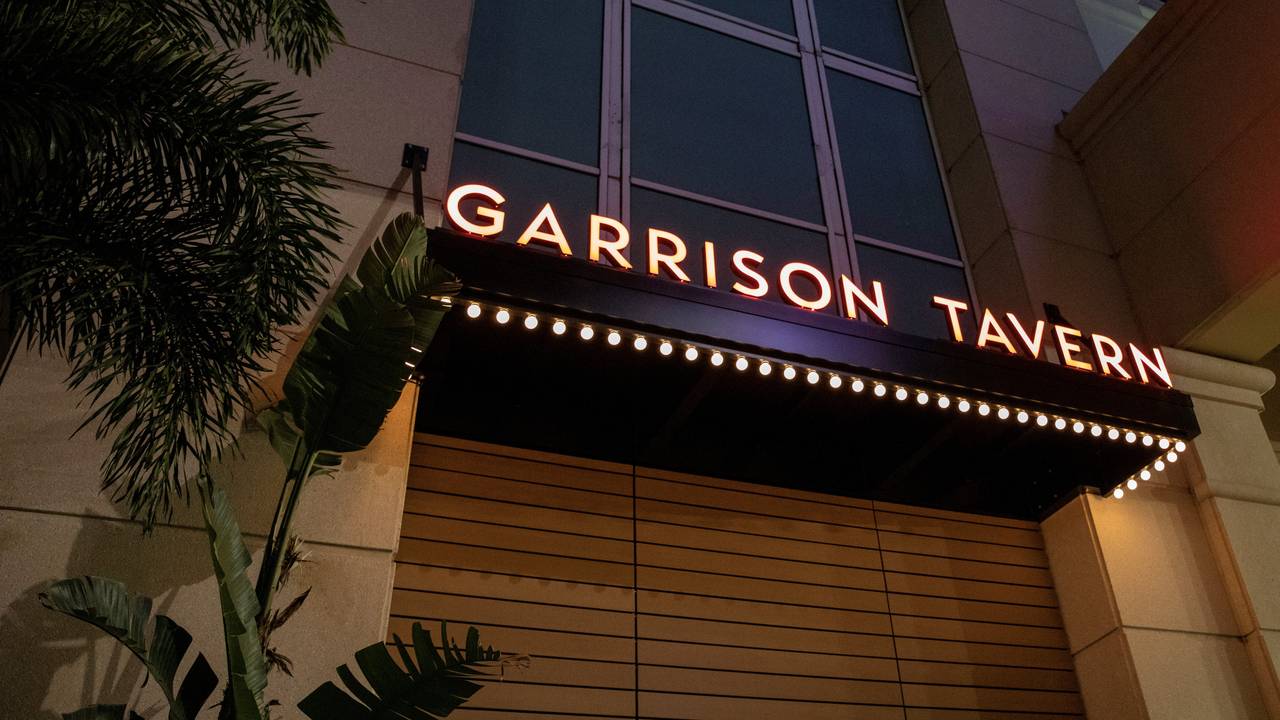 At 505 Water Street, Garrison Tavern, founded by award-winning chef and restaurateur Richard Sandoval, delivers a modern spin on the classic neighborhood pub.
The burgers are made with locally-sourced, grass-fed beef ground in-house. The crispy chicken wings are a house specialty. You can order them with the classic buffalo sauce, a bourbon BBQ sauce, a honey sriracha sauce, or with the house dry rub.
They also have chicken sandwiches, fish tacos, and a brisket grilled cheese, each with a signature twist to add a unique flair.
Garrison Tavern has everything you can expect from a good sports bar, including an extensive catalog of locally-brewed beers. Try Tampa favorites like Cigar City Jai Alai, 7venth Sun Headbanger, and Green Beach Sunshine City.
Diners who want to fire up their competitive spirit before heading to Amalie Arena can play a few virtual rounds in the Topgolf Swing Suite.
If you want the classic sports bar experience done right, come to Garrison Tavern!
Watervue Grille, at 700 Harbour Post Drive, this restaurant offers a spectacular view of the downtown Tampa waterfront. However, the vista is not the only thing the guests love about this place.
Watervue Grille pays tribute to Florida's coastal heritage by serving seafood straight from the Gulf of Mexico. The menu rotates with the seasons to keep the offerings fresh. Customer favorites include the smoked fish dip appetizer, the shellfish combo plate, the Red Chili Rubbed Corvina, and the Crab-Crusted Mahi.
The bar promises fresh cocktails, a global wine list, and a selection of local craft beers. Frequent Watervue diners can join Club 707 to collect loyalty points.
If you are in the mood for some fresh Florida seafood, you cannot go wrong with Watervue Grille!
A sister restaurant to Watervue Grille, located at 707 Harbour Post Drive, Cafe Dufrain is a contemporary American eatery that affects a style all its own.
The seasonal menu features a variety of options to suit a wide range of tastes, from burgers to catfish, mac and cheese, to potstickers, you are sure to find something to hit the spot. However, every eatery has a few stand-out items, and Cafe Dufrain is no exception.
The flavorful and well-cooked Argentinian Skirt Steak draws many great reviews. The spicy shrimp tacos with mango salsa are also a crowd-pleaser. The bar maintains this variety, offering a diverse selection of wines, craft beers, and even package liquor service.
Cafe Dufrain, along with the aforementioned Watervue Grille, is a member of the HI Restaurant Group. Regular guests can join Club 707 and collect discounts for frequent purchases, and other perks.
If you are in the mood for a fun, full-flavored experience on the Tampa waterfront, then Cafe Dufrain has room for you!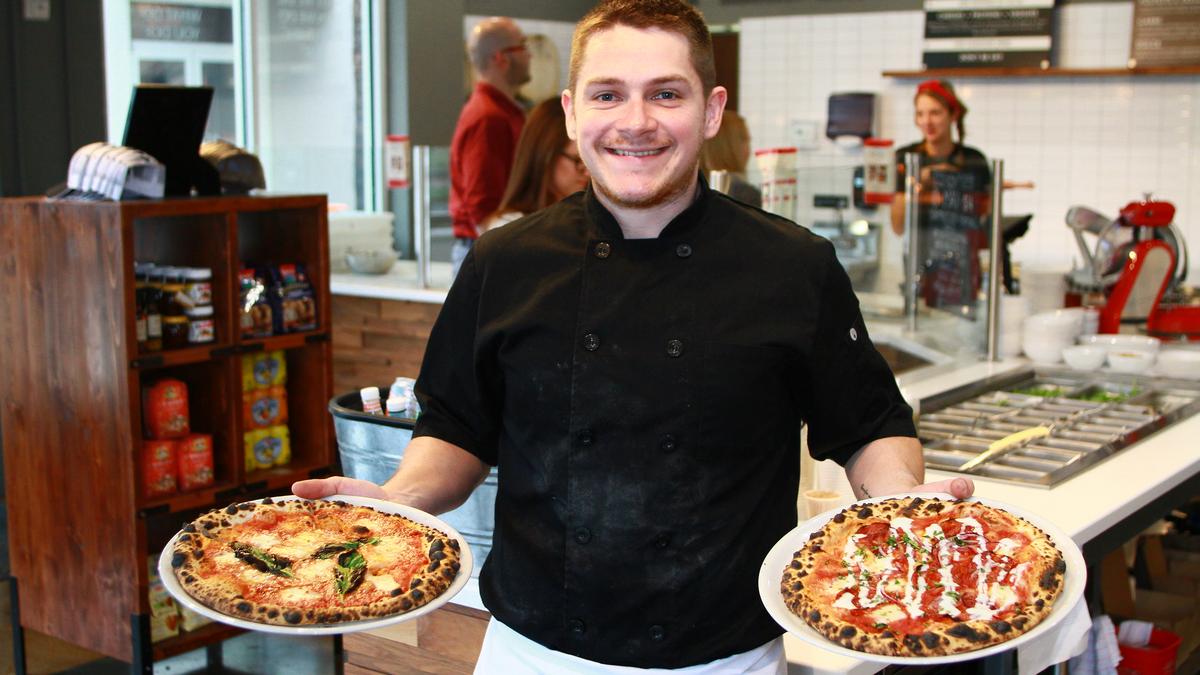 Everyone loves a good pizza, and at 142 S Meridian Avenue, Fabrica Pizza has been serving up pies to wow the crowd. Taking inspiration from pizza's birthplace in Naples, Italy, Fabrica Pizzas are made with hand-stretched dough baked in a wood-fired oven.
The house-favorite pies include the classic Margherita, the all-American buffalo chicken, the meaty Carni, and the bold Chorizo. You can also customize your pizza with a diverse array of cheeses, proteins, vegetables, and garnishes.
Those left jonesing for the Neapolitan-inspired flavor of Fabrica Pizza at home can take heart. The pizzeria's website promises a line of frozen pizzas to be rolled out soon.
If you want a pizza experience that combines the best of Neapolitan tradition and American innovation, then Fabrica Pizza says Ciao!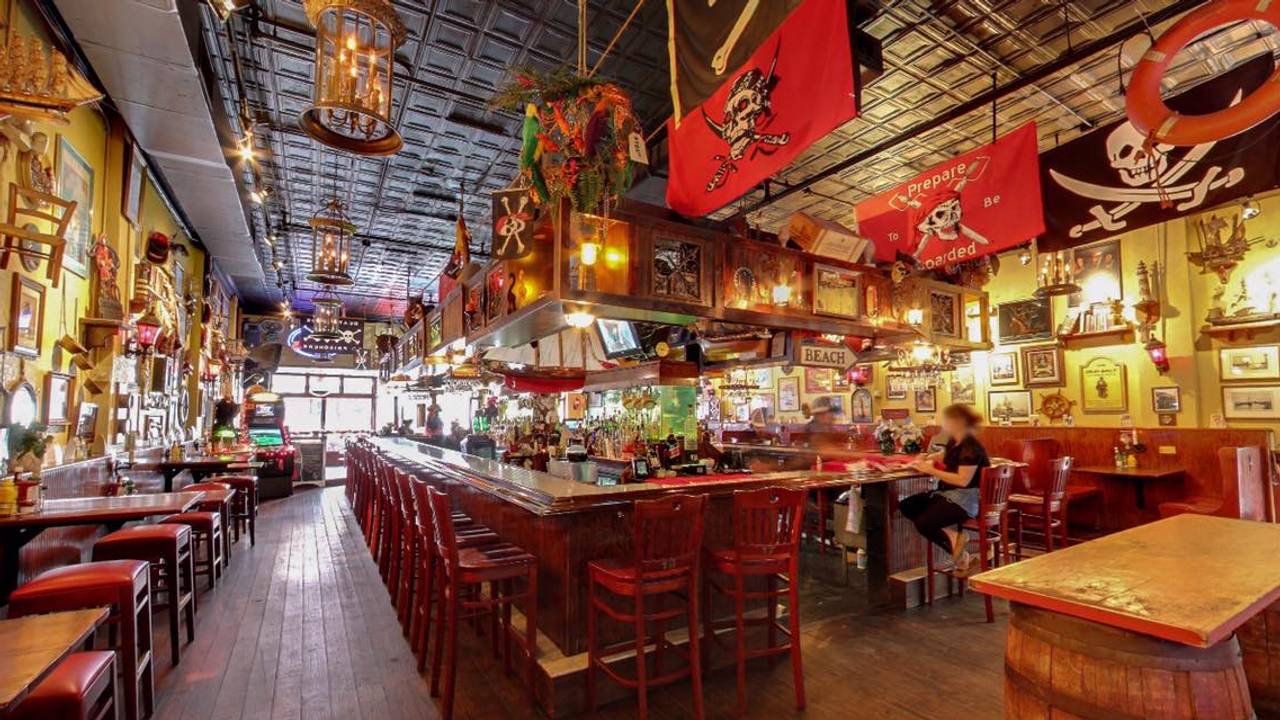 Gaspar's Grotto, located at 1805 E 7th Avenue, takes its name from local legend Jose Gaspar, the mythical "Last of the Buccaneers" and terror of the Gulf during the late eighteenth and early nineteenth centuries. It has become something of a local legend in its own right in its twenty years of existence.
Gaspar's Grotto is known for its "one-stop bar hop" setup, hosting live music and DJs at its three venues most nights. It is also famous for its Sunday Brunch, with beignets, specialty coffee, three dollar mimosas, four dollar bloody marys, and a vast array of ship bells that the owner, a retired merchant marine captain, will ring for you upon request. The ringing of some of these bells is audible quite a distance down 7th Avenue!
As far as the food goes, customer favorites include the "Devil Crab", a large crab croquette served with crystal butter, and the Cuban Sandwich, a Florida staple made with ham, pork, and swiss cheese, mustard, mayo, and pickles.
Some establishments, Gaspar's Grotto among them, take it up a notch with the addition of salami. For parties of at least forty, Gaspar's Grotto offers a "Hog Wild Pirate Party and Pig Roast" with a whole pig, roasted and seasoned in traditional Cuban style, accompanied by a pirate trunk show and swashbuckling sword duel.
If you're on the hunt for a party port worthy of the legendary buccaneers of yore, look no further than Gaspar's Grotto!
No restaurant on this list is nearer to Amalie Arena than Firestick Grill. This restaurant promises a world-class buffet experience without having to leave the stadium!
The menu changes depending on the event the arena is hosting. For the 2022 Eastern Conference Final, Firestick Grill serves such staples as a sushi display, with house-made nigiri, sashimi, and house-made specialty rolls, salads made with live lettuce, and New York strip steak with house-made steak sauce, and grilled lobster tails.
The highlights of the evening meal, however, are the chef's specialty gulf fish and pasta creations. A ticket to the Amalie Arena event is required for entry but season ticket holders get a discount on the buffet.
If you want the best a buffet has to offer, which is as near to home ice as you can get, you are sure to score at Firestick Grill!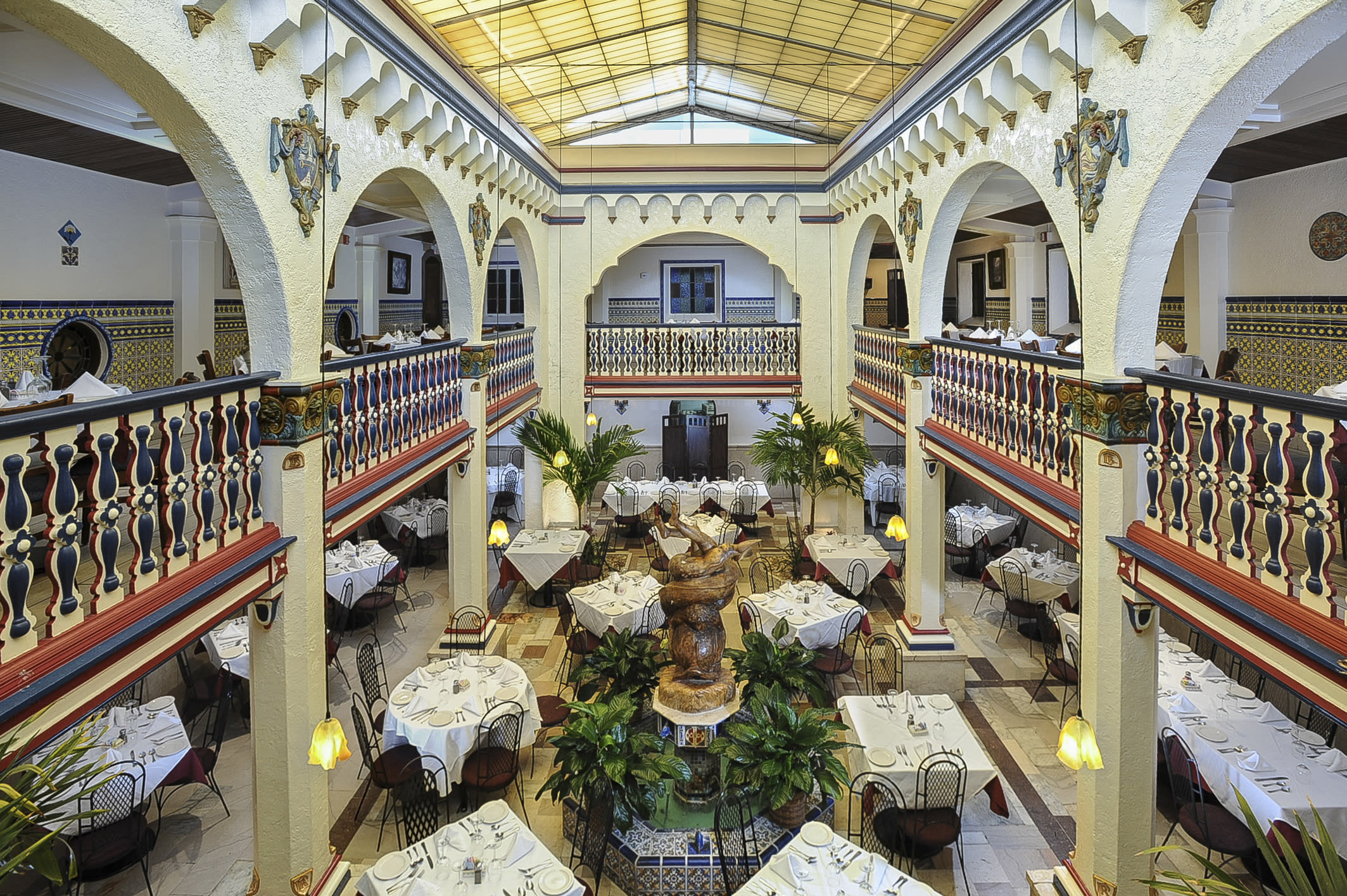 Columbia Restaurant is located in the Tampa Bay History Center at 801 Water Street is Columbia Restaurant.
The history of this eatery goes back to 1905, when Cuban immigrant Casimiro Hernandez, Sr established a small cafe to serve Cuban sandwiches and Cuban-style coffee to hungry Ybor City cigar factory workers. Over almost one hundred and twenty years, Columbia Restaurant has grown to several locations in and around Tampa, and this particular location provides both indoor and outdoor dining with a fantastic view of Tampa's historic Riverwalk.
Of course, Columbia hasn't become Florida's oldest restaurant by dint of the view alone. There is, of course, the original Cuban sandwich that put the establishment on the map. Customers rave about the 1905 Salad that can be made into a meal with the addition of turkey or "Shrimp al Ajillo". The star of the dessert menu is, without a doubt, the white chocolate bread pudding with Bacardi rum sauce.
If you want your Amalie Arena experience to come with a side of authentic Tampa history, then grab a seat at Columbia Restaurant!
James is a big time NBA Golden State follower, who makes sure to catch games when he's in the area. He likes to follow International Soccer, with an interest in small town soccer club, Blackburn Rovers located in the North on the UK.