Welcome to the ultimate guide to FLA Live Arena, the electrifying home of the Florida Panthers!
Whether you're a devoted hockey enthusiast, a casual sports fan, or simply visiting South Florida, this comprehensive guide will ensure that your experience at FLA Live Arena is truly unforgettable.
From its prime location and convenient transportation options to the diverse array of dining, entertainment, and lodging choices in the surrounding area, FLA Live Arena has something to offer everyone.
With a rich history and state-of-the-art facilities, this arena stands as a symbol of South Florida's vibrant sports and entertainment scene.
So, get ready to explore the ins and outs of FLA Live Arena and prepare for an exhilarating adventure at the heart of Florida Panthers hockey!
FLA Live Arena: Key Facts
The FLA Live Arena, formerly known as the BB&T Center, is a state-of-the-art sports and entertainment venue located in Sunrise, Florida. It opened its doors in 1998 and has a seating capacity of approximately 19,250 for hockey games. It also hosts a variety of other events, including concerts, family shows, and other sporting events. The arena is owned by Broward County and operated by the Florida Panthers Hockey Club.
Where is FLA Live Arena Located?
FLA Live Arena is located at 1 Panther Parkway, Sunrise, Florida, 33323. The arena is situated just west of Fort Lauderdale and about 30 miles north of Miami, making it easily accessible for fans across South Florida.
The Best Way to Get to FLA Live Arena
There are several options for getting to the FLA Live Arena, depending on your preference and starting point.
Car: If you're driving, the arena is conveniently located off the Sawgrass Expressway (SR-869) at the Pat Salerno Drive exit. It is also easily accessible from other major highways such as I-75, I-95, and Florida's Turnpike.
Public Transportation: Broward County Transit (BCT) offers bus service to the arena. Route 22 and 36 buses stop near the arena, and you can use the BCT Trip Planner to plan your route. Keep in mind that public transportation schedules may vary on game days, so always check for any adjustments before heading out.
Rideshare: Services like Uber and Lyft are popular options for getting to the arena. There is a designated rideshare pick-up and drop-off area at the FLA Live Arena, ensuring a smooth and convenient experience.
Parking near FLA Live Arena
There are over 7,000 parking spaces available at the FLA Live Arena, spread across multiple lots. Parking fees typically range from $20 to $40, depending on the event. It is recommended to arrive early to secure a spot, as parking can fill up quickly on game days.
If you prefer not to drive, consider using a rideshare service or public transportation to avoid the hassle of parking.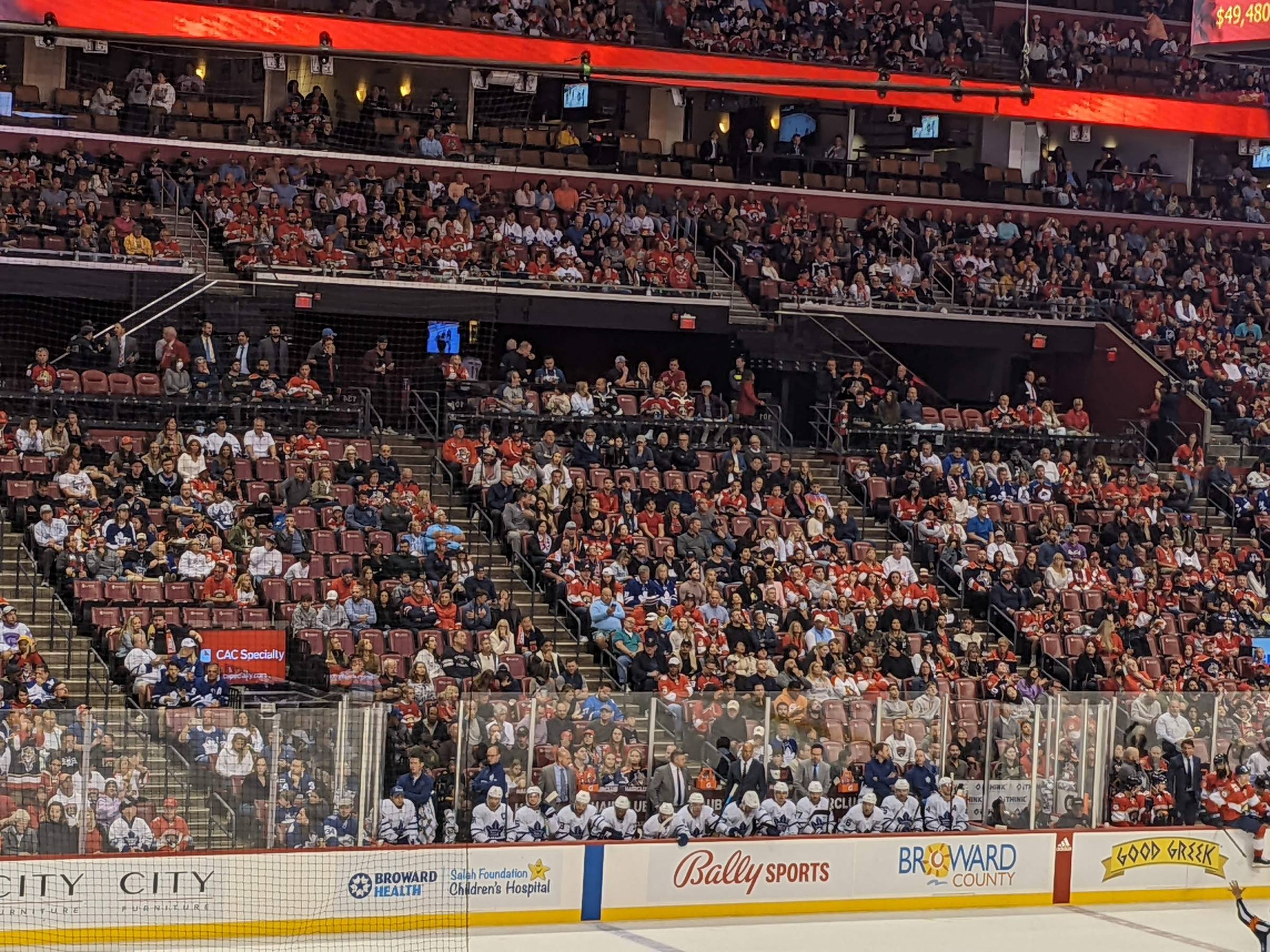 The Best Restaurants near FLA Live Arena
There are several great dining options near the arena, ranging from casual eateries to upscale restaurants. Some fan favorites include:
Matchbox: This American bistro offers wood-fired pizzas, burgers, and a variety of other dishes in a stylish, contemporary setting.
Bahama Breeze: A popular Caribbean-inspired restaurant, Bahama Breeze serves up tropical cocktails and dishes like jerk chicken and coconut shrimp.
Lester's Diner: For a more casual option, Lester's Diner is a classic American diner known for its generous portions and all-day breakfast menu.
Bella Vino Wine Bar & Tapas: This cozy wine bar offers a variety of small plates, cheese boards, and a wide selection of wines by the glass or bottle.
The Best Bars near FLA Live Arena
Looking for a place to grab a drink before or after the game? Check out these popular bars near the arena:
The Funky Buddha Brewery: Known for its unique craft beers, The Funky Buddha Brewery is a local favorite. With a laid-back atmosphere and a wide selection of beers on tap, it's a perfect spot to relax with friends before or after the game.
The Brass Tap: This upscale sports bar offers an extensive beer list, including local and international brews, along with a full menu of bar bites and shareable plates.
Tarpon River Brewing: Located in nearby Fort Lauderdale, Tarpon River Brewing is a popular spot for craft beer enthusiasts. The brewery offers a variety of beers on tap, as well as a food menu featuring pub favorites.
Round Up Country Western Club: For those looking for a more lively atmosphere, Round Up offers live country music, line dancing, and a full bar with a variety of drinks and late-night bites.
The Best Hotels near FLA Live Arena
If you're visiting from out of town or simply looking to stay close to the action, there are several hotels near the FLA Live Arena to choose from:
DoubleTree by Hilton Hotel Sunrise – Sawgrass Mills: This modern hotel is just a short walk from the arena and offers a range of amenities, including an outdoor pool, a fitness center, and an on-site restaurant.
La Quinta Inn & Suites by Wyndham Sunrise: A budget-friendly option, La Quinta Inn & Suites offers comfortable accommodations and amenities like free breakfast, an outdoor pool, and a fitness center.
Sawgrass Grand Hotel and Suites Sports Complex: This stylish hotel is located a few miles from the arena and features a sports complex, an outdoor pool, and an on-site restaurant.
Courtyard by Marriott Fort Lauderdale Plantation: A short drive from the arena, this hotel offers modern rooms, an outdoor pool, a fitness center, and an on-site bistro.
The History of FLA Live Arena
The FLA Live Arena, originally known as the National Car Rental Center, opened its doors on October 3, 1998. The arena was built to serve as the new home for the Florida Panthers, who had previously played at the Miami Arena.
In its 20+ year history, the FLA Live Arena has hosted numerous notable events, including the 2001 NHL Entry Draft, the 2003 NHL All-Star Game, and the 2015 NHL Draft. It has also been the site of several memorable concerts and performances by major artists, such as U2, The Rolling Stones, and Madonna.
The arena underwent a significant renovation in 2012, which included upgrades to the seating, concessions, and overall fan experience. The arena has since continued to maintain its status as a premier venue for sports and entertainment events in South Florida.
Where to Get Tickets for FLA Live Arena
Tickets for Florida Panthers games and other events at FLA Live Arena can be purchased through a variety of channels:
Official Florida Panthers website: The team's official website offers tickets for home games and other events held at the arena.
Ticketmaster: As the official ticketing partner for FLA Live Arena, Ticketmaster offers tickets for Panthers games, concerts, and other events.
Resale marketplaces: Websites like StubHub, SeatGeek, and Vivid Seats provide a platform for fans to buy and sell tickets to events at FLA Live Arena.
Box office: You can also purchase tickets in person at the FLA Live Arena box office, which is open Monday through Friday, 9 AM to 5 PM, and on event days.
Does FLA Live Arena Offer Tours?
Yes, FLA Live Arena offers tours for fans who want to get a behind-the-scenes look at the home of the Florida Panthers.
These guided tours provide an in-depth look at various areas of the arena, including the press box, locker rooms, and luxury suites. You'll also learn about the history of the arena, the Florida Panthers organization, and other interesting facts about the venue.
Tours are typically available on non-event days and are subject to availability. Tour times and prices may vary, so it's best to check the FLA Live Arena website or contact the arena directly for the most up-to-date information on tours.
In addition to regular tours, FLA Live Arena also offers educational tours for schools and other groups. These tours focus on various aspects of the arena's operations, including sustainability efforts, event management, and sports marketing. To inquire about scheduling an educational tour, contact the FLA Live Arena.
Accessibility at FLA Live Arena
FLA Live Arena is committed to providing a comfortable and enjoyable experience for all guests, including those with disabilities. The arena offers a range of accessible services and amenities, such as:
Accessible seating: FLA Live Arena provides accessible seating options throughout the venue, including wheelchair-accessible spaces and companion seating.
Assistive listening devices: These devices are available at the Guest Services desk for guests who are hard of hearing.
Elevators: All levels of the arena are accessible by elevator, and arena staff are available to assist guests as needed.
Accessible parking: Designated accessible parking spaces are available in all parking lots surrounding the arena. Spaces are available on a first-come, first-served basis.
Service animals: Service animals are welcome at FLA Live Arena, provided they are properly trained and on a leash at all times.
For more information about accessibility services at FLA Live Arena, visit the arena's website or contact their guest services department.
Final Thoughts
FLA Live Arena is a premier sports and entertainment destination in South Florida, offering a fantastic experience for fans of the Florida Panthers and other events. With its convenient location, ample parking, and numerous dining and lodging options nearby, it's the perfect venue for a memorable outing.
Whether you're a die-hard hockey fan or just looking for a fun night out, this guide should provide you with everything you need to know about FLA Live Arena. So, grab your tickets, gather your friends, and get ready for an unforgettable experience at the home of the Florida Panthers!
James is a big time NBA Golden State follower, who makes sure to catch games when he's in the area. He likes to follow International Soccer, with an interest in small town soccer club, Blackburn Rovers located in the North on the UK.