Hard Rock Stadium opened in 1987 and has been a wonderful multi-purpose facility for years now. It's located in Miami Gardens, Florida, and is the home of the NFL team "The Miami Dolphins." Aside from the NFL games, the stadium has hosted many Super Bowls, Orange Bowls, WrestleMania, baseball games, etc.
Hard Rock Stadium was recently upgraded in 2018, bringing new training and tennis facilities. However, its culinary game was never strong and not a primary concern until this upgrade. Now, the stadium has fantastic food shops and vendors that serve delicious food throughout the game day.
You can choose from local favorites or popular concession stands that will keep you wanting more. So, we gathered up the classics and the most popular food at Hard Rock Stadium to make your decision easier for next time.
What Are the Classic Food Options at Hard Rock Stadium?
Hard Rock Stadium has its classics that people keep coming back for. Even with all the new additions, the classic food options steal the show and become the star of the match on every game day. So, if you are curious to try, we want to let you know the best classic food items at Hard Rock Stadium.
Bru's Room
Having chicken wings while enjoying the Miami Dolphins' play is the best part of Hard Rock Stadium. So, if you are looking for delicious chicken wings and fried buffalo chicken, you must visit Bru's Room. You can easily find it as it is set up in several sections: 102, 214, 242, and 304.
Bud Light Bar
No game day is complete until you have a drink in your hand. So, visit Bud Light Bar to grab yourself a Bud Light to enjoy during the game. The bar is located in section 105.
Stahl Meyer Hot Dogs
Stahl Meyer is located in sections 101 and 114, where you can get classic stadium hot dogs and chilled beer. 
What Are the Most Popular Foods at Hard Rock Stadium?
Although classic food items are truly a delight, it never hurts to try something new. With the recent renovations and upgrades, many food items have been introduced and have become popular among Dolphins fans.
Our list consists of all the popular savory and sweet items you can find at Hard Rock Stadium to make your game day a bit more exciting. So, what are we waiting for? Let's get on the list!
Popular Foods
We gathered all the popular foods at the Hard Rock Stadium. We can guarantee that these dishes are delicious and will make your game day much better.
Salmon Burger
A salmon burger might sound weird to have at the stadium, but once you have Grown's salmon burger, you won't be able to resist. Grown is a healthy restaurant chain that offers USDA-approved organic food. Their salmon burger consists of a smoked salmon patty with tomatoes, fresh lettuce, and their amazing sauce. So, grab a bite at Grown, located in sections 148 and 242.
Fuku's CBR
If you ever visit the Hard Rock Stadium, you must try David Chang's fried chicken sandwiches at Fuku. However, Fuku's CBR is popular and unique at the stadium. The sandwich is made with bacon, ranch dressing, and pickles, giving it a unique flavor. So, visit sections 116 and 319 to grab a bite during the game.
Shula Burger
Shula Burger is a top-rated stop at the Hard Rock Stadium. You will see almost everyone munching on some of their signature burgers. They sell classic chicken burgers, beef burgers, etc., and also have some adventurous options. However, their signature burgers with fries are the best! So, find Shula Burger in sections 114, 142, 222, 250, and 345 to satisfy your hunger.
Blueberry Pancakes
OB House has the best pancakes at the Hard Rock Stadium. Many people may find eating pancakes at a stadium weird, but once you taste their pancakes, opinions won't matter at all! Their signature pancakes are made with buttermilk, and you can choose toppings from their various options. Moreover, their blueberry pancakes are the top sellers at the stadium. You can get them in section 146.
Gnarlic Pizza
Gnarlic Pizza from "And Pizza" in sections 142 and 345 will steal your heart. The pizza is loaded with garlic, herbs, and different toppings. Aside from that, if you want something less garlicky, you can try their Buffalo 66 and white, dirty bird. Later, you can get a chilled beer from them to wash it all down.
Arroz Con Leche Donut
Mojo Donuts in section 217 will make your donut dreams come true. You must try their famous Abuelita donut. It is stuffed with arroz con leche and covered with dulce de leche and powdered sugar. They also serve donuts filled with a banana puree with strawberries and blueberries as a topping called the Deco Delight. Moreover, you can also get yourself a key lime pie donut or maple bacon bar at Mojo Donuts.
Jackson Soul Food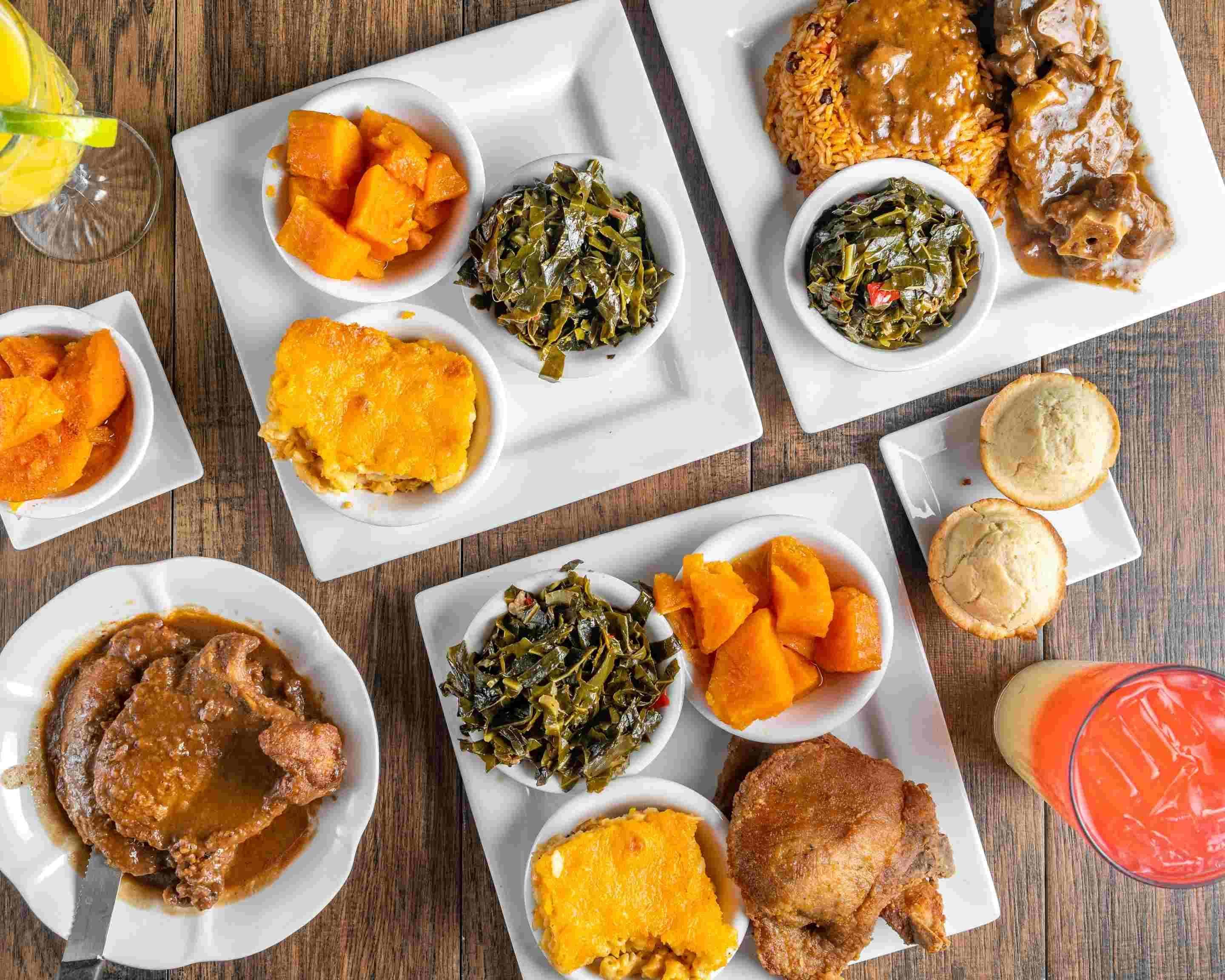 Jackson Soul Food, in sections 134 and 329, offers reasonably priced, hearty meals. They serve mac-n-cheese, chicken wings, Caribbean fried shrimp, fried conch, and many more amazing snacks.
Menchie's Yogurt
If you are done with savory food and want something sweet and light, Menchie's Yogurt will fulfill your wish. They have different yogurt flavors with unique toppings in sections 139 and 350.
Sweet Cream
What's a game day without ice cream? That is why Sweet Cream brings gourmet, handcrafted ice creams to Hard Rock Stadium. They have a variety of delicious flavors and toppings to choose from. So, grab a cone from Sweet Cream in section 119.
Conclusion
Hard Rock Stadium has a good combination of savory and sweet food options. You won't be disappointed by the food offered in the stadium during a Miami Dolphins match. Even if your team doesn't win the game, you can still enjoy some of the most delicious food provided at the stadium. So, the next time you visit the stadium, make sure to pay a visit to the recommended restaurants and stalls for a delicious meal.